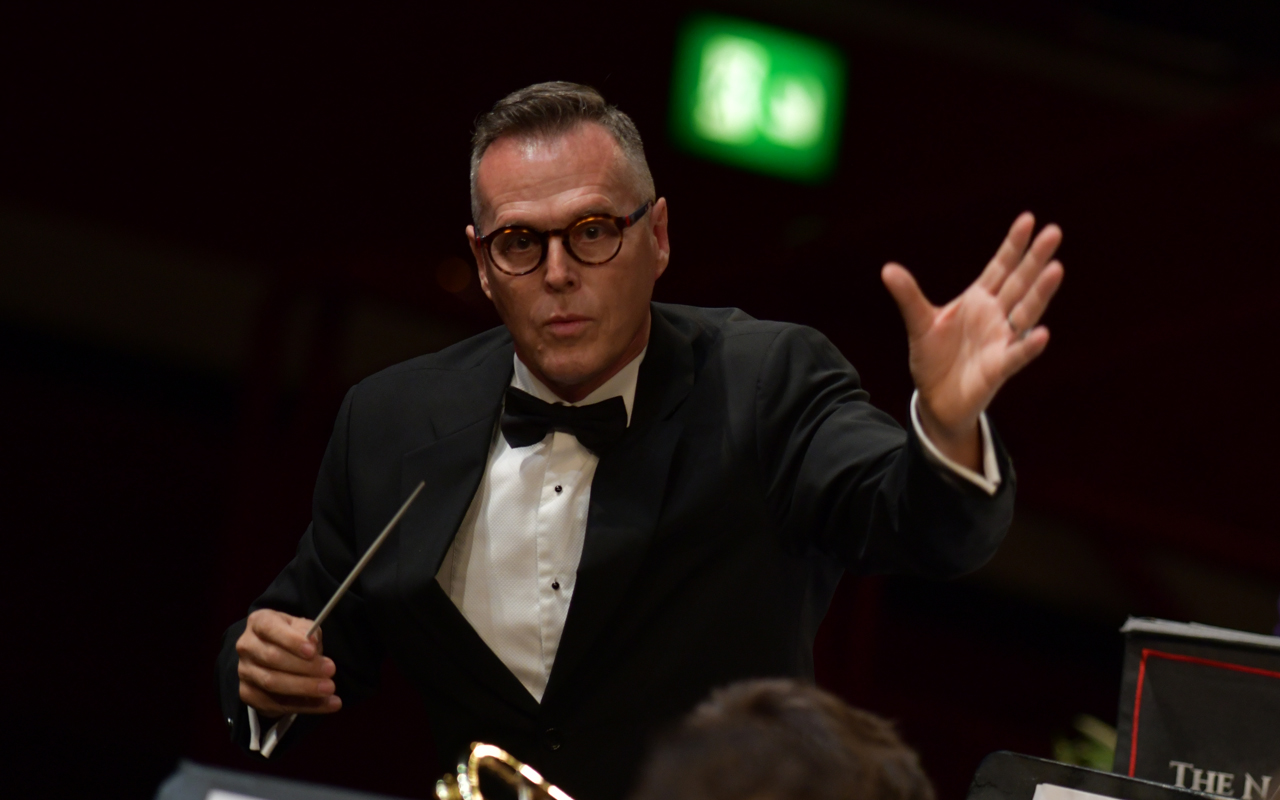 1st: Brighouse & Rastrick (Prof David King)
(Band no. 20)
Quality opening - tuning Eb bass
Street Market - untidy melody lines cornets - but very confident playing - technically very good. Nice ending - excellent cornet soloist - outstanding
Prestissimo - good style
82 - some wrong notes in vibes? - good
I - Excellent relaxed approach - coda good cornet playing - nice relaxed last chord
Love Story: Love the pace and the phrasing - excellent euphonium counter-melody
N - poor tuning upper cornets and mallet percussion
O - warm and pleasing sound
43 - love the pp playing
Q - moves well along; very musical this - good ending
Jazz: Good technique and attention to detail
T - excellent technique - super solo cornet - like the singing quality of the euphonium - flawless technique
92 - superb percussion work - excellent dynamic contrasts - All very good balance
Some splendid band playing - very disciplined playing
Landscapes: Huge sounds in trombones - a real declamando
So beautiful playing in the back cornets - principal is a master is a master too! (sop emotional vibrato)
Great ending - love this band - controlled and with passion.
Bravo band and conductor.
Luc Vertommen
ENTRANCE: Lovely entrance to the Gallery
BARRAS: Nice tempo but cornet entry I'm sure has been better (pity). Good interplay/dialogue
Clarity not total as we approach C - dialogue is super here. ANDANTE - lovely conclusion
SKATER'S: Glides nicely along, bravo cornet and supported by euph & sop
57 - great control. 83 - Well shaped but VIBES the odd note questionable? I - Well controlled dialogue. CODA - beautiful conclusion
OLD COUPLE: Lovely tender style. Bravo flugel & euph.
And some say Romance is dead.
21 - Nice peaceful moment (minor blips) Warm sounds
P - Well directed, so musical.
43 - Peaceful style
64 - Sop so nearly bravo. Beautiful conclusion
CUT-OUTS: Great temp, allows clarity. T - super dialogue
U - great attention to balance
V - some super ensemble playing. 90 - Love the style and well controlled
AA - love style and sound
BB + 142 - are ff + fff good attempt at contrast
LANDSCAPES: Powerful panoramic pictures in sound.
Emotional sounds - great sonority at FF
Love the organ like sounds as we climb the mountain.
Thank you for the "music"
Phillip McCann

1. Entrance - excellently done
2. A very good performance only marred by a cornet malfunction at the start
3. Lovely cornet & euph work here, with more sparkling cornet on the triplet passage.
Confident work in the final tricky pages.
5. Tender and gentle. You get it.
6. A good tempo that you maintain throughout and saving your big dynamic for the moment it matters.
7. A very good performance.
Fine playing and conducting!
Thank you
Howard Snell
---

2nd: Tredegar (Ian Porthouse)
(Band no. 16)
Some minor intonation issues in the opening entrance.
A bit more brilliant style in the melody lines would have helped.
Some impressive sounds here, great technique and attention to detail
Andante excellent & calmfull link into the waltz.
Great cornet playing
F - minor slip in euphonium, great attention to detail for flow and phrase
Piu mosso - extremely controlled
82 - great atmosphere - a musical vibraphonist
Vigoroso - excellent style
I - the perfect balance of technical perfection and good flowing bigger picture
Love Story: So beautifully shaped - finally some tenderness - bravo band and super flugel
2 before M - intonation, so signing euphonium
N - perfectly shaped - percussion better balanced, can't hear vibes and marimba
Sonore: perfect band sound - Agitato works well, even if it was a bit overdone it made the perfect link into a marvelous pp!
9 - magical touch here - bravo. 64 - Bravo Mr Soprano!
R - your take some risks and it works - Beautiful slow music
Jazz: Great style and so detailed in the lower brass
Great ff
T - excellent technique, U works well, love the 'dolce' in the solo euphonium
Pages 40 - 48 - technically superior to anything we've been hearing today
Z - so stylish. 142 can hear the detail! (semi quavers)
Grandioso: Impressive sounds - what a trombone section
EE - Mr Euphonium sings again, adds a lovely touch to this amazing band sound
FF - So beautiful - masters at work here - rich and powerful
You've nailed this Gallery - so emotional at the end - Magic!
Bravo band and conductor
Nothing wrong on my radar - this was a sheer delight to listen to.
Luc Vertommen

ENTRANCE: A lovely entrance into the gallery
BARRAS: Well crafted, such space and clarity
Such fine attention to detail
ANDANTE - a lovely conclusion leads into..
SKATER'S: Bravo cornet & eup & sop. Great contrast at 57 in every sense
83 - VIBES not totally convinced, benefit of doubt.
I - a little bit edgy
CODA - would love a longer pause and NIENTE
OLD COUPLE: Nice to start but them becomes a little "edge of the seat" (pity)
21 - GLOCK seems a shade aggressive for p.
O - nice warm sounds
P - well directed
43 has nice peaceful style - good link into Q
64 - Well done soprano
R - great conclusion
CUT-OUTS: Great dynamic control
T - super dialogue
U - balance could be better 'p' for some!
V - great ensemble (slight mishap at 80)
Excellent accuracy. BB & 142 FF & FFF perhaps contrast could be better
LANDSCAPES: Powerful, panoramic picture in sounds.
Great dynamic range
FF - Lovely tenor trombones with carillon sounds. Magnificent as we climb Ben Lomond
Thank you
Phillip McCann

1. Excellent start
2. Fine tempo so detail is there within music - the solo cornets could have been tidier at the start - but whole piece has a unity that carries
3. Nicely judged by the conductor and soloist - just one sticky moment for the euph - otherwise confident and assured.
5. Lovely work all round. Tender and gentle!
6. Exciting tempo chosen, but the band handles it - it gives a certain trouble after T but more virtuosity follows
7. Surprisingly jolly for Grandioso but there are more ways etc. It comes through to an astounding climax
Thank you!
Howard Snell
---

3rd. Cory (Philip Harper)
(Band no. 10)
Not comfortable at all – but a very sound – start

Street Market – great technique – very good horns
20 – very sensible playing
great technique before C – some ensemble issues before great rall link

Andante – nice baritones

Waltz: great musical mind at the helm – some freedom and artistic and pretty style.

Piu mosso – finally sounds like a great waltz
82 – sounds magically controlled (a conductor that takes time to interpret the music – thak you)
great witty style – I – unlucky in technique
Great ending

Love Story: bravo flugel horn – 2 before M – magical
13 – some great euphonium playing
The tempo that links the music is so extremely well handled by this conductor!! Finally we can hear a well sung musical phrase
Agitato – exactly how it should be done – very good mallet percussion
62 – perfect timing
64 – bravo soprano!!
R – finally we hear Howard's magical instrumentation with marimba and vibes

Jazz: what a superb style
T – as it should be, witty & perfect ensemble
U – great technique, great dynamics
87 – well handles in trombones

Great Bernstein – like feel in the technique – smooth style at AA – excellent

BB – huge dynamics and great energy

Eb before finale – tuning could be better – Grandioso style - perfect

Let's forget about that first bar – this was amazing musicianship – a band painting all the colours within this musical gallery

FF – magic again – warm ban sounds conducted by noting less than a true maestro, inspiring in every possible way. You've made my day – Exceptional!

Luc Vertommen


ENTRANCE: Not the best start, perhaps another day would be great

BARRAS: Good tempo. I am not convinced the band has settled, some uncertain moments C – now sounds like a good band. ANDANTE – secure to conclude but perhaps a little softer & dolce

SKATER'S: Bravo cornet & euph
G – again well done cornet. 57 – love the style. 84 – Again love this. Bravo VIBES. I – nearly successful with dialogue. CODA – well handled but justa longer pause & NIENTE for "magic"?

OLD COUPLE: Is romantic and flugel sounds lovely
21 – Perhaps softer for pp/p the balance to percussion. P – is well shaped. 43 – tenderly played baritones. Q – is nice, perhaps a shade linger more on TEN?
Well done Sop
R – Cornets not totally as one. Nice atmosphere to conclude

CUT-OUTS: Good tempo helps clarity. T – Good dialogue
U- good detail. 80 – goes well with ensembles.
Y – Balance could be better but impressive playing
AA – Like the style. BB + 142 FF & FFF perhaps control could be better

LANDSCAPES: Tempo for me a bit pushed, but great panoramic picture in sounds. FF – Love this atmosphere.

Powerful emotive sounds, well controlled.
A well directed performance.

Phillip McCann


1. A rather uneven start in which the tempo seemed to vary more than planned.

2. Very good horns with your lines and much good detail as the piece progressed.

3. Yes "pretty" – thank you! And excellent detail and balancing produces fine characterization throughout.

5. Tenderly – yes, you get it.

6. This is also it!

7. And this too!

Thank you (I don't know if you will win, but this was very fine)

Howard Snell