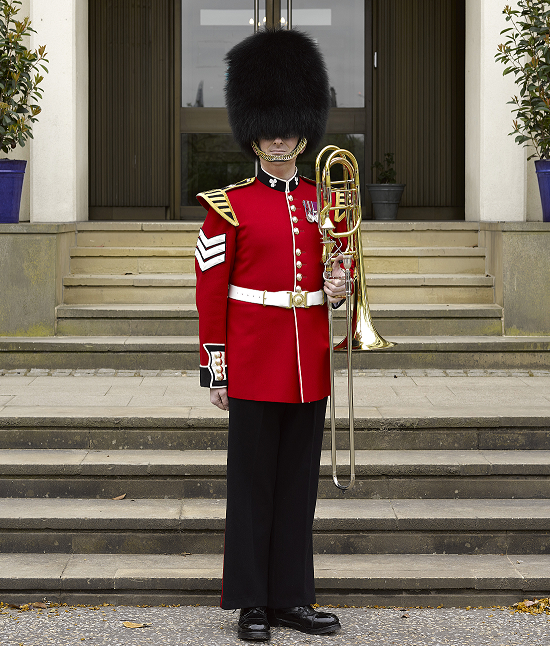 On parade...
1. Can you tell 4BR a little about your brass banding background?
It's very much a family thing. My grandfathers, parents and my brother have all played trombone and have played in bands within the Salvation Army for years.
At an early age I was always trying to put my mum's trombone together, so naturally my parents booked lessons for me at school. I then joined the Young People's Band at Chatham Citadel and progressed through the years to join Chatham Citadel Band to become principal trombone.
In 2012 I was given the opportunity to assist The International Staff Band of the Salvation Army on bass trombone and Dr. Stephen Cobb invited me to stay on for the season.
I currently play bass trombone with Medway Band and I also conduct 1st Whitstable Scout Group Brass Band. Yes - you can say brass banding is pretty much my life.
---
2. Why did you choose a career as a professional musician in CAMUS?
My father played bass trombone in the Band of the Welsh Guards for 28 years, so you can say that a career in the Corps of Army Music was always going to happen.
Throughout my life I was always performing in various groups; through the Salvation Army, Music Centres and County Groups, so I knew I wanted to have a career as a professional trombone player.
To be in the Band of the Welsh Guards was a boyhood dream and I was fortunate to be given the chance to join the band in February 2000.
---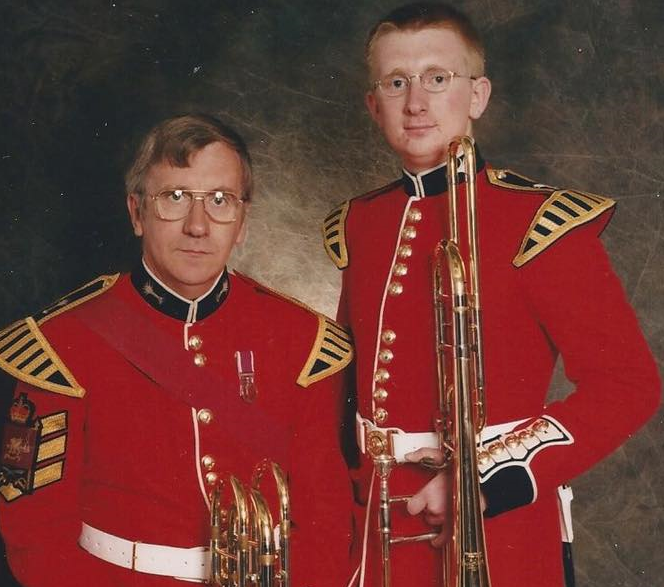 Family connection - with his father in uniform
3. What's a typical day like?
I live in Sittingbourne in Kent and I travel to London starting out at 7.00am most mornings.
Roll Call is at 9.00am and from then on we go into the practice room from 9.30am for a morning rehearsal. This gives us the opportunity to look at music for the various events we take part in throughout the year.
One of our main roles is Changing the Guard that takes place at Buckingham Palace, so we can we be in for a short rehearsal at 9.00am, then out on parade at 10.30am, before marching back to camp around 11.45am.
Afternoons are varied as we could be involved in rehearsals, fitness sessions with our Physical Training Instructor or a bit of admin!
---
4. So what can a non-typical day also be like then?
Your non-typical days are some of the very best and most prestigious; Trooping the Colour, Beating Retreat, Festival of Remembrance and Cenotaph Service on Remembrance Sunday.
---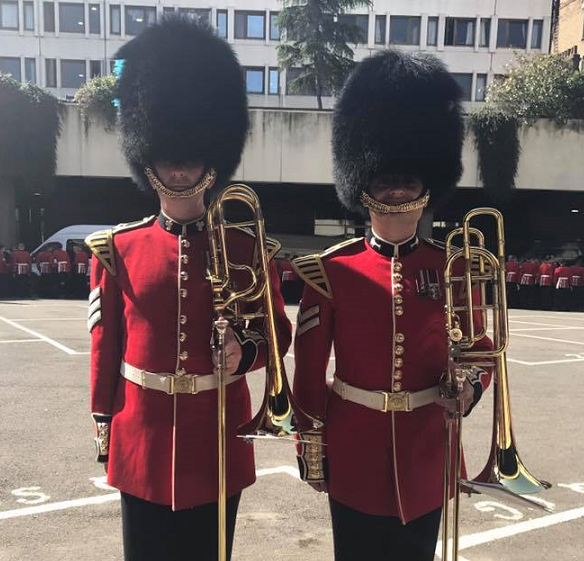 Brothers in arms...
5. What types and genres of music to do you play on a day to day basis?
You get to play with every genre of music. Anything from the military marches to big symphonic wind band music or Big Band numbers to transcriptions of the latest music in the charts.
---
6. What other opportunities does a career in the Army afford you?
The Army can offer you a huge range of qualifications and courses.
Colleagues of mine have gained financial support for a huge range of qualifications; anything from a Music Degree to being a ski instructor.
I currently look after the media aspect of my job and will be looking into what courses I can do to further my knowledge in those areas - anything from graphic design to social media and journalism.
---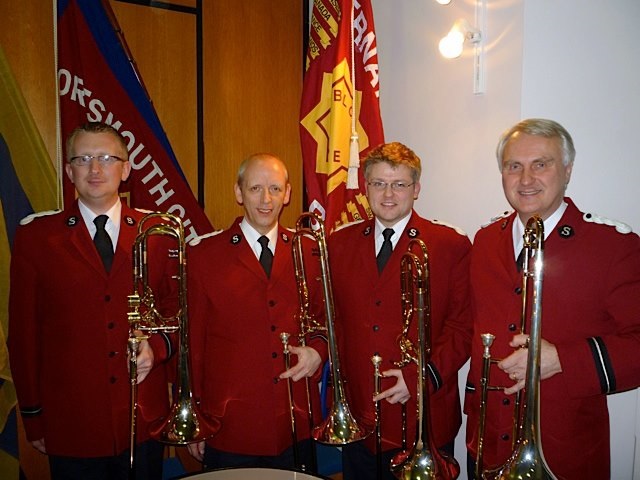 The chance to play with musical friends...
7. What links are you able to maintain with the civilian banding world?
Many musicians across the Corps of Army Music are able to perform with brass bands across the country. I'm ever so lucky to perform with the Medway Band. I've been with them for five years and thoroughly enjoy performing on the contest stage under the leadership of Melvin White.
For the past three years I've been given the chance to conduct 1st Whitstable Scout Group Band. It's such an honour and great fun to do this as it gives me the chance to put something back into the local community.
---
8. What does the immediate future hold?
I'm currently with the Band of the Irish Guards, and we some great concerts that we are looking forward to such as a St Patrick's Day Parade at the 2018 Belfast Tattoo.
With Medway we are getting ourselves prepared for upcoming events such as the Area Championships and I'll be planning my concerts with the 1st Whitstable Scout Group Band who will be taking part in a St Georges Day Service in Canterbury Cathedral.
---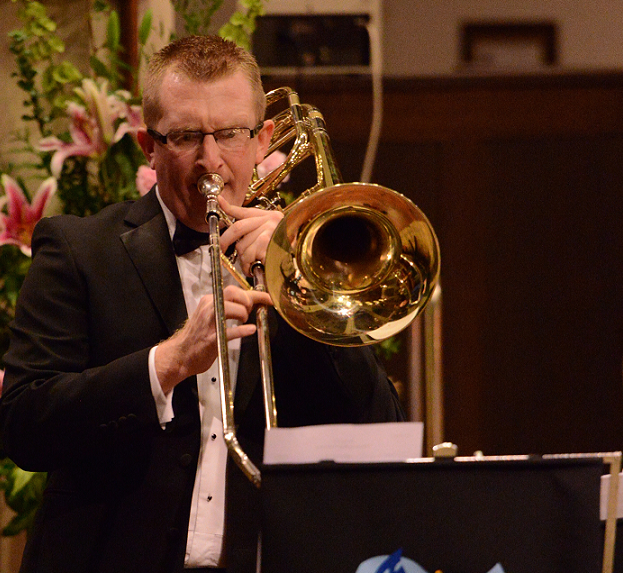 Out of uniform but still in action...
9. What have been some of the highlights of your time as a professional musician?
I've been an Army musician for 19 years and I feel that I've been very fortunate as a professional musician.
Tours of America, Trooping the Colour, Remembrance Day at the Cenotaph, Guard of Honour Band for the Royal Wedding of The Duke and Duchess of Cambridge and The Queen's 90th Birthday Celebrations are events I will never forget.
Special highlights though are getting the chance to be in a trombone section with my father and march alongside him in the Band of the Welsh Guards. Now getting a chance to perform next to my brother in Massed Band events and also seeing him take the family position within the Welsh Guards.
---
10. What three elements of advice would you give to someone considering a future as a professional musician in CAMUS?
1. Learn your scales! This was something I struggled at Kneller Hall all those years ago, so I encourage you to learn them.
2. I'm not a fitness guru by any means, but get yourself prepared as much as you can for basic training. The fitter you can be before the easier it will be throughout it.
3. Just always remember your love for music. I have enjoyed a 19-year career so far, and still looking forward to many more years.
---
To find out more about a career in the Corps of Army Music, go to:
https://www.army.mod.uk/rolefinder/role/145/musician

To find out more about the Golden Hello, go to:
http://www.army.mod.uk/music/23288.aspx