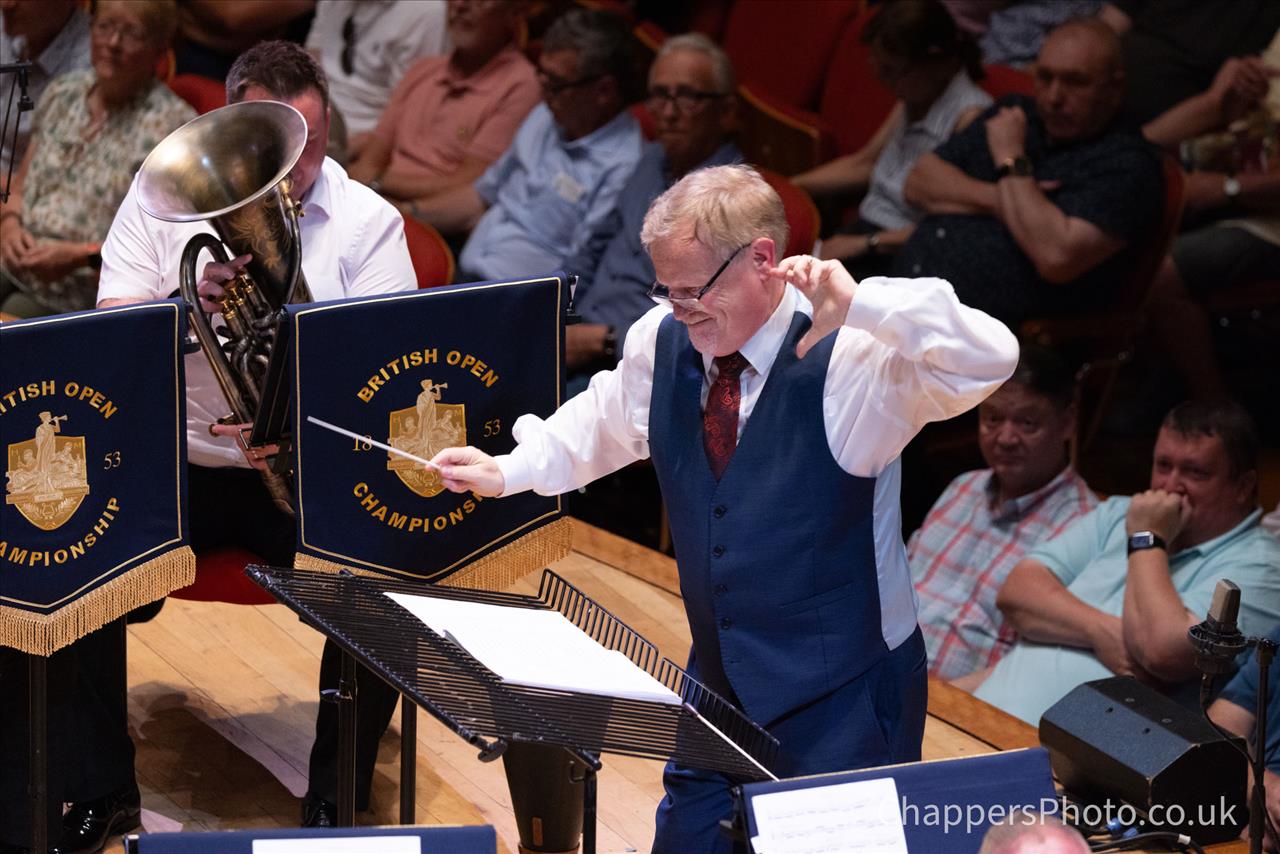 1.
Band No: 15
Foden's
Mysterious start full of colour and super flugel soloist.
An Extraordinary Adventure
A resolute start, great tempo and the music is full of detail.
72-82: Secure pitching and energetic
107: Super detail in troms and cornets
148: Bravo troms – very effective
What a dramatic build up to the crash – wow!
191-208: A great team of soloists, just the odd glitch from one or two, but a good uniformed style
Between the Sand and Stars
Beautiful cornet and euphonium playing
227: Lovely flugel tone and horn joins in to make a perfect duet.
249: Good detailed playing
257: Great style
Euph Cadenza: Excellent
Cornet Cadenza: Excellent
283: Great well balanced trombones, so noble
291: Expressive sop solo
Across the Desert:
Fantastic percussion work which sets-up this Arabic dance so well.
364: Tremendous trombones. This is so exciting – and a real celebration to the end.
A super show – great soloists – great band – great MD.
Bravo!
Dr Robert Childs
---
Secure and impressive opening – well played flugel.
16: Exciting and rich in bravura which is entirely consistent throughout this section.
146: Trombone motif worked effectively and this section takes us into the crash section brilliantly!
191: Slight glitch at 197. All soloists acquitting themselves well and there was an interaction between you all that was really effective.
208: Liked the sound and phrasing of cornet and then euphonium – really exquisite.
227: Vibraphone works well here and flugel excellent.
235: Very atmospheric – again percussion are contributing to this. Brilliantly negotiated MD and band.
267: Fabulous euphonium! And well played cornet.
280: Works for you…
283: Noble it is - beautiful!
291: Sop well negotiated (those Eb, F#s) – some really stunning playing.
303: Shaped and poised – and technically well executed too.
364: Troms – excellent
387: Fabulous! – sop coming over well 388/391
Loved the transition in 423! Percussion driving the band so well
467: Electric! Just a fabulous performance!
An outstanding interpretation MD and a brilliant performance from the band
Thank you
Dr Stephen Cobb
---
Atmospheric opening and good soloist.
16: Has expectancy and a sense of excitement, but could be a little clearer in detail.
It is accurate though and virtuosically executed. 127 is fine. Be careful the percussion is not too loud.
The Crash – trombones do well! And the power of this band is impressive.
Bari solo has a hiccup, but others continue with fluency.
208: Some untidy ensemble but dynamics so well controlled and sound quality is intoxicating.
235: Good balance and clarity in demis is good too.
257 is sonorous. Splendid solo euph – outstanding!
Good dynamics from solo cornet – well played. Very good troms etc – lovely quality of sound.
291: More nice sounds.
303: Is quite fast, but you are up to it and the virtuoso techniques you have are impressive. Fine trombones! It all cruises along with fabulous sounds and breathtaking virtuosity.
A stunning performance of rich sonorities, breathtaking virtuosity and stylish soloists
Stephen Roberts
---

2.
Band No: 4
Valaisia
Good start, so many colours in the accompaniment. Flugel sounds a little uncomfortable.
An Extraordinary Adventure
Some super detailed playing. Great percussion.
77-87: Pitching not always secure
122: Good cornets and troms
127: Sounds are brittle
148: Good troms
180: Super climax
191-208: Good soloists and a fine uniformity of style
Between the Sand and Stars
Beautiful cornet solo and sympathetic accompaniments. Great euph solo
227: Good (229 euph 2?) Nice flugel solo. Wonderful soft pp dynamic – bravo!
257: Excellent
Euph Cadenza: Great detail, great sound. Outstanding!!
Cornet Cadenza Super playing.
283: Noble as it should be
291: Excellent soprano. Well graded transition into 303.
Across the Desert
Great dance feel – super percussion.
364: Troms not quite! Impressive dynamic throughout. So musical – bravo MD.
423: Excellent balance. What a tremendous build to a super exciting close.
Wow! What a performance – bravo band and congratulations to a fine MD.
Dr Robert Childs
---
Atmospheric percussion at commencement. Sounded a little nervous from the flugel but 12/13 lovely.
16: Energy, accuracy – played!
77: Good . Appreciating the detail
127: Fabulous!
146: Tricky but well worked out – very effective.
176: Crash sequence – very atmospheric.
191: Change of mood effective – and appropriate 'Arabic' approach. Baritone and subsequent soloists well handled all.
Bravo cornet at 208 – appreciated the long phrases – made musical sense – and the euph ditto. That was extremely well presented!
235: Good synergy between perc and brass – good pp and equally good definition.
257: Faith/hope expressed effectively
261: Worked
267: Wow! Fabulous euphonium. Poise and musicianship from the cornet – than you both.
283: Stlystically enjoyed the troms. Sop well played (minor slip with bari around 296/297 but well played)
303: Character and spirit – bravo flugel
364: A couple of minor slips but again full of character and musicianship.
406: Excellent transition to 423 works – exceptional euph playing here.
449: Worked and into 457 too
462: Full glorious sounds.
Impressive ending to an outstanding performance. Wonderful interpretation MD and highly accomplished playing from the band.
Dr Stephen Cobb
---
Atmospheric and well controlled opening.
16 has nicely articulated sense of excitement.
The musical canvas is nicely painted but 140 gets a little hard in tone quality.
The crash has good detail and musical imagery. Soloists are fluent and expressive.
208: Well controlled solo cornet and euph – good lyricism. Section is musically shaped.
235: Semi-demis very well articulated with fine dynamic control too.
Fine euphonium cadenza – absolutely stunning!! Solo cornet also very good. Nice troms.
291: Lovely musicality – well played.
303: Superb melody from ensemble. This flows with engaging musical narrative – no moment is dull. Dynamics are impressive too.
423: Good balance here.
449: Great sounds.
What a sensational performance!
You brought such an intense musical and dramatic colour out of the score and soloists performed like angels.
Stephen Roberts
---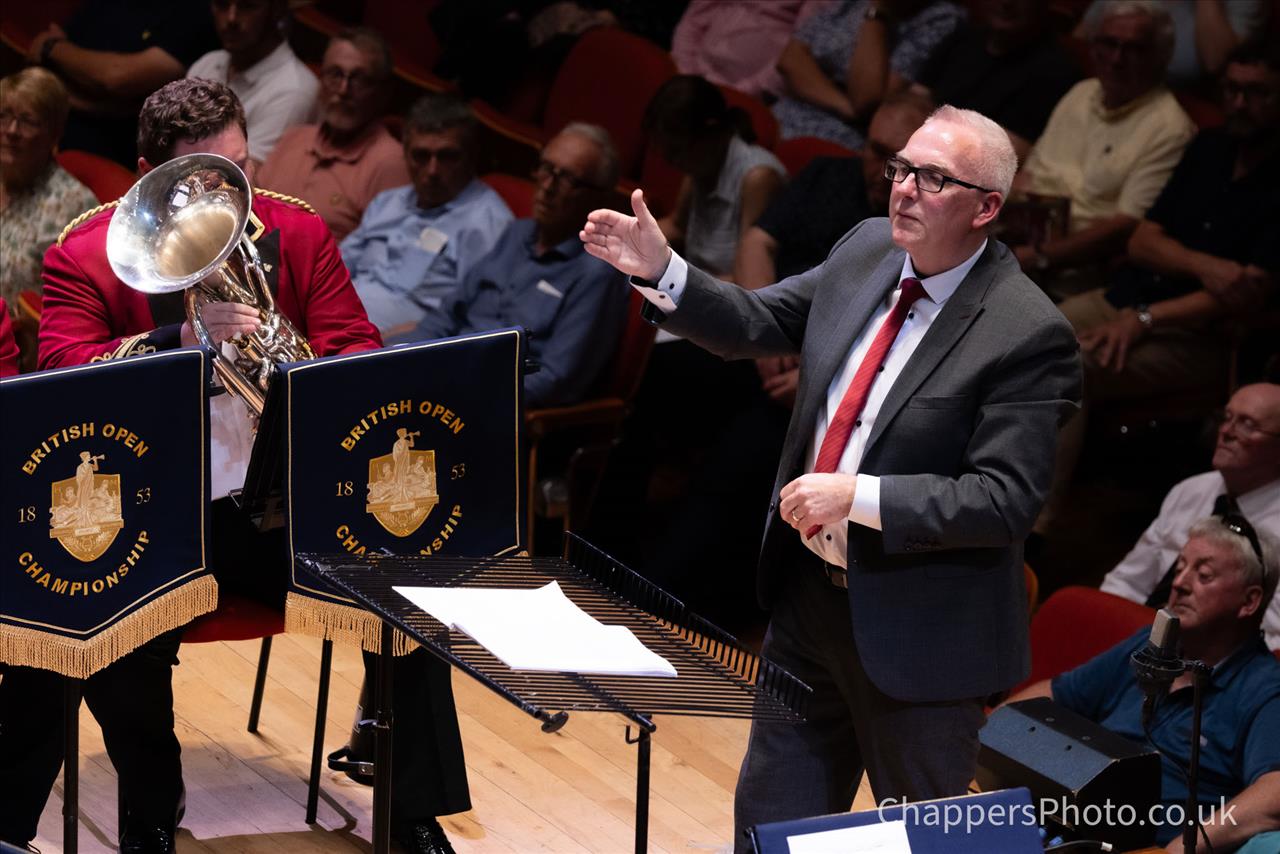 3.
Band No: 14
Tredegar
Fine mysterious start and super flugel playing.
An Extraordinary Adventure
So much detail on show and such quality sounds. Well integrated percussion.
140: Nice style
148: Good effort troms
160: Well graded dynamics
180: Definitely "with fire".
191: Effective percussion – super bass trom sounds – quality baritone solo.
200 -208: Sometimes a little loud, but dramatic
Between the Sand and Stars
Super soloists but the accompaniments are edging on being too loud.
227: Love this flugel and horn duet, but basses too loud?
Some minor intonation between perc and muted cornets.
Euph Cadenza: Good but low notes sound uncomfortable. Cornet Cadenza: Good, almost perfect.
283: Great noble style. Troms and basses – maybe peasante was overdone?
291: Nice sop solo.
Across the Desert:
So exciting – great tempo and a uniformity of style throughout the various sections. Great percussion
406: Exciting and great crescendo to the super ending.
An exciting performance full of drama. Great soloists and a wonderful "reading". Bravo!
Dr Robert Childs
---
Beautiful opening from flugel (and percussion) – bravo.
16: Real attention to detail evidenced here. Vibraphone effective at 63. Dynamic playing throughout (good sop at 113)
127: Great sound – real quality.
146: Well played trombones – scintillating build up to the crash sequence…
189: Yes! Haunting. Bass trom/bari well played – all soloists in fact.
208: Beautiful cornet sound (a slip I know but still beautiful) Subsequently euph.
224: Measured well
240: Quintuplets effective. Percussion judiciously played.
257: A couple of blemishes
264/265: Delicate
267: Some tonal euphonium playing and character in the cornet playing too – 280 worked for you.
283: Yes, it was 'noble' – sop at 291 well done. 301/302 – not entirety satisfying here.
303: A good tempo and the band are technically so good.
364: Characterful playing from the band.
413: Effective.
423: Percussion driving the band effectively – tune effectively refined – works well – excellent ff at 449 and not overdone.
467: Again, not overdone and an ending really thought out and worked.
Excellent interpretation MD and well played band.
Dr Stephen Cobb
---
Fluent opening with luscious flugel solo
16: Has a keen sense of excitement and good clean articulation. Some slips around 82.
A little untidy at 113. 136 a bit forced but impressive.
Crash pause a bit short and abrupt but you can crash in lots of ways I guess! Fluent soloists demonstrate their expressive skills with some virtuosity.
208: Tubas could be quieter and indeed the pp accompaniments tend to be loud.
27: Good solos. Careful with intonation with percussion and mutes. This section is working well though.
257: Fine euphs/baris
Confident and assured euph solo as is the solo cornet.
283: Slightly retrained, but lovely sound. Good sop at 291.
299: Careful of intonation.
312: Has appealing swagger and soloists display virtuoso techniques. Impressive trombones. The whole caravan whisks through the musical sands with wonderful virtuosity.
A stunning performance. The final sections were a wonder of virtuosity and character, and the soloists proved their mettle throughout.
Stephen Roberts