1. Black Dyke
Prof Nicholas Childs
Draw: 17
Start: Well controlled and mysterious – good soloists.
2 – beautiful sound and good transition into 3
First Fast Section: Good tempo and lots of detail.
6 - Great
8 - Excellent style. Molto sostenuto – Great
Second Fast Section: Again a good tempo – and all the detail is heard.
16 – big and bold
18 – Great cantabile style. Sostenuto sounds great.
Recap: Great atmosphere – good flugel
Long Slow Section: Nice horn and bass – cornet and euph blend well
21 – fantastic sounding tenor horn – Great euph and cornet too. "With passion" – loved it!
23 – Great solos all round line in Bb bass – I'm sitting back and just listening.
Scherzando: Just the right tempo with room to move on later.
33 – Great perc! Great style and musicianship.
Majestically: Yes!! Bravo!
Coda sparkles. Wow! What a close.
A truly wonderful performance, so musical – Great soloists and MD! Bravo!
Dr Robert Childs

Good control to open (tick)
10 after 2 – ensemble?
Lots of detail comes through
10-11: - almost (tick)
This all flows with purpose (tick)
Balance is good 17 -19
20 – solo lines so good – Class!
As you head towards 23 – you display class and style.
Horn and flugel – bravo (tick)
Take care 26-27 and clippy
This has flow and purpose
Clippy at times in ensemble.
This is a fantastic performance with just a few moments that detract from a well prepared show.
Thank you
Roger Webster

Impressive opening – controlled – gorgeous horn at 2
3 – a tempo that works for the band.
Still playing with poise and clarity – good entry 5 before 6.
Euph playing at 7 & 8 outstanding. Molto sostenuto impressive
10 – change of tempo evident. Appreciating the detail, clarity and dynamic. A good section of the piece for the band.
16 – lots of drive and energy revealed. Troms good
18 – f and cantabile and impressive ff at molto sostenuto
19 – mysterious and moody – haunting flugel – bravo
2 before 20 – gorgeous.
20 – dynamic revealed Eb bass. Outstanding soloists – bravo all! Fabulous.
With passion – sublime.
23 – really beautifully crafted
24 – fabulous euphonium sound and transition into 25 – not too hurried – always poised.
The accel throughout is working so authentically and convincingly. Nothing is overdone – fabulous!
45 – a seamless move to 'majestically' and the sound and intensity is growing so organically. 46 – 7-10 excellent
47 – a sensitive appropriate tempo.

Just a wonderful performance. Great reading MD. Thank you soloists and band.
Stephen Cobb
---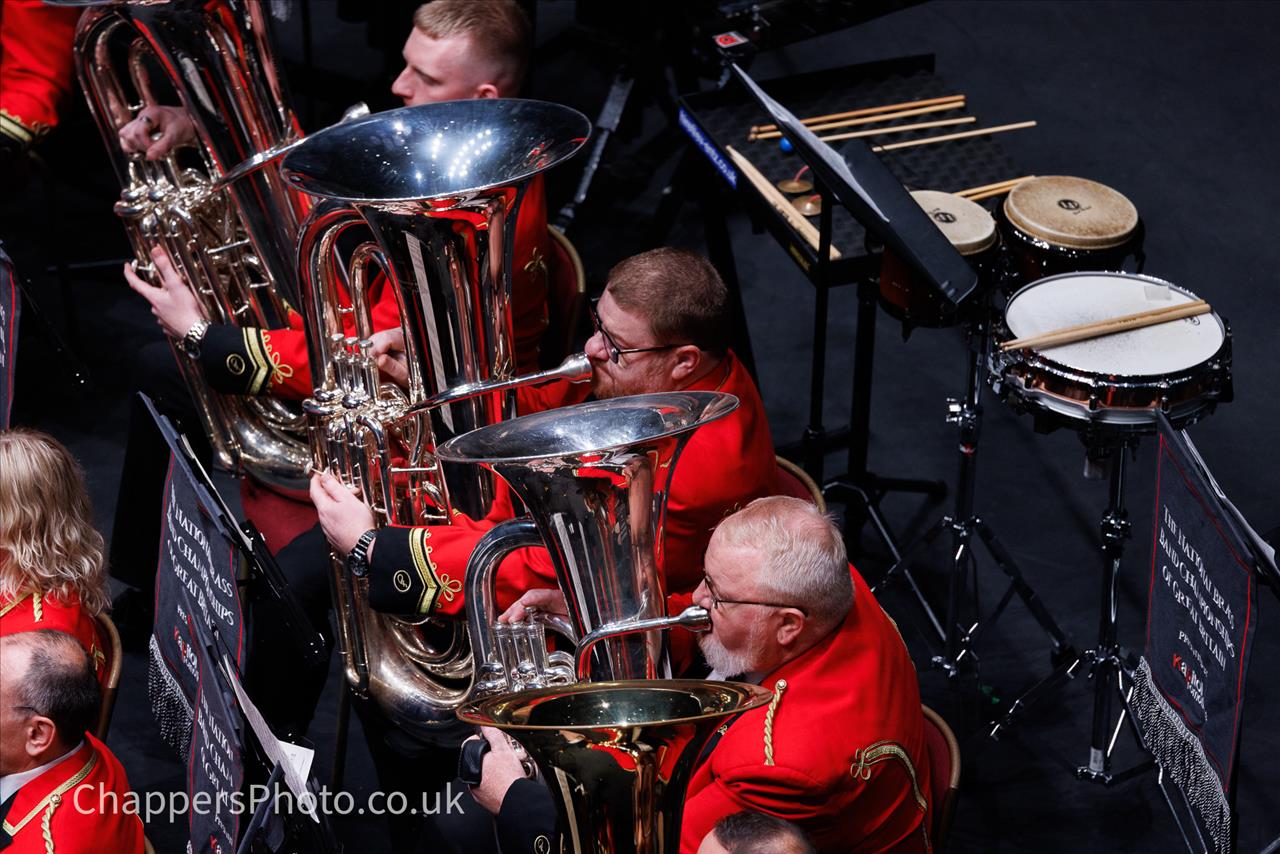 2. Foden's
Russell Gray
Draw: 20
Start: Mysterious and controlled opening – atmospheric and detailed. Good flugel sound. 2 bars before 2?? Good transition into 3 – via a super timpani.
First Fast Section: A dramatic start with lots of detail and varied articulations. 7 – Great giocoso style. Everything is flowing so well
Second Fast Section: Good bass, fine euphs, good baritones, great horns, excellent cornets.
14 – good euphs. Well balanced muted cornets.
16 – big and bold
18 – nice singing style so well phrased. Excellent percussion.
Recap: As the start, well controlled. Good flugel.
Long Slow Section: Beautiful horn sound and bass too. Expressive cornet and euph – this section is so good.
23 – All soloists deliver so well.
24-25 – Great
Scherzo: Good tempo and full of styles. The music has momentum
32 – Excellent perc.
35 – Good leggerio style
39 – Good Wonderful accel leading into 45
Majestically: Great full rich tone.
Coda fine. Super ending.
A wonderful performance, so controlled. Bravo!
Dr Robert Childs

Great opening
Balance to 3 is so clear
This flows so well
14 + clear
16 - trombones play so well (tick)
20 - cornet and euph - class - musical – (tick, tick, tick)
Horn bravo
EEb tuba class sound (tick)
24 - soprano so much control (tick)
This all makes so much sense
MD guides through with clear vision (tick)
Tempos are so good
45 - just sings – euph - yes – jubilation (tick, tick)
This is just a fantastic performance and made a long day 'totally' worthwhile
Thank you
Roger Webster

Effective opening - an uneasy moment just before 2?
3 - Energy here - well played
5 bars before 6 convincing and drive and verve again. 7- Giocoso good - euph works. Molto sostenuto good.
10 - one or two slips earlier on
13 - good use of dynamics - good build up to 16
18 - cantabile observed - a very driven multi sostenuto before 19
19 mysteriously yes and well played - good atmosphere evoked
20 – Wow beautiful cornet playing - well played and euph and horn too. A really effective phase in the piece.
With passion - the band are excellent - such fine playing before 23 apart from a minor slip again -well executed.
24 - liked the transition into 25
25 - a good tempo here - bravo - the gentle excel is sensitively worked – even 39 is not overdone for me
45 - majestically, Euph soaring (so well) and a notable ff which is sustained to 46 - 7 to 10.
47 - great tempo for the band, and a convincing end.
What an excellent performance - excellent soloists, particularly cornet and a good interpretation MD. Congratulations to all.
Thank you
Stephen Cobb
---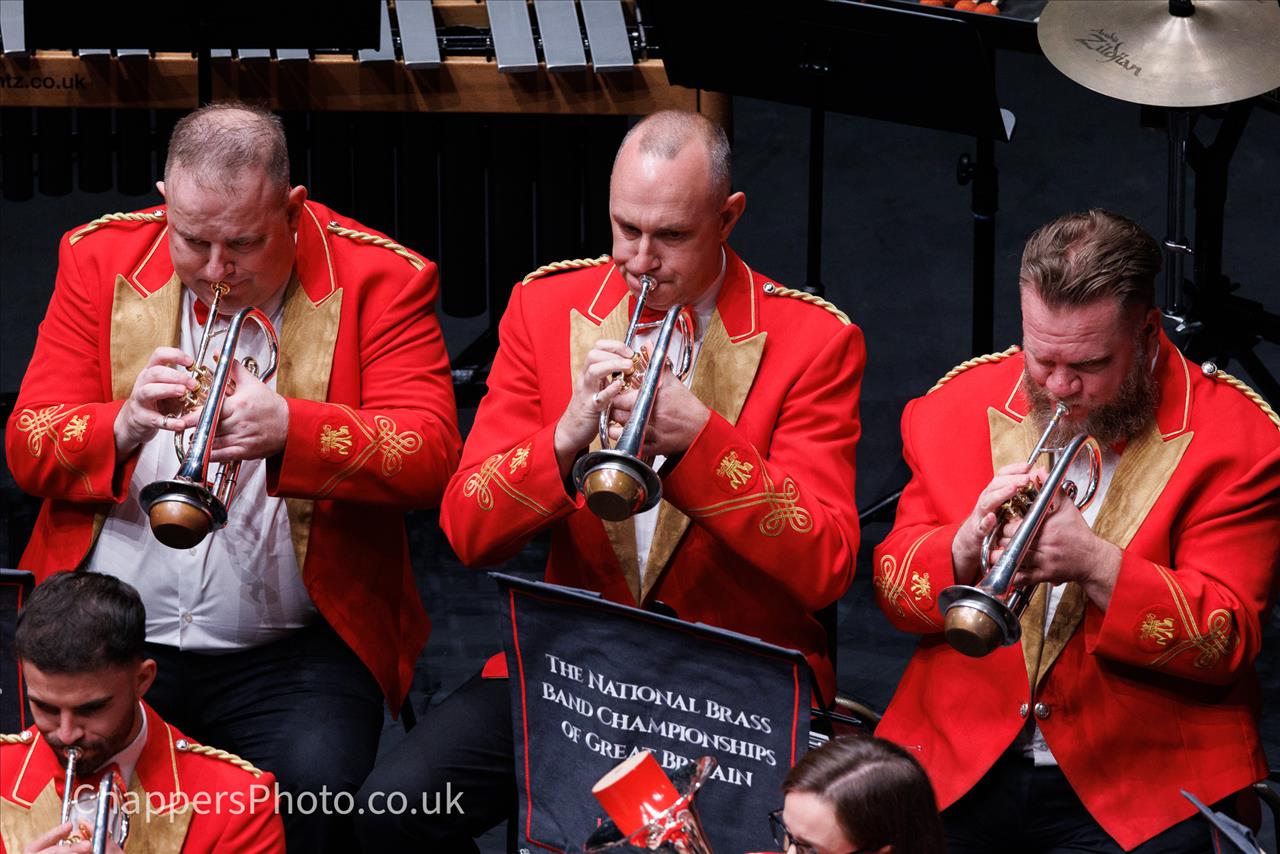 3. Cory
Phillip Harper
Draw: 12
Start: Super sounds to open so mysterious and so soft.
Nice sound in flugel and horns. Well graded lead into 3 - especially timpani.
First Fast Section: Great clarity even though the tempo is bright. So exciting and so much detail in the percussion.
Second Fast Section: Great sectional contributions and again percussion impress
16 - Majestic trombones
18 – Beautiful cantabile style and great prioritised balance
Recap: As before well-controlled sounds. Flugel pitch just sagged slightly.
Long Slow Section: Great horn/bass/ Very good euph and cornet
21 - horn rather uncomfortable, but expressively played nonetheless. Some great phrasing throughout the section.
Scherzo: Nice tempo and lots of detail. It gets a bit too fast for me. However, it lands on Maestoso/Majestic perfectly.
Majestic: Wow! What a tone!! Coda - this sparkles - to a massive ending
A Tip-top show – Bravo!
Dr Robert Childs

Great control to open (tick)
Quality 2+ (tick)
MD has control (tick, tick)
This is great playing, but perhaps a little fast towards 9+
This flows and poses no problems
Molto sostenuto – what a fabulous band sound. 5 before 20 pitch flugel – (it dipped)
Nice moments of tenderness throughout, but the odd uncomfortable moment.
Pitch? 23
Balance get jumbled of times with trombone giving a little too much.
The music flows with purpose (tick)
Sop shines throughout (tick)
A fine performance - although a few liberties with temple/accel/poco rit taken.
That said a great band well-prepared
Thank you
Roger Webster

Haunting outstanding opening - exquisite at 2
togetherness before 3 – fabulous!
3 - electric - full of vigour and poise
7 – accomplished euph and sop at 8
Molto sostenuto – gorgeous!
10 – meno mosso acknowledged - tempi are quick, but there is continuing clarity and poise in this performance that is electrifying.
16 – outstanding trombone
18 – Yes! – one f and sost/cantabile is organised making the molto sostenuto more compelling
19 - great entry bases bar 10
20 - beautiful cornet playing - fabulous control and so musical – bravo Goos support from euph/horn too.
With passion - great control revealed
23 - well played Bb and Eb bass - consistently high standard from soloists - excellent transition into 25 - brisk but it's working
Sop good 33/34. Attention to detail excellent
45 - Maestoso convincing as is the move to ff at 45 bar 7 and on to 46 – 7-10 – bravo!
47 - good tempo
Fabulous ending.

What a performance - clearly an outstanding band expertly led. Great playing solo cornet, well supported by other soloists.
Thank you.
Stephen Cobb
---


4. Tredegar
Ian Porthouse
Draw: 10
Start: Wonderfully controlled start, great atmosphere.
Nice flugel. 1+6 a little loud
2 – good. Very good transition into 3, especially timpani
First Fast Section: Exciting and lots of detail
Giocoso could be lighter in style. Euph not clear 7+10. Molto sostenuto well played
Second Fast Section: Good bass, euph, bartiones, horns, cornets good
15 - good clock
16 – powerful
1 before 17 great timpani
18 - good balance. Molto sostenuto is rushed?
Recap: Wonderful like the start, good horn.
Long Slow Section: Good horn, Eb bass very loud. Excellent euph and cornet
21 - good cornet, euph and horn.
Euph excellent sub mp – bravo!
22+ 7 Eb bass too loud.
With passion – well played. 23 very good flugel and sop. Nice transition to 25
Scherzando: Quite a brisk tempo but again exciting. Not all this detail comes through. Great percussion
34 - exciting
39 - fast and loud! Well managed to 45
Majestically: Great sound, but sounds a little hurried to my ears.
Coda - exciting.
Great majestic close.
A really exciting performance and great soloists. At times the tempo didn't allow all the details through.
Dr Robert Childs

Wow! Great atmospheric opening.
This is so well shaped
1 before 3 except perc all sfpp cresc sop?
10 - superb (tick)
14 to 16 – clean (tick)
This has drive and passion (tick)
20 - some classy playing
23+ cornet shines. (tick)
This is a performance with purpose and direction (tick)
2 before 38 pesante?
This 'sings'
Tempo is bright but it works for this band.
This was a very fine performance!
Thank you
Roger Webster

Convincing opening - well played. Soprano lovely and clear cut
1 – bar 10! Really impressive start.
3 - a tempo that works for this band – great ff at 6. Despite the tempo real poise evident.
Molto sostenuto - bold and impressive.
10 - really tight ensemble throughout.
16 - energy from the band enhanced by the bongos
18 – f observed - molto sostenuto seem pushed/hurried to me – great sound however
19 – appreciating the detail and the misterioso mood required.
20 - a really outstanding moment in the piece - bravo to all soloists and great direction from MD
With passion - again outstanding, very musical
23 bar 13 – bravo Eb bass. 24 – great delivery of the accel into 25 - this tempo is working for the band – there is both pace and poise as you are progressing through the sections. The band is literally 'flying'.
45 - majestically a little on the quick side perhaps? Definitive from euph at 45 (1-3)
46 – bars 7-9 worked well.
47 – Entirely convincing through to the end.
An excellent performance for clearly an outstanding band. Great soloists today and expertly directed MD.
Thank you
Stephen Cobb