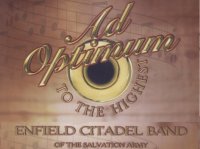 A stopover by Enfield Citadel Band, on the way to Scotland to take part in the 130th anniversary celebrations of Govan Citadel Band, provided an opportunity for the Salvation Army Corps in Stockton-on-Tees to organise a concert in aid of the Clarence Adoo Trust.
Varied programme

Ably directed by Bandmaster Jonathan Corry, Enfield presented a varied programme including classics such as the 'Overture to the Magic Flute' and the popular 'Shine as the Light', as well as the less well known 'Partita on St Theodolph' by Kevin Norbury.
The lighter side of the band's repertoire was shown to good effect in 'Just a Closer Walk', 'Dance Before the Lord' and the trombone ensemble 'The Cleansing Power', whilst reflective moments came with David Catherwood's 'Spirit of Life', the Philip Wilby arrangement of 'Wondrous Cross' and Kenneth Downie's 'In Perfect Peace'.
Fullness of sound

Throughout the evening the band demonstrated the attention to detail and fullness of sound that have been trademarks down the years.
Guest soloist and former band member Richard Martin, has a long term association with Clarence Adoo through their work with the Northern Sinfonia where Richard is principal trumpet and Clarence is Education Animateur.
Brilliance

Richard presented a number of scintillating solos displaying, in James Curnow's 'Concertpiece' and Peter Graham's 'Whirlwind', that he has lost none of his legendary technical brilliance.
Retired Bandmaster James Williams MBE conducted Erik Leidzen's fiendishly difficult 'Songs in the Heart', reuniting Richard with the former bandmaster whom he acknowledges as a key influence on his musical career.

Richard also demonstrated a more lyrical style in Ray Steadman-Allen's plaintive arrangement of 'Someone Cares'.
Himself

The success of the evening was assured by the presence of Clarence himself.
His insightful introductions to the items enhanced the enjoyment of the sizeable audience, whilst his testimony to the impact of his faith on his ability to cope with the disability that has affected him was an inspiration to band and audience alike.
At the conclusion of the evening a cheque for £1000 was presented for this most worthwhile of causes.
Malcolm Hynd