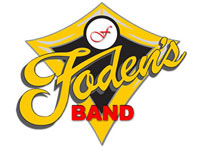 This self-promoted concert was always going to be an important date in Foden's calendar, but few could have dreamt that it would arrive with them taking to the stage as newly crowned 'Double Champions'.

Capacity audience

It came as little surprise then that a capacity audience packed into Manchester Cathedral to listen to a programme of serious music making from a band on imperious form. The added bonus was that it was all being recorded for a later DVD too.
With the Open and National trophies glistening under the cathedral lighting, Michael Fowles led off with the delightful Bach prelude 'In Thee is Joy', before upping the ante with a passionate account of the Mendelssohn overture, 'Ruy Blas', with the MD bringing real clarity to the rich ensemble textures and dynamic contrasts.
Fodensphile

Topping the bill was trumpet star and 'Fodensphile', Jens Lindemann.
The deliciously talented performer told the audience about his plans to get the band over to Canada in the near future, before launching into the concerto, 'Dreaming of the Masters' where he had the audience slack jawed in appreciation as he swapped between a luminous blue trumpet, flugel and cornet.
Between the eyes

The contrasting movements hit you between the eyes (and hats off to John Barber on trombone for some cracking counterpoint playing), whilst the muted effects in the slow 'Prayer' section were of rare beauty.

The virtuosic finale, complete with cracking percussion work from Mark Landon was breathtaking.

Compassion

Dr Peter Meechan's deeply moving 'Epitaph for Hillsborough' – played with an aching sense of compassion (and in the presence of members of The Hillsborough Families Support Group) was a timely reminder of a tragedy that has been revealed in all it horrors in so many different ways this year.

With the launch of Dr Meechan's new CD of music at the concert, Jens Lindemann returned to give the première of the beautiful 'Starlight' which is the final track of the disc: It was gorgeous playing.

To close the first half, the cavernous acoustic was filled with the sounds of Mussorgsky's 'Great Gate of Kiev'.

Three parts

The second half was broken into three parts: Foden's Youth Band, Fauré's 'Requiem' and band finale.
Under the direction of Mark Bousie, the talented youngsters delivered an excellent set that included two new pieces from Composer-in-Residence, Andrew Stevenson (who is a member of the Senior band) entitled 'Fanfare for the Future' and the lament – 'Into the Unknown'.
Requiem

Jens Lindemann then returned in 'Amazing Grace' and the up-beat 'Valero', before the main focus of the concert was played out with Dr Meechan's expertly realised arrangement for choral voice and brass of 'Fauré's 'Requiem in D Minor'.
Mike Fowles did a terrific job in balancing the contrasting timbres of the ensembles, with care and delicacy shown in both lead lines and accompaniment.

The lovely warmth of soloists Victoria Barton and Daniel Shelvey enhanced the overall sound palette perfectly.

Coruscating

To close, Foden's delivered a coruscating rendition of 'Procession to the Minster' aided by the searing sounds of Richard Poole on soprano before the obligatory march that is bound to feature on the band's concert programmes for the year - 'The Champions'.

Malcolm Wood