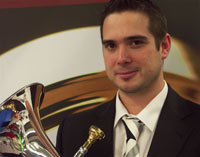 Time and talent are the most precious of commodities, and it was at this concert in Cambridge, that these valuable elements came together to raise money for Cancer Research UK.
The audience was presented with an evening full of variety, fun and excitement, yet proceedings were tinged with poignant reflection of a disease which affects us all - no more so than the bands themselves.
Real coup

After the untimely death of one of their long-standing bass players, Haverhill Silver and Hadstock Silver Bands instigated this fund raising event, so it was a real coup to gain the support of euphonium virtuoso David Childs along with celebrated trombone quartet Bones Apart and local Brass Quintet, TUBE.
Earlier in the day, Bones Apart led an afternoon workshop for ticket holders, which was attended by over 60 players of all ages and standards, finishing with a mini concert.
Set up

The evening began with a solid rendition of 'Barnard Castle' by Hadstock Silver, conducted by event organiser Dr Lisa Jardine-Wright and followed with 'Cavatina'.

Although a non-contesting Fourth Section band, Hadstock rose to the challenge and set up the proceedings very well.
Bones Apart then delighted the packed auditorium with their trombone versions of 'Jealousy' and the haunting tones of 'My Funny Valentine', showcasing the individual talents of these four outstanding musicians in this well-loved standard.
Thrilling

David Childs joined the quartet in an arrangement of the classic 'Czardas', and within the first few bars had filled the auditorium with a beautiful sound, thrilling with his technical ability and cheeky raised eyebrow interaction with the audience in the odd bar's rest.
With a minimalist, but proficient accompaniment, the quintet version of this old favourite was a breathtaking showstopper......until the next piece - 'Donegal Bay' – in a special arrangement for this charity event.
Once again his lingering tones floated over the audience. There was barely a dry eye in the house and the soloist seemed moved by the evocative melody and the beautiful atmosphere created.

Lift the mood

Back to Bones Apart and two pieces to lift the mood – 'Variations on Annie Laurie' and 'Stars and Stripes Forever' - both requiring maximum concentration and technical proficiency.

Despite the fact that Becky Smith, Jayne Murrill, Helen Vollam and Lorna McDonald all have very different styles of playing, they combine perfectly, making for great variety in tonal quality.
Amazing

A lone trumpeter filled the auditorium with an astounding jazz rendition of 'Amazing Grace', before his Dixieland accompaniment of bass, trombone, french horn and soprano cornet marched on.

Welcome to TUBE - a very slick Cambridgeshire-based brass quintet.
'A Nightingale Sang In Berkeley Square' followed, with each member taking a solo role in this old favourite, before ending the first half with a comedy piece 'Come Landlord Fill The Flowing Bowl' (where it was increasingly apparent that the landlord was being generous in his offerings...).
David Childs then joined in the fun by providing a stunning rendition of 'Believe Me If All Those Endearing Young Charms' accompanied by TUBE.
Punchy

Hadstock Silver kicked off the second half with two punchy numbers with a medley from 'Grease' and 'All That Jazz' before Haverhill Silver nearly blew the audience onto The Backs with the first three notes of 'Toccata' - and not a split in sight.
David Childs joined in for 'Varied Mood' - truly varied in style and tempo, before Bourgeois' 'Serenade' followed.

The euphonium star's commitment to the evening was such they he also had the stamina to perform wonderful renditions of 'Lament' from 'Stabat Mater', 'Perpetuum Mobile' ,'Grandfather's Clock', and the amazing 'Hot Canary'.

All this and the band had enough left in the tank for a rousing 'MacArthur Park'.
As a grand finale, the massed bands and soloists joined for 'Lord of the Dance' and 'Pines of Rome' to round off an epic evening which thanks to generosity of all that took part, raised over £3,000 for Cancer Research UK.
It was triumph in every sense.
Caroline Hinitt