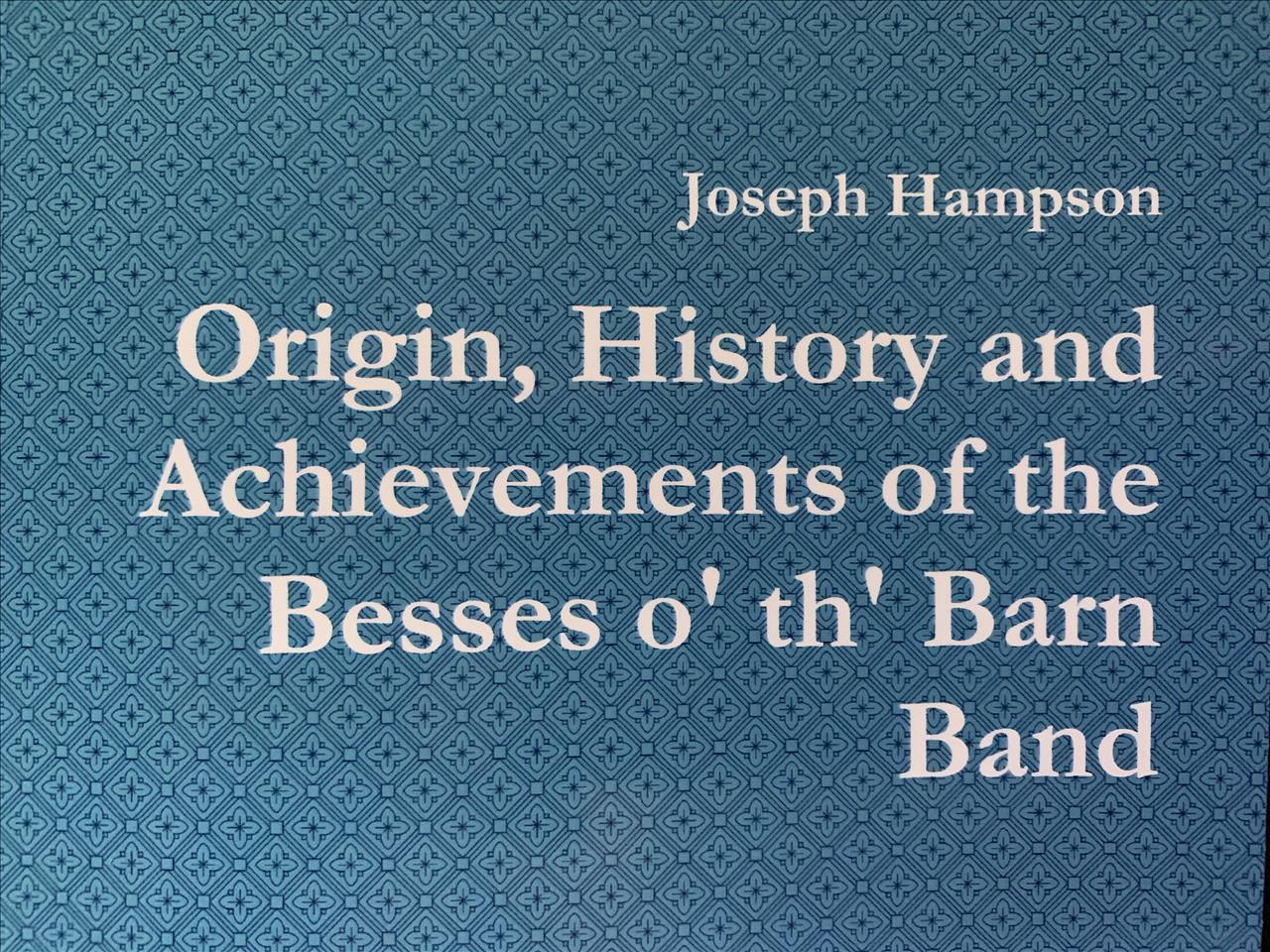 Available from: http://www.lulu.com
This gem of brass banding history was written around 1893 by Joseph Hampson, tobacconist, insurance agent and cornet player. It recalls a very particular brass band at the very peak of their contesting powers.
Besses o' th' Barn was one of the greatest bands of the late Victorian era.

Led by Alexander Owen, "whose name and fame extend throughout the universe", they had just won the September Belle Vue British Open in 1892 - the culmination of a period of unprecedented success.
It was an eight year apex, starting with Owen's apartment in February 1884, which the proud author painstakingly documented and saw Besses enter 105 contests, winning 74, and boosting their finances to the tune of a few quid short of £3,000.

That is the equivalent of £383,700 today.
Evocative
Hampson recalls the triumphs and tribulations in colourful prose, the details tempered in their accuracy by personal recall (he was one of the founders of the band) and more than a touch of hero worship.
The story though is evocative as well as entertaining - from the tale of the Lancashire lass, called 'Bess' whose inn became a popular stopping point for thirsty travellers and the band's rehearsal room, to the 1892 Belle Vue victory itself.
Figures of Shakespearean stature (the bard is quoted liberally) make their appearance along the way – Gladney, Birkinshaw, and above all else, Alexander Owen.
He is Hampson's Henry IV - a conductor-hero of fortitude and god given gifts, a man he says who has 'lived to grace this age with noble deeds'.
To the author, Owen had, "accomplished feats and secured success such as have not a rival, and stand absolutely without comparison in the whole history of the brass band world." In 1894 Besses won the British Open again.
He is Hampson's Henry IV - a conductor hero of fortitude and god given gifts, a man he says who has 'lived to grace this age with noble deeds'.
Absolute faith
The players he said, had absolute faith in him: "Perfect unanimity, secured by obedience to wise judgement and trusted leadership, is capable of working wonders," he wrote, flowering the association further with his prose.
"And herin lies the secret of their success. The ever kind, warm, friendly and brotherly relations existing between them, and coached up by their well trusted , beloved, faithful and true bandmaster and conductor, has led them to speak in volumes of glorious music and harmony as one man."
Contesting gods
The endorsement may well have been dipped in hagiography, but as the appendix list of prizes show, during his time at the helm from 1884 to 1892, Besses were blessed by the contesting gods – from Darwen to Derby, Alloa and Kirkcaldy to Barrow and Belle Vue; quicksteps, marches and own choice test-pieces (Owen's own of course).
Hampson didn't live to enjoy the two world tours (and what a chronicler he would have been) – dying of heart failure following a bout of pneumonia on 6th July 1899 at the age of just 35.

What he left with his book (republished in 2011) however was a remarkable microcosm snapshot of an era, a band and conductor like no other.
Iwan Fox