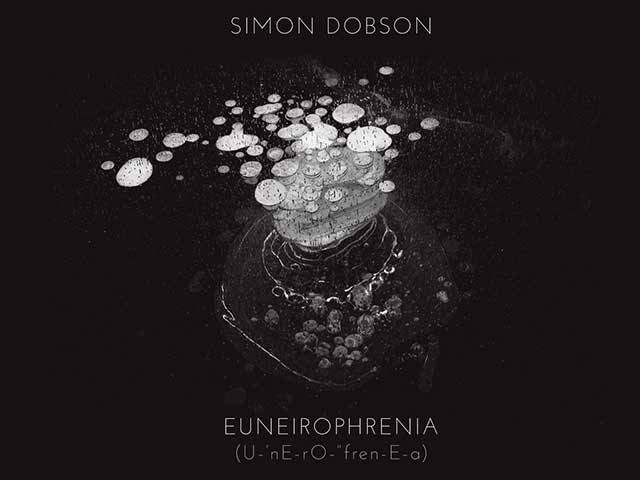 This CD can be purchased at:
http://simondobson.bandcamp.com/releases
According to the poet Alfred Tennyson, 'dreams are true while they last - and do we not live in dreams?'
Wouldn't that be something to cherish: The ability to wake up in a state of euneirophrenia each day would make real life so much better.
Intoxicating bridge

Simon Dobson's crowd-funded debut album captures the intoxicating bridge that links that hopeful, freshly awakened peaceful state of mind, with one that inevitably leads to a brazen dose of perditious reality ahead.
He has done it with throat grabbing intensity: All that is missing is a foreword written by Carl Jung.
Heartfelt stuff

It is a recording of thought and thoughtfulness; emotions both of happiness and pain; of love lost and found again. It is heartfelt stuff - raw and visceral at times, but always with an uplifting seam of optimism threaded through its darkest colours.
The opening 'Crystal' fanfare is an invigorating Wilbyesque prelude - all eight parts played on trumpet by the composer, and which quickly leads into the thumping, double espresso wake-up brain-shot injection of 'Clash', with its malevolently dystopian hip-hop rap lyrics.
Fascinating

Dobson's skill and bold invention in blending different genres of music is fascinating to listen to as you wipe the cloying sleep from tired morning eyes.
'Pseudoscience' is polished jazz funk fusion led with splendid facility by Thomas Gansch on trumpet (and there is quite a stella line up of musical talent on show throughout it must be said), while 'Backlash' has a dark, witty Latin groove that smolders with dramatic, pulsating possibilities - helped by cracking solo features by James and Thomas Fountain on trumpet and flugel.
Acidic

It is 'Collar Up' that chills the marrow though; a mournful, acidic piece of vocal yearning that combines Beach Boys close harmony with a heart as dark as any Joseph Conrad could conjure.
Virtuosi GUS provides an excellent counterpoint of intrigue with 'Symphony of Colours' - the reference here to the rare condition of Synesthesia (literally meaning 'crossed' or 'together senses') - which must be like waking up in a dreamworld coloured like a 'Rhubarb & Custard' children's television cartoon.
However, it is a pity that despite the excellence of the playing on such a major work, the rather condensed recording ambience fails to allow it to blossom into kaleidoscopic glory - a point enhanced by the wonderful immediacy of 'SynthOny', with its industrial pulse and bowel rumbling bass line.
Cold perfume

The added use of cello and saxophone gives an ethereal beauty to 'Air', which plays a beautiful trick of incomprehension on the mind - lingering like the last sniff of cold perfume off an old pillow case - before the closing anthem-like 'Snow', with its touches of Coldplay grandeur, brings altogether different emotions to the fore; an uplifting glimpse of future, happier real-life possibilities.
Tennyson may well have been right about dreams - and with this absorbing release, Dobson, let alone Carl Jung, understands them better than most.
Iwan Fox
Track Listing:

1. Crystal
2. Clash
3. Syphony of Colours
4. Pseudoscience
5. Backlash
6. Collar Up
7. SynthOny
8. Air
9. Snow