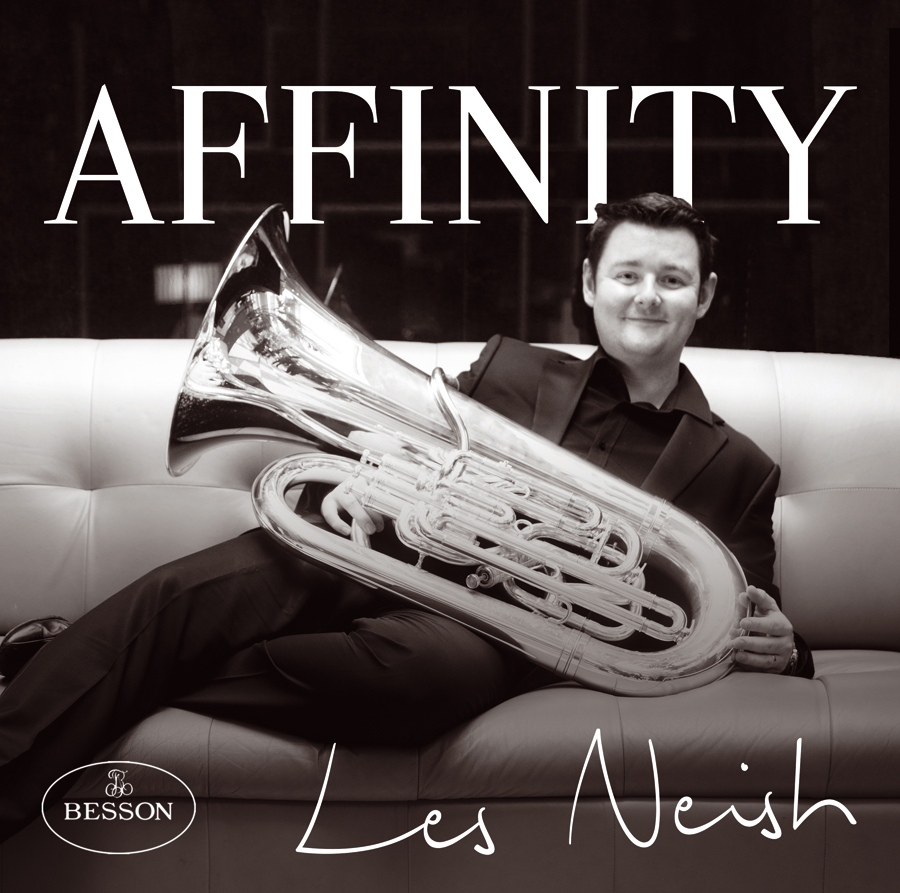 Les Neish carries his virtuosity with nonchalant ease.

The seven, richly diverse tracks of his latest release 'Affinity' are performed with such commanding musicianship that you are left wondering just how far the tuba star can go with his musical explorations: Nothing seems beyond him.
As Bramwell Tovey quite rightly observed; He is the player who most reminds him of the great John Fletcher.
Heuristic mastery
There is a wonderful heuristic mastery about his playing - immediately apparent in the way he overcomes the almost impossible conundrum of making Vivaldi's ubiquitous 'Winter' from 'The Four Seasons' work. The technique is icily crisp and fragile, yet sumptuously elegant in its fulsome covering.
In contrast, we hear a touching, contristic interpretation of the Golland 'Tuba Concerto', which captures the composer's own troubling anxieties with subtle nuance and changing mood, whilst the engaging 'Yorkshire Ballad' by James Barnes is bucolic and whimsical - like the musical backdrop to a Dales detour for the omnibus edition of The Archers on Radio 4 on a Sunday morning. Eugene Bozza's chic eclecticism, with its Martini-dry wit and knowing ciphers is delivered with a nimble deftness of touch.
Blend and diffuse
It is Neish's chameleon-like ability to blend and diffuse his tone that is most startling however: The mesmeric, slow pulse of The Beatles inspired 'One Sweet Dream - The Play you are Staging' by Peter Meechan, seeping slowly like an intoxicating drip-feed of liqueur into the synapses of the listening mind. It's a wonderful piece, beautifully performed.
Goulash richness
Although his technique is breathtaking on the saddle-bounce romp of a 'Hungarian Rondo' - all Goulash richness and Gypsy flings, and the mind-boggling 'Les Bleurs', which is perhaps the closest any performer has come to successfully fusing blues to multiphonic be-bop, he never hogs the spotlight - with the overall CD enhanced splendidly by the accompaniment of Martyn Parkes and Yelian He.
And any performer who is able to use the word 'doink' to describe what he is doing with his playing is also well, well worth listening to time and time again.
Iwan Fox
Available from: http://www.tuba-artist.com/
1. Concerto No 4 in F minor Op 8 RV 297 (Winter) (Vivaldi arr. Neish/Parkes/He)
2. Yorkshire Ballad (James Barnes)
3. Tuba Concerto Op 16 (John Golland)
4. One Sweet Dream – The Play you are Staging (Peter Meechan)
5. Concertino pour Tuba (Eugene Bozza)
6. Hungarian Rondo (Kreisler arr. Luc Vertommen)
7. Les Bleus (Andy Scott)