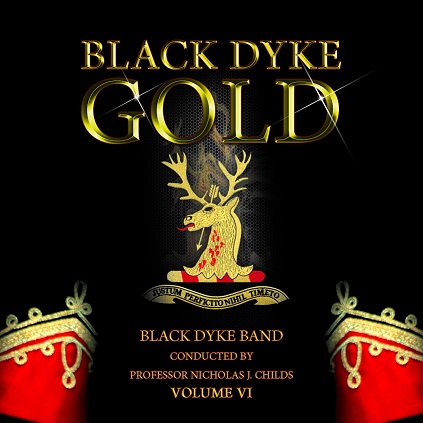 A bit like George Lucas, Black Dyke know a thing or two about the long-term promotion of a successful franchise.
The sixth volume of their 'Gold' inspired releases may just lag a little way behind 'Star Wars' in terms of incarnations and box office receipts, but at least it doesn't feature Jar Jar Binks or an anthropomorphic Punky Muffin.
Polished addition
Based on a familiar chunk of their 2017 concert output, 'Volume VI' is another polished addition to what has gone before; intelligently picked repertoire mixing the easy listening and traditional with something new and a test-piece that everyone loves for good measure.
It's there to appeal to Pondashers and punters alike - and it sells at concerts like signed limited-edition Obi-Wan Kenobi lightsabres.
Wide-eyed astonishment
The featured soloists showcase their talents in full; Siobhan Bates a mature, languid lead on 'Over the Rainbow'; Zoe Hancock and Katrina Marzella demonstrating tasteful, wistful lyricism on 'One September Morning' (conducted by the composer) and Daniel Thomas taking 'Bravura' to a new level of wide-eyed astonishment.
Elsewhere, the film music concert staples of the 'James Bond 007 Suite' (with Messrs Richeton and Irwin in high-jinks 'shaken not stirred modes', and the Marvin Hamlisch interlude as suave as Roger Moore in a safari suit) and 'Suite from Young Sherlock' (written in Holmes meets Allan Quartermain Victorian adventurer style), balance nicely with the buoyant opener 'Yorkshire Brass' and sensitive 'Alone Yet Not Alone' - all presented with focussed application.
Foundation shaker
The light-handed sharpness of 'Candide Overture' and 'To Boldy Go' (nothing to do with Star Trek) remind listeners of Dyke's stylistic malleability, whilst 'Hallelujah Chrous' with Philip Wilby on the Morley Town Hall organ is a foundation shaker.
All that and 'Pageantry' is dusted off to reveal its imposing grandeur like a spring clean at Windsor Castle - the pacing, detail and phrasing (especially in the central 'Cortege') brought gloriously to life. It's a performance of considerable stature in anyone's book.
'Star Wars' isn't in any danger of losing its lustrous secret to franchise success just yet, and on this evidence, neither is 'Gold' for Black Dyke.
Iwan Fox
Purchase:
https://www.blackdykeshop.co.uk/black-dyke-gold-vol-vi-129-p.asp
---
Play List:
1. Yorkshire Brass (Derek Broadbent) - (3.06)
2-4. Pageantry (Herbert Howells)
i. King's Herald (4.06)
ii. Cortege (5.04)
iii. Jousts (4.14)
5. Over the Rainbow (Arlen arr. Goff Richards) - (4.11)
Soloist: Siobhan Bates
6. Suite from 'Young Sherlock Holmes' (Bruce Broughton) - (6.04)
7. One September Morning (Robert Eaves) - (4.26)
Soloists: Zoe Hancock & Katrina Marzella
Conducted by the composer
8. Hallelujah Chorus (Handel arr. Philip Wilby) - (3.34)
Organist Philip Wilby
9. Bravura (Peter Graham) - (4.45)
Soloist: Daniel Thomas
10. Candide Overture (Bernstein arr. Howard Snell) - (4.10)
James Bond 007 Suite
11. On Her Majesty's Secret Service (John Barry arr. Darrol Barry) - (2.20)
12. Nobody Does It Better (Hamlisch arr. Robin Dewhurst) - (3.21)
Soloists: Zoe Hancock, Siobhan Bates, Alison Childs, Sammy Latus, Katrina Marzella
13. Live and Let Die (Paul McCartney arr. Ray Farr) - (4.03)
Soloists: Benjamin Richeton, Martin Irwin, Matthew Rigg
14. Alone Yet Not Alone (Bruce Broughton) - (4.07)
15. To Boldly Go (Peter Graham) - (7.54)