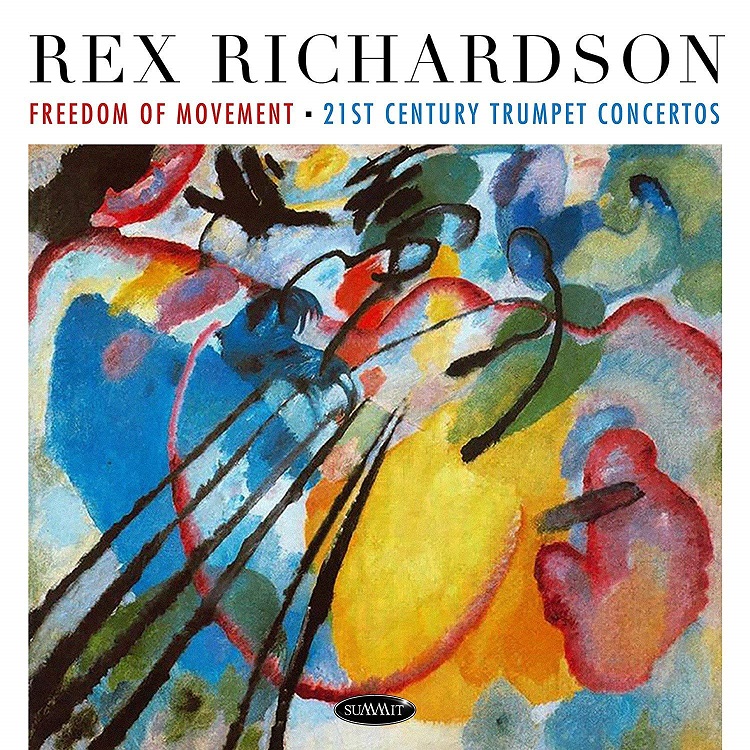 Rex Richardson has always been one of the most dangerously thrilling soloists to enjoy in full performance flow.
There is no premeditated risk-assessment to what he does - just a fearless adventurousness (musically as well as geographically on this occasion) that can never imprison his musical spirit. It gives his playing an edge of expressive unpredictability that has a wonderful libertine quality.
It may also explain why for this release he's drawn to works by composers who possess the same ethos. The concertos of Vizzutti, Scott, Plog and Stephenson are unrestrained in their daring, audacious outlook.
As a result he doesn't half revel in them.
Gale force
'Three World Winds' by Allen Vizzutti is Beaufort scale gale-force stuff; from blisteringly hot to languidly cool and finally, swirling to the type of tempestuous cyclone climax that whisks away Dorothy in 'The Wizard of Oz'. Richardson clicks his ruby heels and produces playing of cinemascope technicolor fission.
An exploration of virtuosity of a different kind is heard with the richly textured soundscapes and harmonic structures of Andy Scott's 'Freedom of Movement'.
The candid throb of its underpinning core is its connecting pulse; allowing the soloist to pursue avenues of adventure on a generous tether. It's a wonderful, ductile piece of musicianship that makes for a work of colourful substance.
Richardson clicks his ruby heels and produces playing of cinemascope technicolor fission.
Meanwhile, abstract thought processes and mood shifts are found in Anthony Plog's enticing 'Concerto' - inspired by five expressionist works by the Russian painter Wassily Kandinsky.

Each conveys an air of mystery and impressionism - Richardson delivering a nuanced performance that conveys immediacy as well as remoteness.
Deep sheen of substance
It's all rounded off with the 'Rextreme' concerto by James Stephenson. It may have become the American's calling card since first performed in 2010, but its witty familiarity has developed a deep sheen of substance that on first hearing can perhaps pass you by.
He now paces the three movements with cultured sophistication – allowing leeway to accelerate the tension without losing the supple, vivid technical agility that made it such a startling addition to the repertoire in the first place.
Aided throughout by sympathetic, neatly tailored accompaniment, it closes a CD that has an unmistakable sense of the freedom of movement that continues to be Richardson's unrestricted passport stamp on all his musical travels.
Iwan Fox
---
To purchase: https://rexrichardson.net/new-album
Playlist:
1. Three World Winds (Allen Vizzutti)
i. Scirocco
ii. Chinook
iii. Cyclone
2. Freedom of Movement (Andy Scott)
3. Concerto No. 3 for Trumpet & Brass Band (Anthony Plog)
i. Rowing
ii. Dreamy
iii. Deluge
iv. Gravestones
v. Rider
4. Concerto No. 2 for Trumpet & Wind Ensemble – Rextreme
i. Vivo, Allegro calmando
ii. Adagion
iii. Vivo, Presto, Allegro Rex-oso