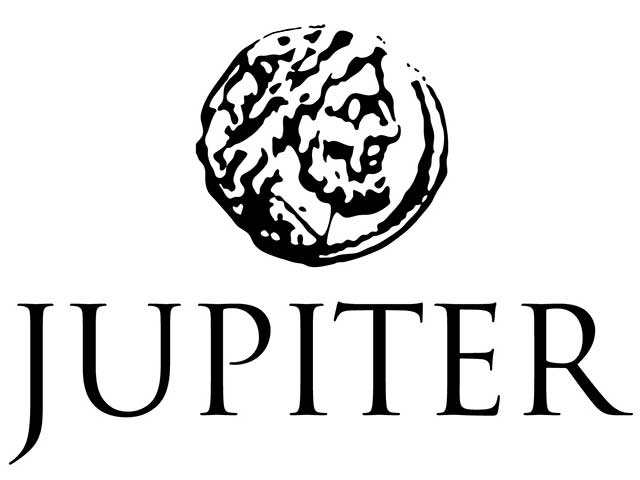 Introduction:
There was a time when Skoda made cars that everyone laughed at: Engineering that placed function above everything else - especially quality and finesse.
It was the communist Czechoslovakian take on 'Vorsprung durch Technik'. They were hideous.
Not now they don't.
The same also used to be said of certain types of brass band instrument manufacturers too: As cheap as a bottle of Czech Staropramen beer and with the ability to make a player sound like someone who had consumed 10 pints of the stuff before a rehearsal.
Jupiter was a case in point.
---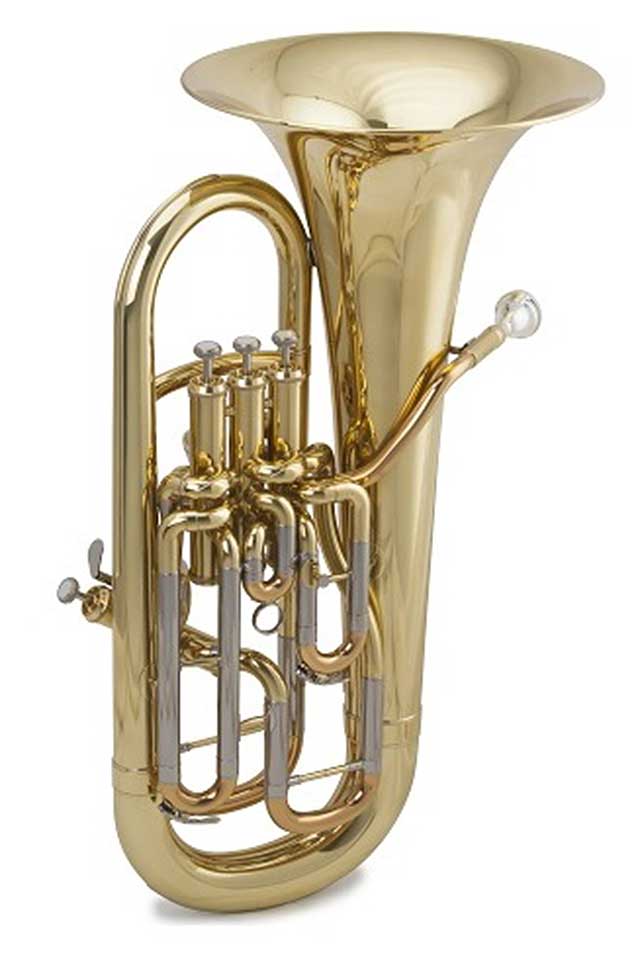 Background:
For years, the Taiwanese churned out student level instruments that seemed to have been made out of the remnants of discarded baked bean cans. They lasted just as long.
Much like Skoda though, things have changed: Nobody is laughing anymore.
The Chinese can now cater for the demand for disposable entry level instruments, leaving room for someone else to lead the way in a sector that has the potential to grow enormously over the coming years.
It looks like Jupiter is aiming to do just that.
They have realised that there is a big, mid range market out there to fill; one that bridges the demand gap between the aspiring student and the serious long term performer.
However, it's still a market that needs to offer quality as well as value for money.
In an age of non too clever copy cat designs, there are still plenty of student level instruments (from beginner to pre-conservatoire/college/university level) that are not worth their scrap metal value, let alone the price that someone is expected to fork out at their nearest retailer.
Jupiter says it has taken note and has changed its outlook: It is now competing at a very different level of expectation.
The last decade has seen major changes to production, design and quality issues - with reports that a brand that once used to elicit chuckles of frustration and despair from teachers and students alike has been replaced by the quite hum of impressive satisfaction.
Not surprisingly then, we were keen to find out if Jupiter's brand new student level JEP-1120 large bore euphonium was all that we heard that it was cracked up to be.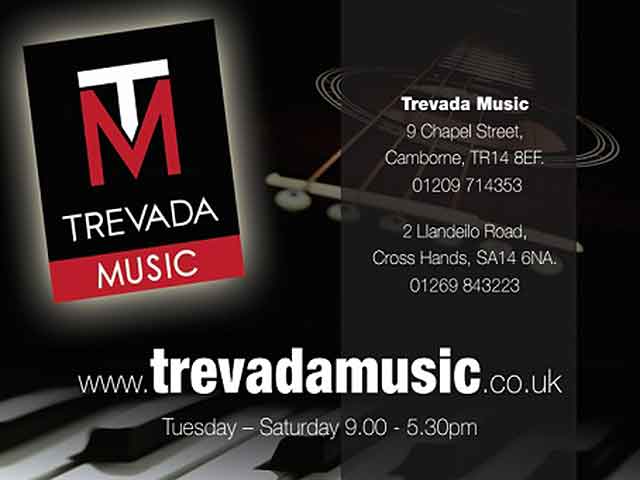 http://www.trevadamusic.co.uk/brass

We asked our friends at Trevada Music to lend us one for a few weeks, and asked a few more euphonium friends to put it to the test.
As always we looked at our four main areas: Build Quality/Design; Intonation; Ease of blowing/Tone and Overall Performance/Value for money.
Our overall star rating will be given at the end:

: Sub standard quality and characteristics in all four areas


: Average standard quality and characteristics in all four areas


: A mix of average and good standard quality and characteristics in all four areas


: Very good standard quality and characteristics in all four areas


: Exceptional standard quality and characteristics in all four areas
---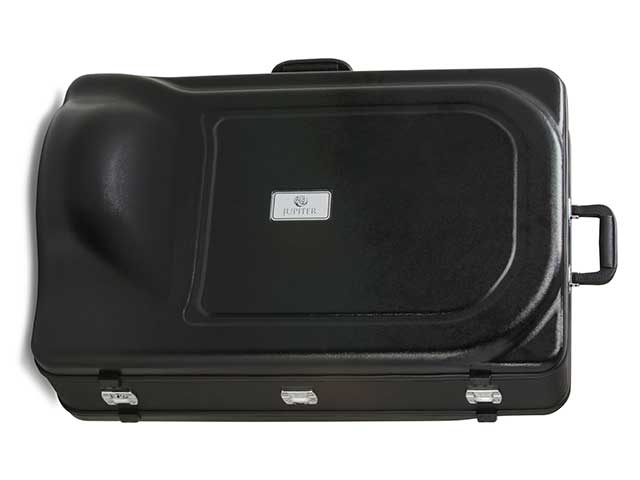 Build Quality/Design:
Before we even got the instrument in our hands, it was good to see an instrument case worthy of the name - and more than capable of surviving the merest bump on a rehearsal room door or back of a band bus boot.
Simple, chunky, sturdy: No fancy fabrics, cheap plastic or handles that come off in your hands. It may not be the prettiest thing a young player will get to carry in his hands, but it won't be one that falls to pieces after a bit of wear and tear either.
The instrument itself is also a bit of a revelation.
Whilst it may lack the 'wow' factor looks of a top of the range Prestige, it does still have the ability to raise an eyebrow or two in admiration at the way it has been designed and put together.
The words 'Made in Taiwan' seem as reassuring as if it was embossed with 'Born in Bavaria' up its leadpipe.
It's basic four valve compensating elements, dimensions and bore sizes are much the same as student rivals such as the Besson BE767, Yamaha YEP-64211, John Packer JP-374L or even Eastman EEP526S - with a bell size of 12.2" (310mm) and bore of 0.590 - 0.660" (15- 16.76mm).
However, the instrument feels a lot leaner, lighter, and far less bulky than its competitors. Whilst this may not translate in a superior musical experience for everyone, it will very likely by a more comfortable one.
Although there is no main tuning slide trigger, in this case it also means one less thing that can go wrong!! At student level it's not a major handicap.
We did like the attention to detail with the 4th valve lock mechanism, optional water reservoir and the quality of the little bits and bobs that invariable start to fall off on cheaply put together instruments - and the silver plate finish on the instrument we had, did look like it was made to last as well.
One of the biggest concerns in the past with Jupiter was the major bug bear with the valves - but glory be! This has been sorted out excellently.
Not only were they well positioned, but they were also slick and responsive. Valve oil didn't gunk things up either - as a quick test though a few Arban exercises showed over a couple of days.
Overall:
This is a very well put together, no nonsense piece of equipment - ergonomically designed for comfort and good posture.
Time will tell if the noticeably better build quality and considered design has got rid of all the old Jupiter bug bears, but in the short space of time we had it, there was no reason to think that reliability should be an issue.
---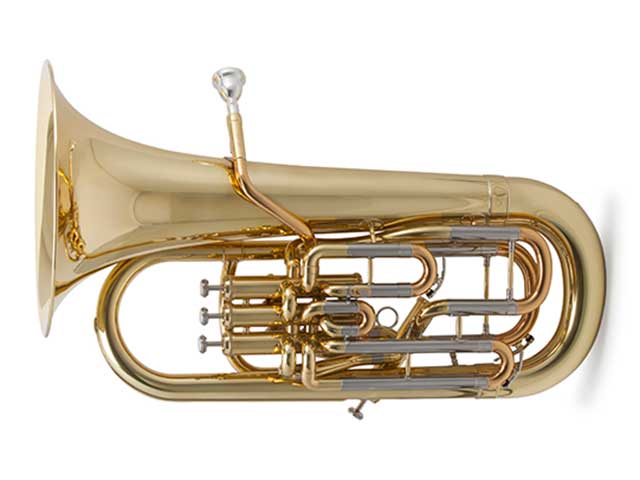 Intonation:
With the euphonium not coming with a main tuning slide trigger, we had a sneaky feeling that the good looks may not make up for what we thought would be pretty average intonation.
Many companies have tried (and failed) to solve the problem of the euphonium's natural grating sharpness of top G, and neighbouring F# and F.
Players themselves have used all sorts of remedies over the years, and whilst the very best professional level instruments get around things with that main tuning slide addition, the absence here made us initially wary.
However, we don't know what sorcery Jupiter has used in creating this euphonium, but it appears they have cracked the equivalent of the enigma code!!
The tuning from bottom F# chromatically up to fourth space E is good, but just when we thought things would start to go awry, they didn't. The more we played it the more it seemed so nearly centred.
To put it bluntly - we were a bit astonished.
Overall:
Bravo! Jupiter has pulled off a thoroughly impressive feat here - and without losing any perfectly acceptable intonation characteristics anywhere else in the instrument's range.
Our test drivers suggested that the Jupiter boffins be nominated for the Noble Euphonium prize.
---
Ease of Blowing/Tone:
Once again - surprises galore.
The Jupiter plays with ease and with a wonderfully rich, full sound for a student level instrument.
The high register sings well enough - not strangled or lacking timbre, but it's in the lower range that it really shines.
Going down the scale from bottom C into the depths of hell was a comfort ride - even Orpheus would have been delighted. No need to push for the pedal notes either - as they emerged without too much effort.
If there is one criticism though is that when pushed to its dynamic limits the cracks do begin to appear.
That said - our test drivers were very experienced players and were able to give it a fair old size 10 welly, but it still got a bit bright and a little harsh.
At these extremes the euphonium loses its tonal poise, but for an emerging player that may not be a bad thing.
There will be plenty of years to come of shovelling air down the lead pipe of professional level instruments that are designed to take it.
Overall:
But for that one criticism aside, the Jupiter continues to surprise and delight. Easy to blow with a very fine tone if you don't try and inject it with lung bursting volumes of air.
---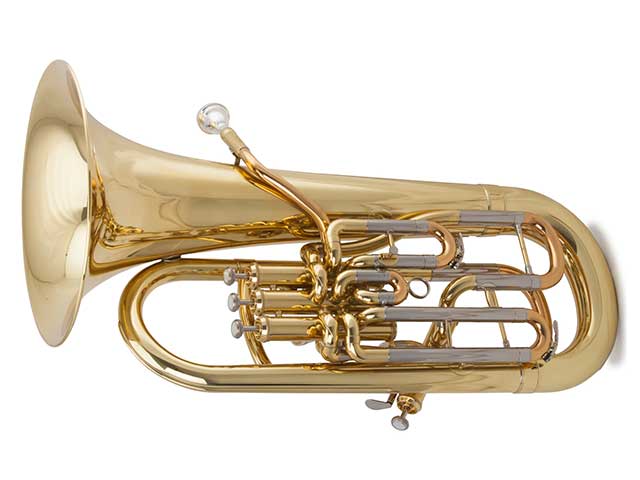 Overall Performance/ Value for money:
We have to say that we have been completely won over by the Jupiter - it is a very fine student level instrument that offers a great deal for a player at a crucial stage of performance development.
It's obvious that a great deal of time, money and thought has been put into the JEP-1120 - from its impressive design and build quality, to its tonal and ease of blowing characteristics - and especially its intonation.
It's been made to provide that ideal bridge for the student player - from enthusiastic learner to serious long term performer. It will certainly reward a conscientious pupil who is prepared not to try and make the leap to the pro-level instruments before they are really ready.
Price-wise it comes in around £2,500 - and it is terrific value for money. In years to come it could hold its resale value like a second hand BMW.
The Besson BE767 comes in around £2,600 and the Yamaha 621S (which to be fair is a pro level instrument but the 321S is an acquired taste with its valve set up) is much more dosh, although the Eastman EEP526S can be found under two grand.
That sturdy case, lyre and strap holder is an added bonus too.
Overall:
Jupiter has made some statement of intent with this cracking student 'bridging' instrument.
A bit like the Skoda: Don't be put off by the badge and you will be delighted at an instrument that offers a great deal for quality, finesses and function in the right order.
---
Overall 4BR star rating:



: Very good standard of quality and characteristics in all four areas
Specifications:

Price: £2,500 (approx)

Bell Size: 12.2" (310mm)
Bore Size: 0.590 - 0.0660" (15-16.76mm)
4 valve fully compensating system
Stainless steel valves
4th valve stopper
Optional water reservoir
Finish: Lacquer or silver plate
Case: ABS-Wood framed

For more information:
http://www.jupitermusic.com/jbi_index.aspx