Top Ten: Soprano Players
The Top 10 Soprano Players of All Time
---
We've cast our eye over the best cornet players, the best euphonium players, the best trombone and even the best Bb bass players of all time, so it had to be about time that we had a look at those who make a pact with the Devil himself and play the soprano cornet.

No one in their right mind would choose at the outset of their career to play the soprano cornet – it is the one instrument that doesn't lend itself to be mastered easily, and the thought of young children turning purple, suffering migraines and having to wear a surgical truss before puberty in the cause of helping their band is possibly too much to bear. It is said that the soprano is an instrument that should only be given to those with lips like car bumpers, brains the size of a dinosaur and balls the size of a Grand National winner – true or not, there is little doubt that those who have truly mastered the black arts of the soprano are touched either by madness or genius – and there is a very fine line between the two.

We've gone back in history then to check out the "greats" and have come up with a top 10 who we think would grace any band in the world. See if you agree or disagree with us and let 4BR know……
---

1. Peter Roberts
The undisputed holder of the title. Peter Roberts is a phenomenon – a player who is the master of his craft and a man who has pushed the boundaries of soprano playing to new heights. Even today, aged just past 50 he remains head and shoulders above his rivals – an unparalleled soloist and breathtaking band player - the true superstar of the instrument.

From Grimethorpe Juniors in the early 1960's, through to the senior outfit, with spells at Dodworth and Sellers and finally to his current amazing Indian Summer at Yorkshire Building Society he remains the sop player everyone else must measured against. A truly unique talent – and the greatest soprano player to put instrument to lip on "Planet Banding".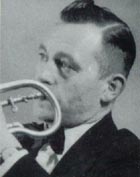 2. Charlie Cook
The man who was the titleholder before the advent of Peter Roberts. Charlie Cook was the star soprano cornet player with the brilliant Fodens Band from 1933 onwards, and like Roberts was head and shoulders above his contempories.

Very much his "own man" Cook had a cast iron technique and beautiful sweet tone that set him apart from his rivals. His range was superb and his playing relationship with Harry Mortimer became a thing of legend. Bram Gay called him "an incredible artist…..an octave stop for the cornet section."

Cook defined soprano playing pre war and post war and even after his death aged 86 in 1997, his reputation, as one of the true "greats" remains undiminished.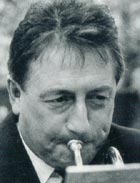 3. Brian Evans
If ever there was a man born to be a soprano player, then Brian Evans was it. Stories, myths and legends about the man abound, yet one fact is undisputed – Brian Evans was a truly great soprano player.

Picked out at short notice from the 2nd cornet bench to play sop for Alex Mortimer and CWS Manchester in 1961 he established himself as the best player of his generation on pieces such as "Variations on a Ninth", "Benvenuto Cellini" and "Diadem of Gold". In addition he established the soprano as a true solo instrument with his technique, nerve and sound and his talents saw him "headhunted" by all the best bands in the land.

Brighouse, CWS, Fairey, Dyke – he did it all and has the tee shirt to prove it. A worthy podium place.


4. Emlyn Bryant
If you thought Brian Evans was born to be a soprano player, then the Welshman Emlyn Bryant was born, bred and raised from the cradle to become the romantic's choice of how a sop player should be. A man who very nearly sold his musical soul to the Devil himself in return to be able to play like an angel.

Bryant took over the sop chair at Fairey's from the fine Ernie Wedgewood in the early 1950's and established himself as virtuoso player of extravagant gifts. His playing mirrored his personality and at times his brilliance outshone the great players that were in the bands of Fairey's and Munn and Felton's at the time. Harry Mortimer even wondered about his sanity.

A man who brought great pleasure to everyone who ever met him and heard him play. He died tragically back home in the Rhondda Valleys some years ago.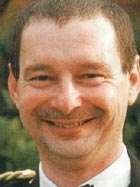 5. Alan Wycherley
The romantic's choice as the inheritor of the classic attributes of the soprano players craft – a perfect tone, breathtaking technique, range and musicianship that demands to be appreciated and revered.

A boy prodigy, his performances on both concert and contest stage over the past 25 years have been simply outstanding. For Fairey's, Desford, Leyland and now Fodens he remains a quite superbly gifted player.

He somehow belongs to a bygone age of finesse, touch and style – a John McEnroe against the power and bludgeon of today's Greg Rusedski's.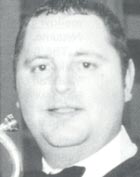 6. Martin Winter
A bit of a surprise choice you may think – especially as Martin Winter is first and foremost a trumpet player of real stature and cornet player of world class abilities, but those of us who have had the pleasure of hearing him play the soprano would have little doubt in placing him high on our all time list.

A superb faultless technique, pure tone and innate musicality, he has performed on soprano on both the concert and contest stage to amazing effect. Some years ago he played the immensely difficult solo "Syrinx" by Debussy arranged by Howard Snell, that was simply awe inspiring, whilst he has also performed on the contest stage with Brighouse and Fodens to scintillating effect.

Check out some of the earlier Fodens CD releases to see what we mean. One heck of a player.

7. Tommy Waterman
Perhaps the most fondly remembered soprano player of all time. Waterman was at Black Dyke for the period 1951 to 1968 – a period in which the band from Queensbury won two Opens and four National Championships.

A superb player who was dogged throughout his life by ill health, Waterman only had one lung yet made his mark as both a band player and soloist – an amazing achievement given that he had to play behind the likes of Willie Lang, Maurice Murphy and James Shepherd.

He died aged just 39 from emphysema – a tall, thin, lovely man who could in the words of Geoffrey Whitham, "play as strong or as sweet as you like".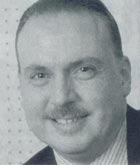 8. Kevin Crockford
The most decorated soprano player in the history of the brass band movement? Crockford has been a truly top class soprano player ever since he first made his mark with Black Dyke near on twenty years ago.

A product of the 1980's school of power players his immense abilities have sometimes been much maligned by critics. A cast iron technique, solid sound and a nerve that reminded you of the attributes of a pawnbrokers sign, he has always given true value for money for whomever he has played for.

Now with Williams Fairey he has revealed further facets to his playing that will show his class for many more years to come. You don't get to win all those baubles without being very, very good indeed.

9. Bernard "Buddy" Burns
A contemporary of the great Charlie Cook, Burns was the soprano cornet player at Black Dyke from 1934 to 1951, in an era that saw Dyke move from being a hard sounding band under the likes of William Halliwell to a softer sounding outfit under Harry Mortimer.

During his tenure in the sop chair, Burns made a name for himself as being perhaps the very opposite to Cook – bold with a huge sound, not a soloist or virtuoso but as Geoffrey Whitham recalls, "one hell of a player in his own right and as safe as houses".

It says a lot of the man that during his period, Dyke won the Open in 1935 and the hat trick at the Nationals from 1947 – 1949 on "Freedom", "On the Cornish Coast" and "Comedy" – all with big and important sop parts.



10. Joseph Brooks
A name that nearly everyone out there won't possibly know of, but you would have to be older than the Queen Mother to possibly have heard him play.

Brooks was the soprano cornet player of the Fodens Motor Works Band in the days of William Rimmer and played with the band that won the British Open in 1909 and 1915 and then the "Double" of Open and Nationals in 1910, when the test pieces were "Acis and Galatea" and "Gems of Schubert".

Brooks came to Fodens from the excellent Lindley band of the day, and had a reputation as one of the finest slow melody players on the huge solo circuit in the North of England at the time. He was so good a player that when the great soprano player Arthur Webb of the Houghton Main Band wanted to join Fodens, he was forced to accept the position of solo horn in stead of the sop seat he wanted.

He played with the band until the Great War and possibly just beyond. Perhaps the first "True Great".
---
That's out top 10 then. Peter Roberts is without doubt in our mind, the finest soprano player of all time, whilst the likes of Charlie Cook, Emlyn Bryant and Brian Evans were the greatest players of their generations. Alan Wycherley and Kevin Crockford are the modern contemporaries who push Peter Roberts the closest, whilst Tommy Waterman and Buddy Burns pushed Cook and Evans equally as hard in their time. Joseph Brooks is perhaps the player who started things all off and Martin Winter is the player who could be the greatest ever – if only he wasn't even better on the cornet and trumpet.

Who are your choices though? Let us know and tell us why by dropping us a line

© 4BarsRest

back to top