Thanks for the Memory No 2:
WILLIE BARR, the Flying Scot
by Chris Helme
Willie Barr will be remembered by many older readers as one of the finest and most frequently heard cornet soloists on the radio during the 1950's and 60's. My own recollection of this brass band legend from north of the border was when I first heard one of his solo performances of Gregor J. Grant's composition ' The Flying Scot' on a 1967 Scottish CWS recording – cornet playing of the very highest standard.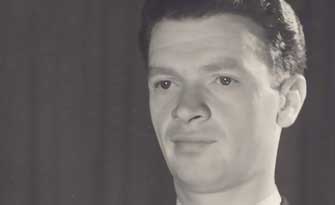 Willie Barr in 1950 - one of the finest cornet
players of his generation
Willie was the eldest son of William (who was also known to his friends as Willie, snr) and Meg Barr. Their two younger sons James and Lex and their daughter Bunty did not follow what had become the family tradition of learning to play a brass instrument. Nor did Willie's own son William Hugh either as a hobby he went on to make a name for himself as a Champion Racing Cyclist.

It was to be Willie who as he got older would follow in the footsteps of not only his father but five uncles as well - Jim; Louis; Alex; Charlie and George who were all instrumentalists in their own right. However, the family's brass band connections go back even further - to the days when his grandfather John Barr was a founding member and conductor of the Creetown Silver Band near Galloway during the 1880's.
At Creetown it was John Barr and Rob Elliot who raised the princely sum of £20 to purchase twenty brass instruments, an amount that was certainly a sizable sum 120 years ago. To help the band through those early days each member of the band paid a weekly four pence subscription. There were twenty bandsmen who to begin with knew nothing about brass band music and it took about two years of regular practice and dedication before the band stepped out and made its first public performance under the baton of John Barr.
Times were hard in this part of the world as the old century was coming to a close – so much so that in 1887 some members of the community left the area including a few who emigrated to America.
However, by the turn of the century John Barr had retired as the bandmaster which then saw the appointment of Felix Slevin (who I understand went on to be a Director of Feldman's Music Publishers between the wars) as the new bandmaster and by 1901 having succeeded at a couple of local contests they were awarded the Championship of Galloway.
It would seem that this was a purple patch for the Creetown Silver Band with Willie Barr (snr) winning best solo cornet prizes quite regularly. Due to the band's continuing success in 1905 the word 'Prize' was incorporated into its name. Even with this success Felix Slevin moved on to conduct the Darvel Burgh Band which resulted in the appointment of Robert Hughes as the new Creetown Silver Prize Band conductor. Willie (snr) carried on as though there had been no change – continuing to notch up a fairly regular crop of best Solo Cornet prizes.
During the First World War the bands activities like many others were suspended and did not re-start until 1919. Following the resignation of a Mr Harvey the then bandmaster of the band Louis Barr took over the baton in 1922. This was short lived as the former bandmaster Robert Hughes came back from America having emigrated there a few years earlier and was invited to take back the reins in 1923.
Willie (jnr) was born in 1926 in Glasgow and began playing at the age of 11 with his early tuition being given by his father William, who was a cornet player with the Scottish CWS Band at the time.
His introduction to playing with a band was when he joined the local Boys Brigade but not long after was asked to join the Glasgow Gas Department Band under their conductor Herbert Bennett.
It was Herbert Bennett who had earlier conducted the Darvel Burgh Band to a creditable 5th place behind the legendary St Hilda Colliery Band at the 1924 National Championships at the Crystal Palace before moving on to become a nationally respected contest adjudicator – a name I am sure many older readers will recall.
During the summer concert season of 1940 young Willie featured regularly as a boy soloist with the Glasgow Corporation Gas Department Band. He had now moved on from receiving tuition from his father to having more advanced lessons from Ben Thornton the then Principal Cornet at Scottish CWS who went on to join Munn and Felton's Band, a band many readers will know that in later years was to become the famous G.U.S Band under the baton of Stanley Boddington.
In 1941 Willie then aged 14 years finally achieved his boyhood ambition by following in his father's footsteps and becoming a member of the Scottish CWS Band. As a boy he was most enthusiastic and much of his leisure time was spent in home practicing and listening to records of the many fine players of that era.
He tells us that he was very fortunate in having had that opportunity and suggests this practice to all of today's aspiring young players.
From the age of 14 until he was called to the army at 18 he was content to remain in the back row cornet section and in retrospect he says this was a wise policy as many promising young players often fail through being promoted before having had a chance to develop naturally.
During the latter part of the war he saw active service and was wounded whilst serving with The Black Watch and did no playing for over 2½ years. Fortunately he was transferred to the Royal Norfolk Regiment soon after the war and spent the remaining year of his army service on tour in Germany as the Solo Cornet of the regimental band.
On his demobilisation in the autumn of 1947 he went into the first cornet section of the Scottish CWS who were in the process of re-organising after the war years. In early 1949 Alex Mortimer was appointed the Musical Director who then appointed Willie Barr as the band's principal.
With the Scottish CWS Band he was a familiar face at the Nationals in London – their highest placing came in 1958 when under the baton of William Crozier playing Edmund Rubbra's test piece 'Variations on the Shining River' off number 16 they were awarded second place behind Foden's.

Now firmly established as a player of distinction and quickly making a name in solo competitions he was attracting the attention of the foremost English bands of the time.
He was the record winner of the Glasgow and West of Scotland Solo Championship until he stopped entering the event while still in his early 30's.
He won the Scottish Solo Championships in 1948/1949 and was usually top cornet in the initial entry of qualifiers.
Twice during the 1950's he was invited to take the 'end chair' at Black Dyke Mills but because of the more attractive location (Oxford) he chose instead to accept an invitation from Harry Mortimer to join his Morris Motors Band as leader in 1950. He led them to success in several contests and very many broadcasts for over a year before being tempted to return to Scottish CWS with the additional appointment of secretary.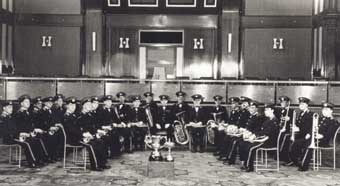 Scottish CWS c.1950
During his spell with Morris he stepped in to deputise for Teddy Gray at Foden's in London concerts when Teddy went off on honeymoon.
He also featured on the 'Dear Sir' radio programme when his playing was mistaken by Harry's Foden bandsmen for Harry himself. Harry Mortimer announced this to Willie and the Morris players at the next rehearsal expressing the hope that Willie didn't mind the error. Willie in covering his embarrassment muttered - that it was hardly an insult.
Long after his name had disappeared from the Radio Times and the brass band journals Teddy Gray (former principal cornet at Foden's and the All Star Concert Band introduced Willie to the solo cornet player of his then band 'The Royal Doulton Band' as Willie Barr of Morris Motors and Scottish CWS – "a better player than me". Willie protested in his embarrassment that he couldn't agree although he had perhaps broadcast more solos over the years.
I am sure brass band enthusiasts in Scotland will remember many of the former players who shared the stage with Willie over the years and they are not forgotten either. Just as a reminder they included: Gilbert Watt; Jackie Elliott; Walter Nesbitt; James Megahy; Willie Haddow; James McKie; Bram & Charlie Thompson; Roddy Campbell; Willie McPherson; Peter Wilson; Peter Moore; Robert Nairn; James McMillan; Paul Beck; Robert Arnott; Bert Masters; Bert Masson; Willie Robb but to name a few.
Willie was secretary at Scottish CWS for 16 years until he relinquished the position in 1966/67 to take up a position as teacher of brass instruments with the Edinburgh Education Authority.
On reaching the age of fifty in 1976 Willie found the constant travelling to Glasgow and back several times a week rather tiresome on top of his daily teaching commitments in Edinburgh and retired from Scottish CWS after being with them for 23 years except between 1950 and 1951 for his spell as principal cornet with Morris Motors Band spending the next ten years assisting the Royal Scots TA Band which took him all over the country including Kneller Hall inspections.
He is the record holder of the 'Terris' award (an award believed to have been originally given by a Scottish brass band benefactor called Charles Terris – no further information is known about this award), which was given each year for the best performer on a cornet at the Scottish Championships.
One of his most popular solos from his long repertoire heard on his many radio broadcasts and concert solo performances was "The Flying Scot" which was dedicated to him by the composer Gregor J. Grant in appreciation of his playing.
It was frequently suggested he could have been a professional trumpeter but he maintained that he would not be happy away from bands and has confined his activities in that area to only occasional engagements with the Scottish National and smaller orchestras.
On one occasion when the London Symphony Orchestra appeared at the Edinburgh Festival Willie Lang then a member introduced Willie to the brass section as 'Willie Barr the famous cornet player' Willie countered this by protesting that in his experience HE (Bill Lang) was the famous and inspirational cornetist of his younger formative years.
Over the years Willie played under many conductors Sargent, Boult, Rankl and Bliss amongst the orchestral greats and too many to recall in the brass band world (Scottish CWS was dubbed the graveyard of conductors) Fred, Harry and Alex Mortimer were all inspirational figures to play for while George Hawkins, J. A. Greenwood and many others demanded a high standard of excellence.
Willie was a member of the first cornet section in Harry Mortimer's 1950's 'All Star Concert Band' of Great Britain and the Principal Cornet of its Scottish counterpart under Drake Rimmer.
Enoch Jackson (principal trumpet Scottish National Orchestra) and Professor of Trumpet at the Scottish Academy of Music always advised his students to listen to Willie Barr on record for a perfect example of triple tonguing techniques.
Willie was himself Professor of Cornet at the Dreghorn Military School in Edinburgh for young bandsmen during the 1970's.
He continued to teach in Lothian Region schools until his retirement in 1991 and now lives in retirement with his - as he says - long suffering wife Judy, at their home in Edinburgh.
Looking back over all the years of pleasurable but hard work he memorised well over 20 of the standard solo repertoire – a characteristic drummed into him by Bandmaster
Daniel Harvey from his old army days. Looking back over his long and distinguished career Willie says that far and above contest successes and solo achievements he treasures most were the warm memories of the good natured way he was always received by his peers. Meeting with star players like Willie Lang, Derek Garside, Teddy Gray, Bobby Oughton and many more only took place two or three times a year at contests and with the "All Stars" but they were always very friendly and they genuinely wished each other 'all the best' before going to 'the scaffold'. These sentiments were also shown by conductors such as the Mortimer's and many others in Willie's circle of friends.
Whilst the name of Willie Barr may be new to many of the younger players of today his name is still remembered throughout the brass band movement by those older players who started their own 'banding' careers during the early post war years.
At his peak Willie Barr was one of the finest cornet players of his generation and the few recordings of his playing that do survive are testament to some truly first class playing.
Perhaps you have a memory of Willie either playing on the same stage or simply admiring his artistry from the auditorium.
I am very pleased to have been invited to contribute to 4barsrest by the editor with what some might call old fashioned nostalgia - I would welcome your comments and some of your brass band memories from your past.
I am a retired police officer and I have played in brass bands for 43 years in the lower sections and still play with the West Yorkshire Police Band as a retired officer. I have written a local newspaper nostalgia column in Brighouse for 17 years, two local history books, produced a 90 minute nostalgia cassette tape with another in the pipeline. In 1999 I wrote a small booklet about the life of the legendary cornet player James Shepherd. Several years ago I was asked to contribute to a brass band publication – this was to be similar to my newspaper column – nostalgia and looking back and publish a bi-annual West and North Yorkshire Speaker Directory and a new South Yorkshire version this next year.
I am currently presenting over 80 slide presentations and speaking engagements annually the length and breadth of Yorkshire and teach adult education classes during the winter.
Over the years I have written a small number of articles for county and national publications on a nostalgia theme. In each of the publications I have written for I have always encouraged the readers to become involved and be interactive so I can include some of their memories and photographs into the stories where ever and when ever possible.
I can be contacted on chrishelme@brighouse.fsnet.co.uk and I look forward to hearing from you.
© Chris Helme
© 4BarsRest

back to top