Thanks for the Memory No 3:
LOUIS ALLISON, by Chris Helme
I am sure many readers will have carried out their own research on their own pet projects at sometime, whether it was purely for their own personal interests or simply the satisfaction of just finding out or possibly for something more formal, educational advancement perhaps.
Part of that research invariably involves delving back in the old local or even national newspapers or for this purpose the back issues of brass band periodicals and programmes, as well as your own local archives resources.
Certainly in my own experiences and I am convinced it will also be the experiences of many readers too that researching through the old newspapers is a fascinating pastime in itself. Diversion, being side tracked are perhaps two descriptions that come to mind immediately. Whilst looking for one thing you inevitably end up looking at many other things too. I am sure the phrase '…well I never knew that…' comes to mind for many of you as well.
Whilst this is all very time consuming it is from my own years of experience, a very enjoyable experience – particularly when you come across something that you may never have found if it had not been for that moment of being side tracked.
An example of that was whilst I was researching the man who was dubbed the Prime Minister of Bandmasters, Arthur O. Pearce. For years I thought somewhat naively it was actually Arthur O'Pearce until I embarked on the research and found it was Arthur O. Pearce as in Arthur Oakes Pearce. His middle name was a family name and was the maiden name of his mother Caroline who died at the comparatively young age of 48 on the 31st of May 1898. Arthur O. Pearce was appointed conductor at Black Dyke in 1912 and remained there until his retirement in 1948 - the story about Arthur will have to wait for another day.
Anyway, it was whilst researching his life and spending hours and hours delving through old newspapers that I cam across the name of Louis Allison who was described as the Principal Cornet at Black Dyke or as it was spelt in those days Black Dike. Far from being a so-called expert on these matters but someone who has a genuine interest, that was a name I had not come across before. In fact looking through various old publications his name does not appear however, I am sure the more serious researcher of brass band history will of course know of him.
Looking through my programmes that illustrate the chronological order of soloists up at the famous Queensbury band, about the turn of the nineteenth century the first mentioned holder of that coveted 'end chair' is John Paley who was there from about 1891. Thanks to some information given to me by Dr Roy Newsome from his own research, John Paley also seems to have gone to America in the same year to play with a Patrick Gilmore's Band. It would seem that he signed on with Black Dyke on a year by year basis rather than being tied to what we would call a year on year regular member.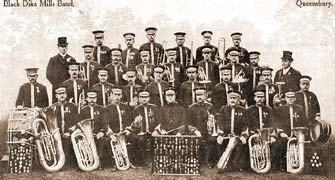 Black Dyke Mills 1906
He was then followed by Bramley (Leeds) born master cornetist the then 23 year old Ceres Jackson who joined Black Dyke in October 1901 as sub- principal cornet to John Paley. His first outing as a soloist came at the Princes Theatre Accrington when he enthralled the audience with Damare's 'Cleopatra'. He finally took the 'end chair' position in his own right in 1902. Information about Ceres Jackson is a bit thin on the ground so if you have or know of any information about him I would be very keen to hear about it and there only seems to be the one photograph of him in circulation.
It was reported that in 1912 Louis Allison was still a young man although as yet I have not found either his date of birth or date and place of death but all the available evidence indicates at that time he'd had a long experience in music.
As a seven years old he was playing the Soprano Cornet with the Belle Vue Band at Wakefield, a band that had been started originally by his father - a well known cornetist who himself had retired in 1910.
Louis helped local bands in the Wakefield area until he reached the age of 11 when he joined the Dewsbury Old Band and was adjudged the best Soprano at Belle Vue that year. Just when that was and with out further detailed research it is impossible to say but on the balance of probability in 1891 Dewsbury Old took 3rd prize at the British Open at Belle Vue. On the basis that young Louis was then only 11 years old he would have born in 1880 and would have been 26 years old when he was invited to join Black Dike (please note different spelling to that of today) on the America and Canada Tour of 1906.
At the age of 12 he was awarded 2nd prize amongst 28 competitors at a solo contest at Shipley near Bradford and was presented with his award by non other than John Paley who it was reported was adjudicating his first soloist's contest that day. It was on that same day he and his 10 year old brother came second in the duet competition a feat that was talked about for some weeks afterwards.
After two to three years with the Kingston Mills Band he joined the Linthwaite Band at Huddersfield as their principal cornet and over the five years he stayed with them he won 14 medals for the best solo cornet player at contests. Sadly enquires and help provided by Linthwaite Band have so far failed to find any details of his career with their band.
With continuing success as a performer he decided to venture into conducting with one of his first bands being Castleford Old and then Brotherton United Bands and then with his old band Belle Vue, Harrogate Temperance Band, Watford Artisans, Tillery Colliery and Abertillery.
It whilst conducting the Abertillery Band that success as a conductor came when in 1904 and playing off number 10 he led them to a fifth place and a £12 prize at the Crystal Palace National Championships, one place above Black Dyke Mills and their legendary conductor John Gladney. Having moved to South Wales and achieved this success it was not long after that he returned north to take over the Daisy Hill Band in Bradford. It was whilst in the Bradford area he was also in regular demand by local orchestras.

It would appear that he had originally come to Black Dyke's notice when they needed another cornet player for their 1906 tour of America and Canada. It was reported that the band warmly received him and although having been invited to join Besses on their world tour it would appear that he decided to stay at Black Dyke on sub principal until their principal cornet the legendary Ceres Jackson left. On that tour other players included:
Soprano: Thomas Scatcliffe Repiano Cornet: Ernest Ambler
Soprano: Harold Coates. 2nd Cornet: Wilson Farrer
Solo Cornet: Ceres Jackson 3rd Cornet: Sam Midgley
Solo Cornet: Louis Allison Solo Flugel Horn: Frank Bramfit
Solo Cornet: Harry Bower 2nd Flugel Horn: Willie Jeffrey
Solo Cornet: Thomas Bottomley 1st Tenor Horn: Harry Charnock
2nd Tenor Horn: Edgar Coates 3rd Tenor Horn: Wilfred Jackson
3rd Tenor Horn: Charles Pearson Solo Baritone: Joe Jackson
2nd Baritone: Alfred Gray 1st Tenor Trombone: Fred Bower
2nd Trombone: Mark William Ambler Bass Trombone: Harry Craven
Solo Euphonium: Harry Waddington 2nd Euphonium: Joe Ambler
2nd Euphonium: John Arthur Wood Eb Bass: Alfred Bower
Eb Bass: Harry Firth Eb Bass: Arthur Greenwood
BBb Bass: Alfred Ingham Drums: George Ambler
Drums: Sam Cowgill Briggs Bandmaster: Harry Bower
Conductor: John Gladney
During this time at Black Dyke as second man for the America and Canada trip Louis Allison had a contract which earned him a substantial amount of money for those far off days.
Even for a highly skilled group of brass players from the hill top village of Queensbury that six-month tour must have been very daunting. Particularly when you consider that many of their mill worker mates from the village where it would have been considered to have been an 'outing' just to take a tram ride to Bradford or a train ride into Leeds. Let alone going away as far as one of our seaside resorts of Blackpool or Scarborough.
It was the man who has often been portrayed as the 'Father of the Brass Band' John Gladney that led them on that six month tour. For someone then aged 67 years old it must have been very exhausting, it may not be surprising then to hear that the following year he retired.
In 1907 Louis Allison was still the sub-principal to Ceres Jackson when they came second to Wingates Temperance Band playing Charles Godfrey's arrangement of Robin Hood at the British Open.
There is some evidence suggesting he later left to conduct the Lee Mount Band at Halifax for a short while and was also heavily involved with Wingates Temperance Band until he was invited to become principal cornet with Black Dyke in 1912 a position he must have only dreamt of. His first engagement as principal with Black Dyke was on Saturday 4th April 1912 at Hull where he performed 'Queen of Angels' and 'Fairies', which was probably one of the first concerts the band had under the baton of Arthur O. Pearce.
He led the band to 4th place at Belle Vue in that same year but the following year they were not even placed. Whether those two unsuccessful years by their standards had anything to do with the fact at the 1914 Open Championships Louis Allison's sub-principal for the previous two years Harold Pinches had been appointed the principal cornet would be open to conjecture. The band bounced back that year under the direction of J. A. Greenwood and his leadership and took the coveted first prize.
Louis Allison won 46 first prizes for his cornet playing and a new cornet valued at 20 guineas in a competition at New Brighton in 1910. Along with his father he had two brothers who were also players - one with Lee Mount and the second Arthur won the Cornet Championship of Scotland 14 years in succession. He also went on to compose the cornet solo 'The Caledonian' which was recorded by the legendary cornet player Willie Barr during the 1960's.
Just where Louis Allison went after he left Black Dyke as yet remains a mystery and will require further research. With a bit of luck and hopefully without being diverted or side tracked too much or too often I will hopefully find that answer one day.
Whilst not knowing what happened to Louis or where he lived or where he spent the rest of his life it is a little easier however to throw some light on what happened to his cornet or at least one of them.
Thanks to David Read the much respected adjudicator has told me that in 1946 he was entered in the North of England Area Championship Solo Contest which was held at three venues in Bradford that year and along with thirty eight other hopefuls he performed at the Eastbrook Hall.
It may be of interest to all those who entered competitions at this venue that the building has now been demolished except for the original and very impressive nineteenth century frontage and is in the process of being re-developed – I have the complete programme for that 1946 event which looking through the names of those who competed in that year it is a veritable who's who of banding of that period with many of the competitors now being respected elder statesmen of the brass band world who went on to higher things as players, conductors or as adjudicators.
It was after the event his father and tutor George Broadhurst bought him a new cornet from a man in Bradford some time after the solo competition. David recalls that as a youngster he never met the man who sold them the instrument but does remember being told that the cornet which he believes was a Besson Zephyr and had a very decorative bell had belonged to Louis Allison the man who had sold his father and George the cornet.
As David says – "…It's a long time ago now…" – but he does have a vague recollection after all these years that the instrument change hands for £15 and was in excellent condition having been well looked after – in 1946 the £15 was a princely sum bearing in mind a working mans weekly wage in those days. If it was Louis Allison who did sell them the cornet it does point the way to him possibly living in Bradford in 1946 along with the other evidence of him conducting the Daisy Hill Band – this could suggest that he may still have family living in the area. If any anyone can throw any light on this man I would be pleased to hear from you.
'What happened to the instrument…?' - David says that he did it play for a while but went back to his preferred choice cornet the Boosey NVA. He believes that the old cornet went on to be used for learners possibly with his old band at Askern Colliery.
This publicity photograph is a postcard showing Black Dyke and was probably produced especially for their 1906 America and Canada tour where one of the cornet players was undoubtedly Louis Allison but again just which one remains a mystery.
---
My last story about the life and times of that legendary cornet player from Scotland Willie Barr brought a tremendous response from readers who had either played in the Scottish CWS Band at the time or had admired his playing as a member of a rival band or as a spectator had been dazzled by his many concert and radio performances. Willie has asked to be remembered to those friends he has not seen for many years – it has also given him the chance to renew contact with a number of those friends from the old days through the benefits and magic of the internet….and of course 4barsrest.com.
Bram Thompson now an octogenarian was Solo Horn in the same band from 1950 to 1963 and recalled many happy times playing in the band with Willie. Kenny Crookston at Whitburn Band remembered hearing him from his own youthful days. Chris Gregg from Melbourne in Australia although not having heard of Willie before echoes everyone else's sentiments that Willie was certainly one of the top draw players of his generation. Chris Gregg also goes on to say that he is Jim Shepherd's number one fan in Melbourne - having bought one of my small books about Jim's life story, Jim being the true gentleman he is has kindly offered to sign it for him and will make this fan very happy in deed.
---
Recently I came across a 1963 LP of the late tenor singer Rowland Jones singing songs described as the 'World's best loved songs'. Rowland as well as being a perfect gentleman and a character was principal Euphonium with Black Dyke between 1934 and 1939 then moved onto Bickershaw Colliery before becoming a professional singer. I am looking to write a story about him and would welcome your contributions – particular photographs of him in his uniform please or where his daughter Sally may be living now or any other relatives of Rowland's that may be still around – you can contact me at chrishelme@brighouse.fsnet.co.uk or on 01422 – 205763.

© Chris Helme
© 4BarsRest

back to top