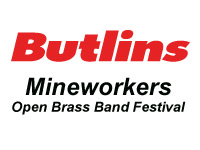 There really is nothing new under the banding sun.
If you thought holiday resort brass band competitions were a new fangled invention of the early 1970s, then think again.
In fact – think back to 1933.
Adolf Hilter and King Kong

Butlins first got involved in brass bands in the year Adolf Hitler was appointed Reich Chancellor of Germany, the Golden Gate bridge was built in the USA and King Kong scared the living daylights out of film goers down the local Odeon cinema – although to be fair, none of the events were in any way related.
In fact, the Butlins holiday camps didn't even exist at the time: The first (they became holiday resorts much, much later) at Skegness didn't open until 1936.
That though didn't stop the South African born William Heygate Edmund Colborne Butlin (Billy to all his friends), a man with an inexhaustible supply of entrepreneurial spirit coursing through his veins (his mother used to flog gingerbread around holiday fairs) from taking the opportunity to try and make a bit of a name for himself in the banding world.
Gigantic

In 1933 he came up with the idea of what he proudly called the first annual 'Gigantic Brass Band Festival', which was to take place in and around Skegness, centred at the Tower Gardens and Grand Parade.
W.E. Butlin Esq, (Proprietor of 23 Amusement Parks) as he referred to himself in correspondence to the bands was a PR genius – especially given that Skegness wasn't exactly up there with Blackpool at the time as the premier holiday destination for the banding masses.
Perfect pleasure

In the letter to prospective competitors he wrote: "Apart from the Contest itself which we, in this now very large and important Seaside Town wish to make an Annual Event for the stimulation of Bands and Bandsmen, we should like you and your Fellow Musicians to have a day out in a very enjoyable atmosphere."
He rounded off his letter by saying; "I look forward to seeing you and hearing you, and we shall do everything possible to make your Day one of perfect pleasure by the Sea."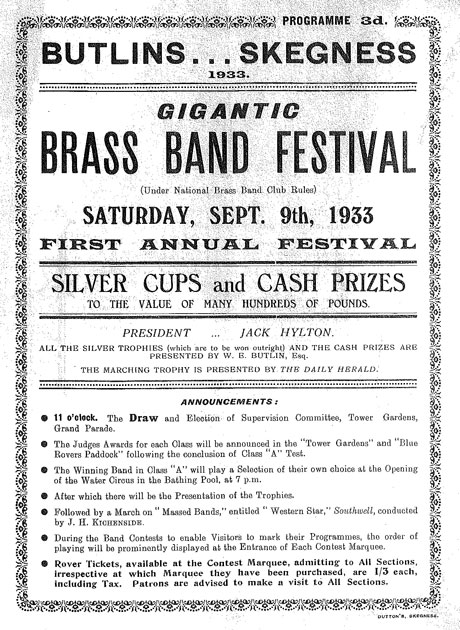 Pleasure

To back up his boast he even sent out a small book of complimentary tickets so the players could enjoy the delights of one of his 'amusements of the pleasure park'.
The man knew how to market a brass band contest that's for certain.
In the event, with the promise of 'Silver Cups and Cash Prizes', no less than 77 bands made the trip east on September 9th 1933 to take part in four separate classes, each with a bespoke test piece.
The marquees were erected at four venues around the town and the first of 77 bands started to perform on the stroke of 11.30am.
As always, a great deal of interest centred on the Championship 'Class A' section where 17 bands competed for a 100 Guinea silver trophy and first prize of £30.
Interesting names

Some interesting bands took to the stage that day to play 'Coriolanus' by Cyril Jenkins – including a fledgling Grimethorpe Colliery conducted by W. Foster, Rothwell Temperance and successful Luton Band.
Elsewhere, less famous, but equally evocative banding names set about winning the various sections on the set works, 'Gems of Italian Opera', 'Gems of Harmony' and 'Country Life'.
Band such as The Butterley Co's Ambulance Silver Prize Band and Leeds Medel Prize in Class B; Chesterfield Old Comrades and British Legion Silver Prize and Hucknall Torkard Silver in Class C; Marebam-le-Fen Victory Silver and Thurgoland and Crane Moor Brass in Class D.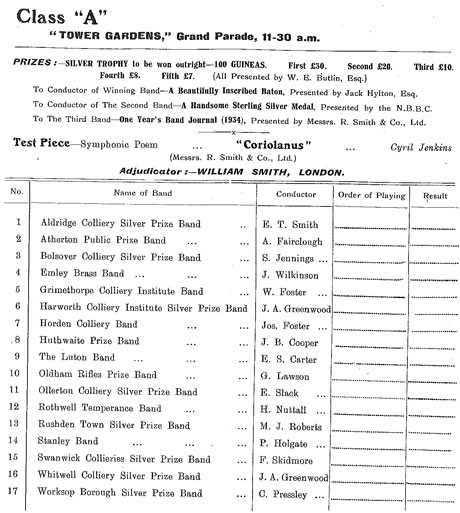 Spooky coincidence

In strangely spooky coincidence, the conductor of the Rotherham Band in Class D, was one R. Gray…
The judges were William Smith (London); Geo H. Mercer (Sheffield); David Aspinall (Creswell) and Chas A Cooper (Huthwaite)
Where are they all now?
Pageant

Following the conclusion of Class A, the results were announced, with the winning band having little time to celebrate as they had to rush take part in the march contest in the 'Grand Carnival, Industrial Pageant and Procession of Bands'.
In fact all 77 competitors had to take part, which must have been a logistical nightmare in an event that promised yet another first prize of a 100 guinea trophy and £8 in cash.
Water circus

And if that wasn't enough Billy Butlin made sure he got his monies worth from the victors as he had them perform in an evening concert at the opening of the 'Water Circus' in the Bathing Pool at 7.00pm.
One can only imagine what that was all about.
Film?

Perhaps not however?
According to the 3d programme, a film was taken during the proceedings throughout the day, as well as photographs of the winning band, which were to appear in the Daily Herald newspaper.
So perhaps in a dusty vault somewhere in Skegness, a small tin contains a priceless record of an event that was in many ways the innovative forerunner to the 21st century Butlins Mineworkers Championships.
It may even reveal for us, who actually won.

You wonder if William Heygate Edmund Colborne Butlin knew what he was starting all those years ago.
Iwan Fox
---
4BR thanks Melanie Cooper for all the information provided for this article.

Melanie's father in law Hayden Cooper, MD of Huthwaite Band owns the programme and kindly let us reproduce the images.
His own father, C A Cooper adjudicated Class D on the day, whilst his grandfather J Cooper conducted Huthwaite in the Class A contest.