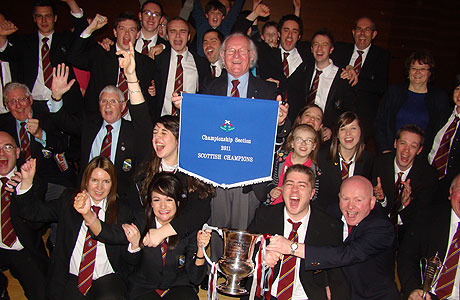 Get ready to dance... Whitburn celebrate their Scottish victory

To coin an old sporting analogy: They were dancing in the streets of Whitburn on Sunday night.

Winners medals

Well they did in the local Bowls Club, as the newly crowned 2011 Scottish champions returned to their favourite local watering hole to enjoy their celebrations and hand out their winner's medals.

They had plenty to celebrate too: After a low key end to 2010 following relegation from the British Open, a poor showing at London, and their non appearance at the Scottish Open, many critics north of the border had started to wonder if the good times would ever return.

They have now.

Invigorated

Ian Porthouse led an invigorated band to 'Paganini' victory with a performance built on the foundations of intelligent musical sense, enhanced by an investment in collective confidence.

It was a winning rendition rich in musicality, precise ensemble detail and solid solo lines, with principal cornet player Chris Bradley winning the Terris Medal for his fine contribution.

Subtle changes of pace

The subtle changes in pace and dynamic were clearly defined, and despite noticeable unforced errors, it was a performance of quality to take the domestic honours for the first time since 2008.

With sponsorship on board to provide financial stability, the decision to team up with Ian Porthouse has been one of the best things to happen to the band of late according to the players and committeemen who proudly sat in the Bowls Club bar in their Whitburn blazers.

On this evidence they can approach the Grand Shield in Blackpool in May with confidence and start making plans for the Europeans in 2012.

If they can build on this promising start to their partnership with the Welsh based MD, they will be band to fear.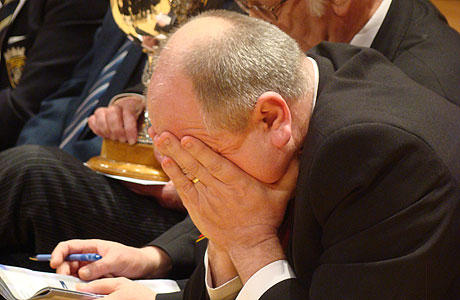 In the lap of the Gods... Whitburn's John Fraser contemplates victory or defeat...

Whitburn will know that they had to work very hard to claim the title though.

Packs a punch

Philip Wilby's test piece still packs a wonderful punch when played well, and an almighty bite on the backside when not – especially when conductor's decide they, and they alone, have somehow discovered the secret key to its success that no other since 1991 has yet to fathom out.

They are mistaken if they do, although a few on the day went all 'Da Vinci Code' – and came a cropper.

Oddly, there were not too many trombone players on top form either.

Close run battle

It made for a very close run battle for victory, made all the more Intriguing as you could have put a persuasive case forward for any one of four bands claiming a qualification place for the Albert Hall.

The Scottish Championship as been a contest has been a three horse race of late, but this year a fourth contender came storming into the final furlong just when it looked like it would be the usual 'three into two' scenario for the trip to Kensington.

Taking the strain

As a result you could see the strain on the faces of the bands reps from the 'big three' as the prizes were being announced.

Whitburn's John Fraser sat with his head in hands contemplating either victory induced delirium or non qualification manic depression.

Thankfully, it was the former not the later – although others may have reached for the Prozac on Sunday night.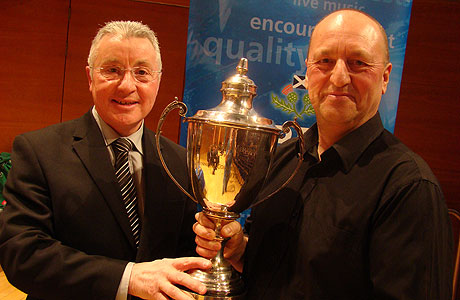 Memorable podium place for Lochgelly

Lochgelly's cracking 'Paganini' as the tenth and final band hit the audience and their rivals like a bolt of highly charged electricity – with an opening third that was without doubt the best of the day by a margin and a half.

Taut and precise

Allan Ramsay's direction was taut and precise, whilst his players responded in kind – led by the superb Glen Van Looy on euphonium and backed in fine fashion by a Trojan quartet of basses and the subtle refinement of flugel player Karen Brow.

Just when you thought they were to produce the type of playing that saw them win this title for the only time back in 1973, tiredness crept into the ensemble and solo lines, and despite a rousing climax they couldn't quite do enough to gain what would have been a truly memorable qualification.

It was close though –as the judges Stan Lippeatt (standing in for David Read who was ill) and Lt Col Graham Jones later confirmed.



Back to London for second placed Co-operative FuneralCare

Denying them was Co-operative FuneralCare, who produced a classy rendition of Wilby's masterful work off the number 1 draw under Dr Nicholas Childs.

High quality

Perhaps there was a hint of 'safety first' at times about some of the ensemble playing, but it was high quality nonetheless, and it very nearly saw them produce the first number 1 winner here since 1995.

Polished contributions from flugel, solo cornet and horn were offset in some other quarters, but the overall delivery was tight and precise.

The musical phrases were tastefully shaped, whilst the dynamic range was the most clearly defined of the day.

Without the distractions of the Grand Shield to occupy their minds, they can now focus their attentions on the Open and beyond.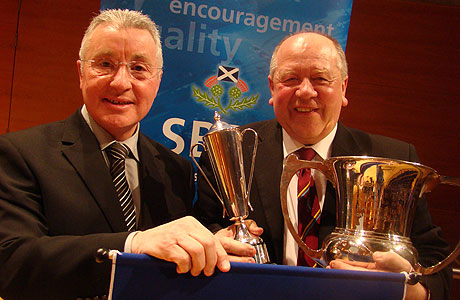 Now I can smile - John Fraser of Whitburn with the Scottish Championship trophy

Kirkintilloch will wonder what more they had to do to have pushed their way into the qualification frame, after delivering a high impact performance under Garry Cutt that certainly found resonance in the hall, if not in the box.

Vibrancy

The immediate impression created was one of vibrancy (they also had the best trombone player in award winner Luke Williams), and it continued in the same vein – although at times there was a need for greater dynamic control, especially in a somewhat forceful top end of the band.

That was perhaps the difference between fourth and a qualification place – although the margin was very small.

Euro reps

The remaining top six places were taken by European representatives Kingdom Brass and Dalmellington, both of whom gave performances of merit, even if they couldn't quite master all the solo and ensemble challenges contained within the theme and 15 variations.

Kingdom's performance under Andy Duncan was in need of a touch of the 'Kirky' vibrancy in places, but showed a band in decent nick ahead of Montreux, whilst Richard Evans couldn't quite coax enough magic from a hard working Dalmellington.
They battled away from first note to last without quite suggesting they were able to up their game to come higher than they eventually did.

Fell into place

Behind them the contest rather predictably fell into place, with Newtongrange tiring after a well paced performance under Nigel Boddice's command, and Bo'ness & Carriden just failing to build on an opening third that held a great deal of promise under Steve Sykes direction.

Unison Kinneil's somewhat error strewn rendition never quite felt comfortable in execution after they also started well.
Meanwhile, Bon Accord will reflect on a performance of far too many unforced errors in what was a strangely idiosyncratic reading of the score by Selmer Simonsen – emphasised by the playing of some repeated phrases at two different dynamic levels in what then sounded like a peculiar echo effect.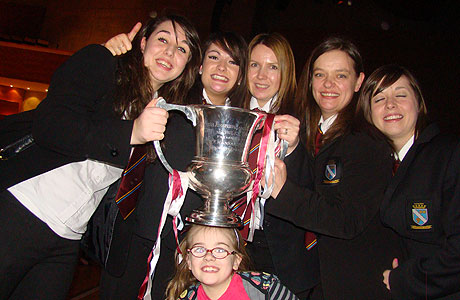 Les girls of Whitburn!

Solid banding values

No idiosyncrasies about the winners, Exchange Communications Whitburn though.

Just a return to the good solid banding values that come when the collective musical minds of players are filled with a sense of confidence, purpose, self belief and commitment to the cause.

If they repeat that combination of contesting factors once more in Blackpool, the dancing may well start all over again.

Iwan Fox