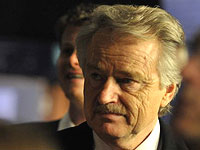 Although it wasn't until the formation of Brass Band Oberosterreich by Thomas Beiganz just over a decade ago that Hannes Buchegger (right) became well known to British brass band audiences.

However, prior to this he had spent the last twenty-five years or more doggedly developing the profile of brass band music making in his native Austria, ultimately proving instrumental in bringing his country to the forefront of the brass banding map.

Remarkable

Like his contemporary in Belgium, Frans Violet, Hannes Buchegger's musical leadership are such that in a remarkable short period of time (the band's first Elite Section appearance at the European's was in Birmingham in 2007) Brass Band Oberosterreich has become a formidable force.

The ranks of this remarkable band are graced by star players such as Hans Gansch, Lito Fontana, Christian Hollensteiner; all truly virtuoso talents.

Add to that Buchegger's creation of the Austrian Youth Brass Band who performed to such impressive effect on home soil at last year's European Championships, and the evidence points to a man who remains tireless in the pursuit of his vision.

Stunning success

Brass Band Oberosterreich's decision not to compete in the European Championships in Montreux this year came as a bitter blow to band fans across all the competing nations, yet the band's subsequent tour to South Africa proved to be a quite stunning success.

Chris Thomas found a gap in Hannes Buchegger's hectic schedule to discover a little more about the man who more than most has created such a telling impact on the European brass band movement over recent years.
---
Chris Thomas: Could you tell us something of your early musical life and inspirations?

Hannes Buchegger: Music has always played a very important role in my family. From very early on, I went to concerts and listened to all kinds of music.

At the age of 9 I had my first trumpet lessons and I later joined a local wind band and became a member of a jazz band. After finishing school I started my studies (trumpet and conducting) at the Conservatory in Innsbruck.

In 1987 I became the headmaster of the 'Städtische Musikschule Hall', a music school with over 1000 students and in the same year I founded the first Austrian brass band 'Brassband Fröschl Hall'.

Next year the band will celebrate its 25th anniversary. Since 2002 I've also been conducting Brass Band Upper Austria, which was founded by Thomas Beiganz.
---
Chris Thomas: When did you encounter your first British style brass band and what can you recall of the impression it made on you?

Hannes Buchegger: In 1980 the famous Grimethorpe Band gave a concert in my hometown and their performance was really inspiring to me.

Furthermore, I travelled to the UK several times to hear various brass bands in concert and attend rehearsals to learn more about the brass band tradition. I also attended the Finals at the Royal Albert Hall several times.

The technical brilliance, the great sound and the perfect ensemble playing of the bands fascinated me.

That's why I decided to bring this sort of music tradition to Austria and found a brass band there.
---
Chris Thomas: It is now nearly a decade since flugel player Thomas Beiganz founded Brass Band Oberosterreich. How did the band come into existence and how did your own involvement come about?

Hannes Buchegger: Actually, it was all started in 2001/02 by Thomas Beiganz as a project for ambitious brass players in Upper Austria.

Thomas asked me to conduct the band, make the players familiar with the brass band tradition and lead them towards a European contesting level.
---
Chris Thomas: You have a formidable team of virtuoso players in the band, many of who are teachers in Upper Austria. Did Thomas Beiganz set out with the objective of hand picking the band members?

Hannes Buchegger: As head of the professional group of brass players in Upper Austria Thomas Beiganz knows all of the excellent players there and personally picked them as band members.

Soloists like Hans Gansch, Christian Hollensteiner and Lito Fontana joined the band later on.

Thomas is really a top class Band Manager as well as a flugel player!
---
Chris Thomas: The European Championships have been a beacon for the promotion of new music in recent years with Brass Band Oberosterreich closely involved.

How important is the ongoing development and enrichment of the contemporary brass band repertoire to your goals for the future?

Hannes Buchegger: In our repertory we aim at having an even balance between original works and other styles of music.

I guess that's what makes the band very successful in concerts – offering a wide range of styles at a high quality.
---
Chris Thomas: Your principal cornet player Hans Gansch is of course the elder brother of Thomas Gansch of Mnozil Brass, and a star player in his own right.

Do you feel that the phenomenal success of Mnozil has been a vital part of raising the profile of Austrian brass playing worldwide?

Hannes Buchegger: Yes, but in another way Mnozil Brass is more about creativity and showmanship, besides excellent playing of course.

Brass bands on the other hand, have to deal with difficult original works in the first place.
---
Chris Thomas: Your formation of the Austrian Youth Brass Band has proved to be a remarkable success in a very short period of time. Was the launch of the band something you had been planning for a long time?

Hannes Buchegger: Yes - definitely. I started working with our young, talented brass players years ago.

For the performance in Linz in 2010 I started rehearsing two years before the Championship took place.

We joined together all the successful participants of our Austrian youth competition 'Prima la Musica' including the young soloist Selina Ott from Lower Austria.
---
Chris Thomas: Few will forget that remarkable performance on solo cornet by Selina Ott in Linz.

It looks like you have quite a few young stars of the future that you are bringing up within the band?

Hannes Buchegger: We have a well functioning system of music schools in Austria with excellent teachers.

Therefore, we have many talented young musicians.
---
Chris Thomas: Presumably you see youth development as a vital part of your vision for the future of brass banding in Austria?

Hannes Buchegger: Absolutely. Supporting youth development and spreading enthusiasm for brass music amongst young players is vital for the future of brass banding in Austria.

Thomas Beiganz and I are very much engaged in youth development, especially in Upper Austria, because there the local government strongly supports our engagement.
---
Chris Thomas: On a broader level, what do you see the course of that further development of brass banding in Austria taking? Do you envisage more brass bands starting up in the country?

Hannes Buchegger: Since we do not have a brass band tradition in Austria it's rather difficult to find sponsors.

Nevertheless, I've always been trying to spread my enthusiasm for brass band playing to other parts of Austria as well.

In the meantime, we do not only have brass bands in Tyrol and Upper Austria, but also in Styria, Carinthia and Lower Austria, so that all together there are five bands in Austria right now.

Maybe sometime in the future we might be able to organise the first Austrian National Championships.
---
Chris Thomas: Your recent tour of South Africa meant that Brass Band Oberosterriech was unable to attend the European Brass Band Championships.

Was the decision not to compete in Montreux a difficult one for the band?

Hannes Buchegger: Yes, it was a very difficult decision. However, we didn't want to miss the chance of going on a concert tour to South Africa.

It was a very special experience for all of us.

Nevertheless, we are planning to take part in the European Championships again next year.
---
Chris Thomas: South Africa was a ground breaking trip for the band. What were the musical highlights of the tour?

Hannes Buchegger: Everything was memorable – from the concerts to the people.

It is hard to pick one thing that was better than anything else on what was a very special tour.
---
Chris Thomas: How important was the hosting of the European Championships in Linz in 2010 to brass banding in Austria, and do you feel that the event has left on ongoing legacy?

Hannes Buchegger: Hosting the Championships 2010 in Linz was definitely a milestone in Austria's young brass band history.

The enthusiasm for brass music spread by the Championships will last for a long time.
---
Chris Thomas: Although the European Championship trophy has been to Belgium before, do you envisage a band from one of the emerging brass band nations winning the trophy in the near future?

Hannes Buchegger: I think it's rather unlikely that countries like Austria, France, Germany or Italy will have a chance to win the trophy at present.

In Austria, brass bands usually work as a sort of 'project'.

Most of the players are members of other bands as well and only have a limited amount of time for rehearsing.

Having rehearsals all year round is not possible for brass bands in Austria. Often we just have short periods of rehearsals (e.g. a few weekends).

However, even if there is only a comparably short period of time for rehearsing I always try to make the best out of it.
---
Chris Thomas: As an adjudicator you were involved in the Open Adjudication experiment at the Scottish Open last year.

Looking back on the event, what were your impressions of the system and do you see it as the way forward for contest adjudication in the future?

Hannes Buchegger: I think the system works very well. On the whole, I think that open adjudication is a rather just solution, even if different perceptions regarding music can lead to surprises and big differences in judgment.
---
Chris Thomas: And finally, what future plans do you have for the Austrian Youth Brass Band and Brass Band Oberosterreich?
Hannes Buchegger: Well, youth development, especially in Upper Austria, is strongly supported financially and led by the excellent conductor and pedagogue Karl Geroldinger.

However, joining together all the young Austrian talents is rather difficult and can only be done for big events like the European Championships 2010 in Linz.

After our South African tour, Brass Band Upper Austria we will start rehearsing for concerts in Austria, in Sweden (November 2011) and Bergen/Norway (February 2012). We also have an offer to go to Paris.

Of course, we will participate in the European Championships 2012 in Rotterdam. In the following years we want to be present on both levels, concerts and competitions, and develop the band and brass band playing in general even further.

I will definitely try to keep Brass Band Upper Austria innovative as regards our choice of literature and variety of styles.
---
Chris Thomas: Many thanks for talking to us and congratulations on your South African tour.