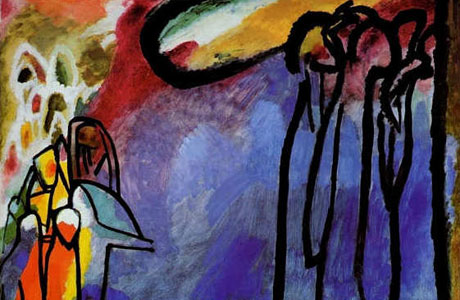 The painter Wassily Kandinsky experienced synaesthesia

Have you ever heard people say phrases like 'that lemon tasted really sharp', or, 'I feel really blue'?

Usually these are just metaphors. But for some people, they have another, more literal meaning.

For those who have the condition known as Synaesthesia, these phrases are very real.

Medical phenomenon

With this bizarre medical phenomenon, individuals may experience words that taste pink, sounds that feel fuzzy, and even numbers that create 3D landscapes before their very eyes.

Sounds like something out of science fiction?

Think again.

The word 'synaesthesia' derives from the Greek; syn meaning 'together' and aisthesis meaning 'sensation', and is the name given to the neurological condition in which those who have it – called 'synaesthetes' – have two or more senses linked together.

In other words, when synaesthetes are stimulated in one sense (e.g. sound), they constantly and involuntarily experience a sensation in another (e.g. sight).

Varieties

There are more than 60 varieties of synaesthesia to date, and new forms are being discovered nearly every month.

However, this condition does not just limit itself to the five senses: it can also include colours, emotions, and even personalities.

For example, for those with Tactile/Emotion Synaesthesia, the soft texture of cashmere may trigger a genuine emotional response such as anger or euphoria.

The earliest known reference to synaesthesia was in the late eighteenth century, and research has been carried out in the mid nineteenth century (where it experienced somewhat of a renaissance), as well as becoming popular science's hot topic in the twenty-first century.

Mystery

But despite these efforts, the cause of this condition still remains a mystery, and no one is able to further clarify its origins other than part nature, part nurture.

It is known to affect less than 1% of the population, tending to run through the female side of a family and is very difficult to diagnose.

No two synaesthetes' experiences are ever the same, and the majority of synaesthetes go through life believing that what they experience is perfectly normal.

Different way

Only when they are in conversation with non-synaesthetes do they realise they experience the world in a very different way.

This was how I (right) discovered my own forms of synaesthesia, after having a very embarrassing conversation with a friend as to why they couldn't see the beautiful purple satin that the orchestra were making.

Since this incident, I have discovered I have a total of four types of the condition, perhaps the most interesting of which is Sound/Colour Synaesthesia.

This form of the condition is one of the most common and as a consequence, one of the most researched to date.

Connection

Science has revealed that it may be the result of a distinct connection between the areas of the brain responsible for hearing (the temporal cortex), the regulation of emotion and memory (the hippocampus), and that in control of emotional response (the limbic structure).

As a result, when Sound/Colour Synaesthetes hear a note, a chord, a song, or an entire piece of music, they see and experience a colour.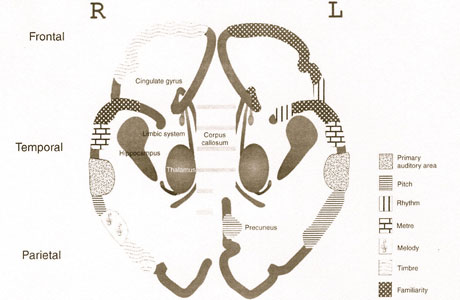 The workings of the brain

Whilst for some people, this could be as simple as 'A Major is red', for many, the colours they experience are complex and difficult to explain.

Vague

If you asked a synaesthete to describe their colour experiences, they will often be very vague.

For example: 'the note D is a sort of dark greeny-black with specks of reddish-violet'.

This isn't because they are trying to avoid giving you a straight answer, but rather because the colours they experience are so varied and elaborate that it makes for a very complicated explanation.

Trends

However, researchers have found trends amongst synaesthetes and most experience higher tones as lighter colours and lower tones as darker colours.

Similarly, some synaesthetes experience a piece of music as being 'dipped' into a colour so that the shades change from light to dark with the music.

Others find they have a specific colour for each note of the scale, each key, the sounds of every instrument, and even other unconventional musical sounds such as doorbells and car horns.

Despite only affecting a tiny proportion of people, synaesthesia has actually had an impact not only on those who have the condition, but within popular culture and the Arts too.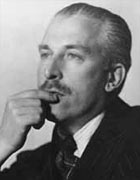 Difficult diagnosis

However, due to the difficultly of diagnosis (especially posthumously) there is always room for speculation.

For example, the English composer Sir Arthur Bliss (right) (1891-1975) has been rumoured to be a Sound/Colour synaesthete due to one of his most famous colour-inspired works, 'A Colour Symphony' (1922).

Each of the four movements are named after colours and their respective symbolic associations, but this does not mean that he was a synaesthete.

Similarly, another assumed synaesthete was the composer Alexander Scriabin (1872-1915).

At a time when synaesthesia was a popular and almost desirable medical condition, he had a Romantic vision to create a multi-sensory experience for a concert audience, and even went as far as to build his own lightprojecting keyboard in order to do so.

Unfortunately, he never lived to see his gargantuan 'Prometheus: The Poem of Fire' (Op. 60) premiered.

Fantasia
Have you ever watched Walt Disney's experimental 1940 film 'Fantasia'?

Finally, one of the film's animators, Oskar Fischinger, has also been wrongly labelled a synaesthete.

However, the French poet Arthur Rimbaud (1854-1891), whose most famous poems include the unfinished 'Illuminations' (1874), and 'Les sonnet des Voyelles' (1871), may have had this form of the condition.
The Russian artist and father of abstract painting Wassily Kandinsky (1866-1944) did too:

He became so infatuated with the idea of a connection between colour and music that he ventured beyond painting and wrote an experimental opera, 'Der Gelbe Klang', in 1909.

Famous

Some of the most famous synaesthete musicians and composers include Franz Liszt, György Ligeti, and Nikolai Rimsky-Korsakov.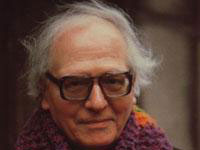 But undoubtedly one of the most important of these was the twentieth century composer Olivier Messiaen (right) (1908-1992).

Throughout his life, the majority of his music was influenced by his sound/colour experiences, and his case is a particularly interesting one because apart from seeing colours when he heard conventional music, he also saw colours in response to birdsong.

Messiaen developed a very organized and systematic way of recording his own colour experiences, and became very involved in trying to recreate, for himself, the colours that he experienced for each sound.

Important works

Without his synaesthesia, Messiaen may never have produced such important works as the 'Turangalîla Symphony' (1948), 'Oiseaux exotiques' (1955-1956), 'Catalogue d'oiseaux' (1956-58) or 'Chronochromie' (1959) to name but a few, and the music of the twentieth and twenty-first centuries may have taken a very different course.

His work with birdsong was to become one of the most symbolic and recognizable features of his music, and one that has inspired a generation of composers after him.

As science and psychology continues to look into synaesthesia, a long list of potential synaesthetes is being formed that will need to be researched and verified, which is easier said than done.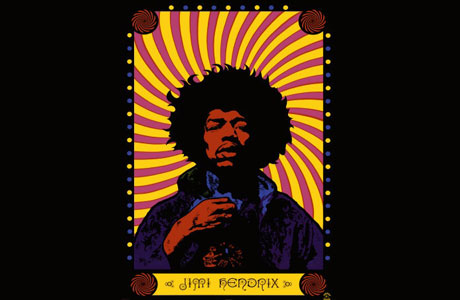 Modern musicians

Amongst this list are individuals from a huge range of fields and genres, including musicians such as Jimi Hendrix (above) (Sound/Colour), Stevie Wonder (Sound/Colour), Billy Joel (Sound/Grapheme/Colour respectively), Lady Gaga (Sound/Colour), Jean Sibelius (Timbre/Colour), and Duke Ellington (Timbre/Colour).

This kind of research is absolutely necessary in order to further understand the mysterious nature of this condition and the ways in which it affects people.

As a result, it may bring to light many more previously unknown forms, and it will help us to better understand and appreciate these artist's life and music.

And if proved true, it would be wonderful to give pieces such as Ellington's 'Mood Indigo' a new, more colourful meaning.

Jessica Ruth Morris
---
About the author:

Jessica Ruth Morris is a musician, writer, researcher and freelance music journalist who suffers from synaesthesia.

More details about her work can be found at: www.jessicaruthmorris.co.uk/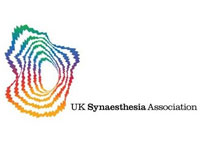 The UK Synaesthesia Association: www.uksynaesthesia.com/index.htm