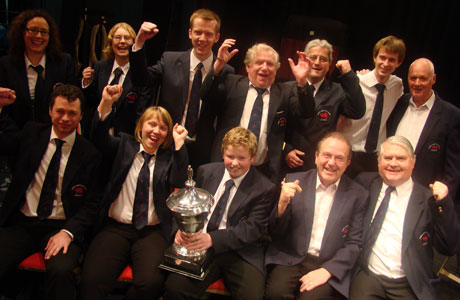 Welfare cheque: Lewis Merthyr celebrate their success

The importance of brass band contesting was placed in perspective at the Grand Pavilion in Porthcawl.

The 21st century connection to a mining industry that once saw bands throughout the Principality proudly display the 'colliery' name as part of their identity may now be an historical anomaly, but the industrial link, however tenuous, remains.

A different age

So too does its lasting capability to bring tragedy into the communities that once supported the South Wales Miner's Eisteddfod, the historic precursor to this Miner's Welfare Contest - support that made it one of the great cultural as well as political events in the country.

That though was a different age.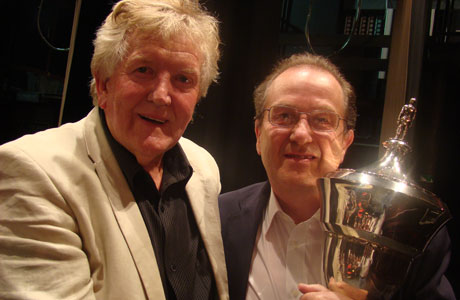 Tyrone O'Sullivan hands over the £6,000 Challenge Cup

In 1976, Sir Derek Ezra, the Chairman of the National Coal Board; Jack Jones, General Secretary of the Transport & General Worker's Union and the Soviet Ambassador, attended the South Wales Miner's Eisteddfod held in the Grand Theatre in Porthcawl.

Four years later the Welsh Miner's Gala Day was held at Sophia Gardens in Cardiff – although only after the participants took well over an hour to march there at the head of the mile long show of industrial defiance; a snaking demonstration through the capital of lodge banners and colliery bands.

Firebrand MP

A firebrand MP called Neil Kinnock delivered the set piece political speech following in the footsteps of Aneurin Bevan and Michael Foot, whilst the brass band competition attracted 36 South Wales rivals to compete in four sections – from exotic sounding outposts of coal extraction such as Dulais Valley and Lady Windsor to Coedely, Llansaint and Ystalyfera.

Three decades on, the 2011 event may well be a shadow of its former self, but the pride in the display of cultural as well as political relevance remains.

There was no set piece speech this year, but a heartfelt address from Tyrone O'Sullivan, the former leader of Tower Colliery near Merthyr Tydfil.

Less than 24 hours earlier, it had been announced that four miners had died in a tragic accident at a private mine in the Swansea Valley.

Loss of life

He reminded everyone – both young and old, that for all that has been lost with the closure of over 40 pits in South Wales since 1981, it was the loss of life that still hurt the most.

It was also a timely reminder that over 600 families had been helped in the past year by the officers of the Miner's Welfare Scheme run under the auspices of the Coal Industry Social Welfare Organisation.

Now, four more families will be added to the number.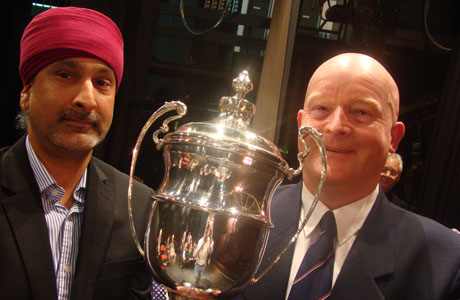 Second place for a resurgent Treherbert

Tragic announcement

Despite the tragic dark edged announcement, the contest day itself proved to be an encouraging and highly enjoyable success.

This inaugural event has been the result of something of a personal crusade by Dewi Roger Price, who just over a decade ago resurrected the South Wales Miner's Eisteddfod – and the successful brass band contest that is now called the Welsh Open.

Historical link

With that competition now attracting television coverage he turned his attention to the lower sections – and for those bands that still retain a historical link to the mining industry.

In the event 12 bands, graded nationally from Second to Fourth Section made the journey to the seaside to a venue that still retains the feel of its former glories.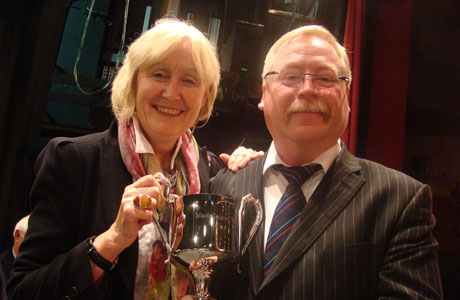 The smile of success for third placed RAF St Athan

Each delivered their 20 minute entertainment sets for adjudicator Melvin White and an encouragingly sized audience, that grew in number throughout the day, and with Rob Gowing and his team of helpers ensuring that the organisation rang like a collier's clocking in machine, the day ran without a hitch.

Mining connections

All the competitors recalled their proud mining connections - from Oakdale, who until a few years ago rehearsed in one of the finest Miner's Institutes anywhere in the UK (so fine it was taken down brick by brick and rebuilt at the St Fagan's National Museum of Welsh Life), to Blaenavon, where visitors can still experience the descent into the crepuscular darkness of a miner's working life at the local Big Pit museum.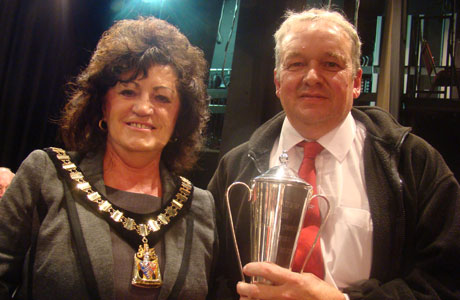 Highest placed Third Section Band: Ammanford

There was also a great deal of pride in the performances too – helped by a series of well-constructed programmes (although there were more trips made to MacArthur Park than there is to Porthcawl Fun Fair on a Miners weekend break) and plenty of intelligent direction from the MDs.

Halcyon days

The entertainment itself almost harked back to the halcyon days of old too.

In 1976 there was competitions to find the annual Coal Queen, light opera, choirs, pop duets, recitations, vocal soloists and even an essay-writing event that saw entries on the subject of 'Industrial Democracy'.

In 2011 it was PLC and Goff Richards, Hollywood blockbusters such as 'Gladiator' and 'Zulu' - although the odd bit of Mario Lanza and George Gershwin still rang out from a fine batch of featured soloists.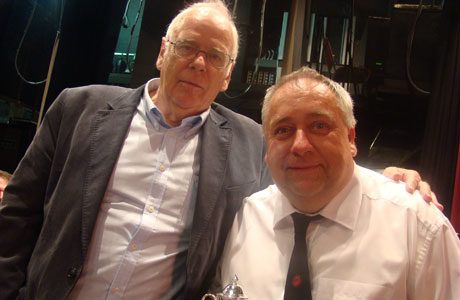 Highest placed Fourth Section Band: Oakdale

Variety

Melvin White was looking for originality and variety – and he got plenty of both, from Ynyshir's 'Western' programme that saw both players and MD take to the stage dressed in cowboy hats, check shirts and jeans, to Ystradgynlais opting for a swashbuckling take on Jack Sparrow and his motley crew in 'Pirates of the Caribbean' – complete with red bandanas and a parrot perched on the MDs shoulder.

There was choreography by the bucket load, some witty humour (a well worked 'Sandpaper Ballet' for instance), a fine compere in David Hayward and a table full of great trophies and plenty of prize-winning dosh.

Rich seam

Welsh banding is mining its own rich seam of talent at present in the lower sections – with bands celebrating a clutch of National championship successes in Harrogate over the past few years.

There is real hope that further victories are on the cards at Cheltenham too.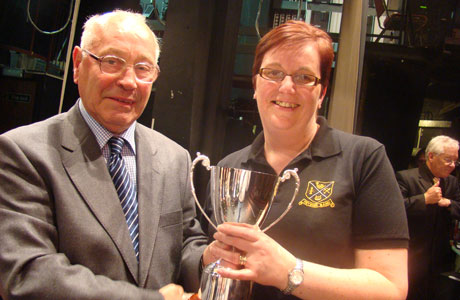 Best Entertainers - Ynyshir

Quality not quantity

However, despite the quality, the quantity remains dangerously threadbare in places, although a number of young conductors are beginning to bring a new sense of vitality to previously moribund bands – many of which have histories that stretch back well over 100 years or more.

The likes of Alice Jones, Dr Christian Jenkins, Glyn R Davies, Alex Parker, Dean Evans, Andrew Protheroe-Jones, Craig Roberts and winning MD, Gavin Pritchard are all young, talented and highly committed.

All are making lasting progress with their bands – as was shown by their performances on the day.

Meanwhile, Colin Hogg, Kerry Bowden, Adrian Browning and Alan Bourne may possess a few more grey hairs, but are no less enthused by the task of improving their bands through a willing combination of hard graft and a steady production line of new players.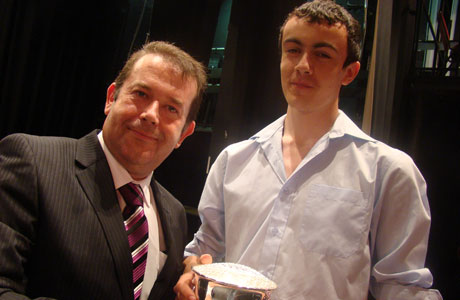 Best Soloist Winner: Josh Pegg of Ynyshir

Now the names of Ogmore Valley, Oakdale, Ystradgynlais, Ammanford, Briton Ferry, Gwaun Cae Gurwen and Ynyshir are talked about as bands with solid futures as well as proud pasts.

Youngest player

That was summed up rather neatly by the award of the Evan Richards Memorial Shield to Gwen Flowers aged 9 of Ystradgynalis – the youngest player of the day.

She may have some way to go before matches the lifelong commitment to banding of 88 year old Derek White MBE who played percussion with RAF St Athan – but there was no difference in the sense of enjoyment both displayed in performing on stage with their bands.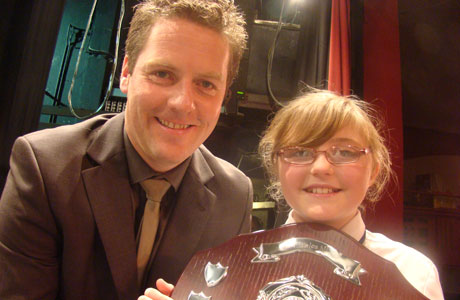 A young star in the making: 9 year old youngrest player Gwen Flowers

Abiding memory

However, the lasting memory was surely the playing of the hymn tune 'Abide with Me' in memory of the four lives lost in the tragic accident at the Gleision drift mine at the conclusion of the day's contesting.

The coal industry in Wales may have changed beyond recognition in the past 35 years, but the musical entertainment provided by the bands allied to that tragic news was also a reminder that it is still an industry that can bring joy as well as despair to those communities on which it was built.

Iwan Fox