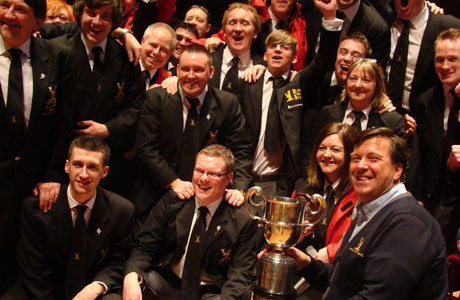 A most satisfying win for Black Dyke

There was an added sense of deep seated pride in the voice of Black Dyke's MD Dr Nicholas Childs as he helped orchestrate the victory celebrations of his players on the stage of St George's Hall.

In the 12 years at the Queensbury band he has enjoyed many notable successes, but this one seemed to resonate more than most that have filled his CV.

Look

To win here means a great deal to a band that may be universally supported but is also only grudgingly respected in some parts of the White Rose County.

The look on his face when he finally got his hands on the Yorkshire Area Trophy certainly showed exactly what it meant.

New players

Perhaps it was the revelation that it was achieved with 14 new players, or the fact that they had to overcome the fright of very nearly losing the services of their star horn player Sheona White with a broken ankle less than 24 hours before the contest.

Whatever the reasons, he seemed almost as intensely excited as he had when 4BR first witnessed him leading Black Dyke to a major contest over a decade ago.

On this evidence there are many more to come.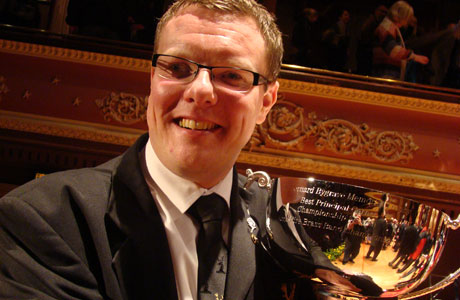 Best principal cornet player Richard Marshall

The latest recruitment of youthful personnel has resulted in a band that has been refreshed and revitalised, led with impeccable excellence by principal cornet Richard Marshall, but still with the weighty counterbalance of the robust, more mature, bass and trombone sections.

Richard won the new Bernard Bygrave Memorial Trophy as 'Best Principal Cornet', whilst Sheona White took the 'Best Soloist' Award.

Construct

Their 'Devil' was a construct of technical authority – consistent tempos chosen to delivery clarity and precision, allied to subtle shifts and nuances in the lyrical melodic lines. It was always going to be within a hairsbreadth of victory – and so it proved.

That it did came as little surprise to the St George's Hall audience, after they filled the old place almost to the rafters to see if Brighouse & Rastrick could create their own piece of Bradford history by claiming a hat-trick of wins under the baton of David King.

Demanding questions

For 75% of their 'Devil', they were doing just that and more: The MD asking demanding questions of his players in terms of dynamic contrasts played at a consistent pulse that were answered brilliantly with ensemble playing of the highest quality.

Lucy Murphy once again showed that she is undoubtedly one of the finest flugel players in world banding with yet another individual prize winning performance to take the 'Best Soloist' Award.

It seemed nothing was going to deny them their historic hat-trick glory.

Not until things went off in a musical direction that no-one saw coming.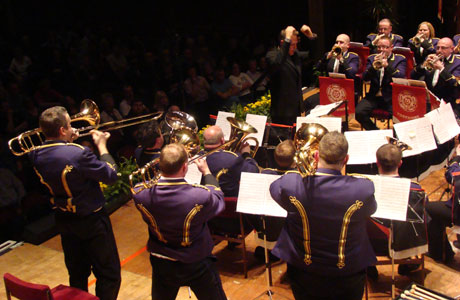 Didn't see that?

Even given the rather acerbic nature of the Bourgeois take on the subject matter, the Australian's interpretation of the final quarter of the piece stretched its black humoured credibility almost to breaking point.

As a display of personal musical self belief it was stunning.

Tongues

It was if he had become momentarily possessed by some Satanic spirit summed up from the bowels of the Hell itself: You were left wondering if he was going to start speaking in tongues.

The line between genius and sheer mind blowing madness is a very thin one indeed.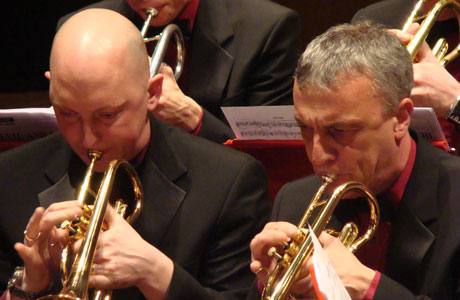 Rothwell's suave lads

Singular spirit

It may have raised the hackles of rival supporters when it was announced in second place, especially after Frank Renton had seemingly taken the opportunity to publically castigate the chances of any band doing well on the day if their MDs fiddled with the basic written tenants of the score.

But Frank being Frank, it was never going to be that simple was it now (and there was Paul Cosh in the box with him too).

He's also a singular spirit – and stuck to his guns when talking about the apparent contradictions later that night.

Cross

The damage the last quarter of the piece may have done to Brighouse was the difference between coming first and second – not first and sixth as many (4BR included) thought.

You have to hand it to him. If the Devil sends him back in the next life it will be as a cross between a parrot and an eel.

He may like to talk great deal, but he's still bloody difficult to catch out.



Nailbiting finish for Philip McCann?
Suavity

Less contentious was the third place of Rothwell Temperance.

A fine performance of somewhat unexpected suavity and contrast revealed an extra dimension to a band that sounded confident, compact and very cohesive under the direction of Dave Roberts.

Just the odd tuning issue may have robbed it of a win, but it fully deserved to send them back to the Albert Hall for a fifth time in succession.

Solid

With Carlton Main Frickley claiming a solid fourth place after MD Philip McCann drew on his years of experience to make the most of his resources, John Roberts did the same with Skelmanthorpe to deliver an intelligently crafted performance to end sixth, to leave the only other real talking point of an engrossing contest, the announcement of Grimethorpe in fifth.

That was MET with a wheezy communal intake of breath that made the hall sound as if it was full of old gasping Yorkshire colliers.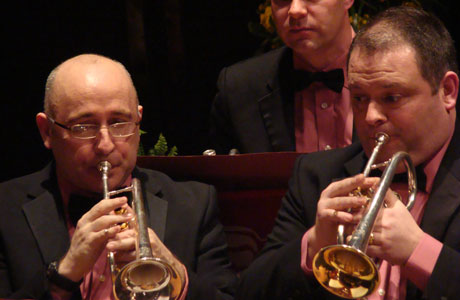 Rampant Grimey

Garry Cutt expertly moulded the disparate elements of his personnel, to create a rampantly exciting 'Devil' full of taut menace and dark tension.

However, a few loose moments seemed to resonate in the box more than many people thought they would and their chances of an Albert Hall return were sunk.

RSVP

The result may have been a major disappointment, but it could also prove the catalyst for a renewed determination.

Frank may have done his old band a favour after all – although the RSVP vote of thanks may take a while to be received in the post.

Early doors

Behind the top six there was much to enjoy with the bold performance of Hammond's Saltaire and a robust rendition from Marsden, but Hepworth will wonder long and hard how their early doors performance ended behind a rather incoherent account from Wakefield Metropolitan.

There were scruffy solo and ensemble moments, but with Russell Gray still able to draw out a noticeable degree of tasteful musicality and the majority of technical hurdles overcome with facility, to end 10th was still a bit of a puzzle.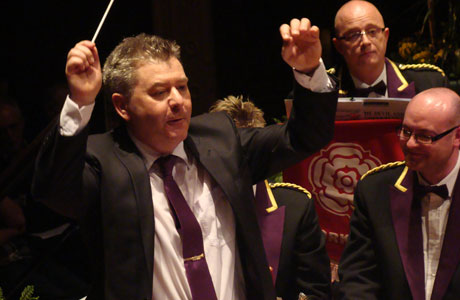 Intelligent leadership from John Roberts

With Meltham & Meltham, Hebden Bridge and Hade Edge all delivering brave, but inherently flawed performance that suggested they are good First Section bands rather than poor Championship ones, the Yorkshire Area contest once more provided an intriguing, frustrating but ultimately engrossing occasion.

For Black Dyke it also provided an indication of just how important being top dog in your own back yard really is.

Iwan Fox