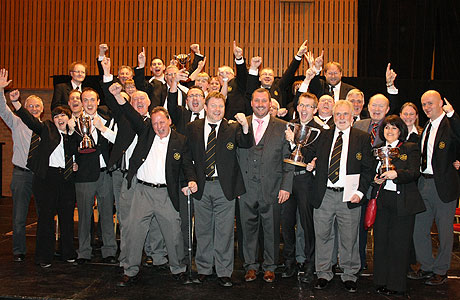 Felling good.... The new champions celebrate
Pictures: Steve Jack

It was hard to decipher who was shaking their heads the most in disbelief.

Both Felling and Barton Town were in absolute dreamland after they'd discovered they'd be heading to Kensington: Reg Vardy on the other hand was still in the Devil's own version of post contest hell.

Newcastle Brown

Not even a crate full of Newcastle Brown Ale would have improved their spirits as they contemplated a first missed trip to the Albert Hall in over a decade.

What the neutral punters felt as they left the Dolphin Centre to make their way back home after a contest that came to a startling conclusion was anyone's guess.

Felling is on a roll: Revitalised under Stephen Malcolm, over the past couple of years they have knocked on the qualification door more than a few times here.

Barton is a fairy story.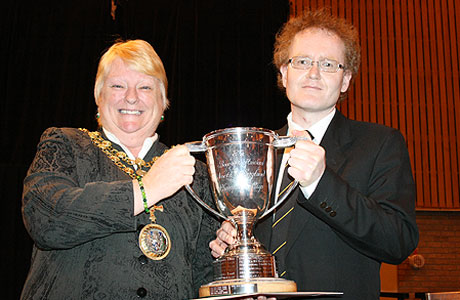 The top section trophy now resides in Felling's hands

Drama and colour

Felling's victory came from a performance full of drama and colour, tempered with a measured sense of dynamic and tempo control.

Stephen Malcolm enhanced his band's strengths, even though he admitted afterwards that it wasn't music that particularly suited his ensemble.

Ex Brighouse top man, Stephen Wilkinson was in fine, prize winning form on principal cornet, whilst the MD's daughter, Katie showed her growing maturity with a classy contribution on flugel horn.

With additional excellence from the prize winning euphoniums, baritones and basses, it was an overall account that functioned as a cohesive unit from start to finish.

Nothing overdone or spectacular – just high quality consistency on a day when it was in pretty short supply for adjudicator David Horsfield.

Classy aplomb

Barton Town's reading under Nick Sheppard was one of engaging musical intensity from start to finish.

It adhered to the intentions of the score – both in terms of dynamics and crucially, tempos.

Purposeful and driven, it enhanced the band's strengths, with their soprano player taking his well deserved 'Best Sop' prize with a personal contribution of classy aplomb.

Swallowed a fly

Reg Vardy and Dr Nicholas Childs will rue their luck – and a start that spluttered into life as if the Devil and swallowed a fly.

Nicholas Childs drew on all his experience to drag his band back into contention for the title – and seemed to inspire his players to do the same, but a well-executed reading had already been fatally undermined by that poor opening according to the man in the box.

Despite the fine recovery it wasn't enough, although the wave of surprise that greeted the announcement of third place suggested that maybe David Horsfield's decision was shared by the minority of listeners in the hall.

Frustrated

Alan Morrison and EYMS will have headed home more than a touch frustrated after delivering variable execution on what was perhaps the most coherent reading of the Derek Bourgeois score.

The lapses and unforced errors took the gloss off a performance that always held the interest, but was always going to find it tough going to get the qualification nod.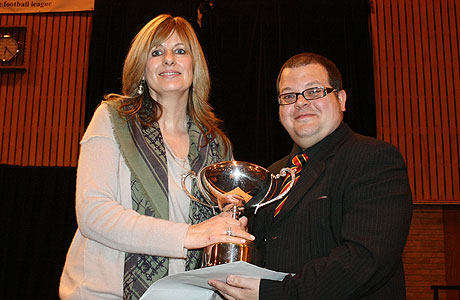 Brilliant Barton claim a long overdue London appearance...

Local legend

NASUWT Riverside headed by Ian Robinson, and with local legend, Bryan Tait on principal cornet, opted for a drama packed interpretation.

It certainly contained some fine solo contributions (with Mr Tait a fine example), but the ensemble work didn't have the same level of consistency – a handicap that eventually saw them end in 5th place.

Well prepared

Behind them, Chris Bentham led Easington Colliery through a well prepared 'Devil', that was full of solid commitment and secure ensemble work, but never really threatened to expose either its dark soul or lyrical heart.

So too Fishburn, with Huw Thomas trying to draw out the sinister as well as more lyric elements within the score. The lapses in execution however were noticeable and consigned them to a disappointing seventh place.

It was a nearly performance – but nearly is never enough at this level.

Admirable

That left Kirkbymoorside Town.

John Woodward did an admirable job in keeping his band focussed from beginning to end on a test piece that was on the very limit of their comfort zone. Eighth place was a fair return.

A surprising contest ended with a startling result, as Reg Vardy's seemingly permanent era of dominance came to a striking end.

Watering holes

The arguments and debates of how this one was won and why will have carried long into the night in Darlington's many welcoming watering holes.

Even with the obligatory sore heads the following morning, you suspect neither Felling nor Barton will have any problem recalling this particular contest for many years to come.

Reg Vardy on the other hand will want to blot it out of the memory banks as quickly as possible.

Malcolm Wood