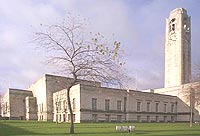 Saturday 17th March

Adjudicator: Derek Broadbent

Test Piece: Olympus (Philip Harper)

Commences: 11.00am
---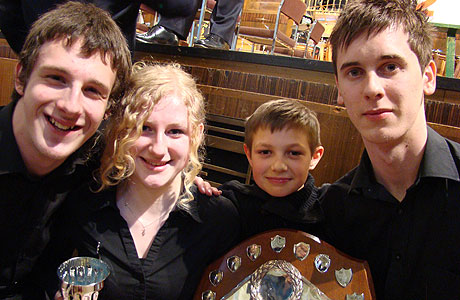 Who will Goodwick to become Third Section champion this year?

11 bands line up to battle it out on Philip Harper's Olympic inspired cinematic epic on Saturday morning.

They will all be hoping to claim one of the two places that will be up for grabs for Cheltenham, courtesy of Derek Broadbent (beow right) in the box.

Well matched

There's a well matched field too, with four returnees in Ammanford, Pontypool, Thomas Coaches and Upper Rhondda locking horns with a reigning National champion in Melingriffith 2, a Welsh League champion in Crwbin and Ynyshir who are relegated down from the Second Section.

Eight of the bands were in action at the final Welsh League contest of the year in Blaenavon in November, so they will have a good idea of each other's strengths and weaknesses.

Popular test

The test piece has proven to be a popular, with both players and listeners alike – full of colour and rhythmic energy, sweeping tunes and tricky solo interventions.

There is enough in it to test any would be Olympian let along any band with aspirations of making it to the National Finals.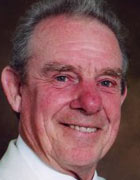 Welsh bogey

Those who do get there will have something of a Welsh bogey to lay to rest, as unlike all the other senior sections, Wales has yet to produce a National Champion in the 21st century.

In fact you have to go back to 1992 with Beaumaris for the last time the Dragon flew in triumph, although last year's qualifiers came close again, with Goodwick claiming a second successive podium finish in 3rd and Treherbert coming 11th.

That's four years in a row now that Wales has got a band into the top six.

List

The alphabetical list starts with Ammanford Town, who returns to the contest for the first time since 2009.

They came 8th at the Welsh Miners Entertainment contest and snatched a podium finish at the Blaenavon event, so could be a good each-way bet for a top six finish.

Briton Ferry last qualified back in 2002, so a Finals return is long overdue.

They were 7th last year, came 4th at Blaenavon in the Second Section and 9th at the Miners contest. A bit of an outside bet but they are a consistent outfit and a top six finish should be within their sights.

Steady progress

Meanwhile, Crwbin won the Fourth Section here in 2010 and has been making steady progress since, with a 4th place finish last year and another 4th at Blaenavon.

Ivor Barnett is certainly one conductor who deserves a Finals appearance after coming so close over the years.

Newport Borough was 6th last time in a decent return but the band just struggled at Blaenavon where they came 8th, so he may have to wait a little longer.

Champions

The reigning Welsh League, Welsh and National Fourth Section Champion of Great Britain, Melingriffith 2 has been promoted on the back of their fine achievements under the baton of Dewi Griffiths, and you can be sure they will be looking to carry on their remarkable run of success.

You wouldn't bet against them starting on another year just as good as the last on Saturday.

Revitalising

Meanwhile, Alice Jones is doing a great job in revitalising Ogmore Valley as they seek their first qualification since 2003.

There was a brace of encouraging performances to build on at the Welsh Miners contest and at Blaenavon, so they should be confident of a possible top six finish to banish any fears of relegation.

Home town

Cory's horn star Owen Farr takes the baton with his home town band of Pontypool as they return to the contest after missing out last year.

They won the Fourth Section in 2010 and came 2nd at the Blaenavon contest, so should be confident of making a mark.

Tata Steel (Port Talbot) has just missed out on a Finals place in the last two years, so Ceri Thomas will be determined to put that right this time around as they look to build from a slightly disappointing 7th place at Blaenavon.

Great to be back

It's great to see two Rhondda bands back – especially Thomas Coaches Mid Rhondda, who for many years were a fine First/ Championship outfit and qualified for the Finals in 2002.

Alan Gibbs has put his heart and soul in to ensuring that they make a comeback after four long years away.

It's also good that the youngsters at Upper Rhondda are back after missing out last year. They came 2nd in 2010 so will be confident of making a mark on their return.

Favourites

That just leaves Ynyshir, who should be one of the favourites if they have continued to build under the talented Dean Evans.

2011 saw them come runner up in the First Section of the Welsh League, and they have also delivered some very innovative entertainment programmes over the past year, especially at the Welsh Miners contest and at Gloucester where they came 4th.

Iwan Fox
---
As for a winner?
A hard one to call this, but we going to opt for Melingriffith 2 once more closely followed by Ynyshir and the returning Thomas Coaches Mid Rhondda, Pontypool, Crwbin and Ogmore should make our top six with Tata Steel as our dark horse.

4BR Prediction:

1. Melingriffith 2
2. Ynyshir
3. Thomas Coaches Mid Rhondda
4. Pontypool
5. Crwbin
6. Ogmore Valley

Dark Horse: Tata Steel (Port Talbot)
---
Ammanford Town
Conductor: GR Davies
Last 16 Years:
2011: DNC
2010: DNC
2009: 10th (C. John) (rel)
2008: 10th in First Section (C. John) (rel)
2007: DNC
2006: DNC
2005: 4th (C. Hogg)
2004: 5th (C. Hogg)
2003: 5th (C. Hogg)
2002: 7th (C. Hogg)
2001: 2nd in Second Section (T. Jenkins) (prom)
2000: 6th (J. Davies)
1999: 7th
1998: DNC
1997: 6th (rel)
1996: 6th
---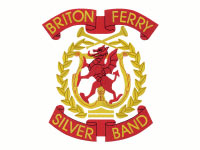 Briton Ferry
Conductor: R. Griffith

Last 16 Years:
2011: 7th (C. Jenkins)
2010: 9th in Second Section (C. Jenkins) (rel)
2009: 9th (C. Jenkins)
2008: 7th (C. Jenkins)
2007: 3rd (C. Jenkins)
2006: 7th (C. Jenkins)
2005: 5th (C. Jenkins)
2004: 8th (M. Faro)
2003: 3rd (M. Faro)
2002: 2nd in Third Section (M. Faro) (prom)
2001: 2nd in Fourth Section (M. Faro) (prom)
2000: 7th (M. Faro)
1999: 7th
1998: N/K in Fourth Section
1997: N/K in Fourth Section
1996: N/K in Fourth Section
---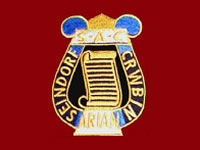 Crwbin
Conductor: Andrew Jones

Last 16 Years:
2011: 4th (A. Jones)
2010: Winners of Fourth Section (M. Thorne) (prom)
2009: 5th (R. Davies)
2008: 7th (C. John)
2007: 4th (C. John)
2006: 14th (A. Jones)
2005: 10th (A. Jones)
2004: 13th (A. Jones)
2003: 13th (J. Jones)
2002: 12th (J. Jones)
2001: 11th (J. Jones)
2000: DNC
1999: DNC
1998: DNC
1997: DNC
1996: DNC
---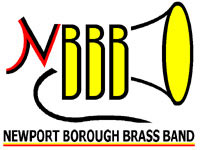 Newport Borough
Conductor: Ivor Barnett

Last 16 Years:
2011: 6th (I. Barnett)
2010: 3rd in Fourth Section (A. Hathaway) (prom)
2009: 7th (A. Hathaway)
2008: 3rd (M. Davies)
2007: 10th (M. Davies)
2006: 8th (M. Davies)
2005: 12th (M. Davies)
2004: DNC
2003: DNC
2002: DNC
2001: 6th in Second Section (A. Williams) (rel)
2000: 7th (L. Baglin)
1999: 6th
1998: 4th
1997: 4th
1996: 10th
---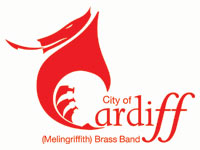 Mellingriffith 2
Conductor: Dewi Griffiths

Last 16 Years:
2011: Winners of Fourth Section (D. Griffiths) (prom)
2010: 5th (D. Griffiths)
---
Ogmore Valley
Conductor: Alice Jones

Last 16 Years:
2011: 8th (A. Jones)
2010: 5th (A. Jones)
2009: 5th (I. Barnett)
2008: 8th (I. Barnett)
2007: 4th (I. Barnett)
2006: 8th (I. Barnett)
2005: 5th (I. Barnett)
2004: 3rd (I. Barnett) (prom)
2003: 2nd (I. Barnett)
2002: 11th (T. Charlton)
2001: 10th (T. Charlton)
2000: 10th in Third Section (T. Charlton) (rel)
1999: 8th
1998: 13th
1997: 6th
1996: N/K
---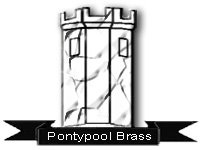 Pontypool Brass
Conductor: Owen Farr

Last 16 Years:
2011: DNC
2010: 4th (P. O'Leary)
2009: Winners (P. O'Leary)
2008: DNC
2007: 9th (P. Hallahan)
2006: 6th (J. Pippen)
2005: 4th (J. Pippen)
2004: 9th (M. Jones)
2003: 9th in Third Section (M. Jones) (rel)
2002: 6th (M. Jones)
2001: DNC
2000: 3rd in Third Section (A. Williams)
1999: 8th in Second Section (rel)
1998: 9th in Second Section
1997: 6th in Second Section
1996: 7th in Second Section
---
Tata Steel (Port Talbot)
Conductor: Ceri Thomas

Last 16 Years:
2011: 3rd (C. Thomas)
2010: 3rd (C. Hogg)
2009: 3rd in Fourth Section (C. Hogg) (prom)
2008: DNC
2007: DNC
2006: DNC
2005: DNC
2004: DNC
2003: DNC
2002: DNC
2001: DNC
2000: DNC
1999: DNC
1998: 5th in First Section (D. Mahoney)
1997: 7th in First Section (D. Mahoney)
1996: 3rd in First Section (E. Clarke)
---
Thomas Coaches Mid Rhondda
Conductor: Alan Gibbs

Last 16 Years:
2011: DNC
2010: DNC
2009: DNC
2008: 6th (A. Gibbs)
2007: 3rd (A. Gibbs)
2006: 6th (A. Gibbs)
2005: 9th in Championship Section (A. Gibbs) (rel)
2004: 7th (A. Gibbs)
2003: 8th (A. Gibbs)
2002: 2nd in First Section (A. Gibbs) (prom)
2001: 9th (N. Seaman) (rel)
2000: 9th (N. Seaman)
1999: 8th
1998: Winners of First Section
1997: 4th
1996: 2nd
---
Upper Rhondda
Conductor: G. Robinson

Last 16 Years:
2011: DNC
2010: 2nd (N. Seaman)
2009: 4th (T. Davoren)
2008: 6th (A. Jones)
2007: 5th (R. Griffiths)
2006: 7th (J. Tanaka)
2005: 14th (W. Williams)
---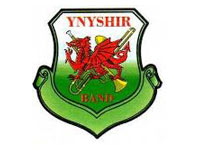 Ynyshir
Conductor: Dean Evans

Last 16 Years:
2011: 10th in Second Section (D. Evans) (rel)
2010: 11th (D. Evans)
2009: 2nd in Third Section (D. Evans) (prom)
2008: 6th (G. Shepherd)
2007: 6th in Second Section (D. Evans) (rel)
2006: 9th (D. Evans)
2005: 6th (A. MacDonald)
2004: 6th (A. Gibbs)
2003: 3rd in Third Section (A. Gibbs) (prom)
2002: 3rd (A. Gibbs)
2001: 7th (A. Gibbs)
2000: 9th (B. Williams)
1999: 2nd
1998: 11th
1997: 10th
1996: 6th
---
Past Qualifiers:

2011: Goodwick, Treherbert & District
2010: Goodwick, Llwydcoed
2009: Royal Buckley, Ynyshir
2008: Blaenavon Town, City of Cardiff (Melingriffth)
2007: Llwydcoed, Porthaethwy Menai Bridge
2006: Beaumaris B, Radyr and Morganstown
2005: Newtown Silver, Newbridge Celynen
2004: Newtown Silver, Royal Buckley
2003: Newbridge Celynen, Conway Town
2002: Blaenavon Town, Briton Ferry
2001: Beaumaris B, Cwmbran
2000: Royal Oakeley, Llanrug
1999: Rhyl, Ynyshir Welfare
1998: Ebbw Vale, Newtown
1997: Deiniolen, Pontardulais
1996: Deiniolen, Rhyl Silver
1995: Deiniolen, Rhyl Silver
---
Welsh bands at the Finals:

2011: 3rd, 11th
2010: 2nd, 4th
2009: 6th, 16th
2008: 3rd, 17th
2007: 16th, 18th
2006: 8th, 16th
2005: 5th, 18th
2004: 11th, 19th
2003: 6th, 17th
2002: 4th, 19th
2001: 8th, 14th
2000: 14th, 16th
1999: 10th, 15th
1998: 10th, 14th