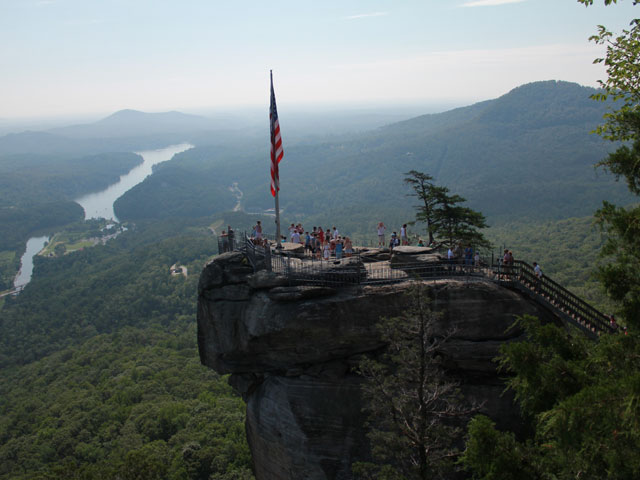 Carolina sights: The band take in Chimney Rock State Park

For the fourth time in twelve years, Smithills School Senior Band has returned from a hugely successful tour of North America.
Unlike their previous trips, which included performances in Virginia and West Virginia, on this occasion the visit centred around eight cities in North Carolina, packed into ten days, with one concert over the state line in Fort Mill, South Carolina, where band members stayed at the spectacular Sun City Lakes.
Excellence
Thanks to the reputation gained since their first tour in 2000, the professional excellence of the school's flagship ensemble on and off stage ensured that audiences flocked to see them in action once again.
Amazingly, many brass band lovers had driven hundreds of miles to attend multiple concerts, and they were not to be disappointed either, with Smithills preparing over 60 concert pieces to perform so that no two concerts would be the same – despite the demands on the players.
No repeat policy

In fact, with the exception of the American National Anthem, it wasn't until the fifth concert that a single piece was repeated - whilst featured soloists Elizabeth Tonge (Principal Cornet) and Jacob Smith (Solo Euphonium), both of whom are members of National Youth Band of Great Britain, each delivering four sparkling solo contributions.
With every concert being professionally recorded, the band was determined to ensure that their playing for all 60 plus items was at its very best – something which the audiences at each concert venue certainly felt was very true.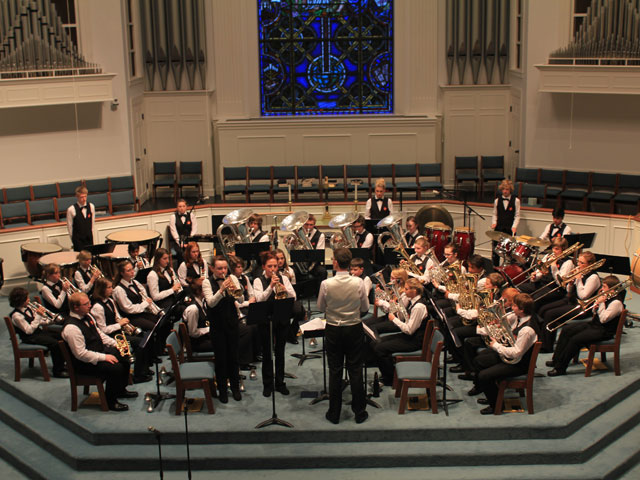 Smithills in concert action

Opportunity
A hugely successful 10 month fund raising campaign (which boosted tour funds by over £70,000) also ensured that in addition to the 8 concerts there was ample opportunity to sample the many tourist delights of North and South Carolina.
These included boat trips on Lake Lure, golf at the Apple Valley Club, visits to Chimney Rock State Park, Looking Glass Waterfalls, Sliding Rock, Blue Ridge Parkway, Linville Falls and Caverns, North Carolina State Zoo, Old Salem Village, Schiele Natural History Museum, North Carolina Transportation Museum and, a particular favourite of every Smithills tour, Carowinds Theme Park on a rare day off in baking 36 degree heat!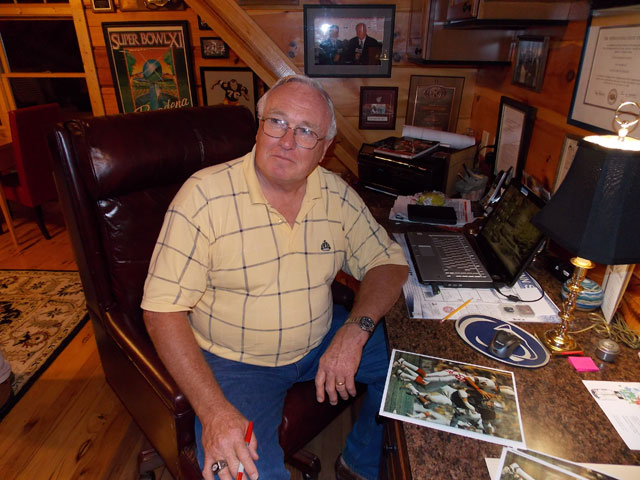 At home with Superbowl winner Dave Rowe

Superbowl Winner
A particular highlight was the opportunity to stay overnight in Boone at the spectacular mountain home of 1977 Superbowl winner Dave Rowe.

Dave played with the hugely successful Oakland Raider before embarking on a 30 year career as a television sports broadcaster - the North American equivalent of Gary Lineker.
Repertoire
The band performed a varied programme of music during the tour, including arrangements of works by Stravinsky and Elgar, music from blockbuster West End musicals and shows, major film scores and pop classics, as well as more traditional brass band repertoire such as hymn tunes and many expertly engineered audience-pleasers, such as 'Carolina In The Morning' and 'The Star Spangled Banner'.
Audiences were encouraged to play a proactive part in the entertainment on offer too, with musical requests shouted out and granted, local band directors or leading city officials invited on stage to conduct items and various audience members either having pieces dedicated to them or having 'Happy Birthday' played and sung in their honour!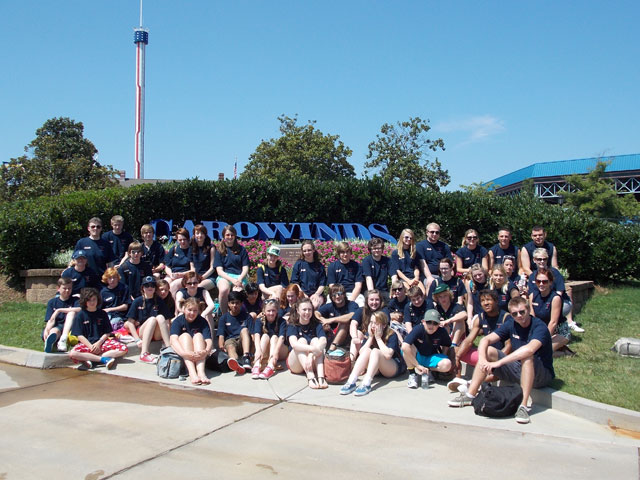 Time for a bit of relaxation at the Carowinds Theme Park

40 degrees
With the vast Mid West area experiencing the second worst drought and heat wave in its history, the only outdoor performance of the tour came at Asheboro, where the band performed heroically in 40 degree heat in Bicentennial Park.
Thankfully the players were superbly catered for with ice cold bottled water provided by the organisers, whilst the MD showed off his sartorial elegance with a specially made, sleeveless 'Stars & Stripes' waistcoat instead of the obligatory black dinner jacket – much to the appreciation of the audience.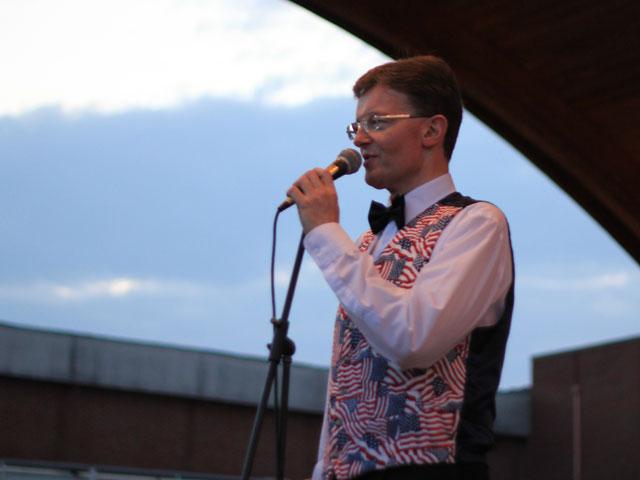 Waist not want not for the MD in his splendid concert attire!

Duel mission
For over two decades, Smithills has prided itself on a host of its players becoming established members of the National Youth Brass Band of Great Britain, and at present it has two outstanding 16 year olds maintaining a proud tradition.
Elizabeth Tonge led the band superbly as principal cornet on tour, whilst Jacob Smith on euphonium took the lead of the lower brass. Overall, it was hard to think of the band being able to perform better, on what was a duel mission to both entertain and record a new double CD.
American Return
With a number of major tours abroad already planned over the next three Summers, an immediate return to North America would seem impossible, but with pressure already being applied for a return to the Carolinas as soon as possible, it may well be that plans are duly altered to make way for a fifth trans-Atlantic Smithills visit for its young musicians as early as July 2014.
Chris Wormald