A bit bashed in - the mask of Agamemnon

To help you in your enjoyment of the 160th British Open Brass Band Championships at Symphony Hall, 4BR gives you a quick crash course in all things Electra.
1. The original Greek tragedy concerning Electra was written in 458AD by Aechylus, and forms part of the 'Oresteia' - three plays that tell the story of the regicide of King Agamemnon and its aftermath – from his homecoming from Troy, his murder by his wife's lover, his murder, her murder, Electra's death, a bit of a courtroom drama, and finally, a not guilty verdict and a happy ending with a cast of mythical 'Furies' transformed into 'Kindly Ones' in the Areopagus court.
2. Agamemnon was the King of Argos (so now you can educate the gormless shop assistant the next time you go to buy a cheap kettle), and was drawn to his bloody fate by his philandering wife, Clytemnestra, who persuaded him to stand on a purple cloth in preparation for a bit of home coming hanky-panky.
Unfortunately for the old boy, it was also a sign to her lover to bash his noggin in with an axe.
3. A heartbroken Electra is told by Cassandra, who has the gift of prophecy (although it was her curse that nobody believed her – a bit like the Governor of the Bank of England), that her brother, Orestes, will avenge her father's death by killing his mother and her lover.
However, it appears at first that the prophecy is as accurate as a Mystic Meg lottery prediction as the wicked Clytemnestra is informed that her avenging son has died too.
Not surprisingly she laughs her head off as she plans a future with her lover living the life of Riley in a time share flat in Kos with wads of Troy gold to spend on soft furnishings.
4. Lo and behold though! Orestes is in fact alive and kicking (although it takes him about 20 years to show up), and meets up with Electra to follow out his own cunning plan – and runs through his mother's lover before lopping her spiteful head off too.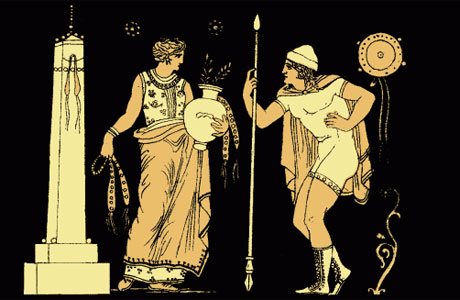 Electra and Orestes meet up and plan a murder...

5. Overcome with joy Electra takes an early version of a Ecstasy tablet and dances herself to death; whilst her brother is nicked for double murder, only to get off on the casting vote of the goddess Athena- who later went on to sell a million bedroom posters to pubescent teenage boys of a tennis girl scratching her bare arse.
He then becomes King of Argos and sets about setting up a shop with all the goods hidden in a big room that no customer can see.
6. The story has been rewritten quite a few times since, with both Sophocles and Euripides (as well as a thousand Hollywood movie writers) giving it the best seller treatment (with slightly different outcomes it must be said).
7. Richard Strauss opted for a version of the Sophocles take on things after seeing a play with a libretto by Hugo von Hofmannsthal in 1905 – although he was a bit worried that the story was a rip off of the biblical epic of Salome. Perhaps that's why he called it 'Elektra'.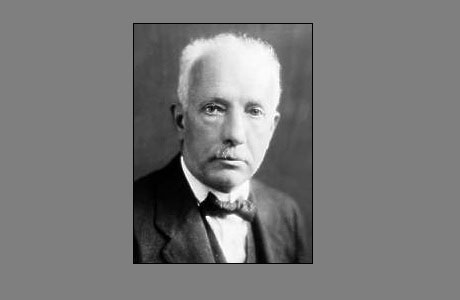 Richard Strauss Esq

8. It was first performed in January 1909 in Dresden Opera House, where it brought the audiences to its feet, even though one critic called it a 'horrible din'.
9. The famous 'Electra Scream' comes from her own opening monologue and is a bit like putting a sound effect to Edvard Munch's famous painting. Noisy, dissonant, complex and demanding, all the opera's leitmotifs gradually pull together until finally the eponymous heroine loses herself in a demonic waltz that leads to her own death.
It's a bit like 'Strictly Come Dancing' for sadomasochists.
10. Other things you may throw into a conversation at the bar to show off your Ancient Greek prowess:
The original Olympic Games were founded to commemorate the victory of Pelops against King Oenomaus in a chariot race – although he used a team of winged horses and sabotaged his rivals cart to ensure victory.
The Greeks also gave us 'Halcyon Days' the 'Gordion Knot', the 'Achilles' Heel', the 'Sword of Damocles', 'Titanic', 'Hoi polloi' and the Odeon – which contrary to popular cinematic myth did not stand for 'Oscar Deutsch Entertains Our Nation'.
Add in such wonderful descriptive adjectives as 'tantalising', 'Sisyphean' 'Colossal', 'Herculean' and 'Stygian', as well as the essential Greek quotes of: 'Meden agan – Nothing in excess; 'Pathei mathos' – knowledge comes through suffering, and perhaps the first bit of successful feminist propaganda when Medea, who helped Jason secure the Golden Fleece, piped up that she would rather stand three times in the battle line than give birth once.ight on sister!