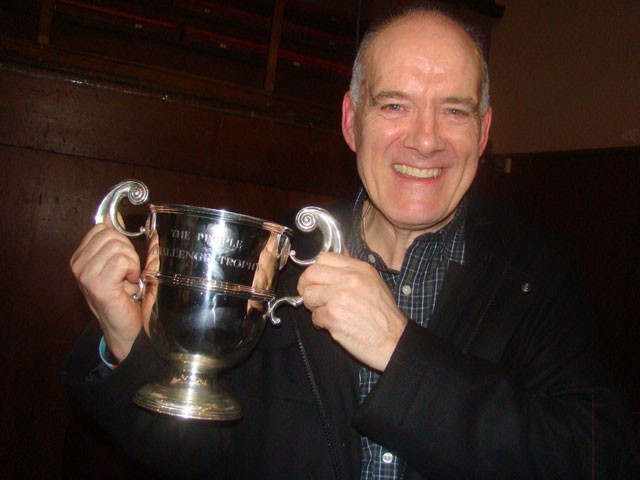 A man inspired: Phillip McCann holds the Yorkshire Regional Trophy in his grasp

Who says history doesn't repeat itself?
Carlton Main's last win at the Yorkshire Regional Championship was in 1999 – the year in which they beat Brighouse & Rastrick with Black Dyke a surprise also-ran in seventh place.
Carbon copy

14 years later and it was just about carbon copy time: They may only be occasional winners at this contest (this was only their fifth win since 1957) – but they don't half do it in some style.
Any bewilderment though should be tempered by the fact that they have now qualified for the Albert Hall three times in the last four years, and has been a podium finisher in four of the last six at what is universally acknowledged as the hardest Area contest around.
There may have been surprise surrounding this victory under Phillip McCann, but the shock waves didn't exactly put a Japanese power plant in peril.
Cold comfort

As recent results have shown, Carlton Main is a form band; packed with fine individual players and youthful ensemble back up, led by an MD who in his unique way has the ability to inspire on a regular basis: This one has been coming for a while.
That though wouldn't have given beaten rivals any sort of cold comfort on Sunday night.
The announcement of the results slowly but surely revealed the stark, painful truth for a number of pre-contest favourites.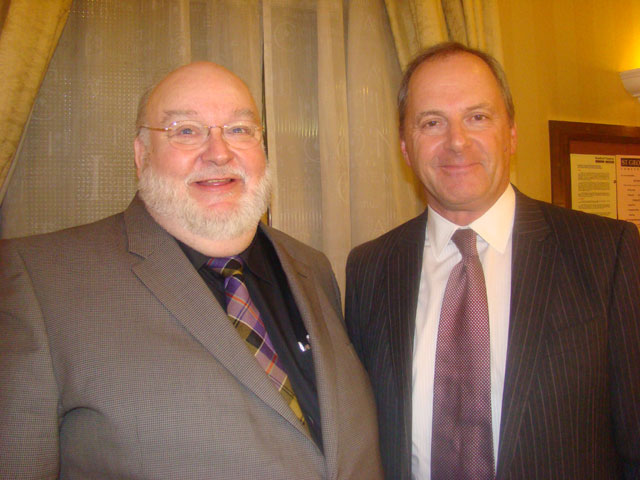 Pyramid builders: Judges Nigel Boddice MBE and Rob Wiffen

Maslow

The judges had informed a packed hall that the 'incredible' overall standard meant they were not overtly analytical in their considered appreciation of the basic contesting mechanics.

They were more concerned with the musically emotive concepts of drama, theatre and ethereal beauty contained within Phillip Sparke's wonderful set work.
It's not often this is explained through an analogy of Maslow's pyramid of hierarchical needs – but that is how Rob Wiffen cleverly outlined his deductive reasoning, whist Nigel Boddice also drew expectations away from the basic trigger point response mechanisms of test piece construction.
Botox eyebrows

However, by the time Peggy Tomlinson announced the individual awards, there were more raised eyebrows on the faces of the audience than could be found in a Botox clinic spring sale.
For two highly respected musicians, it was not about process, but end result that counted in an engrossing contest: And Carlton Main provided it for them almost to perfection.
Simplicity

Bar room arguments will have raged over possible inconsistent execution, (although not by the outstanding soloists – with Toni Howden claiming the 'Best Instrumentalist' prize), but if there was a key to victory it came with the portrayal of the central Ravel inspired interlude, which ached with miasmic beauty.

Where rivals rather overplayed their emotional hand, Phillip McCann allowed a melancholic simplicity to permeate the musical atmosphere.

He later told 4BR that he had been inspired in his approach by his great Black Dyke mentor Peter Parkes.

You suspect 'The Major' would have been delighted he learnt his lesson so well.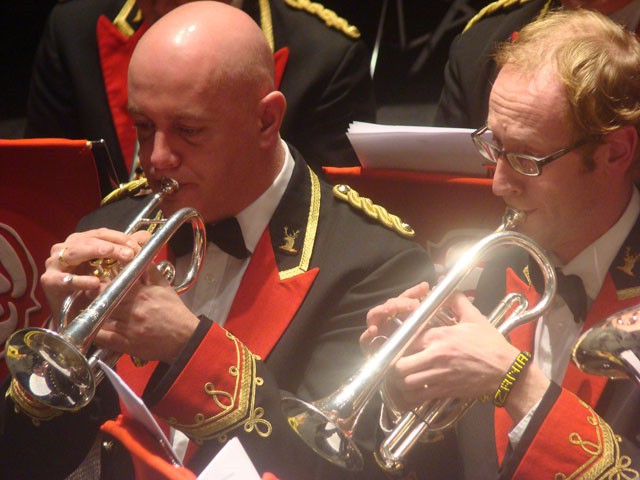 No extra shine for Black Dyke this year...

Harsh return

Fervent Pondashers though will wonder just how the defending champion and current European and English National title holder ended sixth – their worse result since coming thirteenth a decade ago.
Black Dyke certainly left the door open with a juggernaut performance that was pockmarked by a noticeable minor error count, but it still seemed a harsh return for Dr Nicholas Childs and his band.
The overall quality of their delivery was startling at times, so the obvious conclusion would be that the musical approach from the MD didn't resonate with the hierarchical needs of the men in the box.
In their opinion Dyke was second best after four contenders – failing to dislodge Hepworth's supremely confident, if not particularly subtle account immediately before them.
Full blooded

This was full blooded stuff from Michael Fowles and his band, although crucially it didn't suffer the same obvious blemishes that clearly tarnished their rival's performance. With qualification secured to the British Open, Hepworth is back amongst the big time players once more.
So too Rothwell, who delivered a persuasive account as the final contender that very nearly lived up to its musical promise in an interpretation of passion and purpose under David Roberts.
Rather surprisingly, it was perhaps a lack of stamina that saw them fall short, as they just forced their way to the end. It did show though that on this form they will be amongst the short priced favourites at the Grand Shield in May.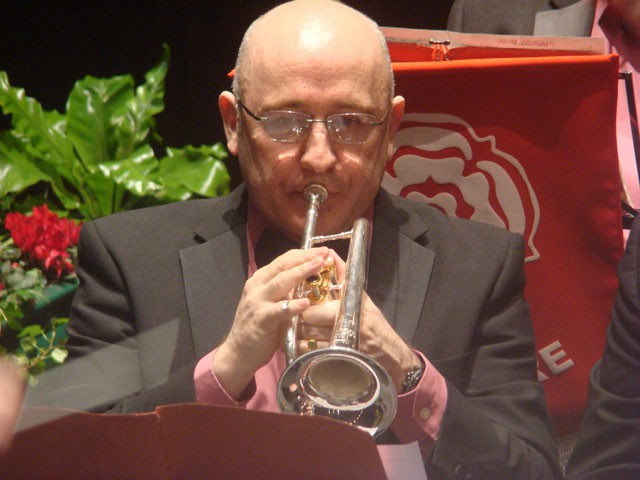 The Master: Roger Webster on supreme form with Grimethorpe

Renaissance

Another renaissance band was Grimethorpe, who will have felt a little disappointed not to have won the Yorkshire title for the first time since 2006, but delighted at returning to Kensington for the first time since 2008.
Luc Vertommen's elegant musical direction drew an equally elegant, technically refined rendition.

Roger Webster was on supreme form to take the 'Best Principal Cornet' award whilst the ensemble produced beautiful warmth of sound that took the breath away.
The free flowing musical shape created may not quite have fused the synapses in the box, but it certainly triggered the type of response from the St George's Hall audience that signalled their delight that one of their favourites was back in business.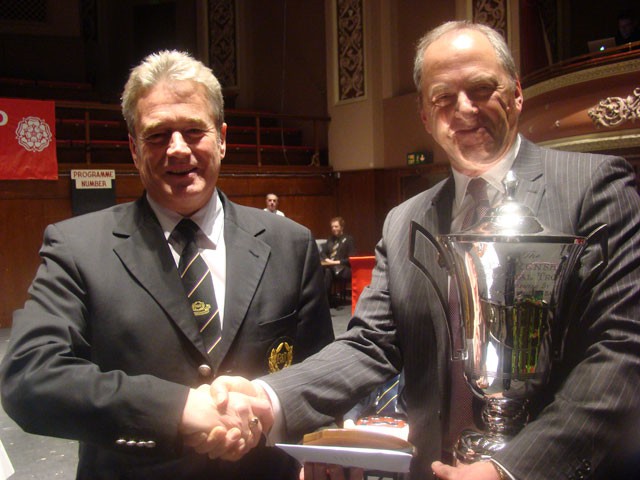 Brighouse pre-booked their return to London

Crafted

So too Brighouse & Rastrick – followed by their fervent Italian supporters, who joyously led the vocal appreciation of the West Riding's band's superbly crafted performance under Prof David King.
The Australian once again opted for control and compactness in his reading of a score, revealing subtle colourings and effect (although the troms did provide the theatre when they stood to play and Andrew Bannister boldly took the 'Best Soprano' prize) in a wonderfully austere interpretation that was only blemished by a minor error count.

Second place will have left their new found fans disappointed, but this was a performance of intriguing future possibilities for a band that seems to be moving in an exciting interpretative musical direction under their inspirational MD.
True top section

Not unsurprisingly, these were the bands that critics felt would fill the top six places come the results – although perhaps not in the order they did.

However, there was also a batch of true top section credentials on show from Skelmanthorpe in seventh, who once again produced a well constructed account under the baton of John Roberts, and Marsden Silver, who also captured the musical spirit of 'Harmony Music' thanks to Glyn Williams adherence to sensible tempos and dynamics.
Step up

Yorkshire Imperial showed that they had made the step up in class after producing a purposeful account under David Nesbitt, whilst Hammonds Saltaire could perhaps count themselves unlucky that Morgan Griffiths' interpretation of refined musicality didn't appeal in the box as much as it did in the auditorium.
For Unite the Union, perhaps a day when the realities of top level banding hit home, whilst the same could certainly be said for Wakefield Metropolitan and Meltham & Meltham Mills, who despite brave efforts found themselves out of their depth on this occasion.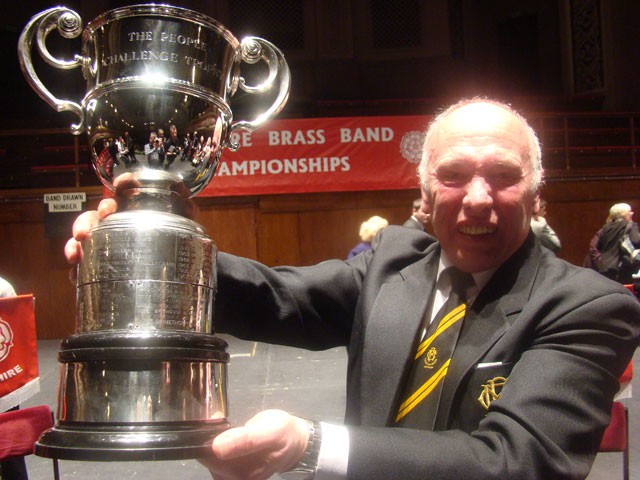 The Yorkshire Trophy ready to be filled...

Deep pockets

In contrast, Phillip McCann's only worry on Sunday night would have been the depth of his pockets, as he would have had to dig deep to keep refilling the Yorkshire Regional Trophy well into the night to satisfy the celebratory thirsts of his players.

You can bet he was left wondering, but not particularly bothered, where that came on the Maslow contest pyramid of hierarchical needs.
Iwan Fox