Elite Section:
Set Work: Mutant Sonorities (Torstein Aagaard-Nilsen)
Friday 7th February (16.00)
Adjudicators: Ian Porthouse, Ivan Meylemans, Stig Nordhagen

Own Choice:
Saturday 8th February (14.45)
Adjudicators: Andrew Berryman, Bryan Allen, Yngve Slettholm
---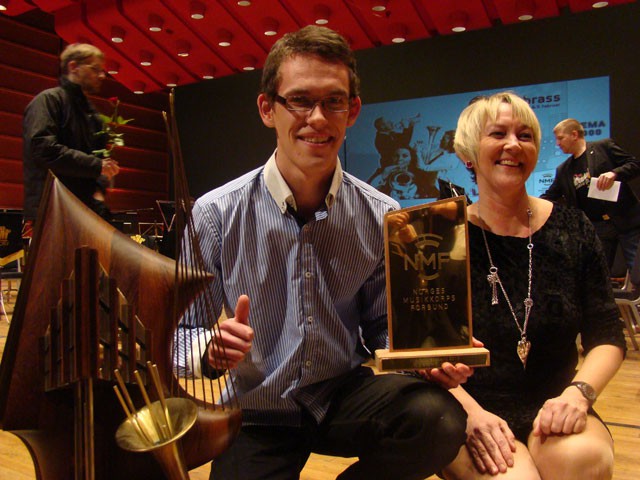 What promises to be one of the very best brass band contests of the year will unfold in drama, excitement and musical brilliance over two highly competitive days in the main auditorium of the Grieg Hall.
10 bands will battle to see who will claim the hefty National Championship Trophy and Kr65,000 prize package, as well as the honour of being presented with the King's Prize and the chance to represent Norway at the European Championships in Freiburg in Germany in 2015.
Mouth watering stake

There is a great deal at stake then - with the mouth-watering prospect of hearing some of the best bands in the world give it their all in pursuit of glory.
The balance between this year's demanding set work and their own-choice selections is intriguing.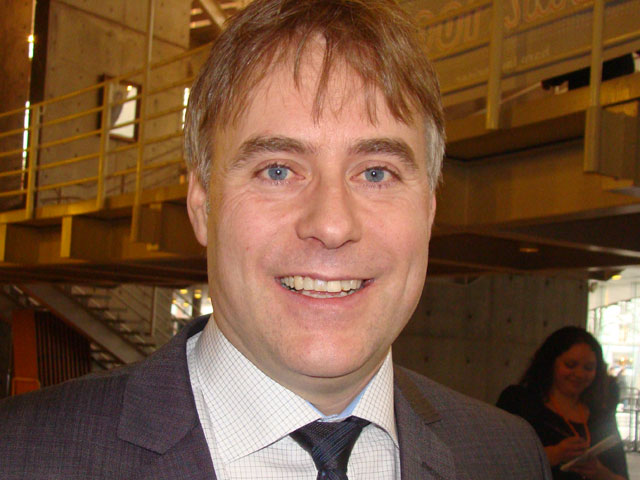 Free expression from composer Torstein Aagaard-Nilsen

Free expression

Torstein Aagaard-Nilsen's 'Mutant Sonorities' offers a very particular contemporary insight into a musical world that in his inventive mind is forever subject to intellectual change; on this occasion exploring quarter and semi tones, minor thirds and seconds as it meanders with free expression along a route that encompasses contrasting dynamic and tempo elements (although just one tempo mark is actually give at the start of the work).
Each player is asked to contribute in equal measure to the colour and sound palette - whilst the percussion, although not overtly exotic, does require expertise in crystal glasses.
Multiple layers

It's a work that connects back to earlier compositions, yet resolutely looks forward with its exploration of modern musical language, resplendently complex with its multiple layers linking the aural experiences of the Baroque musician to the modern day tastes of the audience. The rich textures fuse into each other, seeping slowly into the consciousness of the listener.
It will provide an immense test of musical understanding by conductors (four of whom are imported Brits – Messer's McCann, Childs, Harper and Evans, one Australian – David King and one who makes more trips to the UK from these shores than the invading Vikings – Allan Withington) and performers alike.
The following day come the blockbuster selections – and once again there is an inventive musical liberalism about the choices on show.

Can Eikanger make it four in a row?

Who will play what

Due to the welcome openness that permeates the contesting environment, we know exactly what each band will play on Saturday afternoon.

Reigning champion Eikanger Bjorsvik has opted for the immense 'Goldberg 2012' - used as the set work here two years ago, as they look to make it four wins in a row, whilst World Champion Manger Musikklag has decided to pin its hopes on the equally fearsome 'Concerto Grosso' by Derek Bourgeois - a work that has lost none of its inherent ability to bite as well as thrill, despite its age.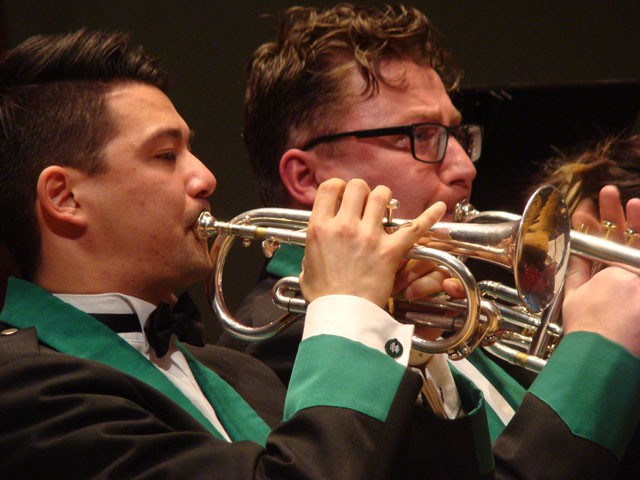 Can the World Champions become Norwegian champions again?

Dark mystery

Both Siddis champion Stavanger and Sola Brass have opted for the dark mystery of the 2013 European set work, 'Myth Forest', whilst Krohnengen has opted for the equally mythical inspiration that comes in 'Ginnungagap...seeming emptiness'.
Dr Robert Childs will bring his expertise and understanding on Edward Gregson's imposingly mature 'Symphony in Two Movements' with Oslo Brass, whilst a brace of Philip Wilby works, 'Vienna Nights' and 'Northern Lights' will be played by Jaren Hornmusikkforening and Tertnes Brass respectively.
The 'old' Eikanger stars of promoted Bjorsvik Brass look to once again showcase their timeless talent on 'The Essence of Time', whilst Ila Brass displays its engaging appetite to head left field with Knut Vaage's 'Graffiti', which was used here as the set work in 2004.
---
How will win?
A hard one to call, but given the last 13 titles have been won by just three bands, you can't help but think that it will once again be a battle between Eikanger (7 times winner since 2001), Manger (twice) and Stavanger (4 times).

It would be a major upset if anyone else managed to beat all three over two such demanding disciplines, but the quality here is so high that you never know.

The last band to upset this trio was Sandefjord in 2000 – so perhaps time for a new name to be engraved on the National Trophy?
Can't quite see it somehow though - and we think that Eikanger, after coming so close to winning the European last year will be determined to book their flight to Freiburg and try again.

Manger will surely push them all the way (and how close they came to pipping their rivals last year), whilst Stavanger and Olso will both snap at their heels.

The consistent Krohnengen and Ila will be bands to watch out for with our dark horse of Sola Brass.
4BR Prediction:
1. Eikanger Bjorsvik
2. Manger Musikklag
3. Stavanger
4. Olso Brass
5. Krohnengen
6. Ila Brass
Dark Horse: Sola Brass
---
2013 Result:
1. Eikanger-Bjørsvik Musikklag
2. Manger Musikklag
3. Olso Brass
4. Stavanger
5. Jaren Hornmusikkforening
6. Krohnengen
7. Tertnes
8. Ila Brass
9. Molde Brass
10. Sola Brass
Last five winners:
2013: Eikanger-Bjørsvik Musikklag
2012: Eikanger-Bjørsvik Musikklag
2011: Eikanger-Bjørsvik Musikklag
2010: Manger Musikklag
2009: Eikanger-Bjørsvik Musikklag