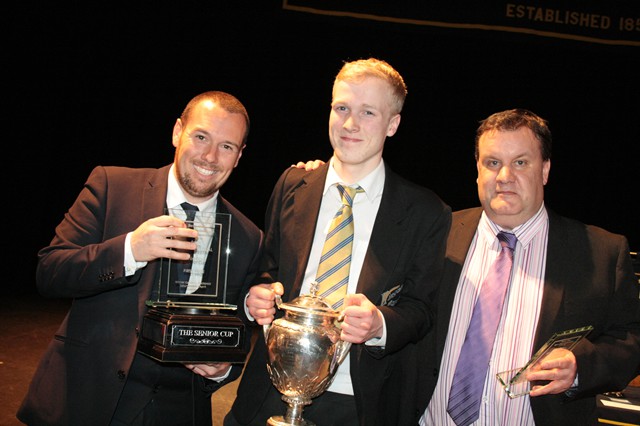 Back to winning ways for Wingates
All images by Steve Jack

It seems hard to believe that it was way back in 2007 that Wingates Band last won some silverware at the Spring Festival in the form of the Senior Cup.
On that occasion they were conducted by Andrew Berryman and had an eleven year old trombonist by the name of Peter Moore in their ranks: They were a band not to be discounted on the contesting stage.
All that seemed a long time ago before they made their way onto the carpeted floor of the Arena auditorium to play beneath the stars on 'English Heritage'.

Not now though.
Difficult times

Wingates have been through some difficult times following the departure of Andrew Berryman, but having enjoyed a fine 140th anniversary last year, they are now in the capable hands of Paul Andrews.
Victorious at the Northern Open last November, their victory in Blackpool will have felt like a further breakthrough and proof that their new MD's presence in the Westhoughton band room is starting to making a real impact on a band with an average age of just 23.
Here, he presided over a thoughtful, detailed performance of 'English Heritage' that was more than clearly sufficient for adjudicators Ian Brownbill and John Doyle, although many in the audience had the final result down as a very close call between two or three contenders.
With the late change of venue creating a great deal of interest and intrigue about how the bands should approach playing in the lively acoustic, the contest unfolded slowly, with Kingdom Brass, Camborne and NASUWT Riverside all playing before the half way point and subsequently finishing in the top six.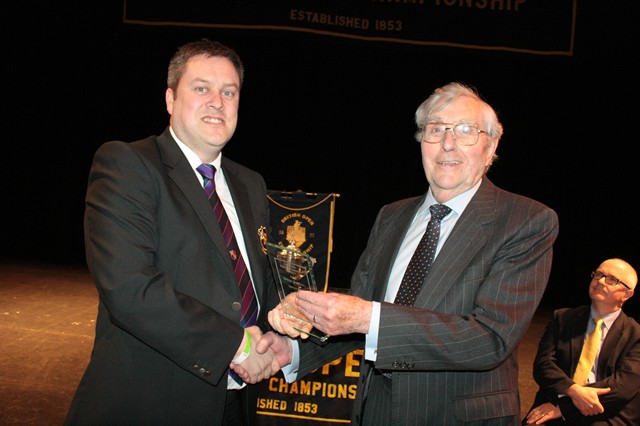 Kingdom come - in second place for the Scots
Insightful assessments

In what were insightful assessments, delivered with smiles on their faces, both judges told a packed Opera House audience what they were looking for - and what they were given, especially from the winners.
Kingdom Brass under Bryan Allen had set an impressively high standard from the number five draw, with an incisive opening, terrifically rich sounds from the bass end, and a beautifully dreamy atmosphere in the Poco lento.
The clarity of detail throughout was excellent (as was the principal cornet), although a couple of minor, yet potentially, costly individual slips in the Moderato and Largo had left the door ajar for the remaining fifteen contenders - but only if they could have grasped the opportunity.
From the start

How much notice Wingates were taking of the contest that was developing in the Arena wasn't clear before hand, but it certainly was from the start of their performance.
Technically neat and precise, especially in the early sections, they came into their own in the lyrical interludes - with broad sounds unpinned by a balance tonality, topped by some splendid solo work from principal cornet Andy McDonald.
It was commanding performance of real merit.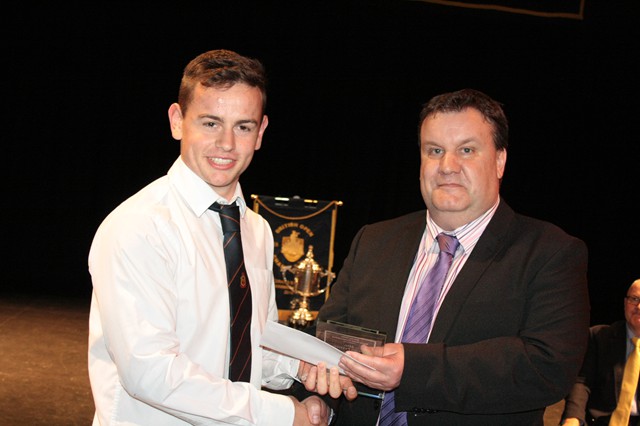 Grand Shield return for Mount Charles in third

Controlled reading

Tom Davoren's controlled reading from a late draw with Mount Charles meant that there was real Cornish delight after Camborne eventually joined them in the top four - a result that sent both bands up to the Grand Shield and a step closer to the British Open itself.
In his adjudication summing up, Ian Brownbill admitted he had sympathy for the band placed fifth, which was Ashton-under-Lyne.
Well prepared

MD, Phil Chalk was one of a number of MDs who sat in the hall and observed a couple of performances - resulting in him instructing the band to turn their chairs slightly to a different angle, so they would play directly to the box (something the remaining all four bands also did, perhaps under the impression on how the hall had been set up). It certainly paid dividends.
The First Section National finalists demonstrated what a well prepared outfit it is with their careful attention to the detail of the score.
The Largo was marked by a genuine attempt to get down to the pp dynamics, and whilst the Vivo was pushed on, they had enough stamina to draw the piece to an exciting close.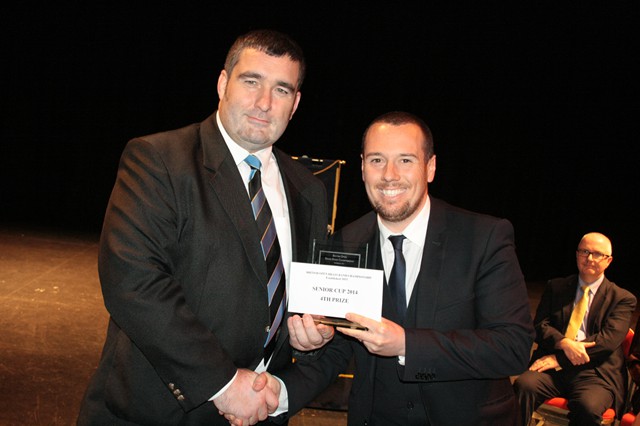 On the way up for Camborne in fourth

Heart on sleeve

In sixth, NASUWT Riverside opted for a heart on the sleeve reading from Ray Farr, although the detail and precision of the ensemble was not quite secure enough to warrant a higher placing.
The tempi rocked somewhat on occasions and textures tended to the heavy side, although there were moments of impressive musicality on display in the Largo, particularly in the closing bars.
Behind the top-six came a host of bands who will have headed home with the knowledge that it just wasn't their day to be major contenders; their committed accounts were blighted by numerous inconsistencies.
Sleepless nights

Others will have a few sleepless nights wondering what they really did wrong, but as John Doyle pointed out, it is important to remember that whilst it was a competition it is also about having fun and enjoyment - an attitude that he has always maintained on the stage as a player and as a very insightful judge.
For Wingates though, it was arguably one of their most important days in their illustrious history and will be seen by Paul Andrews and the band as a major step forward.
Malcolm Wood