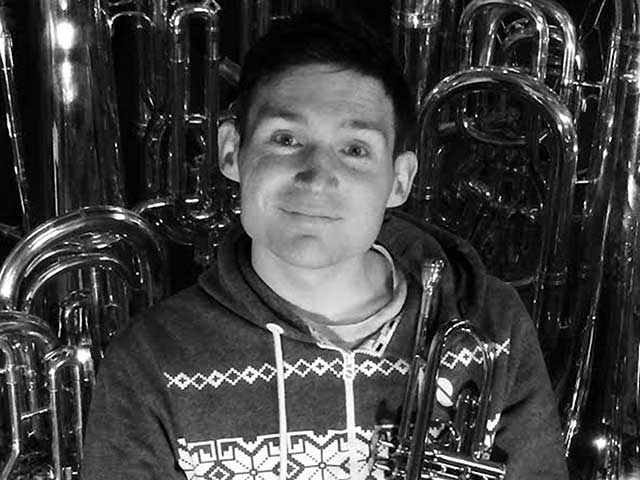 Malcolm Wood: Thanks for talking to 4BR. You stepped down from the soprano seat at Black Dyke at the end of 2013. How difficult a decision was that?
Paul Duffy: Yes, it was a very difficult decision to make. When you're at Black Dyke it's the biggest part of your life.

It's a very special band and in some ways, even addictive. The band work extremely hard and reap the rewards.
The players don't change very often and I think that's testament to the pride they have for playing there. From day one I really enjoyed myself, and I was enjoying it more than ever towards the end.
It was a difficult decision, but one I feel I made at the right time. As a person, I'm not easily satisfied, and even when I am, it's not for very long.
I'm always looking to push myself. With Black Dyke I felt like I was only scratching the surface of my potential.

The musical world is huge and I knew I wanted to explore more of it and not be restricted by the commitment to Black Dyke.
---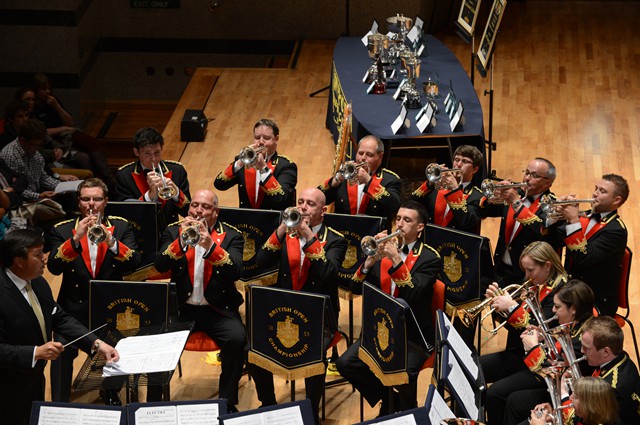 Malcolm Wood: Are there highlights that stand out from your time with the band?
Paul Duffy: I have so many brilliant memories: Literally every time you wear the famous jacket is special.
Any soprano player will tell you, when you are playing well, it feels amazing. Playing well with Black Dyke is one of the greatest feelings in the world, and to play to capacity audiences in some of the world's finest concert halls leaves many indelible memories.
When Black Dyke performed at the gala concert of the European Championships in Oslo, the audience was great and my parents were there watching - so that stands out.
Playing at the KKL concert hall in Lucerne with Dyke is also special.
One year, I started to play my solo when my soprano fell to pieces in my hand. 3000 people were eagerly waiting for a nice lyrical solo and it sounded like I was playing a kazoo!
We stopped and someone in the audience shouted, "Mr Dooffay, we have a soprano cornet." Two minutes later another instrument was in my hand, and we were off. It was brilliantly bizarre!
Aside from the concert performances, there have been many recordings too.

One that I'm most proud of is the 2012 CD 'Pictures at an Exhibition'. It's one of the most difficult works for soprano with lots of tricky passages and so much really high playing.
---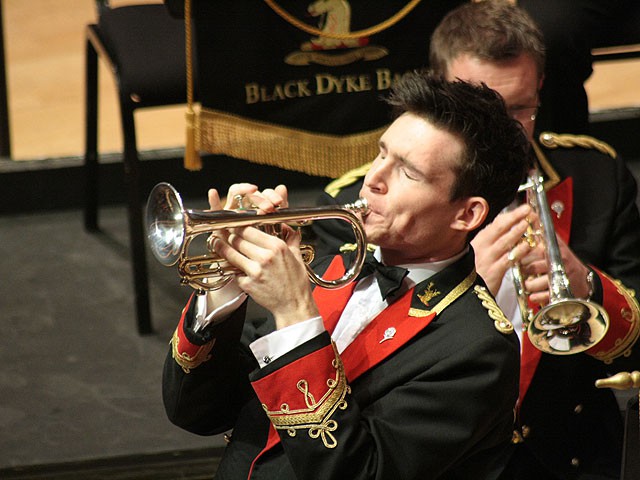 Malcolm Wood: You took to the stage at the Europeans in Perth with Dyke. Can you see yourself returning to the band in future?
Paul Duffy: I'm still very good friends with everyone associated there. It would be great to return one day as a full time member, but for the time being I'm busy developing my own career and they are busy winning competitions!
If I could do both right now, that would be perfect!
---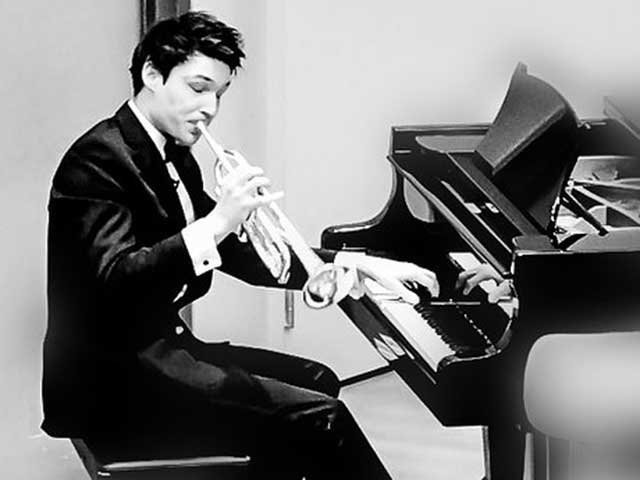 Malcolm Wood: You appear to be busier than ever, having just launched your first CD, 'Only Just Begun'. Tell us about it.
Paul Duffy: After I played my last concert with Black Dyke the following week I started work on the album. It took 10 months to complete as I wanted to create a showcase for myself.
Making a CD gave me the chance to write, arrange, record, collaborate, play and most importantly, learn.
The ideas came together pretty quickly and new ones even arriving right at the end. I wanted real variety, and I think I've managed that: Each track is different.
It was really nice to record two tracks with Black Dyke as well as some of the other inspiring musicians I have met over the years such as John Doyle and Richard Marshall.

Then there's a fabulous young singer called Emma Björnell, and a certain Peter Moore on trombone.

The 4BR CD Review can be read at:
http://www.4barsrest.com/reviews/products/cd574.asp#.VLKxkiusUg8
---
Malcolm Wood: You actually play 25 different instruments on the recording. Where did the idea come from to do that?
Paul Duffy: When I began the process, I could already play a few instruments (trumpet, piano, guitar, bass, drums). Really by accident I got hold of a trombone, and unlike the previous times I had played it, it actually sounded like a trombone, not a drainpipe!
I took advantage of the break from band rehearsals in late 2013 and increased my practice time. In January 2014 I played trombone for the first time at a concert in Switzerland, and after a while, I tried other brass instruments, and they all seemed to work.
My embouchure has become flexible, and whatever the mouthpiece my lips adjust to make the right sound. I also learnt the saxophone with the intention of being able to record big band tracks.
Linked to multi-track recording I was able to record anything I wanted myself.
On the album, I'm playing small ensembles, like a jazz combo and brass quintet. I'm also playing a full big band and a full brass band - from soprano down to tuba with all percussion and a trumpet solo in between. It's been great fun!
---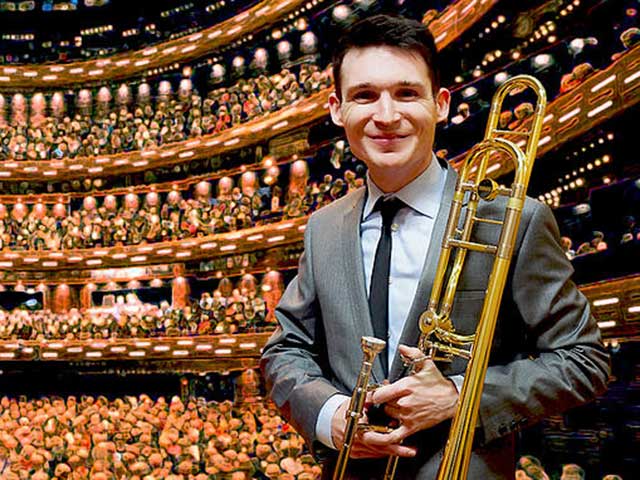 Malcolm Wood: Was it tougher than you'd imagined?
Paul Duffy: Yes. Writing music you end up throwing away a lot more than you keep: Some things were written in minutes, some things took years!
The recording also had its challenges, especially the multi-track aspect.
For instance, I had a few attempts at recording the title track 'Only Just Begun'. The first was embarrassing, but I was certainly learning from my mistakes and the difficulties with intonation and playing together.
At the beginning there are no other musicians to listen to and no conductor to watch. I put a lot of effort into making the recording sound realistic - and not like one guy playing all of the instruments in the brass band.
I made a detailed musical click track, with subtle tempo fluctuations as you have in a real performance.

However, to sound like a good band, I needed to sound like 25 different players, so I changed the way I articulated and even the way I blew the air for different parts within a section.
I used different mouthpieces and different cornets, as well as different microphones to record. It was a huge effort for four minutes of music, but I'm very happy with the results.
---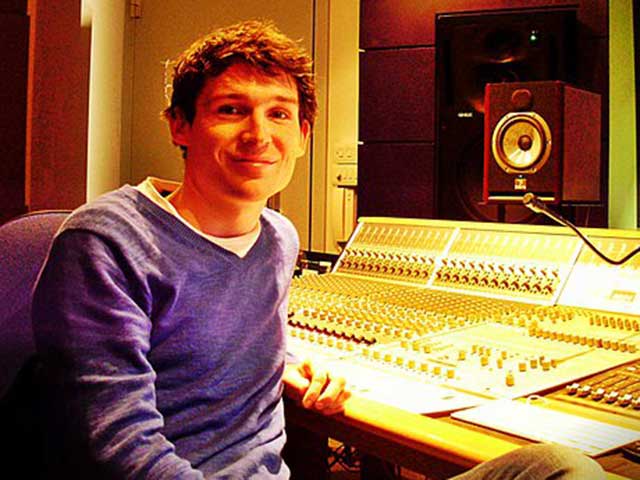 Malcolm Wood: You've actually produced the recording yourself. Is this an aspect of your career you wish to develop further?
Paul Duffy: All of my higher education was in music production as I took the decision not to go to Music College.
I looked at what conservatoires offered and thought to myself, if I work hard at playing my instrument, I can actually do this myself, so I decided to study music technology and production.
In many ways Black Dyke was my conservatoire, and the experiences I enjoyed with them were more valuable than many I could have had at a college.
It has enabled me to record mainly for myself, but now I'm also working with other musicians.

I've learned a lot of skills in performance, arranging and production that allow me to contribute to an artist's recording. I love working with new groups of musicians and with new music.
---
Malcolm Wood: You're actively promoting the release in various parts of the world, so where will you be heading in 2015?
Paul Duffy: I started in the summer of 2014 with a six week tour in Sweden, Norway, Switzerland, Germany, Belgium and Holland.
The European visits continue all year really, but in March I'm visiting Canada and the USA for the first time as a soloist, followed by Japan later in the year.
As a soloist, I guest with brass bands, wind bands, big bands, and do quite a few solo shows - just me, a piano, a few brass instruments and my loop station.
---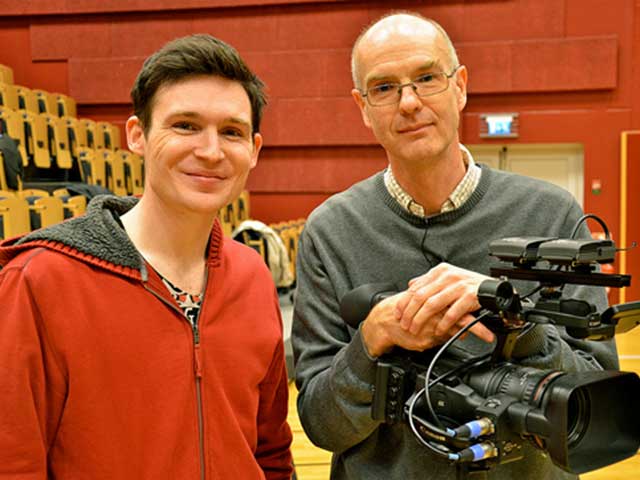 Malcolm Wood: Are there any future recording plans?
Paul Duffy: Always. I'm currently setting up a session brass section which I can offer to film composers and bands etc.

Samples of instruments are common place on music soundtracks now, but the real brass samples are the worst sounding ones. It's really difficult to emulate.
I want to offer to record a full brass section for somebody and deliver a high quality recording for their final mixes. At the moment I'm recording the promotion material for this and having a ball!
I'm also working with a cabaret artist from the cruise liner Queen Mary 2. Hopefully over the coming years I will be able to fill up my diary both in front and behind the microphone.
---
Malcolm Wood: You always perform as if you are enjoying yourself. Is it a conscious or a sub-conscious thing, and do you think it helps with your overall performance?
Paul Duffy: It's simply enjoyment: What a lucky man I am to stand on a stage playing music.
The great Ray Charles said: "I was born with music inside me. Music was one of my parts. Like my ribs, my kidneys, my liver, my heart. Like my blood. It was a force already within me when I arrived on the scene. It was a necessity for me, like food or water".
I get to work like this every day. How can I not be smiling?
---
Malcolm Wood: In addition to playing, you are also in demand as a tutor. Have you spotted any stars of the future on your travels?
Paul Duffy: The National Youth Band organisations are packed with talented youngsters. The young Will Thomas is doing fantastically well and will continue to do so I'm sure.
For me the National Youth Brass Band was very important to my development: Being surrounded by fantastic players my own age (headed by Philip Cobb) was a huge inspiration.
Recently I've been teaching in Switzerland, and I think I've heard some incredible brass playing over there from young players.

Look out for a young soprano player called Jérémy Coquoz, with Brass Band Treize Etoiles. Wow, can this guy play!
---
Malcolm Wood: Thanks for your time Paul and congratulations on the CD.

For further information about Paul, his CD recording 'Only Just Begun' and his music go to: http://www.padusic.com/

Copyright for images: 4BR and agreed sources from Paul Duffy