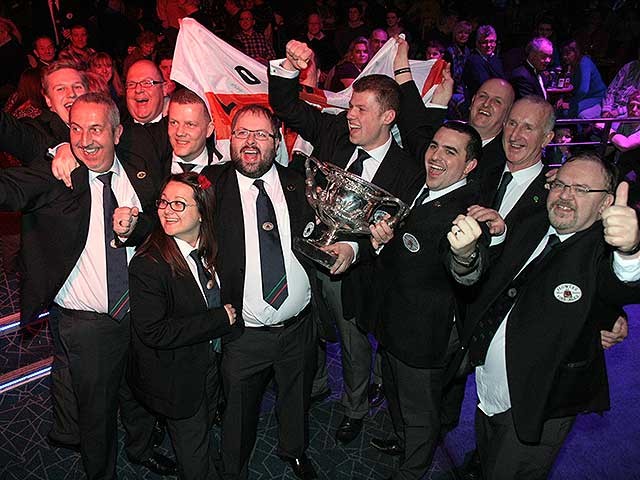 Fortune hunters: Flowers win again

The Flowers Band is fast becoming its own hostage to Butlins fortune.
For the fourth time in five years they left Skegness with a hefty wad of holiday resort largesse tucked safely in their back pockets. For a second successive year they also won both disciplines of a contest that is fast turning into something of a personal monopoly.
Not their fault

However, being a predictable well paid winner is not their fault - far from it in fact.
Any contest appearance is prone to potential disaster, but even notable unforced errors on the set work and untidiness on their entertainment set was never going to be enough for the current line up of rivals to come anywhere near relieving them of yet another £10,000 pay day.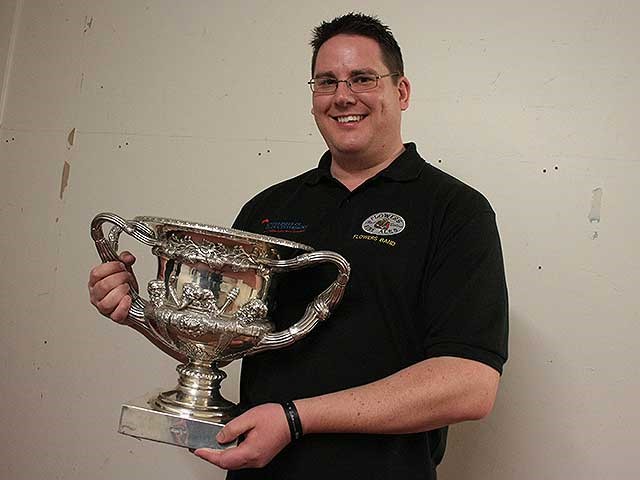 Holland's prize possession
As well as the likes of Virtuosi GUS, Woodfalls, Redbridge and the rest of the nine band field tried, the Warwick Vase Trophy was only ever going to return to Gloucestershire, and, unless a host of higher ranked bands can be persuaded to put their reputations on the early season line in 2016, it could well soon become bolted to the floor of the Flowers bandroom like the America's Cup.
Their excuses are starting to wear a bit thin.
Quantitative easing
Once it was all about title winning prestige. Then came Butlins version of quantitative easing, and still it wasn't enough. Now you get the feeling that quite a few are running a little bit scared. Not every elite level band (from Scotland to mainland Europe) is appearing at the RNCM Festival of Brass year in year out.
Flowers under Paul Holland are a very fine band indeed, and although a 'major' title could still prove elusive, as they showed in 2014, not many can match their inherent sense of self confidence and contest stage security, be it at Symphony Hall in Birmingham on Centre Stage at Skegness.
A lie

Their rivals, both here and at the Open, National and Brass in Concert now know that all too well: Someone else needs to be brave enough to take on the Butlins challenge (there were only nine bands this year), because saying that 10 grand doesn't come in handy, or a title win doesn't give you a major boost of confidence is a lie: Just ask the champions and see what it has done for them of late.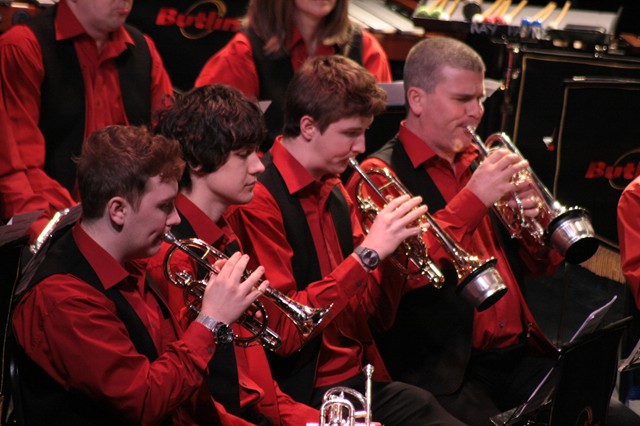 Second place return for Virtuosi GUS

Those who did take to the stage in Skegness certainly gave it their best shot - although many were also helped in doing so by the generous player registration rules.
Ringers

Necessity plays a part in certain contest circumstances nowadays, but true necessity is different from well planned choice - and some bands it seems are choosing to take to the stage with more ringers than can be found at a campanologist's convention: Does any championship band ever have to borrow a second cornet player?
That said, Virtuosi GUS certainly banished any thoughts of a repeat of their poor showing last year, with a brace of solidly put together performances over the two days to finish a deserved runner-up (despite a disappointing 5th place entertainment finish), whilst Woodfalls (3rd& 4th) and Redbridge (4th& 3rd) in particular (and surprising many in the process after a period in the doldrums), also showed keen spirit and competitiveness in both disciplines.

Concentration brings Woodfalls and PLC a podium finish

All three though were playing for second place - as Flowers at first edged in front on the Saturday, despite some noticeable unforced errors impeding their solidly set out progress on Tom Davoren's 'Facets of the Heart' set work, before stretching their legs in the entertainment stakes on Sunday afternoon to take the honours by a comfortable margin.
Emotional challenge

The test piece proved to be an engaging, emotional challenge - quite literally in fact.

The twin dichotomies of love won and lost, with a score liberally sprinkled with colourful emotive adjectives, asked much of the MD's abilities to search deep into their own hearts to bring the music to life.
Jeremy Kyle confession

Those who did made it sound thrilling, visceral and draining: Those who didn't - just the latter. There were some decent efforts, but most were a strange mixture of the maudling and manic - like a well prepared tearful confession of infidelity on the Jeremy Kyle show.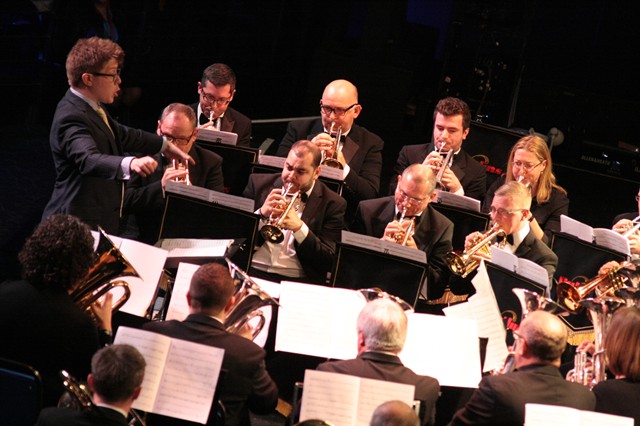 Surprise, surprise for Redbridge's fine return to form

Home and hosed

By the time they had reprised the majority of their Brass in Concert set on the Sunday (with David Childs replacing one prize winning solo with another) Flowers were home and hosed.
With most bands employing tried and tested entertainment approaches (although the small screen images add little to the overall packages), there was nothing too startling or innovative to upset Flowers progress to the winner's enclosure.
GUS was polished without quite being buffed up to title winning sparkle, Woodfalls typically frothy under Paul Lovatt-Cooper, and Redbridge, led with determined brio by Alan Duguid, once again catching the ear of the judges.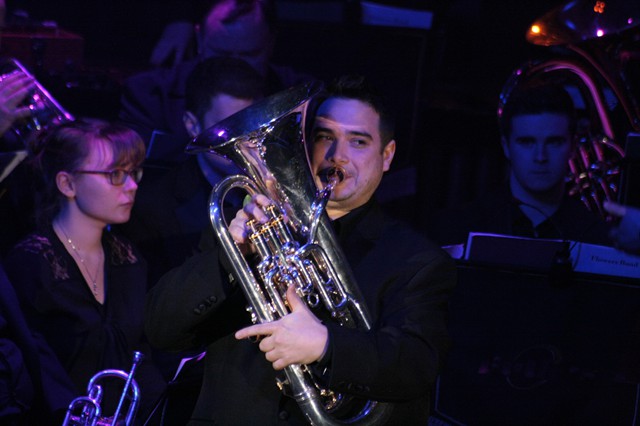 Eyes on another solo prize for David Childs

Well thought out

However, it was Friary Guildford who eventually took the £1,000 'Most Entertaining Band' prize with a well thought out and delivered set under Chris King, which showcased an impressive, if slightly inconsistent band that could well make a mark elsewhere this year.
Self inflicted

Thoresby's non nonsense approach over the weekend was rewarded with fifth place (and the William Lippeatt Trophy) on what was their last appearance as a band linked to a working pit, whilst EYMS may count themselves a tad unlucky their bold confidence didn't quite get them a top six mention.
In contrast, Wantage and Aveley & Newham will rue their inconsistency - at times self inflicted, as they ended in the bottom two places. It will be interesting to see how they bounce back at the Areas in Stevenage.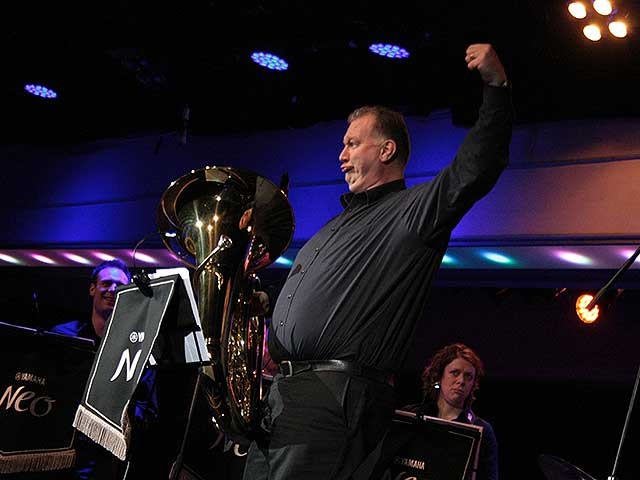 Norwegian assault next year: Yamaha Neo Brass entertain before the results

Late night ceremony

Unfortunately, with the late night award ceremony giving the occasion a sense of anti-climax, there seemed to be little tension in the air as the results were announced; most people who were in a packed hall (for the contest and the excellent Sunday evening entertainment) already sensing that Flowers were going to have to spend a few quid filling up the Warwick Vase at the bar once more.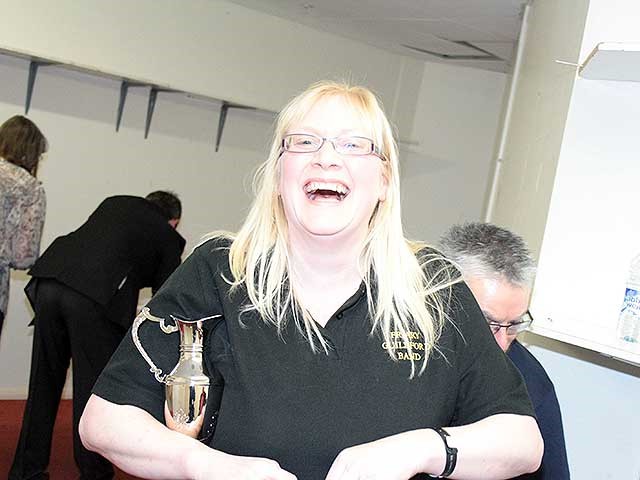 Smile of delight for Friary Guildford

Won and lost

And so it proved - although that sense of 'won and lost' was also seen with the joy on the face of Friary Guildford's representative on receiving the 'Most Entertaining Band' Trophy, and with the sadness that came from knowing that the proud mining connection that has given this contest its prosperous future has finally been broken with the impending closure of Thoresby Colliery.
You were also left with the feeling that whilst Butlins has done such a great deal of good for the banding movement over the past decade, it would be a pity that a fine contest becomes predictable and boring because others are too afraid to step out of their comfort zone.
Not that Flowers will worry too much about that.
Iwan Fox