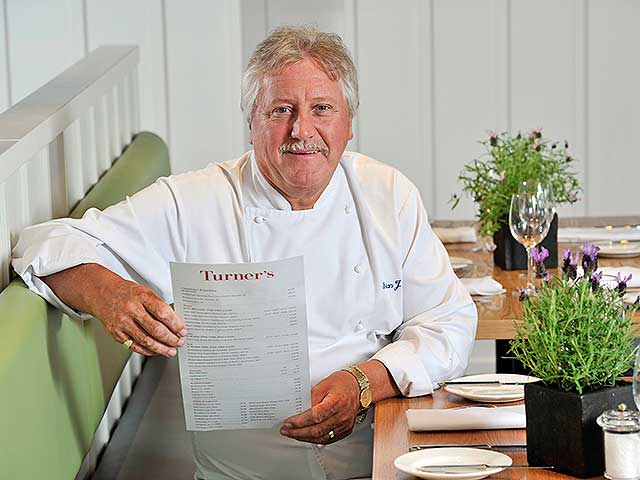 Knowing the brass band menu: Brian Turner CBE

Malcolm Wood: You say you were lucky enough to be born right in the brass band heartland of Yorkshire. So what were your first memories of brass banding?
Brian Turner: I lived in Morley, attended Sunday School and got involved within the local Salvation Army. I went to the Young Players Band, and played on a variety of instruments, filling gaps if somebody was absent.
Some of my early memories included hearing the great Tottenham Citadel Band in Doncaster, where they once played Sir Dean Goffin's 'Symphony of Thanksgiving'.

I was around the age of ten at the time and hearing the band and their sound made a huge impression on me.
---
Malcolm Wood: Did your family play in a band themselves?
Brian Turner: Unfortunately, my parents didn't play in a band, so I didn't get any direct musical influence from them.
---
Malcolm Wood: In the 1960s, your professional career saw you move to London. You say you were keen to maintain your playing interest in banding, so is that how your involvement with Chalk Farm Salvation Army (as mentioned on 'Christmas Kitchen' last year with James Martin) came about?
Brian Turner: My professional career as a chef did see me move to London. My Salvation Army roots were very important to me (and still are) and I came across Chalk Farm Salvation Army Band who was kind enough to take me in.
I played wherever there was a need; at rehearsals and concerts - but again, ended up on BBb bass, and loved it.

I also became a Young Person's Sergeant Major (YPSM) within the SA which meant I kept an eye on the youngsters.
---
Malcolm Wood: You mentioned to James Martin that you still occasionally play the tuba. What initially appealed to you about the instrument though?
Brian Turner: I just loved the sound that it made. It also holds the foundation of the band together with the other instruments being able to add their parts on top to complete the ensemble. Without the bass section there is no brass band.
---
Malcolm Wood: It's said that brass banding is a bug, and once you are hooked it's not easy to lose the wonderful addiction.
Did you have to stop playing purely because your professional career was so time consuming and do you miss playing even now?
Brian Turner: There is no doubting that brass banding can be a bug, but I am a great believer in that you are dealt the cards you are in life for a reason and the demands of my professional life meant that something had to give. I do miss it though at times.
---
Malcolm Wood: Do you keep up to date of what is going in the banding world and who is doing well and not so well?
Brian Turner: I take the British Bandsman every week and 4barsrest of course, and in a few weeks time we will be having a Chalk Farm Old Boys Reunion lunch which I'm really looking forward to. It will be a great chance to reminisce.
When I used to work in Switzerland in the 1970s, I met some Salvationist's out there and we brought over GUS Footwear, Brighouse & Rastrick and the wonderful James Shepherd Versatile Brass for concerts.
They were great days and great events and it's good to know through 4BR that brass banding in Switzerland is flourishing.
---
Malcolm Wood: Are you a supporter of any particular band, or strictly neutral and just enjoy the music?
Brian Turner: I am a fan of the band in purple, Brighouse & Rastrick!
However, I always take a keen interest in how Yorkshire bands are doing, and I have been a compere at a number of brass band concerts when time allows, including Cory in Peterborough in 2013.
---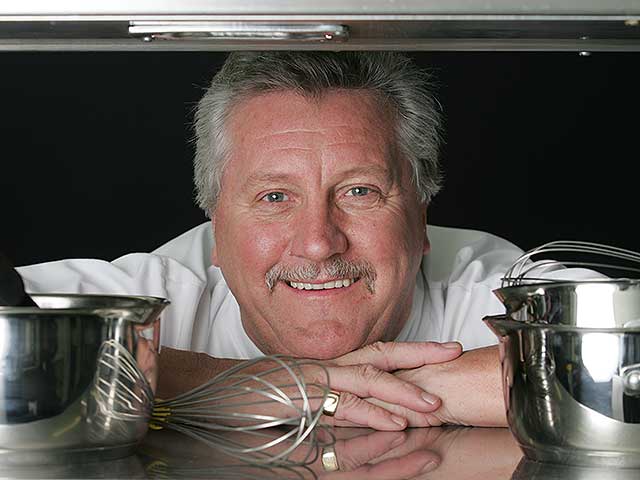 Spotted at contests: Brian loves the competition

Malcolm Wood: You've been spotted at a couple of banding competitions in recent years? Do you enjoy that aspect of banding and the challenging music the bands have to play?
Brian Turner: Absolutely: I love it. I remember the Nationals at the Royal Albert Hall which was followed the following day by the European Championships. They were great days.
I love the fact that amateur musicians will put so much effort into something they care about to show what they can do. The passion and commitment is tremendous.
In terms of musical preferences, I was brought up on the music of Eric Ball and melodies.
I simply loved Prof Gregson's 'Of Distant Memories' in London in 2013. I judge a test piece on 'whistle-ability': If you can a whistle a tune or hear people humming along, then you know the audience is enjoying it and can identify with the music.
When it comes to the new modern works, I do find myself having to search within the music to find melodies I can identify with, but I really do enjoy listening.
---
Malcolm Wood: How often do you get the opportunity to attend a brass band concert or competition nowadays?
Brian Turner: I always try and attend the British Open and the Nationals in London every year. My brother comes over from Australia and we just enjoy the day together. I'll take my programme in and sit and listen to as many of the bands as I can.
If people see me and recognise me, I'll always say hello and hopefully we will talk bands. I sometimes see people that came to Switzerland in the 1970s and we'll say hello.
It's a day off for me to enjoy. Unfortunately, my diary always seems to clash with the Yorkshire Area in March, but I hope to return soon and wish everybody the best of luck in March.
---
Malcolm Wood: Does your CD collection include brass bands?
Brian Turner: I love Frank Sinatra, but I do listen to band CDs in the car and particularly enjoy listening to test pieces - especially if they have works such as 'Of Distant Memories' by Edward Gregson on it.
---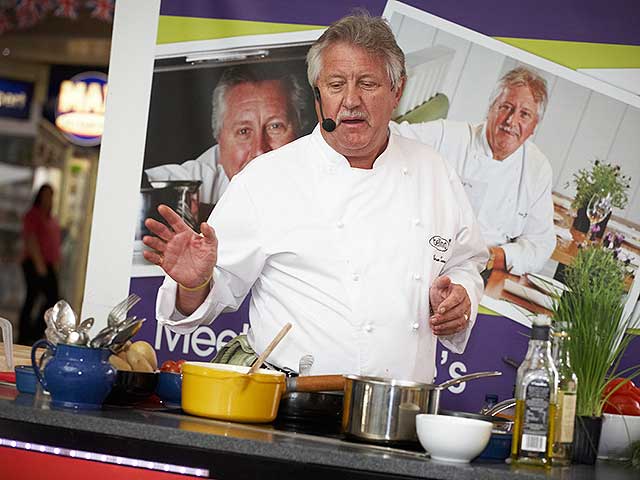 Hard at work - cooking, presenting, compering

Malcolm Wood: Brass bands are quite often stereotyped. Journalist Stuart Maconie recently wrote that this has become something of a lazy cliché for 'northern-ness' and sentimentality.
What's your perception of brass banding nowadays and the music they play?
Brian Turner: Sitting down watching and listening to people make music is under-rated in my view and should be much more admired. The work that colleges and conservatories do is first class and that needs to continue.
Players need to be encouraged and engaged nowadays and there has to be a great importance upon social responsibility - especially with so many distractions for players at all levels, but particularly young people starting out.
That will soon stop any stereotyping in the future.
---
Malcolm Wood: Many thanks Brian. It's been wonderful to find out about your love of brass bands.

Thank you for your time and we hope to see you at a brass band competition or concert in the near future.
---
To find out more about Brian Turner, go to: http://www.brianturner.co.uk/