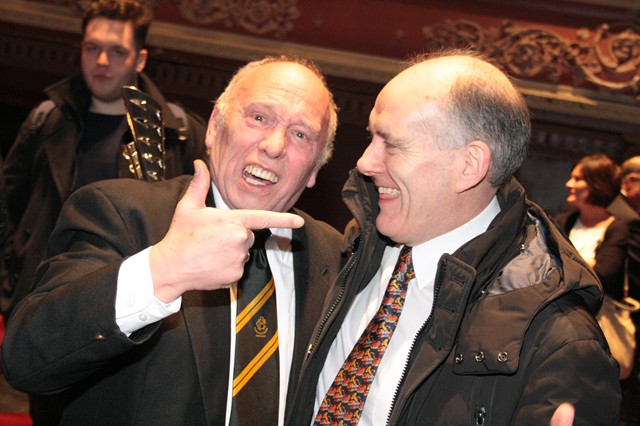 Main protagonists: Ray Sykes and Philip McCann celebrate victory

The climax to the 2015 Yorkshire Regional Championship provided the type of epic high stakes drama to rival that of the BBC's much lauded 'Wolf Hall' adaptation: A superb cast of leading protagonists and a prize worth its weight in gold.
It had it all - and although nobody actually lost their head, we did get a marriage proposal even the Machiavellian Thomas Cromwell couldn't have seen coming.
He certainly would have enjoyed the bear pit of adrenaline fuelled passion on Championship Section contest day though - with the victor claiming the domestic spoils by beating a host of rivals in the type of intense battle that belongs to a bygone age.
Numerical quality

Yorkshire stands alone in the number and quality of its pretenders to its domestic throne. Other regions certainly produce their worthy champion, but none has really to overcome such numerical quality to be crowned undisputed master of all they survey.
And even when they do, universal approval of their Area supremacy rarely flows freely from beaten rivals.
That was certainly the case after the 2015 accession was announced on Sunday night; despite Carlton Main Frickley Colliery claiming the title for a second time in three years.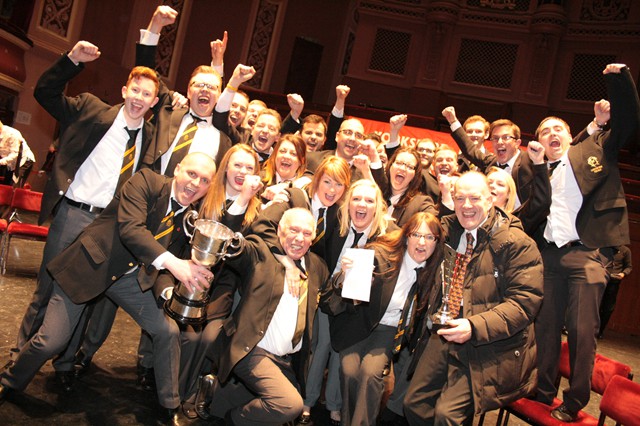 Heartfelt celebrations from Carlton Main

Stark contrast
Their celebrations were heartfelt and joyous - in stark contrast you suspect to the mood of supporters of Grimethorpe, Rothwell Temperance, Black Dyke and Brighouse & Rastrick - all of who left the auditorium after they had played with an unquestionable belief in their own substantive claims to title success.
Only Yorkshire Imps supporters were surely delighted to be revealed as sixth in line to the throne.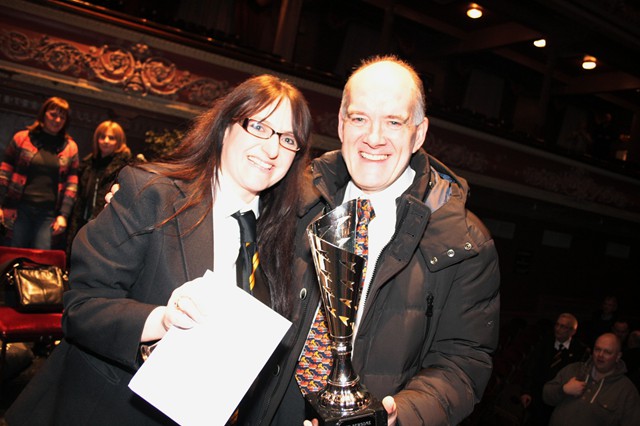 Sublime excellence from Kirsty Abbotts and the MD

Credit

To their credit, and as Carlton Main players rushed to the stage to enjoy their victory with MD, Philip McCann, those leading rivals showed a level of professionalism in defeat that certainly masked their obvious disappointment. What it was like when they got home though would have been a different matter.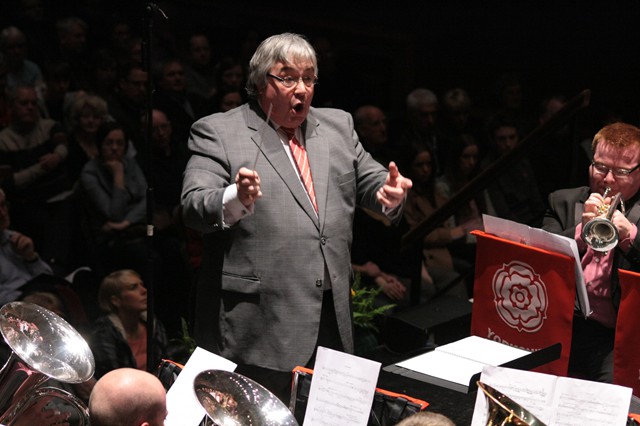 Grimethorpe and Dr Robert Childs took the breath away

Ponder

And whilst supporters of Black Dyke and Brighouse & Rastrick may have tempered their gloom knowing they had already qualified for London, fans of Grimethorpe will have been left to ponder just what more Dr Robert Childs and his players (two of which claimed individual awards) could have done to claim the title for the first time since 2006.
As for Rothwell Temperance?
There won't be an unluckier contender at the Areas this year (or many others for that matter): To come third, beat the defending champion and 'Double' holder and still not qualify would have tested the belief of Cardinal Wolsey let alone Dave Roberts and his fine band.

Eyes on the prize for Ian Brownbill with Brighouse & Rastrick

Visceral drama

Meanwhile, at the other end of the table, the results for the likes of Hepworth, Marsden and Hammonds Saltaire will mean they may also need a touch of good fortune of their own next year if they are to avoid possible relegation.
The aftermath of such visceral drama will be talked about for a long time, especially after Grimethorpe, Brighouse & Rastrick and Black Dyke popped up as the first three numbers from the velvet bag.

Despite their unbridled confidence, the trio may have already known history was not on their side: no band having won the Yorkshire title from the first three since 1986. That will be 30 years come 2016.

The contesting fates may well have been stacked against them then, but in many people's opinion, so was a touch of luck.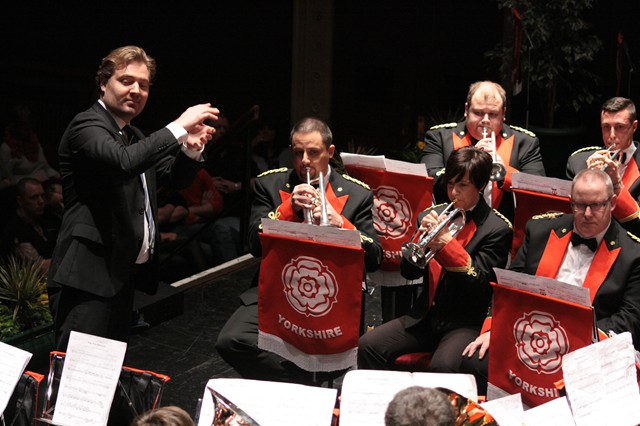 Happy to be sixth in line for Yorkshire Imps

Personal preference

However, at such levels of excellence it is rarely a minor slip count that decides the ultimate prize; the judge's usually opting for personal preference in persuasive musicality; and on this occasion, both Nigel Boddice and Graham O Jones made it very clear that it was that and not mere technicality on 'The Torchbearer' that they were looking for.
That more than anything tipped the scales in Carlton Main's favour, as Philip McCann's sensitive interpretation, backed by some sublime 'Best Instrumentalist' cornet playing from Kirsty Abbotts delivered that and more.
Later they revealed that the top two were a clear margin ahead of their nearest rivals (to add a touch more grit to rival post mortems). It was another reason you suspect they cheered themselves hoarse.
Easy to forget

With such an intense final act on the Sunday night it would be easy to forget that there was some equally dramatic contesting to enjoy in the build up to that memorable climax, especially as a number of the eight section qualifiers will head to Cheltenham confident of also adding further title winning success to their name.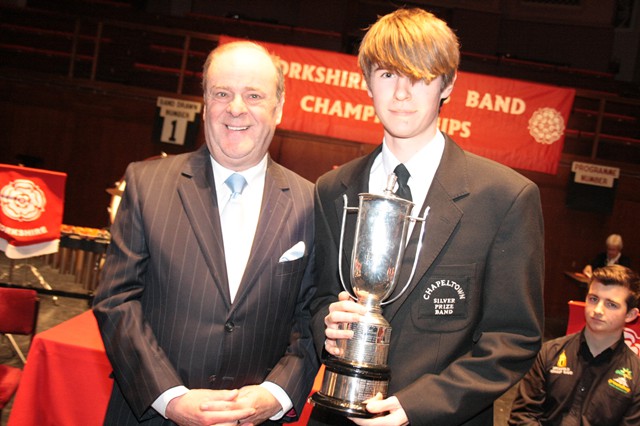 Best Chapel music making as Chapletown take the Second Section title

Taxing test

In the First Section, 'A London Overture' proved to be a taxing test in what was a rather disappointing contest.
It may have been a result that raised a few eyebrows (4BR and other members of the press called it totally wrong) but not in the box, with Unite the Union (City of Sheffield) and Strata Brass taking the qualification places under the wily direction of the experienced duo of David Hirst and Derek Renshaw.
Once again the judges (Graham Jones and Nigel Boddice) stepped up to microphone and told it as they heard it - and the hard truths did sting.
Yorkshire banding is not alone in struggling at this level, and despite some persuasive interpretations (including last placed Meltham & Meltham Mills) it was the more considered approaches of David and Derek that held persuasive sway in the box.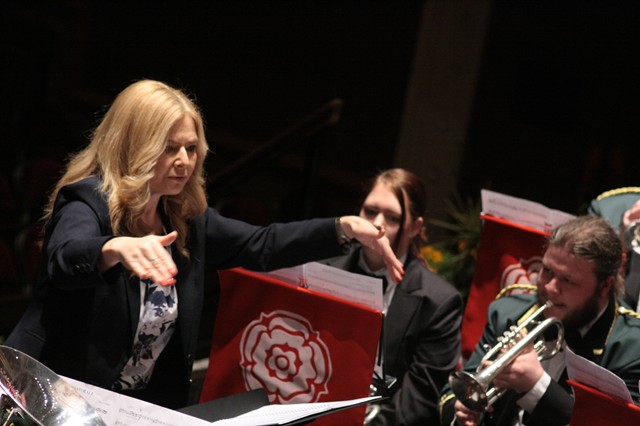 Conducting debutant Helen Williams with Huddersfield & Ripponden

Different story
It was a different story Second Section though, with the testing material giving rise to a cracking contest full of well drilled musicianship, as Chapeltown Silver took the honours ahead of Old Silkstone, with a host of solidly portrayed performances close on their heels.
Promising
It was also a promising musical picture in the Third Section too, as any number of MDs found inspiration in Philip Sparke's beautifully crafted set work to make the job of picking two clear cut qualifiers for Dr Robert Childs and Leigh Baker, a tricky one.
In the end they plumbed for fine efforts from Slaithwaite and Horbury Victoria, but there were quite a few rivals who ran them close.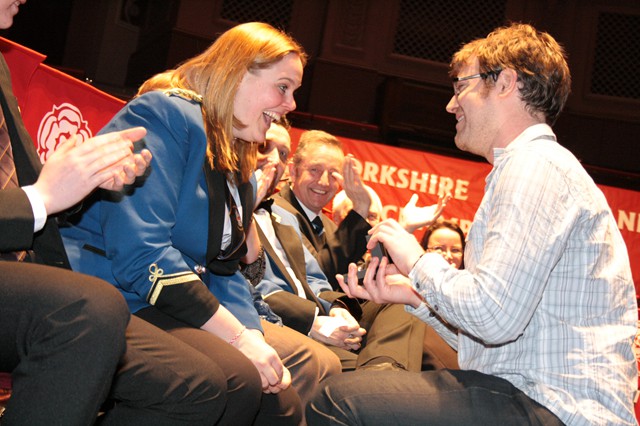 Will you marry me? One great positive response

Day to remember

The Sunday will also be a day to remember for the City of Bradford organisation, as well Wetherby & District Silver's Emma Shaw - although for an entirely different reason.
It was celebrations all round as John Midgeley proposed to Emma on stage before the Second Section results: A good job really as after (Wetherby came 11th) he may have got a less positive response!
Fabulous performance

Meanwhile, Lee certainly won't forget the contest debut of BD1 Brass, who delivered a fabulous performance to take the Fourth Section title. In addition it was also great to see Loxley Silver making their debut (long overdue after being formed in 1889) as well as the return of Tingley Brass.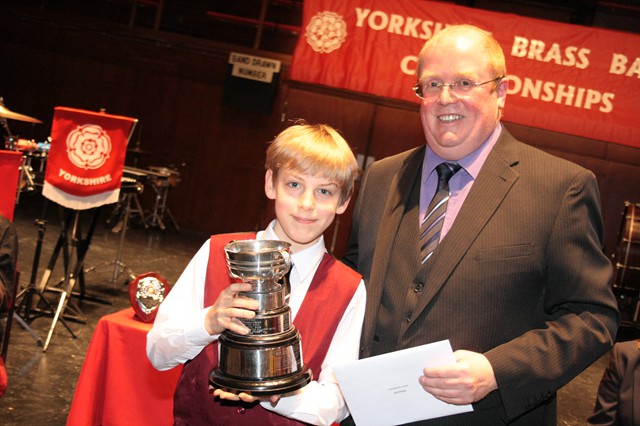 Star of the future: Daniel Clough claims the Fourth Section honours and plaudits

Outshone

However, even Lee was outshone on this prize winning occasion by the band's brilliant 12 year old principal cornet Daniel Clough. What a great fledgling talent this lad is.
Once again the standard here was as good as many people have heard it in Yorkshire for many years, with a fine performance from Oughtibridge joining BD1 in Cheltenham in September.
Memorable

With the Youth Adjudication Panel proving to be a great success and the Bradford Mayor making sure he garnered votes from both the local football supporters and the brass band community as he made a welcome appearance, no wonder Peggy Tomlinson and her hard working team were wearing broad smiles of satisfaction at the conclusion of yet another truly memorable Yorkshire Area weekend.
Perhaps she can offer some plot advice to Hilary Mantel for her next Wolf Hall book...
Malcolm Wood