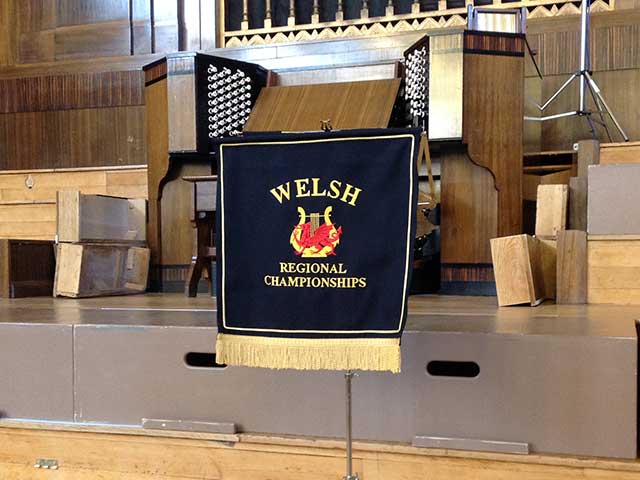 Welsh banding displaying a confident swagger in Swansea

Welsh banding continued to display a confident musical swagger in Swansea this year, as a dozen representatives claimed their qualification places for Lille, London and Cheltenham over two days of engaging contesting at the Brangwyn Hall.
It was led by a Cory Band that produced a 'piece of magic' to retain the Championship Section title and book their place at the 2016 European Championship, whilst City of Cardiff (Melingriffith), Ebbw Valley, Rhyl Silver and Usk were equally impressive section victors.
Heady days

These are heady days then - although ones that people know only too well cannot last forever unless some form of Welsh Government financial support is accessed to help develop the excellent individual examples of success that were on show.
Despite it being a long journey for many bands to make to Swansea each year, it is a much shorter one for the whole of Welsh banding to endure if expectations of future prosperity are solely based on what has already been a remarkable run of national contesting victories.
Strong case

There cannot be a stronger case to make at present (and the Senedd door in Cardiff is open after the Deputy Minister for Culture, Sport and Tourism recently extolled the need for the Welsh Government to help community based brass bands) with each section producing high class qualifiers from North, South, East and West, who will travel to their respective Finals with realistic hopes of success.
Thankfully there were no signs of complacent hubris on the weekend.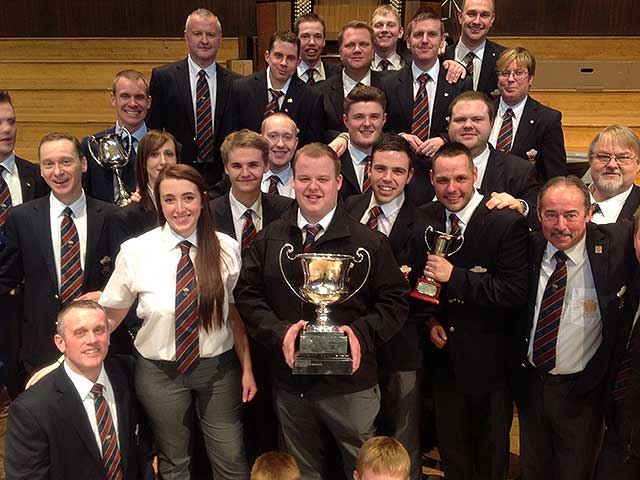 Leading the way again - Cory now go to Freiburg and Lille

Cory will lead the way at the European event in Germany, after coming through the most demanding of tests to their domestic supremacy in an engrossing head to head battle with Tredegar.
Mutual drive

These were bands mutually driving each other to perform close to their optimum level - although neither were 100% perfect in the technical delivery of 'The Torchbearer'.

What was apparent however was Cory's ability to reveal that little extra level of musical aesthetic that still just separates them from their great rival.
If Philip Harper can once more draw out twin performances such as this in Freiburg on music with even greater esoteric inspirational demands, then the European Trophy could well be within their grasp once more.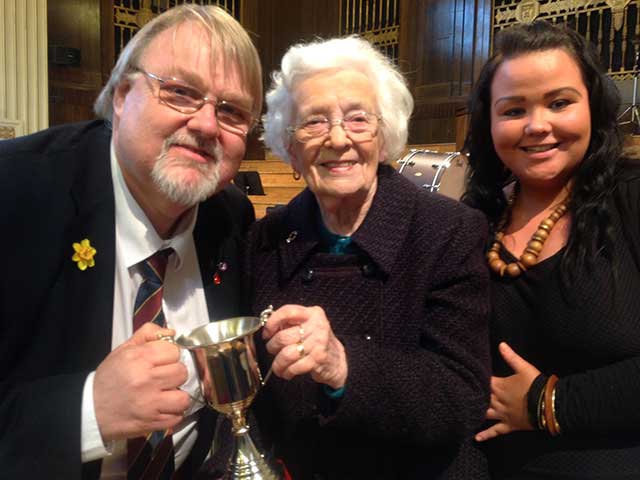 Happy memories: Austin Davies and the family of the late John Trotman

Won't mind

Tredegar won't mind that at all - especially if it also gains them a Eurostar trip to Lille in 2016. In the meantime, on this form they will be one of the short priced favourites to possibly add a third British Open title to their name in Birmingham or a first National come the Albert Hall.
Substantial gap

A sense of entitlement is a dangerous thing though - even with London bound Northop and Tongwynlais Temperance knowing that the gap that currently exists between the Welsh leviathans and themselves is substantial. Behind them it's a chasm.
The rest of top flight Welsh banding cannot simply continue to rely on pre-qualification Albert Hall handouts - although the evidence on 'The Torchbearer' was of Northop and Tongwynlais being two hard grafting bands that had the ability and desire to eventually catch hold of their coat tails.
The test of their mettle will come on 'Arabian Nights' at the Grand Shield against a number rivals that also believe they have the same major contest ambitions.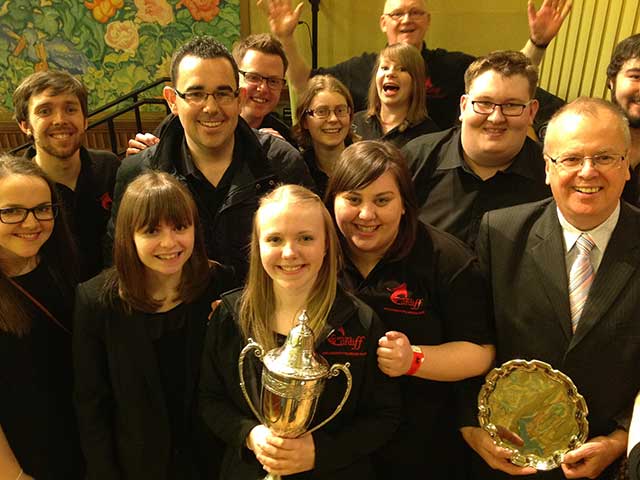 Champions and Championship in waiting or City of Cardiff

After winning National titles in seven of the last eight years, the expectations of that proud record continuing at Cheltenham will be high - although it would be foolish for even the most patriotic of Welsh supporters to take anything for granted.
Classy hallmarks

However, City of Cardiff (Melingriffith) and Goodwick certainly sounded like potential Championship Section bands in waiting.
Their renditions of 'A London Overture' in a good quality First Section were hallmarked with classy solo contributions and solid ensemble.
They were also led by MDs in Nigel Seaman and Matthew Jenkins, who although at different ends of the experience spectrum, seemingly have the same form of DNA running through their veins; a genome that produces such cultured musicality from their bands.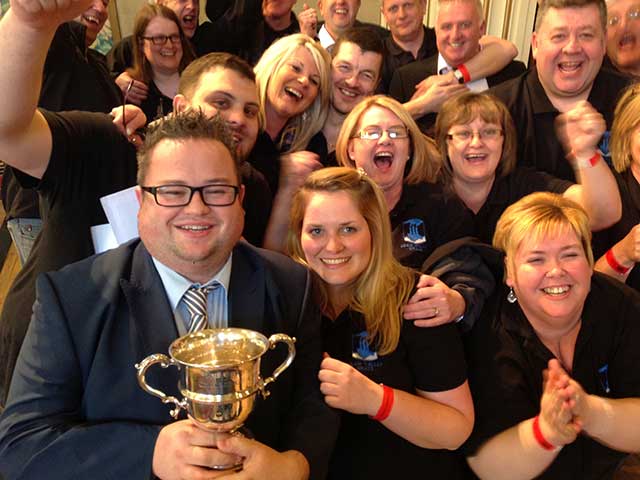 Looking for a second hat-trick for Ebbw Valley

Hat trick mirror

In the Second Section, Ebbw Valley will head to Cheltenham confident of making it three National titles in a row to mirror the hat-trick they achieved here - although they had one heck of a battle in overcoming an excellently led Dieniolen to get there.
Lois Jones' North Walians ensured there will be no hint of hubris for Gareth Ritter's band come September, despite once again showing an impressive ensemble quality on 'Variations on Maccabeus' that hasn't been matched too often around the country.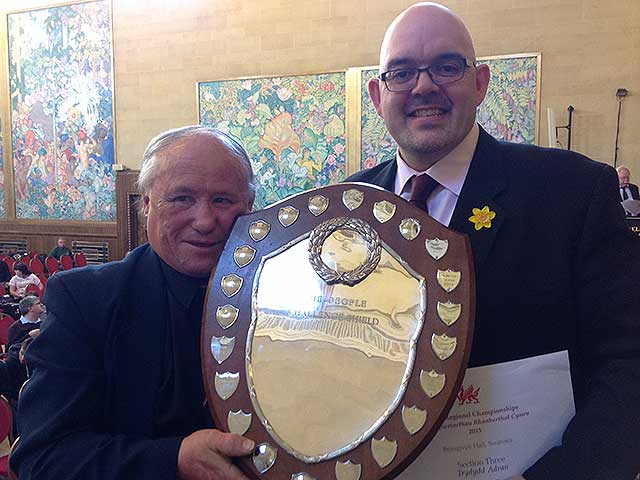 Hold it close for Rhyl Silver in winning the Third Section

Expectations may be slightly lower in the Third Section, but realism will come in handy for both Rhyl Silver and Thomas Coaches Mid Rhondda as they will come up against a strong field of rivals on the Centaur auditorium stage in the Autumn.
Contrasting accounts

Both bands produced fine, if rather contrasting accounts of 'Evolution - Five States of Change' under Keith Jones and Alan Gibbs, with the North Wales band just pipping their counterparts to the line in a contest that didn't quite provide the Chinese cracker that was hoped for.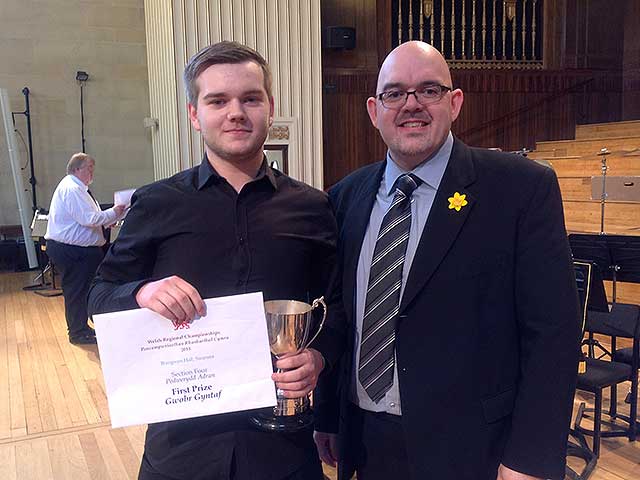 Return to the Finals for Usk Town

Realism will also help the two emerging qualifiers in the Fourth Section, as Usk, under Jeff Jones, claimed their first Area title in well over 30 years, alongside the much more mature Abertillery Youth & District, led a touch incongruously, given the age profile of the band, by one of the youngest MDs of the weekend in Josh Ruck.
Contenders in waiting

Wales has been fortunate to produce some cracking title winning bands at this level in the last few years (Northop, Ebbw Valley and Melingriffith 2), so even though this well led duo may not amongst the favorites to carry on the run this time round, they, and the likes of third placed Cwmtawe Youth, Ynyshir, Newport Borough, Oakdale and Phoenix (the latest offshoot of the Goodwick organisation) could well be contenders in waiting.
Welsh DNA

If so, the future looks bright (as was shown with the performance of the RWCMD Brass Band on the Sunday, packed with players from competing bands) - although the usual moans (geographical tribalism is also part of the Welsh DNA) were still to be heard amid the celebrations - most based on the suitability of the venue.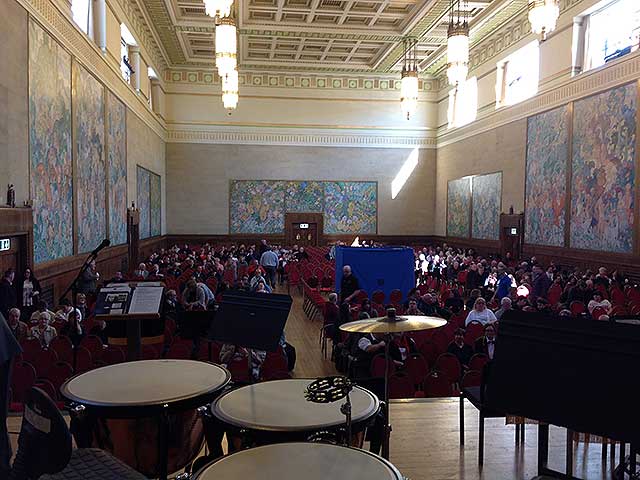 As good as it looks? The newly refurbished Brangwyn Hall

The Brangwyn Hall has many fine artistic attributes as well as some inherent structural problems (a warm up room and better changing facilities are needed), but until Welsh banding can represent itself with a unified voice to those with the power to actually offer the essential assistance it requires, they will have to make do with arguing their case aided by yet more potential title winning success.
And that's not a bad starting point for negotiations.
Iwan Fox