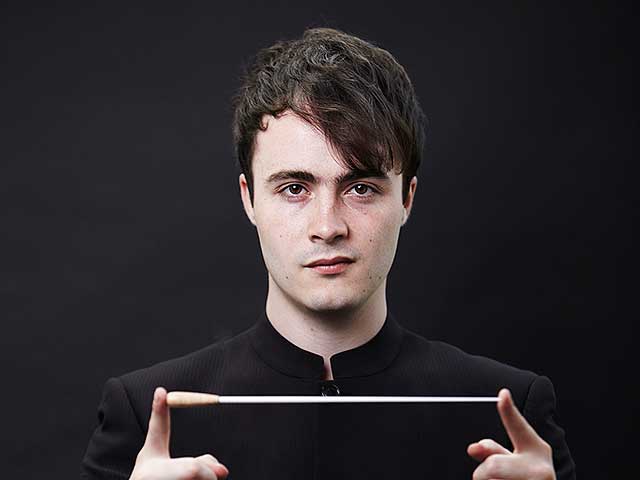 Making musical connections: Ben Gernon

The first thing Ben Gernon does is apologise.
In an age of digital technology, one of the most sought after young conducting talents in the orchestral world can't quite get over the fact that mobile phone connections are still so dodgy in some parts of Wales.
"I'm so sorry," he says after we finally link up after a series of interrupted calls. "I thought even my agent had forgotten about me until the orchestra explained that the wonderful countryside here means that you encounter a few problems."
He laughs when I explain that it's not just modern 4G technology that still has connection issues in some parts of the country, although after just finishing a packed out concert tour with the National Orchestra of Wales in Aberystwyth, Bangor, Wrexham and Llandudno, its seems old fashioned word of mouth still continues to work pretty well.
No glitches

Hopefully, he won't have any communication glitches in the next few months - starting this weekend in Holland with the Amsterdam Concertgebouw.
Then it's 'Carmen' at the Glyndebourne Festival and a series of high profile concerts with the National Philharmonic of Russia, before returning to the Hollywood Bowl with the Los Angeles Philharmonic in August.
"It's been a wonderful week," the 25 year old says reflecting on the Welsh tour. "To be able to work with such a fine orchestra for six hours a day has been great. You can explore things in depth, find out how they work and respond. The flexibility of the National Orchestra of Wales (NOW) was amazing."
He added: "I've really enjoyed the repertoire, the performances were superb and the feedback the orchestra has received is testament to their talent and the pride the people of Wales have in them. I've been bowled over. I can't wait to work with them again."
Opportunity

The tour also gave him the opportunity to work closely with NOW principal trumpet, Philippe Schartz, who was featured in each concert in concertos by Haydn, Hummel and Arutiunian, as well as Copland's, 'Quiet City'.
"I've been a huge admirer of Philippe for some time and the opportunity to work with him was a huge bonus. He is such a wonderful musician and a remarkable performer - his playing was sensational."
Engaging

In a world where difficult egos abound, Gernon's engaging personality and generosity of spirit has not only won over fans and critics, but also the hard-nosed pros that fill the ranks of top professional orchestras.
As Philippe told 4BR himself: "Ben is such an understanding, talented conductor. It's a rare gift - especially in one so young. The orchestra immediately took to him - and I learnt so much from his direction. He certainly knows his brass!"
Critical acclaim

Over the last few years, the critics have certainly been impressed - referring to him as, '...one of the most exciting young conductors it has ever been my pleasure to witness', with '...a beautiful, often understated beat that gives confidence while maintaining rigorous rhythmic control.'
Even 'The Daily Telegraph' said that he '...displays a charm, unforced authority and natural musicality on the podium that will surely take him far.'
Too right it has.

Smiling at a busy schedule...

Booked up

In 2013 he was a finalist in the prestigious Donatella Flick conducting competition before carrying off first prize in the renowned Nestlé and Salzburg Festival Young Conductors Award and becoming a Dudamel Fellow with the Los Angeles Philharmonic Orchestra.
Soon after he made his conducting debut with the Gustav Mahler Youth Orchestra, and now, not surprisingly, he reveals he has a very busy international schedule.
"I'm lucky," he says with genuine modesty. "I'm pretty well booked up now for the next two years. I've got a great deal to look forward to in the next few months - and plenty of hard work too: Lots of interesting music to learn!"
Fantastic agent

Time management is important then?
"It's essential - although I've got a fantastic agent and support. Being able to conduct these wonderful orchestras and balance it with teaching at the Guildhall in London is great.
I have a great time working with actors there, exploring their musical skills and awareness. It's different, at times pretty basic, but so much fun."
Brass band news

And does that busy schedule allow him enough time to keep an eye out for news about the brass band world?
"When my phone is working, its 4BR of course!" he reveals with a chuckle. "I'm so proud of my brass band roots - without them I wouldn't have been able to even have contemplated a musical career.
I look back at the time I played tuba with the likes of Staffordshire and Sovereign Brass - and especially the National Youth Brass Band of Great Britain and realise just how important it was to me. I still want to know who won the British Open or National Finals!"

Tovey

Having worked alongside the likes of Gustavo Dudamel and the late Sir Colin Davies, it is still the name of Bramwell Tovey that falls from his lips with reverential respect.
"How can you thank someone like him enough," he says quietly. "He ignited the spark that turned into a flame - and the opportunity he gave me all those years ago just to conduct a hymn tune with the National Youth Brass of Great Britain lives in my heart."
Ben is delighted to hear that the maestro continues to find time in his busy schedule to direct the National Youth Band each year - at present on their Easter Course.
"Just imagine the opportunity those lucky youngsters are enjoying at the moment. The National Youth Band is such a fantastic organisation, able to give performances of the very highest quality - and that's because of people such as Bramwell Tovey."
Future

So would he like to be able to conduct the band in the future - schedules permitting?
"Of course: It would be an honour - but only if Bram would let me! To be able to repay them in some way in the future would be amazing.
The band gave me the opportunity, the foundation to become who I am today. To be able to share that with them and hopefully inspire someone myself would be wonderful."
There is no doubt that this remarkable conducting talent will be able to do just that.
All you need to do is catch him when his phone is working...
Iwan Fox