Grand Shield
Opera House
Test Piece: Arabian Nights - Fantasy on Rimsky Korsakov's Scheherazade for Brass Band (Stephen Roberts)
First Prize: £800 and Grand Shield
Second Prize: £600
Third Prize: £400
Fourth Prize: £300
Draws: 9.30am & 1.00pm
Commence: 10.20am
Adjudicators: announced on the day
---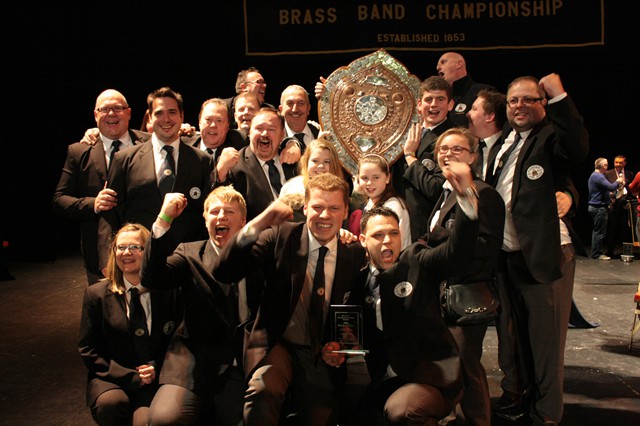 Mark of excellence for Flowers in 2014

The Grand Shield remains the hardest contest in the banding world to win - and the one where second place feels like a victory in itself.
It represents contesting in its raw, elemental form. Forget artistic excellence or musical brilliance - getting to Symphony Hall is simply about beating your opponent.
Musical realism

What makes it such a hard event to win (let alone predict) is that it is deliberately set out as such by the organisers; not to belittle or to blunt ambition, but to inspire through a stern dose of musical realism.
It's about getting what you wish for the hard way - an excellence formula designed to separate the best from the rest; and in 'Arabian Nights', all 20 bands will know exactly which side of the excellence equation they fall on come the announcement of the results.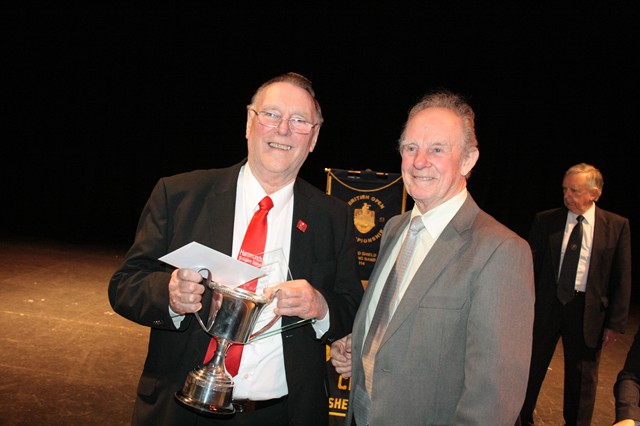 Happy at coming second - Hammonds delight in 2014

Two bands will celebrate long and hard into the Blackpool night; 18 will leave for home in various states of disappointment.
Despite the exotic storyline, colourful excitement and ravishing lead roles (although there have been a few well intentioned tweaks by the composer), this 'Scheherazade' has the claws of a back alley tom cat: It can rip any band's Symphony Hall ambitions to shreds as easily as a black bin bag full of discarded chip shop fish heads.
Sultry sexuality

Forget the pyrotechnics and the top E soprano cornet finish - this is about balancing the sultry sexuality of a downtown Beirut belly dancer with the stamina of an Ethiopian marathon runner.
Whoever can do just that (and not many managed it at the British Open in 2013) then Symphony Hall beckons. Get it wrong and it could have all the allure of a Golden Mile stripper with the lung capacity of a wheezing coal miner.
Virtuosity

The performers must also display the same virtuosity in impressing the stern judges who decide their fate, as that of Scheherazade herself - with a series of imposing cadenzas (for trombone, horns, euphoniums) and florid passages for cornet and flugel horn, balanced by lyrical interludes of calm transparency.

A mix of a Beirut belly dance and an Ethiopian marathon runner

Famous themes

The most famous themes from the suite are heard in full; from the menacing power of the Sultan to the alluring beauty of Scheherazade, all intertwined with the evocative sounds of the sun baked Middle East; the Whirling Dervishes, the ferocious battle calls and lilting ships of Sinbad's fleet, as well as the simple naivety of young lovers and the mystery of the genie in an old dusty lamp…
All this and the judges will surely be keeping tabs on 'expressly forbidden' muted trickery as well as rewarding soloists who can perform at the very top of their game.
Whoever wins will have deserved it. Whoever comes second will be delighted.
---
Who will win?
This is a field full of determination and talent, with six bands having already booked their place at the other major event of the year at the Albert Hall come October.
Camborne, Northop Silver, Reg Vardy, Tongwynlais Temperance, Virtuosi GUS and Whitburn will all look to add another away day trip to their diaries, although their ambition will certainly be matched by the likes of Rothwell Temperance (who could count themselves unfortunate not to be there with them) and Hepworth, who were relegated from the Open last year.
Wingates and Woodfalls will come to the Golden Mile hoping for a change of luck, albeit in slightly different form book circumstances, whilst the solid looking outfits of East Yorkshire Motor Services, Marsden, Aldbourne, Mount Charles and Redbridge will also fancy their chances.
Good value outside bets come in the shape of Burry Port, Kingdom Brass, Pemberton Old, Thoresby Colliery and Unite the Union.
Predictions don't come any tougher, although a couple of bands do stand out - with Whitburn the pick.
They are on a high at the moment, and with Prof Nicholas Childs fresh from his European triumph, they could be inspired to victory and a return to the British Open for the first time since 2010.
If Rothwell Temperance can repeat their Bradford form they could join them there or even repeat their 2009 triumph, whilst the likes of Virtuosi GUS will be hoping for a swift return after last year's Open relegation.
Reg Vardy, Woodfalls and Wingates are sure to be snapping at their heels with our dark horse of Camborne.
4BR Prediction:
1. Whitburn
2. Rothwell Temperance
3. Virtuosi GUS
4. Reg Vardy
5. Woodfalls
6. Wingates
Dark Horse: Camborne Town