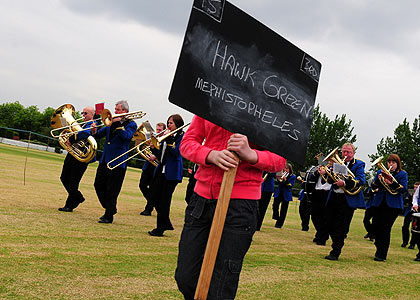 The green, green grass of Whit Friday home...
The self-proclaimed 'greatest free show on earth' - with its intoxicating mix (in every sense of the phrase) of keen contesting rivalry and thirsty throats, will once again take place around the famous Whit Friday villages of Tameside and Saddleworth & Oldham District.
And despite the prospect of a mixed weather forecast, it won't stop bumper crowds and bulging prize pots attracting financially voracious competitors from all corners of the globe, there is sure to be plenty of fantastic brass band music to savour.
Event to remember

Very little can spoil the enjoyment factor of Whit Friday (despite a few deluges in recent times), so as long as the vibrant atmosphere is maintained well into the night without the less attractive aspects of contesting cynicism and gargantuan alcoholic consumption tarnishing things - it promises to be yet another event to remember.
Pat on the back

In what are still austere times, it's an amazing achievement that contest organisers in both Saddleworth and Tameside have once again raised such substantial prize funds. Competitors may not give a second thought to such matters - but each of them deserves a huge pat on the back for their efforts.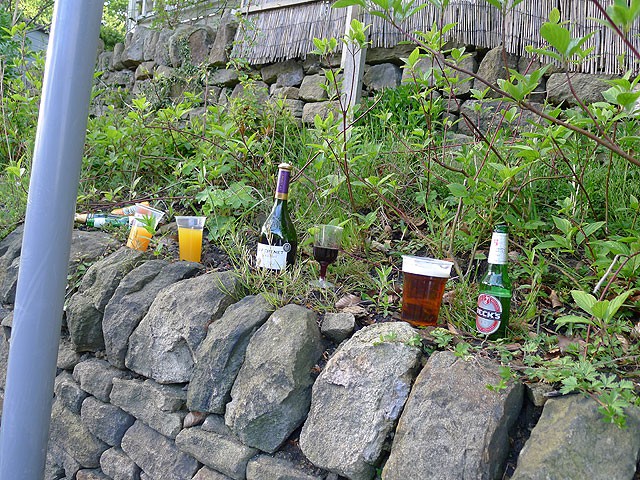 A line up to keep an eye on this Friday...

Invaluable support

Once again, the contests in Saddleworth & Oldham receive invaluable support from Oldham Council and Saddleworth & Lees District Partnership, whilst Tameside Council gains welcome sponsorship help from 103.6FM Tameside Radio and for the first time, Besson Musical Instruments.
Besson's welcome involvement has resulted in Tameside launching its first Youth Championship - with bands (just like their senior counterparts) having to compete at a minimum of six venues to be in contention for honours.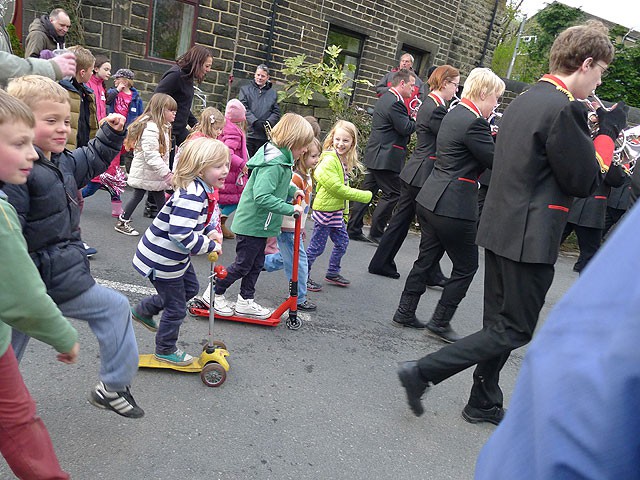 The true spirit of Whit Friday...

True ethos

With such organisational commitment, dedication and sheer hard graft enabling the venues to offer a great (and financially rewarding) experience, the bands may also want to ensure they compete with the true ethos of Whit Friday close to their hearts.
Over the last few years a disturbing level of cynicism has started to appear; from bands trying the usual trick of pushing their way to the front of the queue, to alcohol related abuse of officials.
We have even had the amnesia excuse of 'forgetting' to register in the appropriate competitive section and the modern 'bullying' phenomenon of using social media to try and force organisers to keep venues open after their official closing time.
Patience worn thin

Some bands or scratch ensembles may think it funny or fair game, but the organisers - and the Police - have told 4BR that their patience has worn thin. Naming and shaming and possible Police action for those who cross the line is very much on the cards.
Their advice is to have a great time - but don't spoil it for the rest, however much you think you may not have done anything wrong...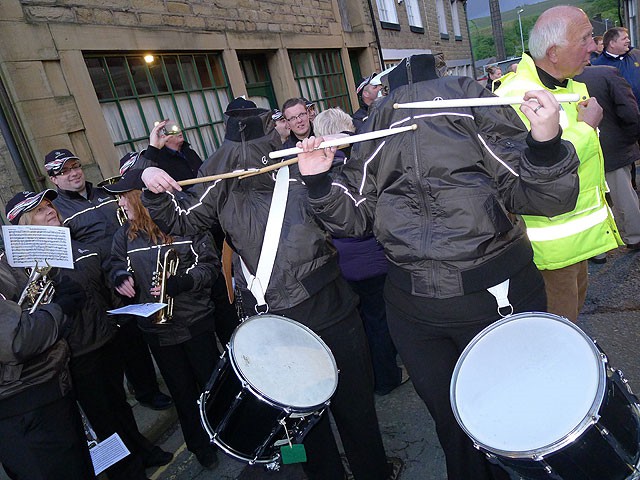 The right form of Whit...

Big prizes

Get things right though and there is not just a great event to enjoy, but plenty of cash too; with £1,000 first prizes on offer at Delph, Denshaw, Greenfield and Uppermill.
Whilst most of the contests get under way at 4.00pm, bands can register at Diggle from 3.30pm (but cannot perform until 4.15pm), whilst Denshaw is offering a £100 bonus for a band that registers during the traditional 'quiet hours' between 8.00pm and 9.30pm.
Obstacles

With such high musical and human traffic at some venues, Oldham and Tameside Councils have told 4BR that they will try their very best to keep road disruption to a minimum.
However, bands are advised to check out any potential obstacles on their proposed routes in advance.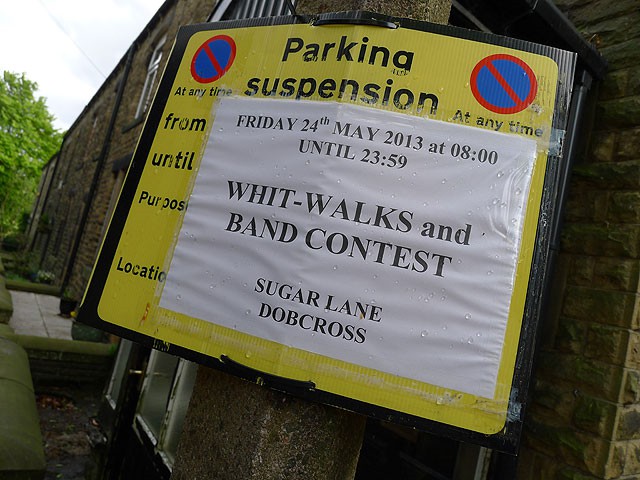 Check the signs...

Health & Safety

People may well have a moan amount the 21st century phenomenon of 'Health & Safety', but unfortunately there have been some major (and at least one tragic) accidents on the roads in the last few years.
Both Councils and Greater Manchester Police have again issued a reminder to coach drivers to be vigilant and sensible - and the same goes for supporters, players and pedestrians. Not all the local coppers may be wearing an accommodating smile if they have to deal with reckless stupidity or drunkenness.
As always, the judges will come under the usual pressure to 'get the result right' from supporters (some more vocal than others in close vicinity to tents, caravans and pubs) - and it's good to see a fine mix of youth, experience and debutantes this year.
Media coverage

For those wondering if the broadcasting media will pick up on things, keep your eyes peeled for 103.6FM Tameside Radio - who will be covering the evening from the Broadoak Hotel in Ashton.
Meanwhile, over in Saddleworth, a BBC camera crew from the regional magazine programme, 'Inside Out' will be travelling around with the Fairey Band.
You never know - they could just put a microphone under your nose and ask for your opinion!
All that and it's great to see that a number of contests have taken on board the 21st century world of social networking, with Twitter updates for @BandContest, @CarrbrookWhitFr, @DBBAwhitfriday, @Denshawcontest and @digglecontest amongst others.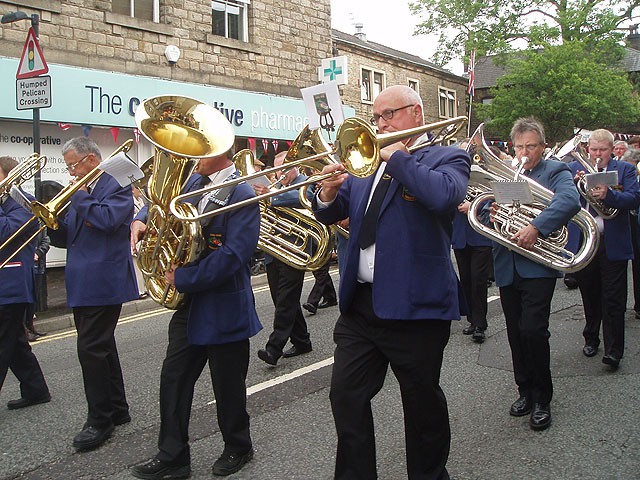 Leading the morning parade

Out and about

As always the day will start with the traditional Processions of Witness in Saddleworth and Mossley at 9.00am, before the band coaches take to the roads led by reigning Saddleworth Champion, Black Dyke, who will be looking to add yet more silverware to their 160th anniversary trophy cabinet.
Rivals

Great rivals Brighouse & Rastrick will have Prof David King leading their challenge whilst Fairey will be led by Garry Cutt. Regular prize winners Hepworth and Marsden will be out in force once more, as will the newly crowned Grand Shield champion Rothwell Temperance.
Hammonds Saltaire and Milnrow will be full of confidence after their recent Masters boost, and keep your eyes peeled for a whole host of National Finalists ahead of their trip to Cheltenham - including Boarshurst Silver, Eccles Borough and Oughtibridge.
However, rumours are that the big guns of Carlton Main Frickley, Grimethorpe Colliery and Leyland will not be in action.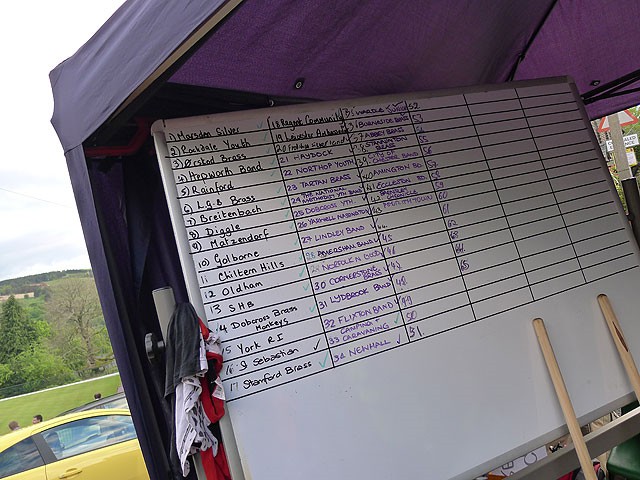 Numbers up again?

Foden's crown

Over in Tameside, Foden's will look to claim a thirteenth title in fourteen years, having created their own bit of history by winning all the contests in the borough last time out.
How many bands have decided to take to the Tameside circuit with the aim of 'dethroning' the defending champion is unknown, but local favourites Ashton-under-Lyne, Mossley and Stalybridge will all have their eyes on picking up cash in the Open and Local contests categories.
With the half term holiday still taking place, there should hopefully be a number of cracking youth bands out and about; including Butlins, National Youth & European champion, Wardle High School - whilst the final exam recitals won't stop Birmingham Conservatoire making the journey up the M6.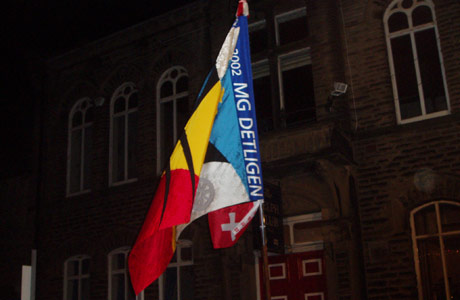 Flying the overseas flag

Overseas visitors

As usual, there is bound to be a host of 'scratch bands' taking to the streets, so look out for something a little different, whilst there is always the welcome appearance of some wonderful overseas bands - with at least one participating in the morning Walks of Witness.
Detligen and Fruitigien from Switzerland, as will Swedish outfit, Asenhoga who will be enjoying themselves, with the trio appearing in concert on Saturday night in Uppermill (so why not go along and support them there too)
However, making without doubt the longest journey will be the City of Tralagon Band from Australia.
Results
4BR will aim to publish the results as soon as possible over the weekend, including the identity of the overall champions in Saddleworth and Tameside. Please be patient though - as it does take some collating.

Malcolm Wood
---
Saddleworth & Oldham District:
Area Open Champions: £2,500, 2nd: £1,000, 3rd: £750, Youth: £250
Local Area Champion: £750, 2nd: £600, 3rd: £400
The Saddleworth & Oldham Contests are supported by Oldham Council and Saddleworth and Lees District Partnership
Delph:
http://www.delph-whit-friday.co.uk
Contest: 4.15pm - 10.30pm
Main Prize: £1,000 from a total prize fund of £4,000
Adjudicator: Mike Kilroy
Contact: Mr R. Rodgers (01457 874354)
Denshaw:
http://www.denshawcontest.co.uk/
Contest: 4.00pm - 10.45pm
Main Prize: £1,000 from a total prize fund of £3,690
Adjudicator: Allan Holdsworth
Contact: Andrina Baxter (07920763979)
twitter: @denshawcontest
Diggle:
http://www.digglebandcontest.co.uk
Contest: 4.15pm - 10.30pm
Main Prize: £800 from a total prize fund of £2,615
Adjudicator: Simon Kerwin
Contact: B. Cliffe (01457 873901)
twitter: @DiggleContest
Dobcross:
Contest: 4.00pm - 10.00pm
Main Prize: £750 from a total prize fund of £2,995
Adjudicator: Dr Robert Childs
Contact: Gavin Roberts (07877015169)
twitter: @DobcrossWhitFri
Friezland:
3rd, 4th & Youth Sections only
Contest: 4.30pm - 10.30pm
Main Prize: £200 from a total prize fund of £575
Adjudicator: T. Newbigging
Contact: J. Barrett (01457 870612)
Greenfield:
Contest: 4.30pm - 10.00pm
Main Prize: £1,000 from a total prize fund of £4,000
Adjudicator: Chris Wormald
Contact: Frank Rothwell (07802938270)
Grotton:
Contest: 4.00pm - 10.00pm
Main Prize: £600 from a total prize fund of £2,000
Adjudicator: Stephen Tighe
Contact: Graham Talboys-Smith (07761 593342)
twitter: @WhitBrass
Lydgate:
Contest: 4.00pm -10.30pm
Main Prize: £850 from a total prize fund of £3,210
Adjudicator: Derek Southcott
Contact: Nita Porter (01457 877629)
Lees & Springhead:
Contest: 4.30pm - 10.00pm
Main Prize: £500 from a total prize fund of £1,755
Adjudicator: Alan Fernie
Contact: W. Cullen (0161 6267625)
Scouthead & Austerlands:
Contest: 4.15pm -11.00pm
Main Prize: £800 from a total prize fund of £3,680
Adjudicator: Jonathan Pippen
Contact: D. Needham (0161 6520341)
Bands waiting on the night number: (07880 743876)
Uppermill:
Contest: 4.00pm - 10.30pm
Main Prize: £1,000 from a total prize fund of £2,660
Adjudicator: David Marshall
Contact: Pam Byrne (01457 820149)
twitter: @BandContest
---
Tameside:
Area Open Champions: £2,500, 2nd: £1,000, 3rd: £750
Local Area Champion: £750, 2nd: £600, 3rd: £400
Youth Champion: £200, £100
The Tameside Whit Friday Contests are supported by Besson and 103.6FM Tameside Radio.
Audenshaw:
http://www.clubbz.com/club/4633/manchester/aldwinians_rufc_brass_band_contest_2010
Contest: 4.00pm - 10.30pm
Aldwinians Rugby Club
Main Prize: £500 from a total prize fund of £1,800
Adjudicator: Paul Holland
Contact: Sylvia Donley (0161 336 6814, 07947 018175)
Broadoak:
Contest: 5.00pm — 10.30pm
Broadoak Hotel
Main Prize: £500 from a total prize fund of £1,600
Adjudicator: Duncan Beckley
Contact: Robert Frost (0161 3302764)
Carrbrook:
Contest: 4.30pm - 10.30pm
Carr Rise
Main Prize: £600 from a total prize fund of £1,535
Adjudicator: John Davies
Contact: Tony Williams (07792070504)
twitter: @CarrbrookWhitFr
Denton:
Contest: 4.00pm - 11.15pm
Main Prize: £250 from a total prize fund of £1,285
Adjudicator: Mike Lyons
Contact: Mrs Joan Emery (0161 2925319)
twitter: @DBBAwhitfriday
Droylsden:
Contest: 4.30pm -11.00pm
The Bush Inn
Main Prize: £400 from a total prize fund of £1,625
Adjudicator: Ryan Breen
Contact: Sheila Bowater (0161 3702811)
Dukinfield:
Contest: 4.30pm - 11.00pm
Tame Valley Hotel
Main Prize: £400 from a total prize fund of £1500
Adjudicator: Dave Chapman
Contact: Brian Hill (07506053670)
Heyrod:
http://www.heyrodbandcontest.com
Contest: 4.30pm -10.30pm
John Street
Main Prize: £600 from a total prize fund of £1,745
Adjudicator: A. McLaughlin
Contact: Bob Lear (0161 338 2003)
Hurst Village:
Contest: 4.30pm - 10.15pm
Ashton United FC
Main Prize: £300 from a total prize fund of £1,275
Adjudicator: Richie Howard
Contact: Denise Pinder (0161 308 4076, 07789392856)
Stalybridge:
Contest: 4.30pm - 10.30pm
Stalybridge Labour Club
Main Prize: £500 from a total prize fund of £1, 490
Adjudicator: Adrian Morris
Contact: Councillor Kevin Welsh (07970456026)
Stalybridge Celtic:
Contest: 4.30pm - 11.00pm
Stalybridge Celtic FC
Main Prize: £400 from a total prize fund of 1,475
Adjudicator: C. Evans
Contact: Gordon Greenwood (07770 433336)
Upper Mossley:
Contest: 4.30pm - 10.00pm
Mountain Street
Main Prize: £600 from a total prize fund of £1,875
Adjudicator: M. Tweedle
Contact: Paul Harrison (07876214425)
---
Find the venue:
To enable bands to plan their routes and find the contest venues, visit the following link:
http://www.www.tameside.gov.uk/brassband/whitfriday/
Further details:
Further details for the Tameside Contests are available from: http://www.tamesidebrassbands.org