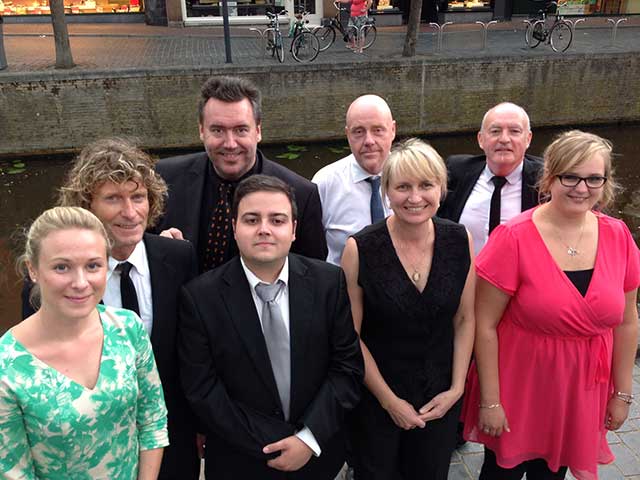 Class of 2015 line up with Mette Hojen and Allan Withington

Allan Withington's approach to breaking down conducting boundaries continues to explore new pathways of engaging inventiveness.
His latest 'Conducting Course' - his seventh - once again took place in Leeuwarden, the pretty provincial city in the Friesland province of the Netherlands.
After themes based on politics, fashion, water and even prison, this time it was 'Back to School' - and an innovative daily time-table that saw lessons on conducting technique, rehearsal and programme planning, problem solving, people management and performance psychology.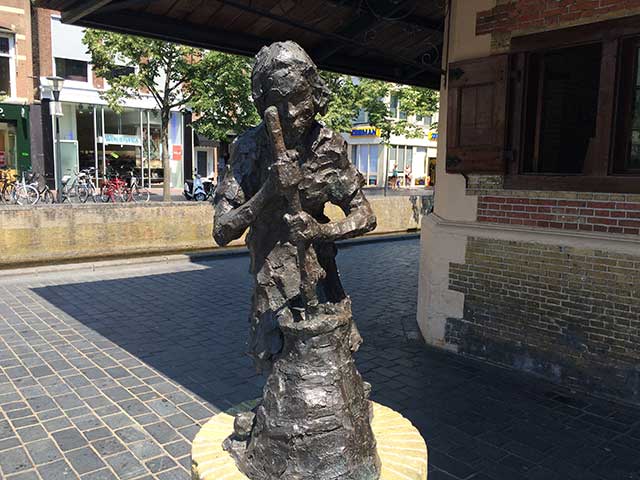 Hard work and plenty of relaxation is the key

It is a course that has gained its reputation by being built on a sharply focused work ethic allied to relaxed enjoyment - aided enormously by the excellent Soli Brass Band and superb organisational skills of course administrator Anja Abma.
Once again, Allan was joined by Mette Hojen, a Master of Arts in Rhetoric and an expert in communication and presentation - skill sets that are becoming ever more relevant in the modern banding world.
Commitment

A great deal is asked of the delegates - but in return it rewards the commitment to self-improvement. Little wonder then that three of the six conductors were returnees.
Their musical experiences varied greatly: 24 year old primary school peripatetic music teacher Marianne van der Heide was taking her first significant conducting steps, whilst Uwe Koller, the charismatic trumpet star of German Brass, has worked with the likes of Herbert Von Karajan and Leonard Bernstein as well as directing his own Austrian Brass Band at the European Championships.
Returnees

Two returnees in Borja Martinez Alegre from Spain and Jacques Rossier from Switzerland were also joined by Veronica Boulton from Australia, the impressive driving force behind the Marion City Brass Band organisation in Adelaide, and Roel Jan Jongsma, a respected professional percussionist and conductor who has enjoyed a long association with the current Dutch National Champion, De Bazuin Oenkerk.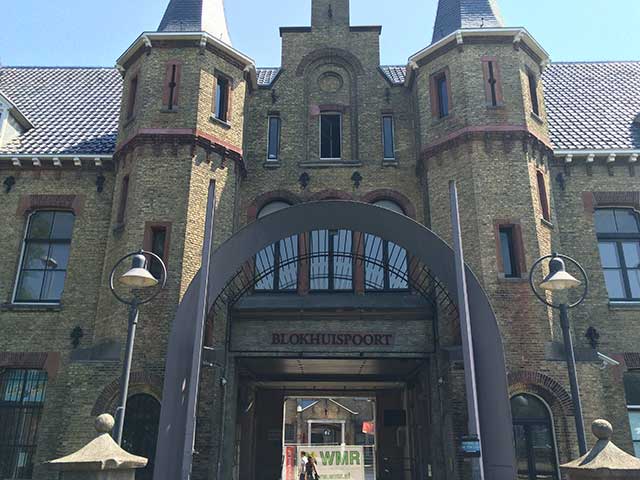 Inventive hosting: Leeuwarden Prison was a venue for a day...

Specific purpose

The carefully chosen repertoire also had a specific purpose in mind - from the 'Finale' from Tchaikovsky's '4th Symphony' to the fugue section of Philip Wilby's 'Red Priest', with varied genre and style variations from the sophisticated cool of Pat Metheny jazz and the famous 'Napoli' cornet solo to contemporary Nordic music.
Throughout the week technical problems were indentified and outlooks challenged - both individually and collectively; simple, as well as more complex remedies discussed and put in place. Positivity was the key - from small tips of encouragement to generous acclamation.
Invaluable

The communal support of the delegates also grew by the day - with personal ideas and approaches embraced and developed. Mette Hojen's invaluable rhetoric and communication skills added greatly to their experience. It was an eye opener: 'Heads up' conducting in more ways than one.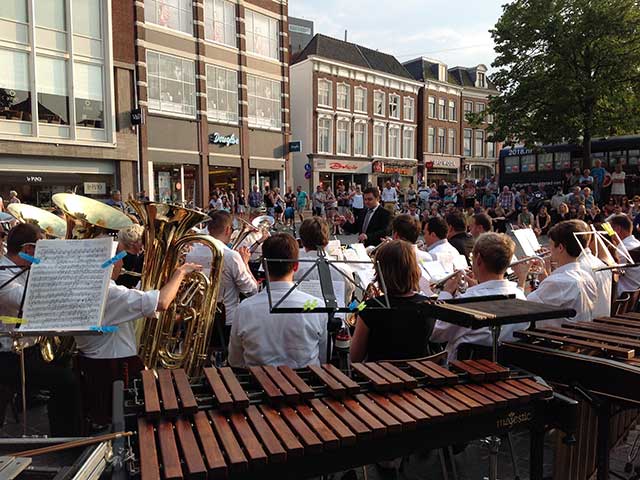 Playing to the crowds in Leeuwarden

Sweltering

Speaking to the sextet following a sweltering open air course ending concert in the centre of Leeuwarden, was enlightening - especially when finding out how it linked to their own conducting ambitions.
"It's been amazing," Marianne said - her conducting blossoming from hesitant beginnings as her confidence soared like the temperature throughout the week.
"I came wishing to improve so that I could conduct a youth band, but now I want to reach a point one day where I can perhaps lead a Championship band."

Australia and Austria meet up: Vernonica Boulton and Uwe Koller

Aussie echo

That self improvement ethos was echoed by Veronica, who brought a wonderful straight forward Aussie sensibility to her conducting with an attentive Soli Brass.
"We have four different tiers of bands at Marion City - from junior players just starting out, to a Training Band, a D Grade Band and a B Grade Band.
I conduct and teach them all, but I want to improve as a conductor as they all improve as players - not reach a point where I can't offer them anything more to aspire to. This course has given me that. It's been a remarkable experience."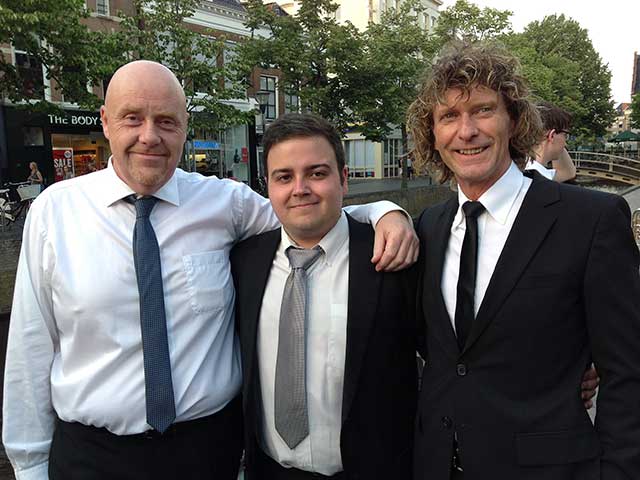 Cross border connections - Dutch, Spanish and Swiss...

Top up process

For returnees Jacques Rossier and Borja Martinez Alegre it has almost been a 'top-up' process - adding extra levels of confidence to go with their increasingly polished technique and understanding of the mechanics of conducting.
"I have two brass bands, a wind band and small orchestra in Switzerland, all with different needs and outlooks," Jacques said - his friendly smile and engaging personality once again making him popular with the hard working players in the band.
"This is my third course and each time I return home with something new to work on and be inspired by. There can never be a time when I feel I know it all - music making and conducting is not like that. But when I leave here I feel so much more confident in what I can do and achieve."
Rewarding

"It is the same for me," Borja added. "I have a concert wind band of over 80 players which I rehearse twice a week, a youth concert band of 50 players and a number of small ensembles and individual students who I teach."
His elegant conducting technique was wrapped up in an intense sense of musicality in front of the band - which dissolved into a wonderful, bubbling personality - especially with a beer in his hand.
He added: "Since the last course I have gained my wind band diploma from the Mezzo Corno in Trento, increased my teaching and gained much more rewarding musical experiences.
All I wish to do now is set up a traditional brass band in Valencia so I can enjoy much more brass band music. I will of course be back again."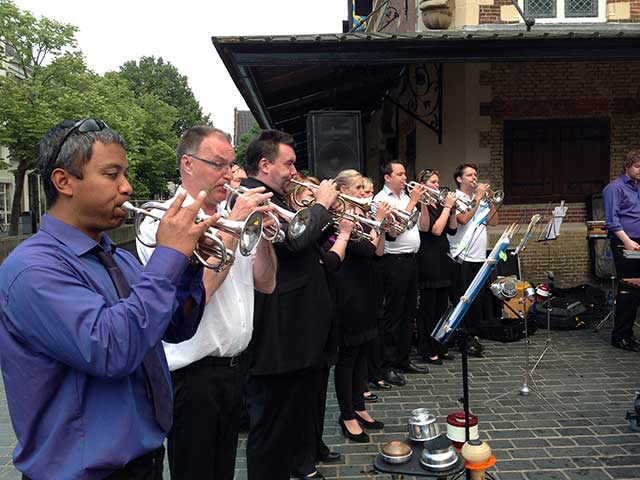 Lining up for action - Soli Brass and friends....

Experience

Intriguingly though it was the response of the two most experienced musicians in Roel Jan Jongsma and Uwe Koller that caught the imagination.
"I've been involved with brass bands for 25 or more years and conducting percussion ensembles for much the same time - up to world championship level at the Kerkrade World Music Festival," Roel Jan said.
"I've always wanted to be able to conduct a brass band properly though - especially as they react in a very different way to the percussion ensembles I'm used to.
It's been so enlightening learning new skills, approaches and ways of thinking - all of which will be of huge benefit to me"

Leonard Bernstein

And as for the man who regaled the 4BR Editor over a beer with a tale about the great Leonard Bernstein that could never be published in a family orientated publication?
"I never studied conducting," he rather surprisingly revealed. "Despite working under many great conductors and 20 years with German Brass with I always felt I had so much more to learn," Uwe said humbly.
"I always want to improve as a player (he generously played in the band when not conducting), as a conductor and musician - and that should never end.
That's why I come back. I want to be able to go back to my band in Austria and help develop them further with the skills I have learnt here."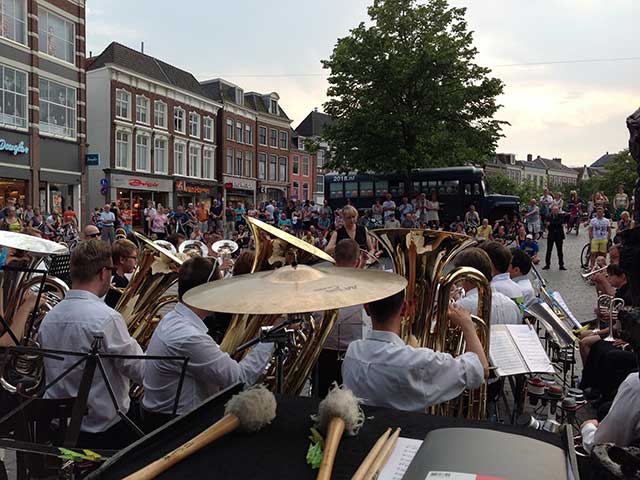 A view from the back...

Cold beer

And as the wonderful players of Soli Brass kept serving the cold beer into the small hours of the Leeuwarden night amid a great atmosphere of musical friendship, that was the feeling you were left with yourself (despite the slightly muggy head) on the way to the airport the next morning.
Last words

The last words though went to Allan Withington as he also revealed his new found landlord skills serving drinks from behind the bar. "It's been another excellent course," he said.
"I'm always amazed by the conductors and what you can help them achieve. Mette's involvement has really opened new avenues - ones that I'm learning from too.
I will keep in touch with all the delegates to keep an eye of what they are doing and to see how I can help them further. The process of improvement never ends."
Six lucky conducting delegates certainly found that out.
Iwan Fox