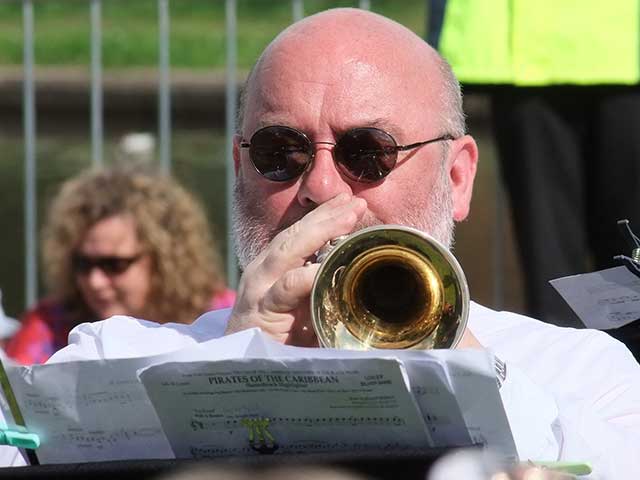 The author: Russell Cavanagh

How many of us, particularly those playing in lower section bands, attend regular rehearsals where there are far too many empty seats around the stand?
As a result, how often do you see stressed-out Band Managers and conductors scramble through their contact books to fill out the ranks when there's a competition or important concert coming up?
It's so wearisome and disheartening - and it seems to be a trend that is on a disturbing, inexorable rise.
Reality

We've all played at contests where borrowed players kindly help out bands - although probably now reaching a number that could see them enter a scratch ensemble of their own on the day.
However, what was once seen as a minor problem has now become a major affliction. The reality is that whole swathes of brass bands are forced to weave a remarkably thin illusion of full membership in order to appear viable.
Perhaps we have to finally accept that it's proving too difficult (and we are taking at all levels here) to keep 27 or so core players actively involved in the day to day running of bands.
Decline in banding numbers may appear to be stable (around 500 competitive ensembles), but there are surely less players involved in brass banding as a regular weekly musical actively today than ever before?
Downturn

We all know the reported reasons why.
The downturn is in part explained by a demoted sense of community in areas where traditionally supportive employers have all but disappeared.
Changes in funding for brass teaching (especially to maintain and attract high quality peripatetic staff) have also had an adverse effect.
These 'support' networks - the essential lifeblood of many community bands - have all but disappeared - especially in economically deprived areas (invariably the heartland of brass banding).
It's therefore not uncommon nowadays for struggling lower section bands to stop competing through lack of players - leading them to eventually take the musical 'nuclear option' of self-destruction by simply closing their doors.
Radical suggestion

So what can be done?
Here's my radical suggestion: One that aims to help reinvent and rejuvenate sustainable high quality brass banding.
If your band is down to a dozen or so regularly committed players, reconfigure instrumentation and explore 10-piece/ensemble repertoire.
There's a wide range of programme items already available; spanning all levels of playing ability. Very importantly, wouldn't it be great to encourage up-and-coming composers and arrangers to produce more new music?
Should there be more than 10 players at any rehearsal; some doubling up on parts can be done without upsetting the ensemble: No need to sing that missing flugel solo or rising fifth on the baritone in our heads!
Overall quality

It's also true that a great deal of traditional repertoire, particularly concert items, are over-scored and would lose little if covered by more compact ensembles.
Think of it - every piece rehearsed would be heard with complete voicing!
There's also the added bonus that smaller ensemble playing encourages greater listening between the parts - boosting overall quality. Concentrating on playing in tune and with balanced dynamics will guarantee a much better ensemble sound.
Compact Section

Furthermore, imagine band competitions where the entry requirement is 10 - 16 players. These could be standalone contests, or perhaps an added 'Compact Section' within more traditional events.
And there's no reason conductors can't still try to call in favours to augment the smaller ensemble to become a 'full' band at, for example, the various Regional Championship events.
Some bands are already reinventing themselves in order to survive and keep entertaining their public: They consider themselves as versatile musical ensembles first, and as a brass band second.
They may adapt in order to play at seasonal events, corporate functions, weddings and other formal occasions where a standard brass band would just be too much. Some are already widening their appeal even further and receiving a good response by linking themselves with other musical genres.
Atrophy

Traditionalists may balk at my idea - but will their bands atrophy further as they wait in vain for good players to walk through the rehearsal room door?
Their love of regimented 'lion-tamer' jackets is built upon a fondly felt tradition - one I share too, with well over 40 years under my belt of bluffing surprisingly well on a cornet. But surely those of us with wider minds will thrill at playing 10-piece repertoire with focus, precision and skill?
Adapt or die?

Indeed, there's the likelihood that a good 10-piece band could eventually face the awful dilemma that having attracted decent players they may need to consider competing again as a traditional contest outfit.
Banding is such an important part of community music-making.
So would you rather adapt to becoming smaller but perfectly formed, or simply die?
---
Russell Cavanagh:
Russell has played across five decades with bands ranging from Championship Section right through to unregistered ensembles. He currently plays principal cornet with Dinnington Band in South Yorkshire.