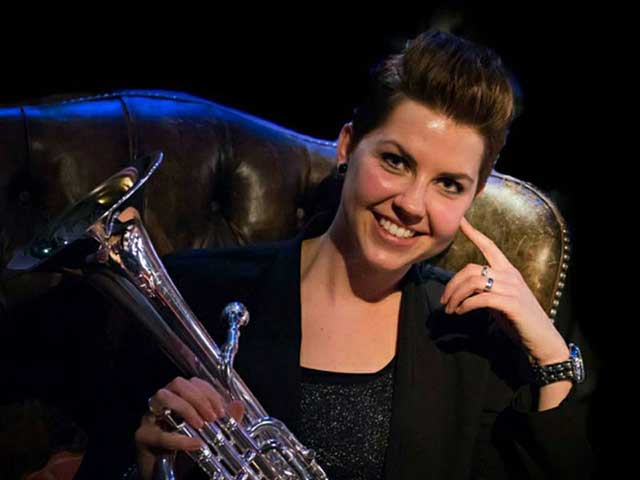 Birthday girl: Sygrid Mollema

Sygrid Mollema (22) is an enthusiastic brass band musician from Holland, who four years ago took the decision to move from playing the cornet to take up the tenor horn.
Two years ago she joined current Dutch National Champion, Brass Band De Bazuin Oenkerk, but was keen to carry on her improvement as a player.
So instead of asking her parents for some birthday financial help with her medical studies in February this year, she asked if they would help pay for some brass band masterclass clinics in the UK.
Birthday treat
As she told 4BR, it turned out to be quite a memorable present...
"The best person we could think of to get things sorted was Dutch EBBA delegate Jappie Dijkstra. He certainly knows about British banding and got in touch with Brett Baker at the University of Salford to see if he could help.
Brett seems to know everyone in British banding - so once contact was made all I had to do was get on a flight to Manchester."
First look
As soon as Sygrid stepped off the plane from Amsterdam it heralded the start of a fantastic week of brass band music making.
"Meeting up with Brett was amazing," she said. "And so was having a first look at the University of Salford, where I knew so many of the great players of British banding had been taught.
I believe the students here are more broadly educated in brass banding and general musicianship than anywhere else. There are classes on performance, arranging, composing, directing and music management.
After graduating it's much easier to find a job than it is at home in the Netherlands. There you just pick one main class and only the lucky few can earn themselves a living afterwards."
Fully fuelled
Before any playing though, Sygrid had a first taste of another UK brass banding tradition - although it was not quite what she expected, as she revealed between laughter.
"Brett said that it was always good to be well fuelled before playing, so he took me to a fish and chip shop!
He did explain it would be needed as there wouldn't be much time for food later as we were heading straight to Queensbury with Black Dyke. It was very nice though!"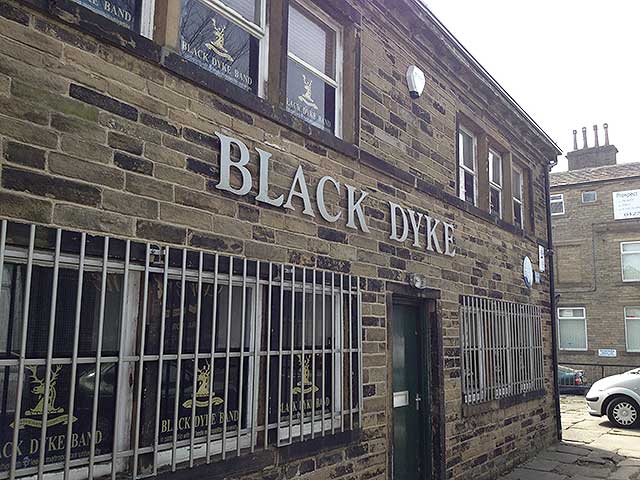 Famous stop off point

Pace
At Dyke's famous home Sygrid listened as Prof Nicholas Childs led Brett and the band on 'Embraceable You' for his forthcoming CD recording and also on Peter Graham's 'The Torchbearer' for the up-coming Yorkshire Regional contest in Bradford.
"What surprised me most was the pace of working," she said in obvious admiration.
"It was so fast. It was obvious everyone knew their part well - not something that always occurs in Holland, and there was a great musical discipline within the band.
No time was wasted - and the only voice heard was that of the conductor. It was an incredible experience."
Student band
The following day it was time for Sygrid to play herself, as she joined the ranks of the student led University of Salford Adelphi Brass Band.
In the afternoon she headed to a rehearsal with the University Wind Band before meeting up with Black Dyke horn player Helen Varley for a two hour personal masterclass.
"I really enjoyed myself playing with the students - although many of them were surprised that a Dutch anaesthesia medical student wanted to learn more about brass banding.
However, they were just as curious to find out how the Dutch bands rehearse and how the brass band movement works in Holland."
She then added: "Helen was wonderful - and gave me such constructive advice. She is the type of player you admire as soon as you meet her."
Icon
After enjoying another Wind Band rehearsal on the Wednesday, Sygrid had the opportunity to have a masterclass from tenor horn icon Gordon Higginbottom.
"Gordon screened my sound, my rhythmic and technical skills and high and low range playing. After that, he provided me with some incredible tips about musical lines, articulation, how to use vibrato, and so much more."
She added: "My head was reeling a little having to take in so much, so a nice evening of traditional student celebration and a lovely meal with Brett and his wife was just the tonic on my birthday."
Bates masterclass
The following day Sygrid attended another Adelphi Brass Band rehearsal and another masterclass - this time from Black Dyke principal horn player Jonathan Bates.
"Once again I received a lot of technical instructions," she said. "But the most important lesson he made me aware of was that what's on the sheet is just ink - it's the musician who makes music of it - and in your own way!
It was the perfect way of summing up what I wanted to find out about enjoying the music I play."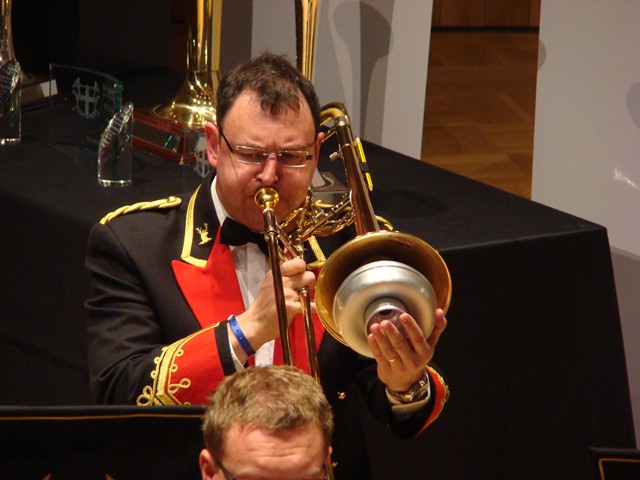 The go to man - Brett Baker

Recording
That evening Sygrid attended the recording of Brett Baker's new CD with Black Dyke.
There was still a hint of awe in her voice when she said: "I was so impressed about how accurately they played and how professional they were about what they did.

Brett told me that brass banding at this level is just a way of living - and I could both see and hear why.
In the Netherlands we don 't know 'banding' that way at all: It's a bit too much I assume..."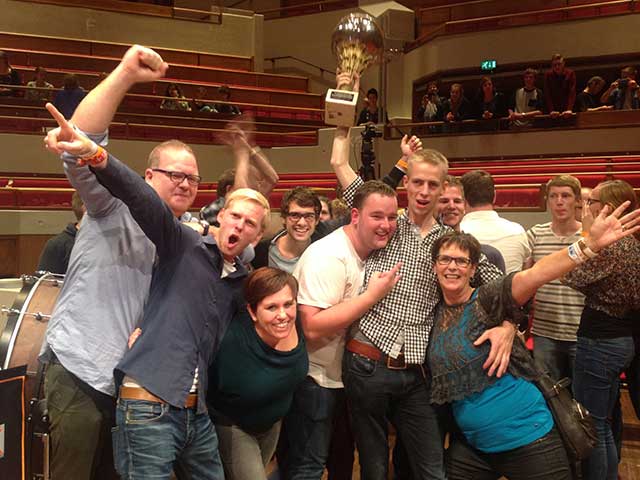 Return to those crazy Dutch champions of Brass Band De Bazuin Oenkerk...

Reflections
Sygrid's week came to an end with one last Adelphi Band rehearsal before her return home - although her wait for her flight back to Amsterdam allowed just enough time to reflect on what had been a memorable birthday treat.
"I learned so much," she revealed. "Not only about my own playing but also about playing at a very different level to what I had been used to.
It's hard to describe all the impressions it made on me, but I can absolutely recommend it to anyone who wants to try and become a better player.
Salford University is full of great students and wonderful people and even a small taste of top class British banding is simply amazing.
It's about the best birthday present I've had."

Iwan Fox
With thanks to Brett Baker and Henk van der Meulen
Photo: Enno Achterhof