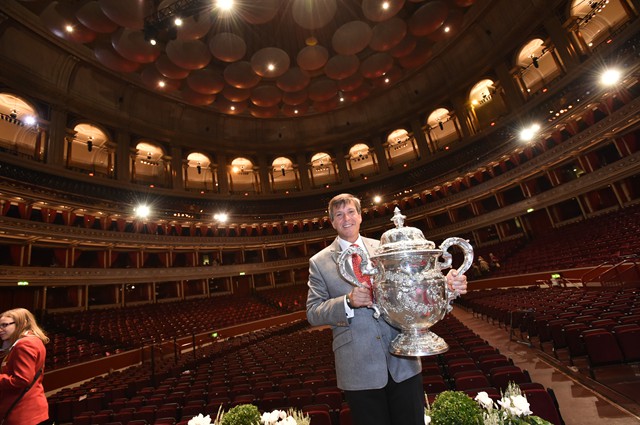 Faith repaid again: Can Black Dyke and Prof Nicholas Childs retain their title?

Faith, Hope and Charity: The three traditional tenets of brass band contesting spirituality.
And although praying for divine inspiration come the results may give some supporters scant comfort, it won't help the chances of any of the 20 bands at the Albert Hall if they haven't put in the hours of hard secular yakka on a remarkable test-piece by Thomas Doss.
Mecca

Many will travel to the Mecca of Kensington Gore with faith and even hope in the belief in their chances of claiming the famous old silver trophy: Charity is a different matter all together.
The judges (Stephen Roberts, Howard Snell and Rob Wiffin this year) rarely bestow the title of Champion Band of Great Britain on the basis of worthiness alone: Whoever wins will have done it the hard way: Prayers, supplications, orisons and catechisms won't help a jot... even for the hard pressed soprano players.
Theological character

'Spiriti' is a work that has already tested the theological character of the very best at the 2010 Europeans - and now, like a modern day Lutheran priest with a musical calling for Bach and Bruckner, it returns with its message written loud and clear for a new congregation to hear amid the cathedral splendour of the Albert Hall.
It should also be borne in mind that this could well be the first time it has been heard performed by a 'traditional' brass band line up of 25 brass players plus percussion.

There is no 'Euro inflation' of the ranks here - although the odd 'second sop' may be in evidence.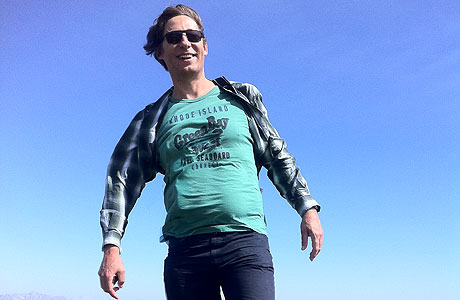 Not a wasted note from Thomas Doss

'Spiriti' is a wonderful, evocative piece of writing - (and given a fine analysis by Prof Stephen Allen in the September edition of Brass Band World magazine) combining elements of Bach, Bruckner, Blues and sheer ballsy bravura by the bucketful.
There isn't a wasted note or a flimsy piece of artifice: It is at times sparse and frugal, at others as rich as a Mary Berry fruit cake.
Nebulous hinterland

It may not be to everyone's initial liking either, but much like his other major works - 'Sketches from Nowhere', 'REM-scapes' and 'Trance' - Doss explores the nebulous hinterland of a disturbing conscious and unconscious state of mind with remarkable inventiveness and sense of purpose.
It seems rather appropriate that it also shows just how far we have come since the days of the naive quasi-religious sentimentality of the likes of Eric Ball - or in the case of the Area test piece this year, Peter Graham's pastiche 'Torchbearer' homage.
Magic Jesus biscuits

That was a warm-hearted tribute to all things jam and Jerusalem compared to what Doss has come up with:

His is a fantastical world of hellish nightmares and magic Jesus biscuits. At one point it becomes the Old Hundredth gospel according to James Brown.
'Spiriti' is great to play and great to listen to. A fine rendition rewards the listener as much as it does the performer.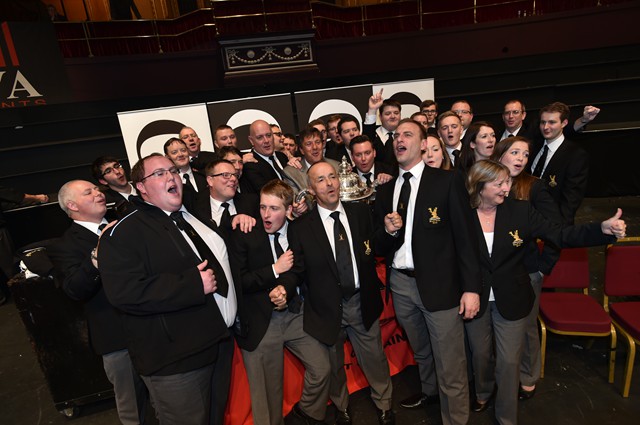 Will Black Dyke be singing in triumph come Saturday night?

So which of the 20 contenders will be able to mix their Bach with their Blues, deliver a funk swagger whilst taking time out for reflection with the thoughts of a sweet soprano led rubato in the mind's eye?
Settled

The defending champion Black Dyke will surely be one.
Stung by an uneven defence of their British Open title, they will not want to relinquish their hold on another of their 2014 major acquisitions.
With settled high class personnel and huge ensemble power available to Prof Nicholas Childs, they will fancy their chances, although the Open also showed that any drop in form will be pounced upon by eager rivals.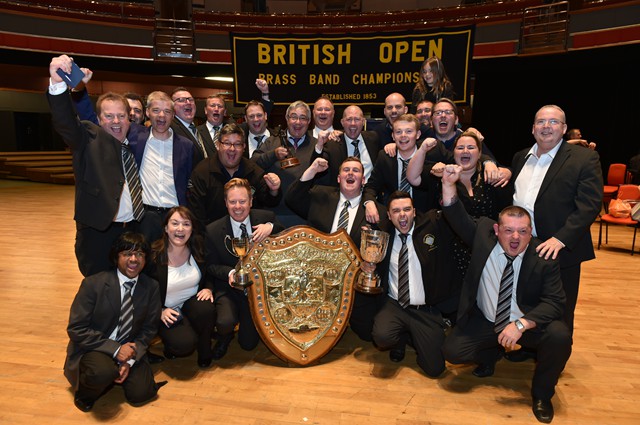 A Grimethorpe double?

Chief amongst them will surely be Grimethorpe - winners at Symphony Hall and determined to make it a historic 'Double' under Dr Robert Childs.
Contesting tide of confidence

The tide of contesting confidence that now surges through collective veins seems unstoppable - although they haven't set the old Kensington cake-tin on fire for a few years. A red-hot Grimey (with an MD who won on the piece at the Euros in 2010) could well set the place alight.
The same could also be true of Brighouse & Rastrick - despite the rumour mill suggesting that they have been close to ritual self-immolation in the last week or so.
Doris Stokes

Prof David King does things his way (as was brilliantly seen at Symphony Hall) and it is difficult to argue against his record here of late. So despite the occasional blip, an inspired band (and the MD does know how to make contact with 'Spiriti' better than Doris Stokes) could see the title heading back to West Riding once again.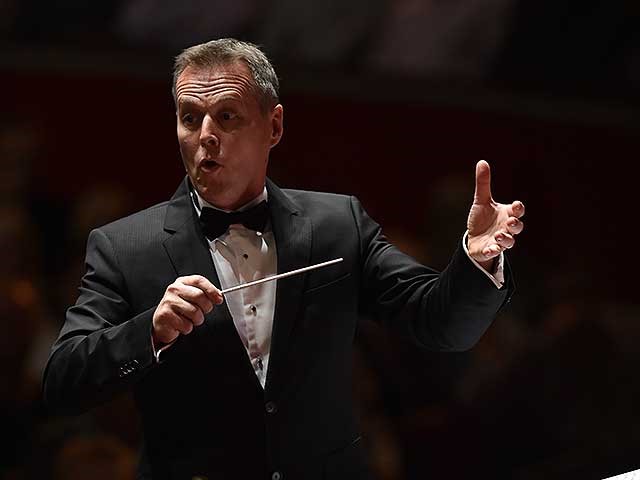 My way: Can a brilliant Prof King reclaim the title with Brighouse?

Consistency

Cory is another contender that knows 'Spiriti' well (winning the 2010 European on it), but there has been a significant change in personnel since that time - including the MD.
However, there has been little change in their remarkable consistency since Phillip Harper took over the baton (they haven't been outside the podium slots here since 2006 either) and after a commanding showing at the British Open they will surely be in the mix once again.

Premium advantage

With such a premium advantage to bands able to produce huge sounds allied to clarity of technique in the cavernous acoustic of the Albert Hall, you would be hard pressed to see many others pushing for the title - although the likes of Foden's and Flowers may be the best bets to present a persuasive case.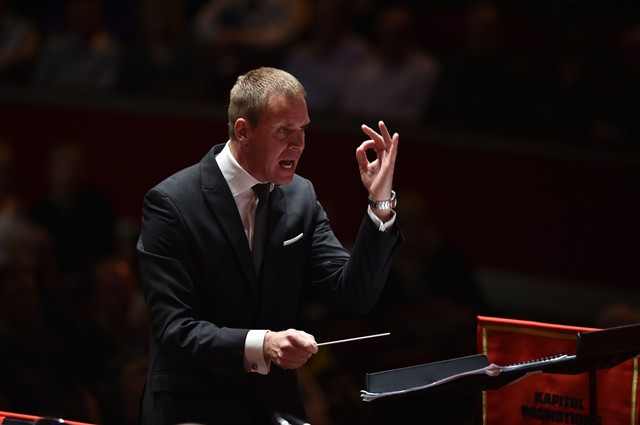 Pin point to success for Cory this year under Philip Harper?
Back to their best

Foden's sounded as if they were returning back to their best at Birmingham and with Allan Withington at the helm they are a combination that can raise the roof once again (the last time was memorably in 2012), whilst this piece should suit Flowers obvious strengths.

They were a touch unlucky to end 10th at Symphony Hall, but may well fancy their chances of having their name mentioned off the stage once more after last year's sixth place.
Niggles

Tredegar's solid Albert Hall record has come despite recent early draws, and they were a tad unfortunate not to gain a top six finish at the British Open.
Ian Porthouse continues to draw persuasive, if slightly error strewn performances from his talented band - so if they can just eradicate the niggles, a third successive top six finish could be on the cards.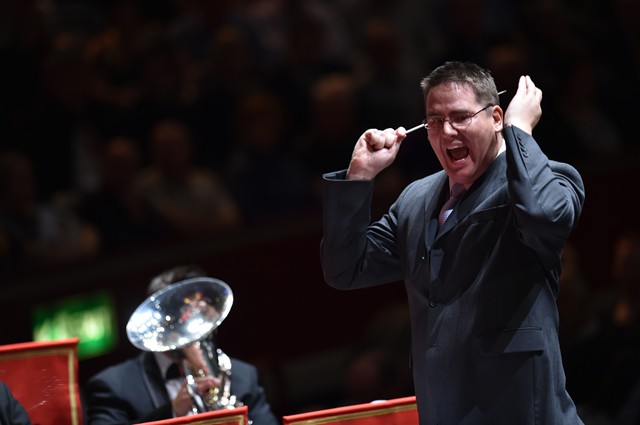 Will Flowers make the major breakthrough this time around?

Rid themselves

The same applies to Fairey - especially if they can rid themselves of the deflated feeling that seeped through their number 1 performance at Birmingham.

Garry Cutt also has a talented band under his command, so a better draw and a bit more self-confidence could see them claim a fifth top six finish in six years.
Confident

Scottish hopes of taking the National Trophy back over Hadrian's Wall rest with the heavyweight duo of Co-operative Funeralcare and Whitburn.
Co-op reasserted their quality at the Open when faced with the prospect of relegation, to come a fine ninth under Allan Ramsay. Buoyed by that result they could well be top half finishers again.
Confidence should not be in short supply for Whitburn - although they have yet to export their mightily impressive domestic form over the border. That may be about to change this weekend under the baton of Michael Fowles.
Curious

In contrast, Yorkshire champion Carlton Main has endured a curious season; claiming that memorable win at Bradford, but also losing their British Open status.

If they have recovered from that damaging sense of loss they could be ready to bounce back under Philip McCann.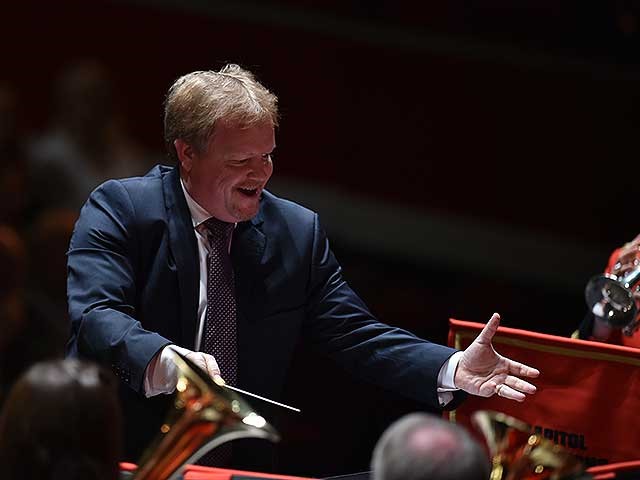 A good outside bet: Reg Vardy and Russell Gray?

Persuaded

If punters are looking for a good outside bet for a top six finish then they may well be persuaded by Reg Vardy abd Russell Gray.
In the last two years they have been on the cusp of making a mark on the results for the first time since 2009, and although they have yet to return to the British Open they are on a significant upward curve of contesting form.
It's also good to see their North of England compatriots NASUWT Riverside back in London for the fourth time since 2005, keen to make a mark against a very strong field of rivals.
Impressive business

Virtuosi GUS has been quietly going about their impressive business under Adam Cooke as they seek a first top six place since 2010 - qualifying in fine style at Bedworth and winning the Masters, although they missed out on a return to the British Open.
Meanwhile, fellow Midland qualifiers Desford will want to make a rapid return to form at what has been a rather unhappy hunting ground over the last few years, following their disappointing British Open.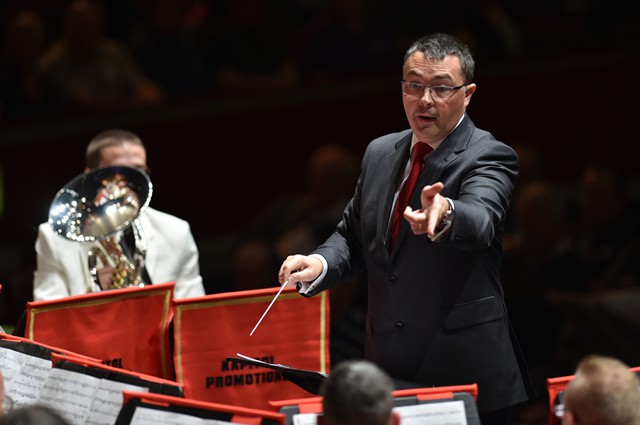 Friary Guildford on the up with Chris King

On the up

London & Southern Counties champion Friary Guildford is certainly a band on the up under Chris King as they take their third consecutive Albert Hall bow, whilst the eclectic mix of personnel at Zone One Brass should enjoy themselves as they return to Kensington for the first time since 2012.
Celtic trio

That just leaves the Celtic trio of proud Cornish representatives Camborne, back at the Albert Hall for the first time since 2010 after a season bold progress, and the Welsh duo of Northop and Tongwynlais Temperance.
A solid looking Northop will be directed by Thomas Wyss - fresh from leading Leyland to fourth place at the British Open, whilst the great John Berryman takes the helm at Tongwynlais, who have made a mark here in the not too distant past.
Just a word about the draw though.
Only once since 1945 has a band drawn in the first four won the contest (Desford in 1991) - although 22 winners have come from draw numbers 12 to 15.
Faith, Hope and Charity applies to those with the fingers in the velvet bag too then...

Iwan Fox
---
Who will win?
On such a demanding piece you can't really see further than the big old heavyweight contenders, with the likes of defending champion Black Dyke, Grimethorpe, Cory and Brighouse & Rastrick looking as if they have the technique, stamina and know how both behind and in front of the stands to make their mark once more.
It could just be that a bit of history is created on the weekend - Grimethorpe history that is, with Dyke, Cory and Brighouse repelled.
Foden's and Flowers could be in with a huge chance if they hit top form and the top four falter in any way, with our dark horse of Tredegar alongside good each way bets in Fairey, Whitburn and Virtuosi GUS.
4BR Prediction:
1. Grimethorpe Colliery
2. Black Dyke
3. Cory
4. Brighouse & Rastrick
5. Foden's
6. Flowers
Dark Horse: Tredegar
Top ten bets: Fairey, Whitburn, Virtuosi GUS