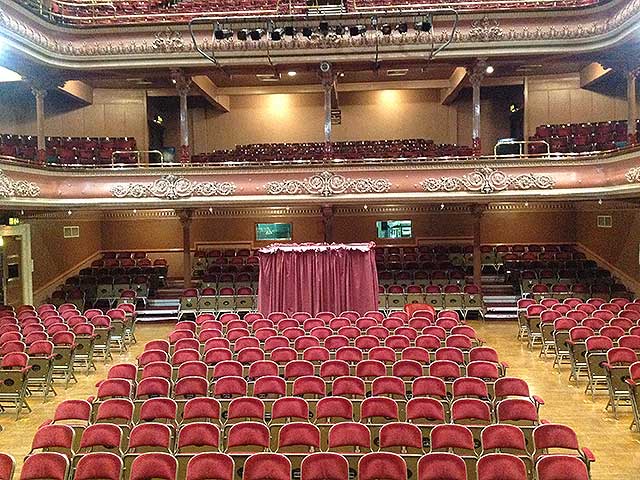 The bear-pit of aspirations...

After the trials and tribulations, victors and vanquished of Blackpool, the Regional Championship Circus-Maximus pitches up in the brass band heartland of Bradford this weekend, and the bear-pit of contesting aspirations that is St George's Hall.
The action at the Winter Gardens will be a hard act to follow, especially after the rather contentious battle there on 'Cambridge Variations'.
Shakespearian backdrop

Yorkshire has long been used to that sort of thing though (remember 'registration-gate' last year) - with the action invariably providing a Shakespearian backdrop of dark intrigue, unrequited ambition and all too serious intent. The ornate old Victorian Hall will throb with the brass band wattage of a power station come Sunday night.
And the Area needs to get the blood gurgling towards boiling point in its veins - as it has been going through a bit of a hit and miss period in its National Finals competitiveness in recent years.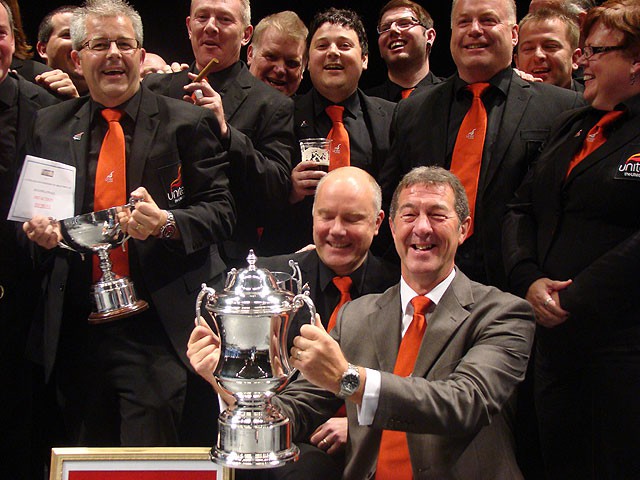 When will Yorkshire celebrate again at Cheltenham?

Yorkshire has a great deal of justifiable pride in its bands at all levels (7 Albert Hall success in the last decade alone), but the last time the White Rose flew in triumph at Cheltenham was 2012 (only the second time since 2010 in fact).
Come ye forth in triumph

BD1 was unfortunate not to add to that last year in the Fourth Section, but they were only one of three qualifiers to make it into the top six. Just as its said English cricket needs a strong Yorkshire backbone, so does English banding. 'Come ye forth in triumph from the north' may well start here on Saturday.
As always 4BR will be there to offer our opinions and viewpoints in our live coverage, for what promises to be another expertly run event by Peggy Tomlinson and her excellent team of volunteers on the Regional Committee.
It kicks off on Saturday with the Third Section at 9.15am, followed by the Fourth and Second, whilst Sunday sees the First Section at 10.00am followed by the Championship Section starting at approximately 3.30pm.
---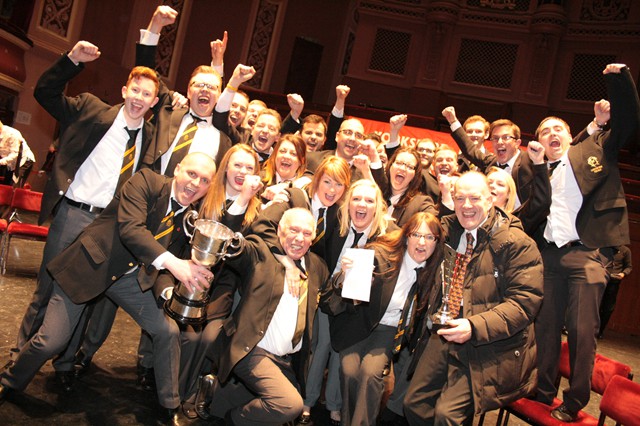 2015 Champions: Carlton Main Frickley

Championship Section:
Sunday 6th March
Commences: 3.30pm
Test Piece: Cambridge Variations (Philip Sparke)
Adjudicators: Michael Ball and Philip Sparke
Black Dyke (Prof. Nicholas J Childs)
Brighouse & Rastrick (Leigh Baker)
Carlton Main Frickley Colliery (Russell Gray)
City of Bradford (Lee Skipsey)
Grimethorpe Colliery (Dr. Robert Childs)
Hammonds Saltaire (Morgan Griffiths)
Hepworth (Mark Peacock)
Marsden Silver (John Hinckley)
Rothwell Temperance (David Roberts)
Strata (Dr Owen Wedgwood)
Unite the Union (City of Sheffield) (David Hirst)
Yorkshire Imperial Urquhart Travel (Stig Maersk)
'Cambridge Variations' proved to be a difficult beast to control at the Winters Gardens, and you suspect that only the very best bands will be able to put a muzzle on its bite on Sunday evening.
Like the North West, Yorkshire has twelve contenders looking to claim the two places on offer for the Albert Hall (Brighouse & Rastrick are pre-qualified) - and they will already know that they will be faced by a severe test of musical and technical character.
Cut to shreds

From the opening muted balances, the demanding flugel and cornet solos, the mazzy, wriggling chromatic runs and the final, fractured run for home, the craftsmanship of 'Cambridge Variations' is written in ink that can cut qualification aspirations to shreds; its transparency revealing its complex inner workings like an engineer taking off the manifold cover to a Formula 1 racing engine.
St George's Hall also offers a fine acoustic for detail to be heard - so any attempts at using unwritten masking agents or nefarious camouflage should be picked up in the tent by the judges Michael Ball and Philip Sparke. And who should know better eh?
Variance in quality

The variance in quality at Blackpool was marked to say the least - from the very poor to the outstanding, with quite a few stops in between. To put it bluntly - it could well be the same here. It's the result of an enforced promotion and relegation system that has become bloated by mediocrity.
Yorkshire's proud Albert Hall record has been hard won over the years, and given the very best quality of the top bands here, the region should send a trio of contenders more than good enough to return home in October with yet more silverware to their name. It should be a cracker.
---
Who will win?
As ever, a hard one to call - with potential winners, let alone qualifiers just about everywhere you look.
The defending champion is a bit of an outsider this year as Carlton Main has undergone quite a few changes in personnel (including a new MD). You can never write them off though, and with Russell Gray at the helm they could be the ultimate stalking horse.
Meanwhile, Brighouse & Rastrick should feel a little more relaxed as they have already booked their London accommodation. Leigh Baker takes the helm at a band that could just be in the mood to deliver a pounding warning shot to rivals - and especially to their most famous near neighbours ahead of the Europeans in a few months time.
With no pun intended, Black Dyke could well play their cards closer to their chest - but after hearing their MDs winning interpretation last week with his old alma-mater at Foden's, another typically detailed, balanced and well-paced account could see them hold the aces.

Inspired

If any band can be inspired to beat them though it must be Grimethorpe, who continue to build a head of contesting steam The Flying Scotsman would find hard to match. After the Open and Brass in Concert titles already won you suspect Bob Childs would like to add a first Yorkshire victory to his CV in 2016.
The other fancied runner could be Rothwell Temperance, who is due a bit of luck here under Dave Roberts. This may also be the type of ensemble piece that suits their strengths to a tee, so don't be surprised if they are right in the mix come the results once more.
Outside that high quality quintet it seems harder to see an upset - although Hammonds Saltaire and Hepworth (who impressed at Preston) will be looking for a top-six finish at least. The remaining bands could be drawn into a battle amongst themselves - but in Yorkshire you never know.
Marsden has gained a fine record here over the years - one which they aim to maintain with John Hinckley at the helm, whilst Yorkshire Imperial showed their emerging quality with an excellent top-six finish last year.
Meanwhile, City of Bradford has already given the piece an early season run-out at Preston and will be looking to build on that, whilst the likes of promoted Unite the Union and Strata will also be keen to make their mark.
4BR Prediction:
Another leviathan battle seems to brewing - one that could see Black Dyke and Grimethorpe battle to raise the Regional Trophy in triumph - if they both play to the peak of their form.
That could mean the perennially unlucky Rothwell Temperance just missing out again, whilst a relaxed Brighouse & Rastrick could be looking towards French horizons with more steely-eyed intent.
Carlton Main and Hammonds Saltaire should make up the top-six with Hepworth taking on the dark horse mantle.
1. Black Dyke
2. Grimethorpe Colliery
3. Rothwell Temperance
4. Brighouse & Rastrick
5. Carlton Main Frickley
6. Hammonds Saltaire
Dark Horse: Hepworth
---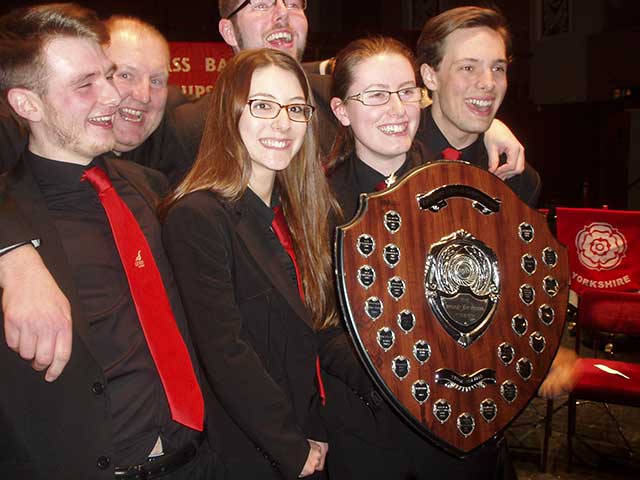 2015 Champions: Unite the Union

First Section:
Sunday 6th March
Commences: 10.00am
Test Piece: Essay (Edward Gregson)
Adjudicators: John Doyle and Howard J Evans
Chapeltown Silver (Andrew Dennis)
Clifton & Lightcliffe (John Clay)
Cornerstone Brass (Damian Wileman)
Drighlington (John Roberts)
Elland Silver (Daniel Brooks)
Hade Edge (Jonathan Beatty)
Hatfield (Stan Lippeatt)
Hebden Bridge (Alan Hobbins)
Knottingley Silver (Kevin Belcher)
Lindley (Ian Knapton)
Meltham & Meltham Mills (Norman Law)
Skelmanthorpe (Jim Davies)
South Yorkshire Police (Grenville Moore)
Yorkshire has produced its fair share literacy greats over the years - from the Brontes to Alan Bennett, Acuin of York to J.B. Priestley, so hopefully the thirteen contenders on Sunday morning should know their way around the scholarly structures of Edward Gregson's lean musical novella.
Difficult to master

As we said before Blackpool, 'Essay' is the perfect form of artistic critique; cultured, reasoned, academic - a sublimely realised symphonic study set out in the type of refined prose that even the best bands at the Winter Gardens found difficult to master.
It starts with the thematic material of the flowing 'Dialogue' before segueing into a sparse 'Soliloquy' and a final, spiky 'Epigram'. Bands will need to bring out the musical elements without losing lucid control of the technical boundaries - but all will know that by the time they come to the last page of the very last chapter they will have been given a thorough examination of their top-flight credentials.
Intonation

One element that really did jump of the page so to speak in Blackpool was the poor intonation and lack of ensemble balance - especially in the central 'Soliloquy'. At this level those things should be at pretty decent default setting.
Even though Yorkshire hasn't claimed the National title since 2012 and last year's qualifiers came 7th and 16th, the last few years at Cheltenham has seen seven top-six finishes, so whoever gets the nod from John Doyle and Howard Evans should be contenders to fear.
---
Who will win?
These are bands with ambition - as four top-six finishers at the Butlins Mineworkers Championship in Skegness - including a top-three of Hebden Bridge, Drighlington and Skelmanthorpe, showed.
Good odds then on that trio locking horns again, especially as they are led by sharp witted MDs who know the difference between a parentheses and a parlando.
There are also decent prices at the bookies for the likes of Cornerstone, Hatfield and Elland Silver - all on the upward curve of progress - and the dependably solid Meltham & Meltham Mills, Hade Edge and South Yorkshire Police amongst others.
John Doyle and Howard Evans could well be forced to read every chapter of this 'Essay' over and over again before revealing their winner.
4BR Prediction:
A difficult one to call - very difficult in fact. Butlins may offer a something of a form guide, but the bands played a very different type of piece there.
Confidence should play a part though, so we are just edging our betting slip 50p to Drighlington and Skelmanthorpe to get the qualification nod, just ahead of Hebden Bridge and Elland Silver. Our other top-six tips are Knottingley and South Yorkshire Police ahead of our dark horse of Cornerstone Brass.
1. Drighlington
2. Skelmanthorpe
3. Hebden Bridge
4. Elland Silver
5. Knottingley Silver
6. South Yorkshire Police
Dark Horse: Cornerstone Brass
---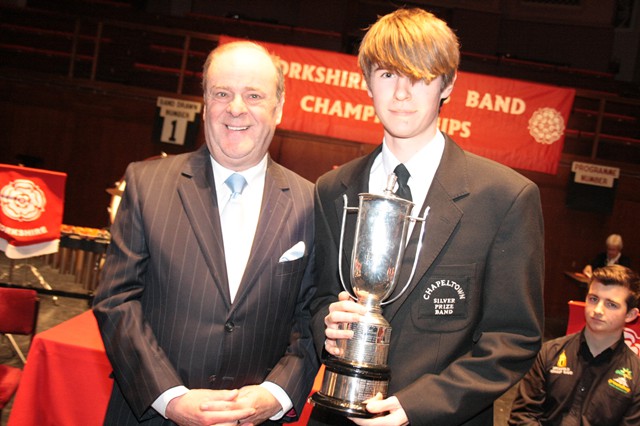 2015 Champions: Chapeltown Silver

Second Section:
Saturday 5th March
Commences: 4.15pm
Test Piece: The Mermaid of Zennor (Philip Harper)
Adjudicators: John Doyle and Philip Sparke
Barnsley Brass (William Rushworth)
Dinnington Colliery (Lindon Bolt)
Emley (Garry Hallas)
Frickley/South Elmsall (Kyle Blake)
Horbury Victoria (Duncan Beckley)
Kippax (Jack Smith)
Old Silkstone (Sam Fisher)
Skelmanthorpe Prospect (Philip Garlick)
Slaithwaite (Robert Westacott)
Stannington (Derek Renshaw)
Wakefield Metropolitan (Stig Maersk)
Yorkshire has a famous history of myths and monsters from the sea - from Count Dracula landing to sink his fans into local maidens in Whitby to Grindylows drowning errant kids who come too close to the water's edge around local bogs (which is not a local term for the outside loos in Bradford).
Piscean love story

Plenty to tickle the fancy then with Philip Harper's Piscean love story - one that will hopefully inspire the eleven bands to produce some pretty exciting, colourful accounts.
The narrative line of 'The Mermaid of Zennor' may well be easy to follow in the three contrasting movements, but it still asks searching questions of good contesting basics; from the ability to create the feel of the lilting waves in the opening 'The Sea and Seafaring', to the hymnal qualities of Axbridge and the warm euphonium lead in 'At the Church'.
It's all rounded off with pitchforks and burning torches as the locals chase after the salty lovers as they head back to a life under the waves.
Place, people and events

The competitors at Blackpool certainly gave it their best shot, although the judges there felt that only a couple really managed to marry both the technical and musical aspects together to give the music what they felt was the essential sense of place, people and events. One element they felt was lacking was the ability to capture the lilting swell of the waves in the opening section - as MDs stuck to a rather rigid beat.
Any spies from these parts kept themselves well hidden at the Winter Gardens so we will see if John Doyle and Philip Sparke will be faced with the same problems as well-matched rivals take to the stage on Saturday afternoon.
Yorkshire hasn't tasted success at the Finals since 2003, and Old Silkstone's sixth place was the first time a band from the region had been given a mention off the stage since 2012. Much for the qualifiers to sort out come September then.
---
Who will win?
No real out and out favourite it must be said, as early season form has been a bit patchy and varied.
Frickley/South Elmsall will still be riding a wave of confidence after their victory on this piece at Brass at the Guild, although Slaithwaite could be a band to watch out for if they can muster a bit more contesting luck than was on show for them at the Guild Hall.
Vastly experienced

The vastly experienced duo of Derek Renshaw and Duncan Beckley certainly know how to construct a qualification winning performance, and have two solid looking bands under their command in Stannington and the newly promoted Horbury Victoria.
Old Silkstone may well be the band to beat though if they have been able to build on the form that saw them qualify last year and go on to claim sixth place at Cheltenham, whilst Skelmanthorpe Prospect and relegated Wakefield Metropolitan could be a pair of dark horses alongside Kippax, if they have put behind them the bad memories of their last trip to the sea at Skegness.
The rest may just have to battle it out for a possible top-six finish - but as always here in Bradford you never know...
4BR Prediction:
It doesn't get any easier to fire up the traditional hi-tech 4BR computer programme to try and guess a potential winner here.
That said, Old Silkstone may just have enough about them to pip their rivals, with the likes of Stannington and Slaithwaite close behind. Frickley/South Elmsall will be full to the brim with confidence whilst Skelmanthorpe Prospect and Dinnington Colliery could nip in for a top six finish, alongside our dark horse of Kippax.
1. Old Silkstone
2. Stannington
3. Slaithwaite
4. Skelmanthopre Prospect
5. Frickley/South Elmsall
6. Dinnington Colliery
Dark Horse: Kippax
---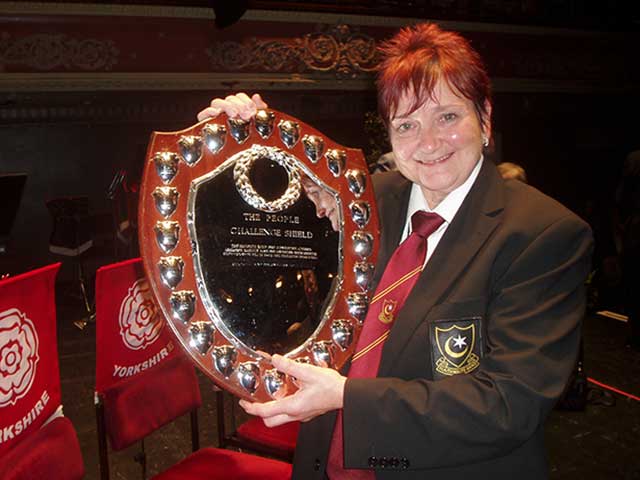 2015 Champions: Slaithwaite

Third Section:
Saturday 5th March
Commences: 9.15am
Test Piece: Cambrian Suite (Michael Ball)
Adjudicators: Dr Robert Childs and Michael Dodd
Armthorpe Elmfield (Haydn Griffiths MBE)
Barnsley Metropolitan (Alex Francis)
BD1 Brass (Chris Lewis)
Clifton & Lightcliffe 'B' (John Clay)
Crofton Silver (Dean Jones)
Dodworth Colliery M.W. (Eliot J Darwin)
Dronfield Genquip (Simon Kerwin)
Maltby Miners (Terry Clifford)
Oughtibridge (Gavin Somerset)
West Yorkshire Police (Kevin Wadsworth)
Wetherby Silver (Michael Crowther)
Worsbrough Brass (John Roberts)
Michael Ball's test piece was something of a Celtic conundrum in Blackpool, with its detailed notational and descriptive instructions causing no end of problems for the competitors.
It wasn't as if it was written in Welsh either (apart from the names of the three movements), but as the judges inferred, it was as if some MDs interpretation skills were in need of a musical Rosetta Stone.
Horizontal and vertical

Michael Fowles called it 'horizontal and vertical' reading; that found above and below the staves.
Those who have played a number of Michael Ball works in the past will know what he meant: He is a composer who has a very specific sound and tempo remit in his mind - and one that he clearly lays out in his scores.
Hopefully the conductors here won't be as musically monoglot - and as Mike said, it was rather puzzling, especially on a work that was commissioned at youth band level to hear so many conductors miss the mature opportunity to showcase Ball's musical intentions right from the very first bar.
Ice-cream seller from Rourke's Drift

There may not be too many relatives of Welsh Italian stock in these parts, but you don't have to be descended from an ice-cream seller from Rourke's Drift to capture the opening pride of 'Men of Harlech' - even in rather fragmentary form.
'Suo Gan' has been sung almost as often as 'Delilah' and 'The Rising of the Lark' is as familiar as a Max Boyce rugby song - so all the MDs need do is find that little bit of Welsh hywl that must bubbling in their musical haemoglobin somewhere - even if they may not like to admit to it.
They may need to as well, with Dr Robert Childs and Michael Dodd in the box.
---
Who will win?
Yorkshire's record at the Finals has been pretty good since 2010 - with one victory, three runner-up successes and a fifth place to their name (last year by Horbury Victoria).
And with four bands in the top-eight at Butlins earlier this year (including winners Crofton Silver), whoever gets the nod should be confident of flying the White Rose flag with pride come Cheltenham. Just the one band (Oughtibridge) decided to give the piece an early season outing at Preston, so there is not a lot of recent form to go by.
4BR Prediction:
Another hard one to call, although if Crofton can repeat the form they showed at Butlins they could well be the band to beat. Dronfield were not too far away in Skegness and seem to be rebuilding quickly after their relegation, whilst Maltby Miners also put in a very solid effort there.
The ambitious BD1 Brass sounded more than capable of making the step up from the Fourth Section at the National Finals (where they were a touch unlucky not to have won), whilst Clifton & Lightcliffe B and promoted Oughtibridge could well be snapping at potential qualification heels, alongside our dark horse of West Yorkshire Police.
1. Crofton Silver
2. BD1
3. Dronfield Genquip MW
4. Clifton & Lightcliffe B
5. Maltby Miners
6. Oughtibridge
Dark Horse: West Yorkshire Police
---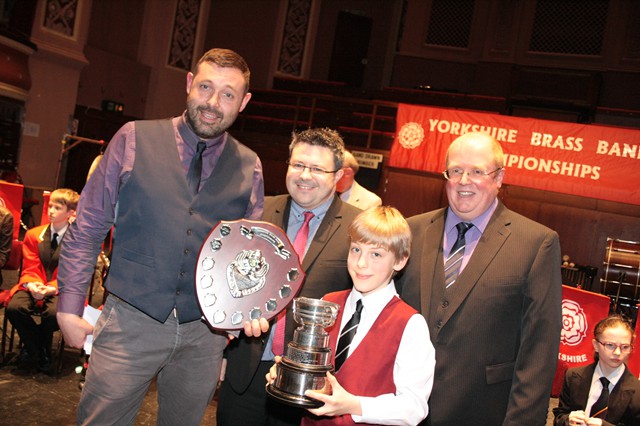 2015 Champions: BD1
Fourth Section:
Saturday 5th March
Commences: 12.45pm approx
Test Piece: The Journal of Phileas Fogg (Peter Graham)
Adjudicators: Mike Kilroy and John Winterflood
Deepcar (Cathryn Rogers)
Friendly Band (Sowerby Bridge) (Neil Robinson)
Gawthorpe Brass '85' (John Edward)
Huddersfield & Ripponden (Adam Bell)
Linthwaite (Tommy Tynan)
Lofthouse 2000 (Andrew Whitaker)
Loxley Silver (Lee Dunkley)
Rockingham (Adam Whittle)
Thurcroft Welfare (Matthew Wright)
Tingley (John Belton)
Proud Yorkshire folks may well honestly believe that there is no better place on God's good earth than the green acres to be found within their own county boundaries - but those with less White Rose tinted glasses who have ventured further than Scarborough for their holidays will surely have enjoyed themselves away from their beloved homeland.
Holiday rep

They certainly would have done if they had booked Jules Verne's Phileas Fogg as their holiday rep - with a cracking travelogue tour of the sights and sounds of London, Paris, the Russian Steppes, Vienna, Spain and a curious touch of Australasia thrown in for good measure on his 80 day tour itinerary.
Peter Graham's cracking test-piece also brings his adventures to life in a series of enjoyable stereotypical cultural vignettes - put together with a great eye for detail, colour and texture.
Caused problems

It's also a work that has already caused a few problems - especially the elegant waltz, so any bands that haven't taken their travel pills may find themselves missing out on the chance of booking a weekend away in the delightful surroundings of Cheltenham.
It's also a great test of good banding basics - something Kevin Wadsworth pointed out at the Winter Gardens. The pictures postcards only make sense if they are not smudged by poor intonation, dynamics imbalances and poorly observed tempos.
Much for Mike Kilroy and John Winterflood (who will have tasted a quite a few exotic lands in his old army career for certain) to enjoy, compare and contrast.
---
Who will win?
Last year Yorkshire came mighty close to claiming a first Fourth Section National title since 2006, so whoever gets through this time will be determined to go one better than BD1.
It's a pity that there are only ten competitors this year (no bands relegated from the Third Section) as you would have thought this would have been the type of piece to enthuse players at this level, and there isn't much early season form to fall back on either - with only Thurcroft (5th at Butlins) and Loxley (9th at Preston) really venturing out.
4BR Prediction:
A bit of a stab in the dark then to pick a potential winner (when isn't it we hear you say) – so we are pinning our hopes (or kiss of death curse) on Lofthouse 2000 (sorry folks).
Joining them on the trip to Cheltenham could well be Thurcroft Welfare, with Rockingham, Gawthorpe Brass '85, Deepcar and Huddersfield & Ripponden close behind. Our dark horse is the returning Linthwaite.
1. Lofthouse 2000
2. Thurcroft Welfare
3. Rockingham
4. Gawthorpe Brass '85
5. Deepcar
6. Huddersfield & Ripponden
Dark Hose: Linthwaite