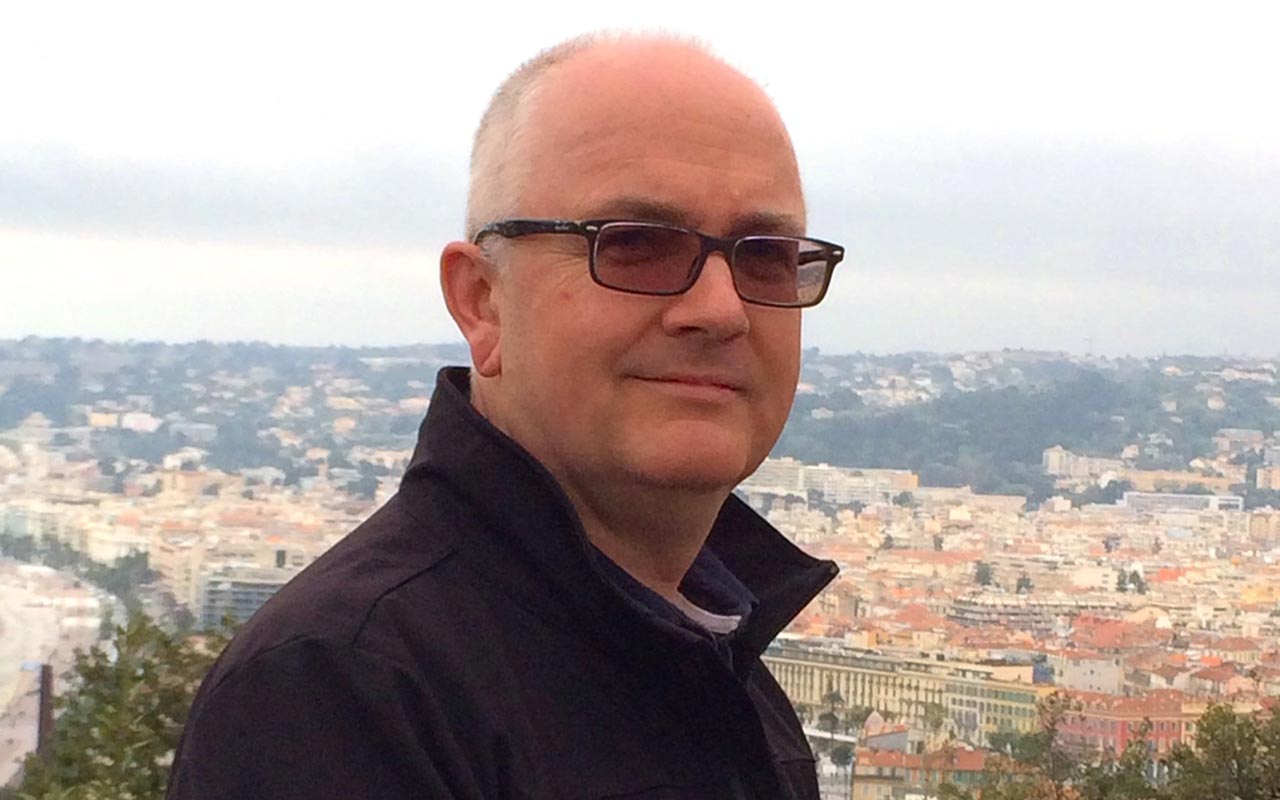 A Triumph of Time from composer Peter Graham
There must be something of the Jason Bourne about Peter Graham.
Years after his initial youthful exploration to find exactly what the 'essence' of his time-line identity was, he's at it again. Journeys of supremacy, ultimatum and legacy have finally reached a mature, triumphant conclusion - and a reflection on times past, present and future.
We have though, perhaps come to the final instalment of the blockbuster series for them both.
The Essence of Time

In the Scotsman's case it all started out with the biblical reference from The Book of Ecclesiastes that inspired his outstanding 1990 European set-work, 'The Essence of Time' and its various highly successful spin-offs. Bourne had more and more baddies to kill before finding out he was named after the scorer of the winning goal in the 1970 FA Cup Final.
Plot twist

In a neat plot twist film director Paul Greengrass would envy, 'The Triumph of Time' was commissioned by Prof Nicholas Childs for Black Dyke to play at the 2014 European Championships in Perth.
As the composer says in his preface: "As I began preparations for the commission it occurred to me that 2014 marked the 25th anniversary of one of my earliest works for brass band - 'The Essence of Time'. Listening to the piece for the first time in a number of years I was struck by its energy, optimism and sheer joie de vivre.
Reflecting on these impressions I wondered if I might capture something of the spirit of The Essence of Time in a new work, and whilst not using any of the existing musical content perhaps draw upon some of its structural elements.'
Triumphant sequel

Subsequently, as a European contesting ultimatum it enabled Black Dyke to win the 'own-choice' discipline of the event, although they failed to claim the overall crown - leaving the neat future possibility of a release date for that triumphant sequel.
This special edition 'Director's Cut' re-issue for the British Open is therefore a crafty choice by the organisers (the CD of chiming bells at the opening has been left out and there have been a couple of other tweaks to keep it around 16 minutes in duration).
Very popular

Peter Graham's music is transparent and accessible in both structure and style: He is a fine tunesmith (he certainly took the sage advice of Dr Ronald Holz to heart) and an expert craftsman who understands just where the limits of ensemble and solo technical virtuosity lie. 'The Triumph of Time' will surely prove to be a very popular choice with a packed Symphony Hall audience.
There are of course inherent dangers in returning to an iconic original for fresh ideas (just ask the producers of the new 'Ben Hur' film), but despite being accused of occasionally delving into the 'Treadstone' black arts of score writing camouflage, this work has a clearly defined schematic blueprint that will leave no player, conductor and adjudicator alike in any doubt about his specific intentions.
No advantage

That said, much has been made of the Black Dyke connection so soon after it was used by them at the Europeans, but having heard it performed most recently at the Swiss National Championship in Montreux, any perceived advantage the Queensbury band will have is negligible. There are more than enough outstanding bands on show this weekend that can play this piece in true blockbuster fashion.
It is a work as the composer states, of 'roughly the same moods and characteristics of its older relative'- although the 'fast and brilliant' 168 marking just after the emerging filigree infused opening is a mf 'time to dance' not even Fred Astaire could keep up with in his prime.
Early focal points

Early focal points come with two stunning displays of almost impossibly written virtuosity from the euphonium and cornet (a 'time for bloody well showing off' perhaps), whilst the fast-flowing demi-semi quaver ensemble work (nearly all at a pianissimo dynamic before building in intensity) pulsates with high precision energy.
There are also moments of clever, bone-dry wit: The knocking woodblock that echoes the old timepiece undercurrent of 'Harrison's Dream' and a thumping blues interlude that swaggers in style, and is so much more than just a lip trill showcase for the solo (and second) trombone.
Loom pants and tie-dye shirts

You suspect the composer has sat through quite a few episodes of old 1960s American cop shows of an afternoon. There is a great feel of an episode set in a grubby east-side LA bar about things - all flared loom pants and tie-dye tops as Frank Cannon, Chief Ironside and the rest of the Police Squad look for suspects. Jerry Goldsmith couldn't have done it better.
In contrast, a little later there is an almost Bruckner feel to a perfectly formed trombone trio (and where have we heard that before?) that sets the foundation on which the horn and tuba have to deliver deceptively simple looking ad lib cadenzas.
More emotive moments are also shaped with care and attention to detail and style - although not quite as saturnine in outlook as a 'time to die or a 'time to mourn' as the baritone and tuba cadenzas lead to the expressive solo cornet solo at letter Q.
Plaintive lead

The flugel also takes a wonderful plaintive lead (marked semplice e molto cantabile) at rehearsal letter AA, followed by a trademark Graham feature of a pianissimo ensemble chorale (marked Adagio) before the reprise for home.
The glorious recapitulation is the composer at his best - driving things to a conclusion that throbs with passion and justification - and an interesting penultimate bar that an unwary MD may misinterpret.
What really stands out however is the precision and control required to make the music come to life - not just in rhythmic accuracy and clarity, but the way in which it so neatly changes in modulation without losing the underlying pulse and sheen of brilliance.
Knock off Rolex

Get it wrong, or try and find an easy fix (listen out for what should on or off the beat) and don't be surprised that the judge's quickly know that it wavers like a knock-off Rolex watch.
The composer has brought us a work of richly engaging interest and substance that pays a subtle homage to an original that still beats with musical relevance even after a quarter of a century of re-invention.
Peter Graham as Jason Bourne: Both are worthy heroes of their chosen 'Time'.
Iwan Fox