Fourth Section:
Saturday 8th September
Draw: 1.00pm
Start: 3.00pm
Adjudicators: Dr Robert Childs and Gary Davies
Set Work: Music from Kantara (Kenneth Downie)

Brass Sounds Inverclyde (Christopher Mansfield)
Castleton (Peter Ryan)
Cheltenham (Nigel Galliott)
Cleobury Mortimer Concert (David Maplestone)
Crystal Palace (Michael Gray)
Dunfermline Town (Andy Shaw)
Formby (Louise Hough MBE)
Hatherleigh (Matt Green)
Jayess Newbiggin (Andrew Griffiths)
Knaresborough (Steve Morland)
Lofthouse 2000 (Andrew Whitaker)
Lydney Town (Kevin Ford)
Moulton 77 (Nicholas Garman)
Newport Borough (Robin Hackett)
Phoenix (Goodwick) (Luke Jenkins)
Rockingham (Adam Whittle)
Syston (Chris Banks)
Thornton Cleveleys (Stephen Craig)
Witney Town (Rhys Owens)
---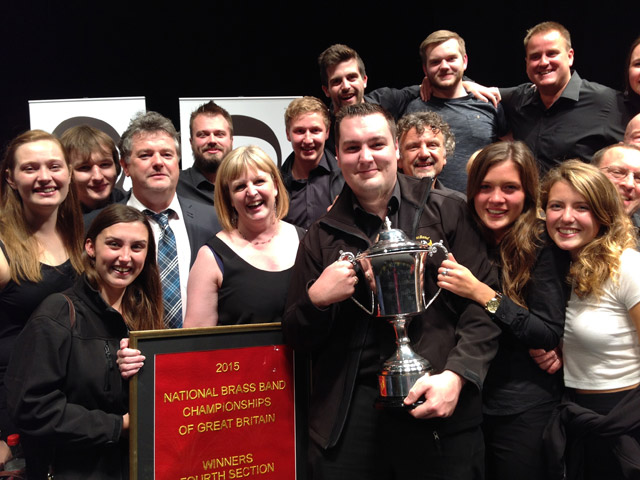 2016 National Champion: Usk
There is more music of clearly defined refinement to enjoy in the Fourth Section which rounds off the first day of action at Cheltenham.
Kenneth Downie's concisely structured 'Music from Kantara' has already proven to be a popular choice at championships around the world since it was written in 1993 for the National School Band Association Composer Competition and dedicated to Watership Brass.
It has since been heard from Tasmania to North America, Switzerland to Prestatyn, and quite a few others contest stops in-between, testing youth bands and adult bands alike. On hearing and playing it you can certainly tell why.
Prosaic origins
Despite the exotic sounding title, its inspirational origins are somewhat prosaic.
When the composer and his wife moved into a new home near Winchester they were intrigued to find it called 'Kantara'. Not wanting to upset the outgoing owners, and wishing to find out more, they decided to keep the name.
Some judicious research found that Kantara was in fact a ruined castle in Northern Cyprus which the previous owners had once visited.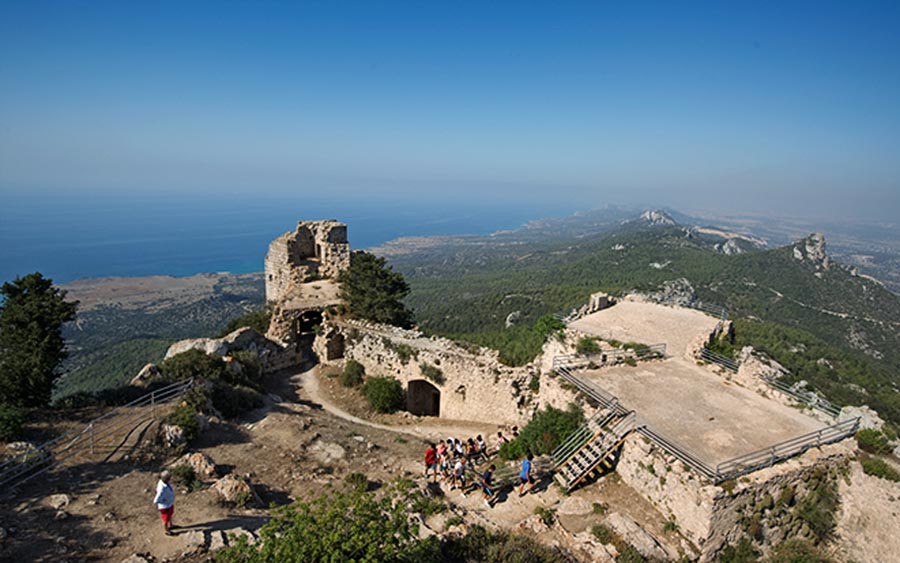 The inspiration behind the work
Tosca
It was built by the Byzantines in the 10th century as a lookout post against raiding Arabs (although by the 20th century in the leafy suburbs of Winchester you would have thought the threat would have subsided), and a picture of it was left hanging on the wall for the new owners to enjoy.
It certainly had a colourful history, although it will be hoped that conductors who don't feature highly won't follow in the footsteps of a former noble resident who threw herself to her death out of her bedroom window when the bailiffs came knocking on the door.
Done and dusted
The work is in no way descriptive (so thankfully there will be no Tosca style finale for heartbroken MDs) but contains a trio of movements each with an engaging musical character of its own - from a light hearted 'Spiritoso' followed by a lyrical middle section and an animated 'Presto' finale. It's all done and dusted within 9 minutes or so.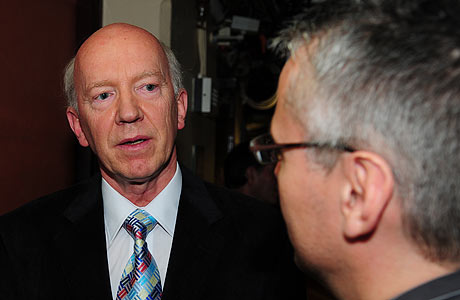 The composer Kenneth Downie
The opening is bright and breezy (reminiscent of those up tempo Salvation Army marches in places) tapped at a 132 beat trot that brings out the neat syncopation and rhythmic patterns boldly played by the baritones, euphs and horns.
Technically it should be well within the grasp of the best bands (and the perc work is not over taxing either), although there are moments when the ensemble timbre needs a darker hue of minor texture.
Languid
The languid middle section does ask questions of leading solo lines (opening on the euph and solo cornet), but steady nerves and a confident sense of lyricism should see players through. It sounds a little bit like Gallic impressionism in places; a melancholic sigh of longing wrapped up in a fog of Gitane cigarette smoke. It's quite lovely.
Fruity bass trom
It gives way to the finale - pushing on with a 144 pulse rate, that although urgent and vibrant, still needs control. It's a bit stop-start in places, but it whisks through with bubbling enthusiasm (as in the first movement, aided by a fruity bass trom line) that sounds like the theme music from an American sit-com.
It comes to an end with a perfect show of ensemble control - and a Bb major chord that will show if a band can showcase the basics as well as the bling in their bid for the National title.
---
Who will win?
19 ambitious rivals should all feel confident of doing well on this piece and it could be a fine afternoon's entertainment for Dr Robert Childs and Garry Davies in the box.
Both know what it takes lead a band to a National title or two - Bob with Cory and Gary with Tylorstown, although any conspiracy theorists may not want to start chuntering on about any far-fetched notions that the two Welshmen will automatically favour their brethren.
Wales
You do not need to be a fan of the 'X-Files' to know that Wales has already got a pretty decent record at this event in the past few years anyway - winning title on four of the last five occasions.
And this year it will be the impressive duo of Area champion Phoenix (Goodwick) and Newport Borough who will be looking to add their name to a recent roll call of honour that includes Mellingriffth 2, Ebbw Valley, Northop Brass and Usk.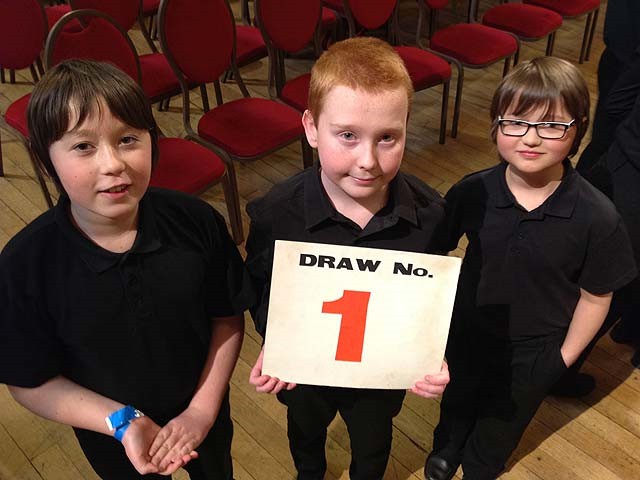 The next Welsh World Cup winning front row from Phoenix (Goodwick)
London & Southern Counties
Impressive quality is starting to qualify from the quantity of bands at Stevenage each year now, with highly competitive outfits once more battling it through in the shape of Area champion Castleton, Crystal Palace and Witney Town.
Castleton came 11th last year and have continued to make progress under MD Peter Ryan, whilst Crystal Palace certainly showed at Butlins earlier this season, and again at the scaba event, that they are a solid outfit under Michael Gray.
What of Witney though, as Welshman Rhys Owens led them to a remarkable first National qualification since 1973, after coming 18th and 17th the two years before? That's 'Brassed Off' film territory if they win here.
North
We think you have to go back to Boldon Colliery in 1984 for the last time the North of England celebrated success, but the Area has been punching above its weight of late and in Area champion Jayess Newbiggin and Knaresborough they send bands very much on the contesting up.
Andrew Griffiths is doing a grand job at Jayess and has already led them to the Durham League title, whilst Steve Morland brings back his band looking to climb up the results table after coming 14th last year.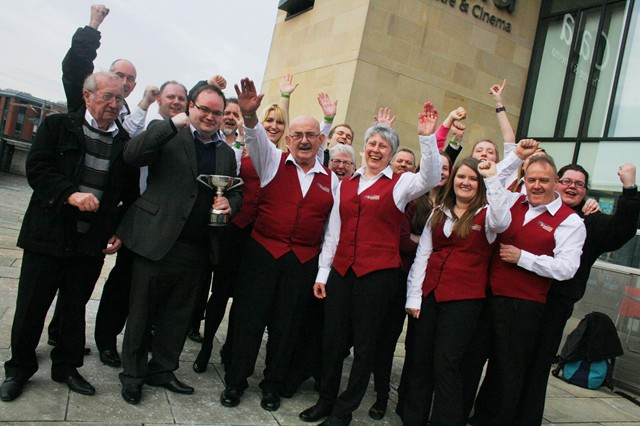 Jayess Newbiggin celebrate their Area success
Scotland
However, you may need a time machine to go back to the last time Scotland beat all comers here - to 1973 in fact when RNR Dundee was triumphant.

However, there have been signs that they are getting close again (Whitburn Heartlands came 4th last year), so hope springs eternal for champion Brass Sounds Inverclyde and Dunfermline Town.
Inverclyde make their first appearance since 2011, whilst Dunfermline last took to the stage in 2009, but with a brace of talented MDs they could be dark horses for a mention in the top-six dispatches.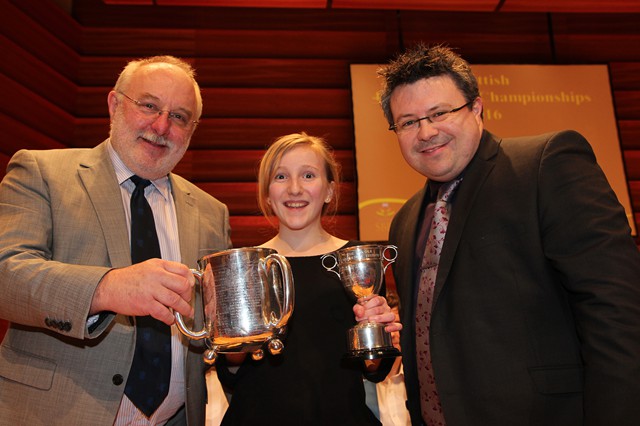 A rose between... Brass Inverclyde's delight at becoming Scottish champion
North West
Not that long ago the dominant Area force here was the North West, but the Area last tasted title success in 2010. This time they send a quality pairing in Area champion Thornton Cleveleys and former National winner Formby.
Both are led by talented musicians and although Thornton is making its Finals debut, they have a consistent record of achievement in the highly competitive local contesting arena, whilst Formby certainly showed signs in coming 9th last year that they are starting to mature into a force once more.
West of England
Torquay provided one of the best Fourth Section Area contests of the year, so if champion Hatherleigh and fellow qualifiers Cheltenham and Lydney play to that form again then one or more of them should be in with a shout of title success.
Recent results show that Hatherleigh is certainly a band on the up under MD Matt Green, whilst Cheltenham may not have to come too far to take to the stage, but as they showed in winning at Wychavon last year, they are also pretty good on their travels too.
It's also good to see Lydney back at the Finals for the first time since 1997 as Kevin Ford continues to weave his magic with the baton.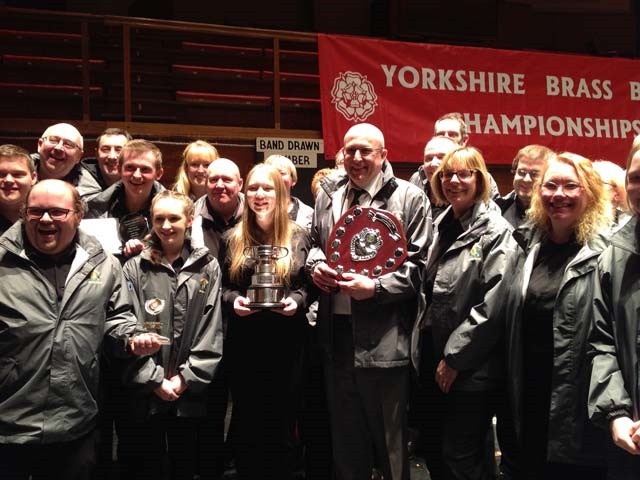 All smiles for Lofthouse 2000 as a proud Yorkshire champion
Yorkshire
Yorkshire came close last year to adding to the honours board for the first time since 2006 and hopes will be high that Area champion Lofthouse 2000 and Rockingham can return home with a podium finish between them.
It's great to see Lofthouse here after all the malevolent stupidity of a spiteful internet troll took the gloss off their fine win at Bradford, whilst Rockingham should also enjoy their return (they came 4th in 2014) after Adam Whittle led them to qualification success at St George's Hall on his contest debut.
Midlands
Finally the Midlands, and a trio of bold challengers in the shape of Area champion Cleobury Mortimer Concert, alongside Syston and Moulton 77.
You have to go back to 2001 for the last time the Area celebrated a victory, but in Cleobury under David Maplestone they may have one of the pre-contest favourites.
Syston is also making excellent progress with Chris Banks at the helm as they make their Finals debut, whilst well known cornet player and adjudicator Nicholas Garman has been making his experience pay dividends at Moulton 77, as they return to Cheltenham for the first time since 2013.
---
4BR Prediction:
We heard a number of excellent winners and qualifiers around the country this year, but none were quite as good as the remarkable Phoenix (Goodwick) in Wales.
They really were a chip off the old block of their senior counterparts (and they have won two Nationals in recent years), so they could well be the band to beat.
Cleobury Mortimer was also superb in the Midlands, whilst Crystal Palace is in a very good vein of form. Lofthouse 2000 and Hatherleigh will take some beating and Formby seem to be rising back to title winning prominence once more.
There are plenty of dark horses around, but we've opted for Thornton Cleveley and Castleton.

1. Phoenix (Goodwick)
2. Cleobury Mortimer
3. Crystal Palace
4. Lofthouse 2000
5. Hatherleigh
6. Formby
Dark Horses: Thornton Cleveley, Castleton