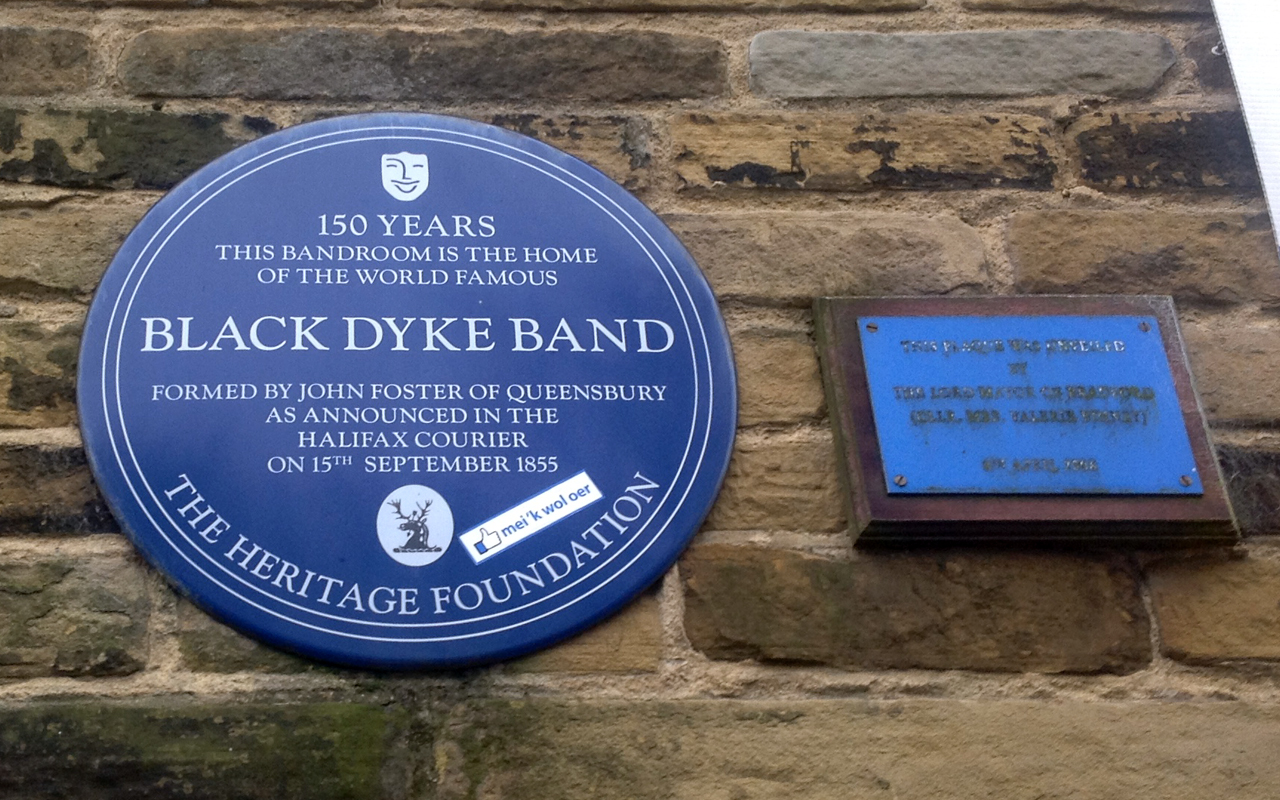 A history like no other: The Blue Plaque on the bandroon wall

No one has a heritage like Black Dyke. They are the famous brass band in the world.
Formed in 1855 their identity has secured iconic status; musically, socially and culturally. However, until now, it has also been one that has never really been fully explored in a broader context.
Global reach
Soon that will change though, as the most evocative of histories will be able to be accessed globally through the opening of the Black Dyke Heritage Centre based at their bandroom in the heart of the Yorkshire village of Queensbury.
It has been a remarkable achievement; a painstaking project of insight and innovation that will now enable supporters, researchers, historians and brass band lovers to delve into the priceless treasure troves and archives of a brass band like no other - and place them where they truly belong.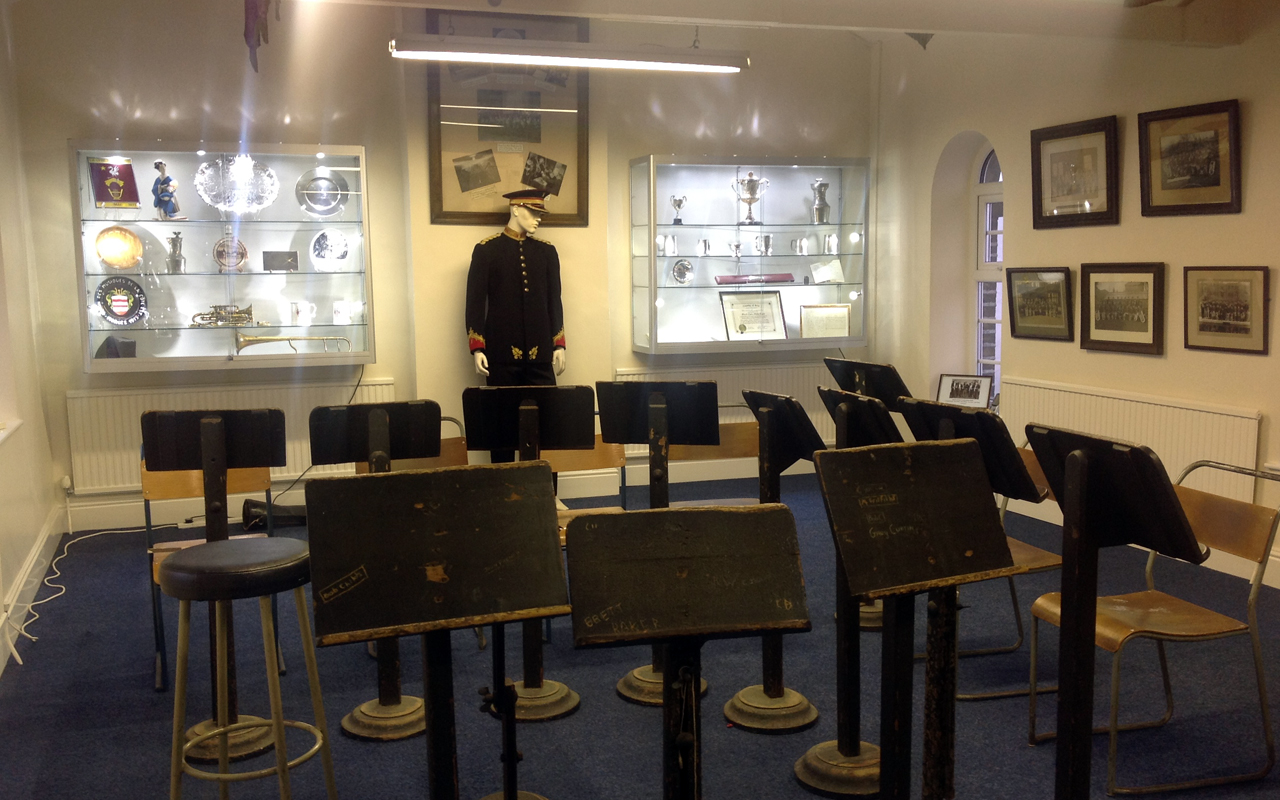 History comes alive at the most famous bandroom in the world
Trophies and memorabilia will be displayed next to personal effects, documents and artefacts; a state of the art website will lead on-line visitors through a bandroom tour aided by audio and visual descriptions. Recordings and manuscripts - some well over 100 years old, have been digitised to enable people to enjoy legendary Black Dyke performers of yesteryear once more.
New CD recordings
In addition, two new CD recordings of historic music will be made available, whilst oral recollections from leading personalities linked to the band will recall firsthand experiences for posterity.
Educational resources will encourage a new generation to become enthused and involved. Volunteers have been trained and artefact histories extensively researched. QRCoding and formal links to other bodies will open up new avenues of exploration and research - through the use of mobile phones to local tourist information boards.
Ambitious
"We can now see a new chapter in the creative life of Black Dyke being opened," Band Secretary David Hirst told 4BR when we looked in on the project's progress since the announcement was made of the award of £61,500 from the Heritage Lottery Fund (HLF) towards total funding of £94,500 earlier this year.
"The Heritage Centre is one of the most important milestones in our development as a musical organisation with worldwide appeal. It's also an ambitious project that will continue to grow - increasing understanding as well as enjoyment of what Black Dyke represents, both musically as well as culturally."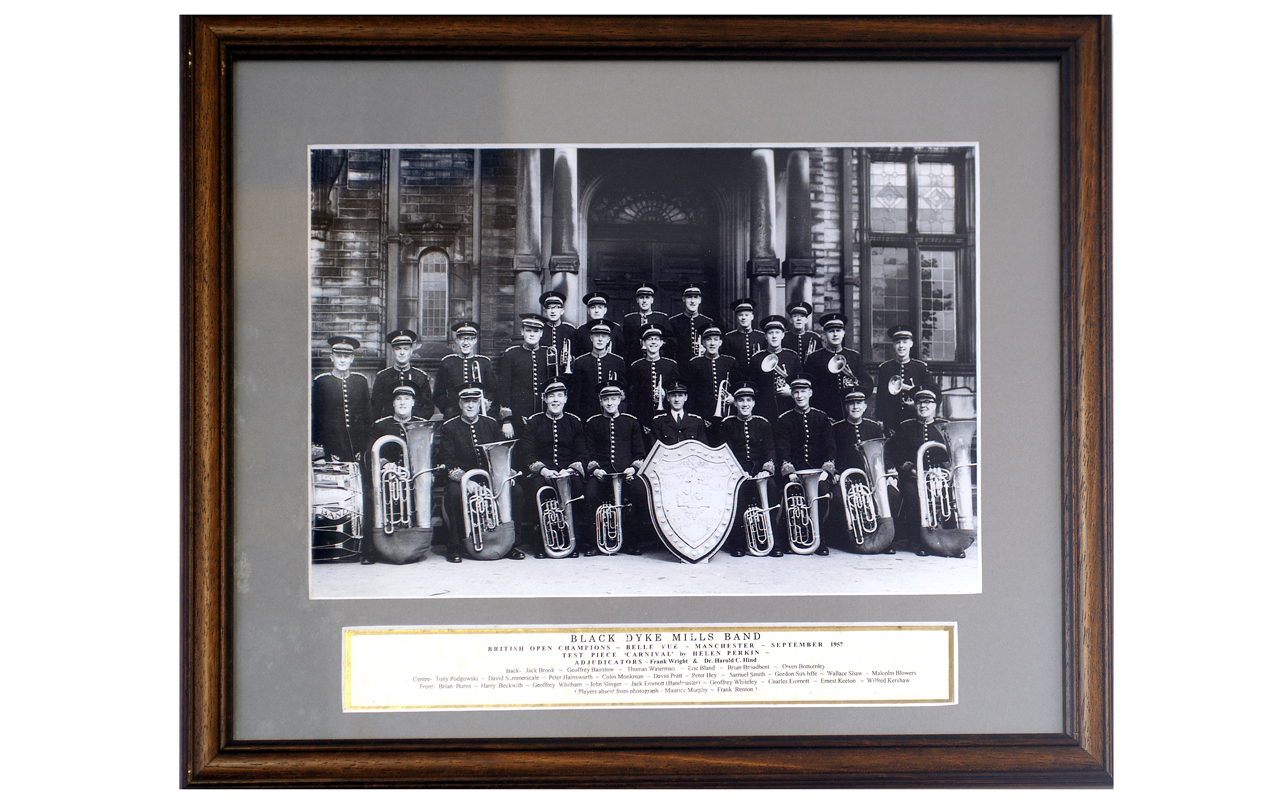 Famous line-ups gaze at you from the walls

With over 150 years of contest wins and concert tours, recordings, musical firsts, triumphs and the occasional disasters to recall, David admitted that they could have filled the Royal Albert Hall, let alone the surprisingly compact historic rehearsal room in the bandroom.
Shiver down the spine
However, walking into the upstairs room can still send a shiver down the spine. The sturdy old black wooden stands remain in place; etched with names of famous players who made sure their contribution to the band was not lost on those who followed in their footsteps.
Now though they are surrounded by three humidity controlled display cases which house evocative artefacts and trophies, whilst the walls are adorned with awards and certificates that recall the rich history of contest success. Old banners, many bleached by age and sunlight hang from the rafters as sepia tinted photos of great musicians and even greater bands draw your gaze.
It is history that now comes alive.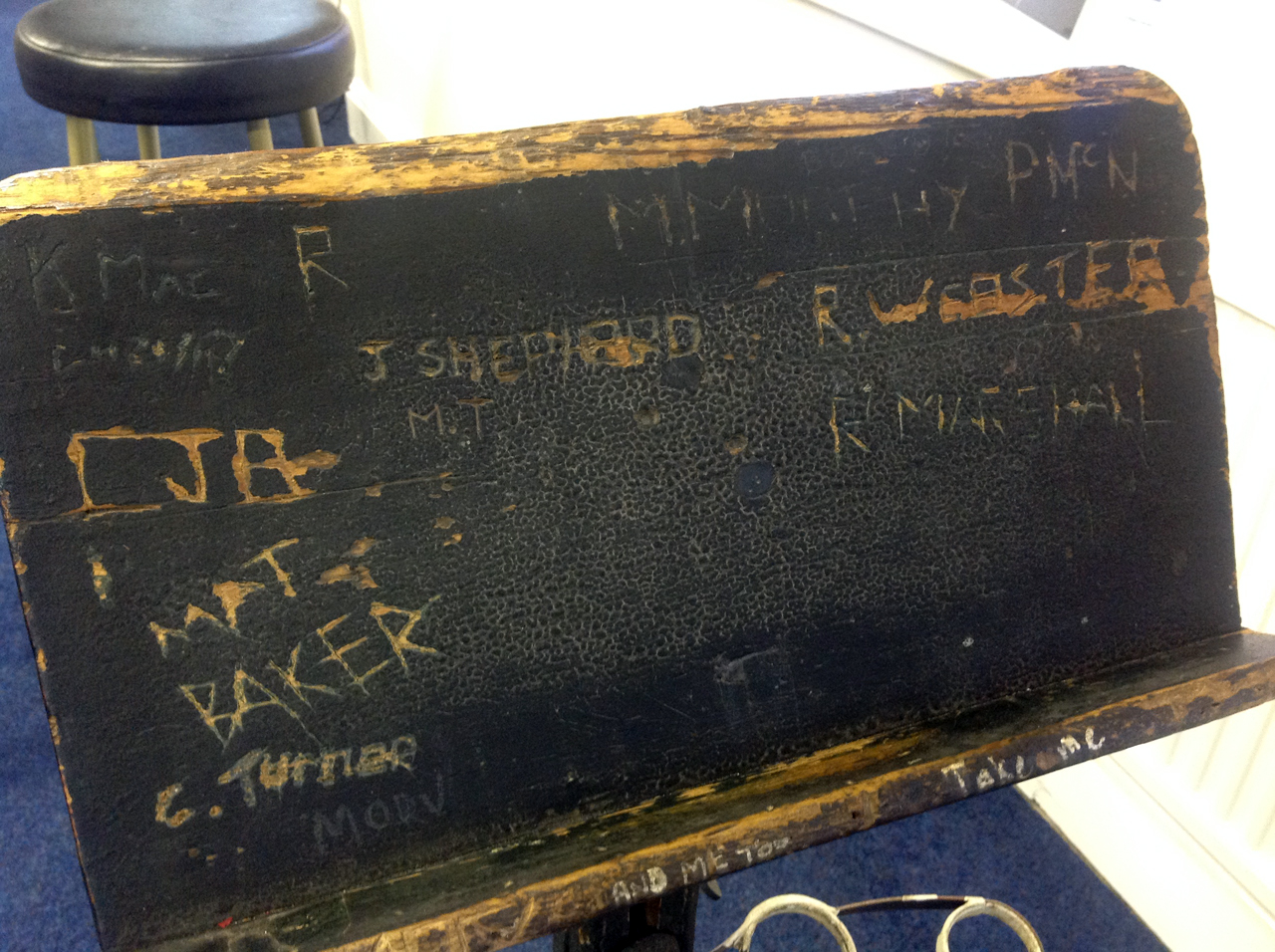 Many famous players have made their mark at Black Dyke
"It's been such a difficult task knowing what to display and what not to," David admitted. "But, thankfully, the expertise of professional curator Andrew Tebbs has been invaluable.
Story to be told
There is a story to be told - a clear understanding of what Black Dyke is all about. Almost every day we uncovered something that made you gasp - from memorabilia that has been returned by supporters to old documents that tell us so much about the running of the band.
What makes it exciting is that the project enables us to be flexible and imaginative - we can change and adapt, highlight and feature so many different areas of the history."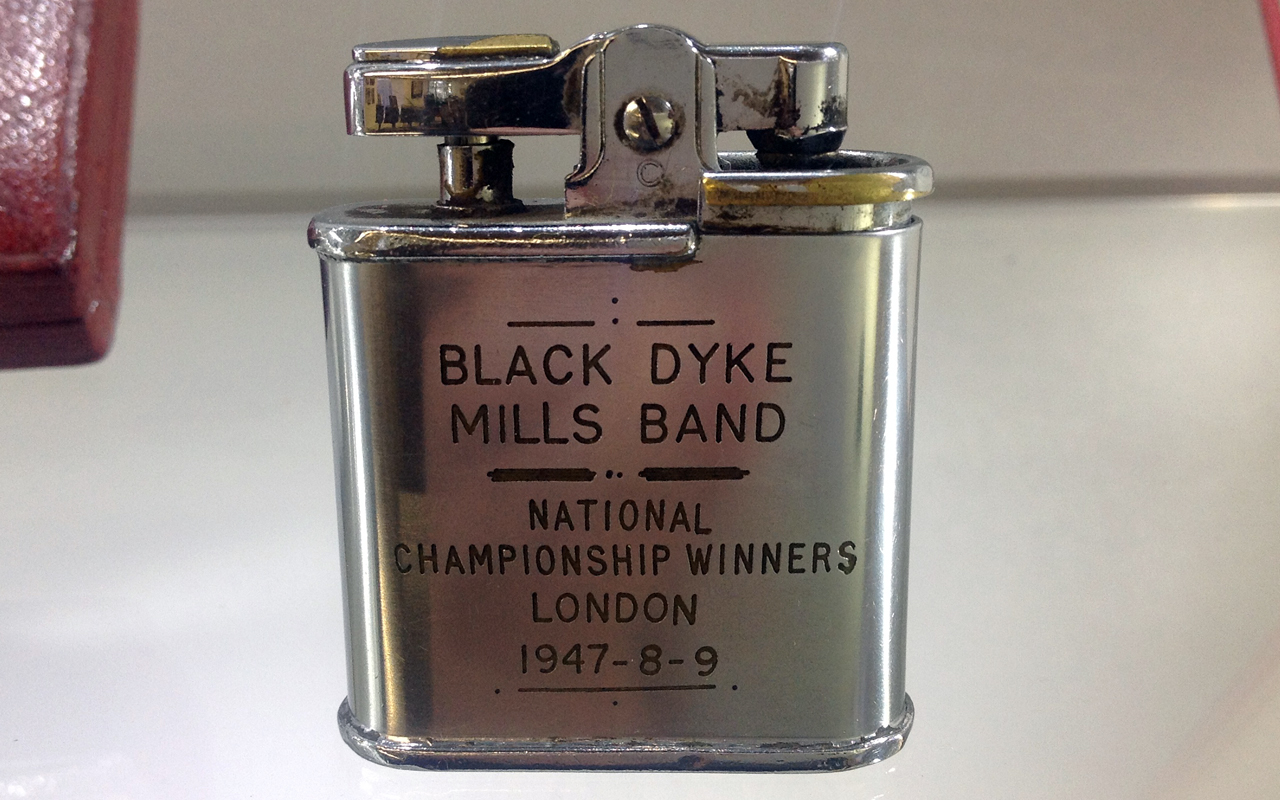 A personal hat-trick mememto

The innovative use of technology means that the days of dusty boxes full of artefacts that will never see the light of day are gone. High quality digital images and descriptions accessed by QRCoding will bring a virtual reality to accompany the first hand experiences for those who will visit the Heritage Centre when it opens to the public on two Sundays per month.
Key
"That will be the key," David Hirst added as he opens an old committee minutes book from the 1950s to reveal the rather matter of fact announcement of the appointment of a certain Maurice Murphy as principal cornet.
"Now we can add an extra dimension to the story of the band - linking the great successes to personal stories. We will be continually adding to the collection but in a way that will always be accessible and understandable."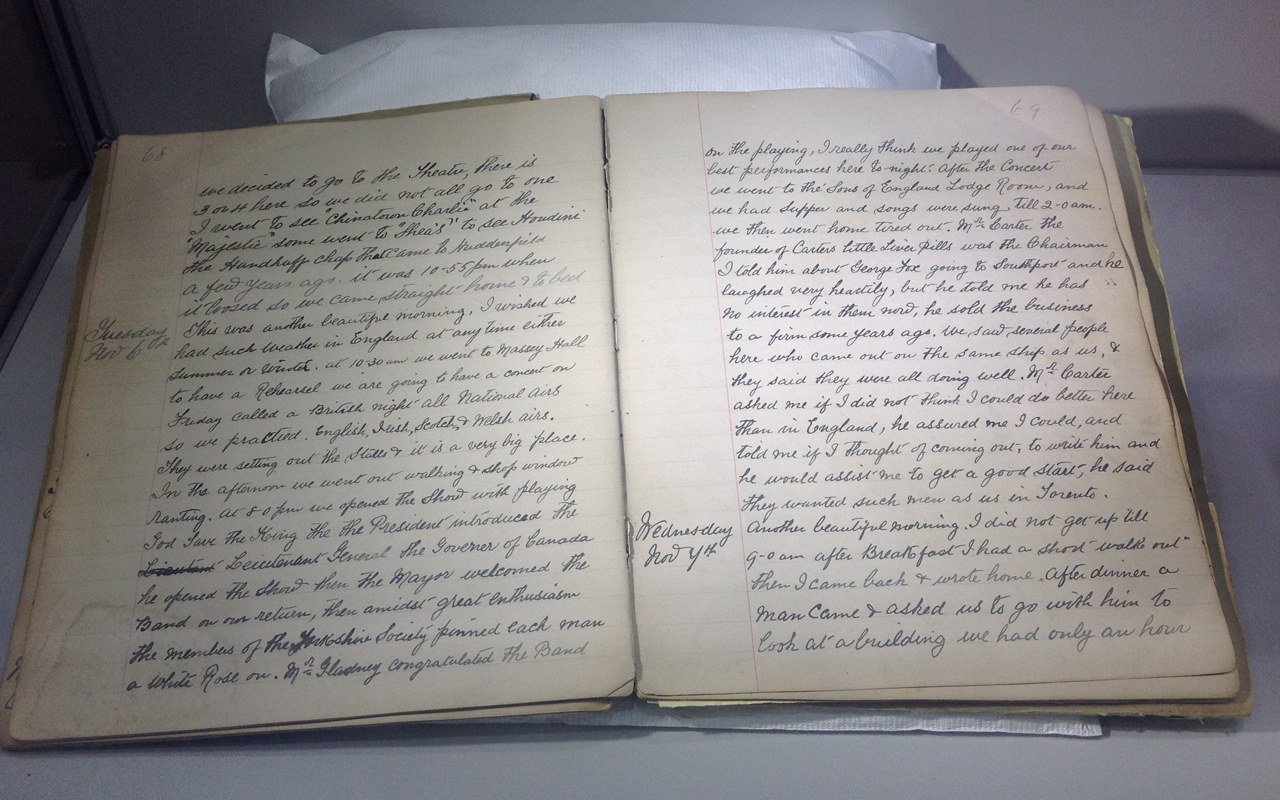 Worldwide reach: The 1906 American diary of J. A. Wood

One such story is to be found in the pages of the diary of J. A. Wood, written when the band toured the United States and Canada under the great John Gladney in 1906. In it he recalls see 'Houdini the Handcuff Chap that came to Huddersfield a few years ago' and of the band being congratulated by Mr Gladney on their playing.
Another is a small cigarette lighter presented to each member of the band that won the 'hat-trick' of National titles at the Albert Hall between 1947 and 1949. Next to it is the 'Baton of Honour' presented to Major George Willcocks after he directed the legendary National Triumph on 'Le Roi d'Ys' in 1959.
Bottle green
In another display case sits a beautifully restored early cornet and a trombone donated by a Queensbury resident when they heard of the project in the local newspaper. They in turn sit next to one of the earliest 19th century band caps worn by Black Dyke players, when, as David reveals, the band's uniforms where actually a dark bottle green in colour.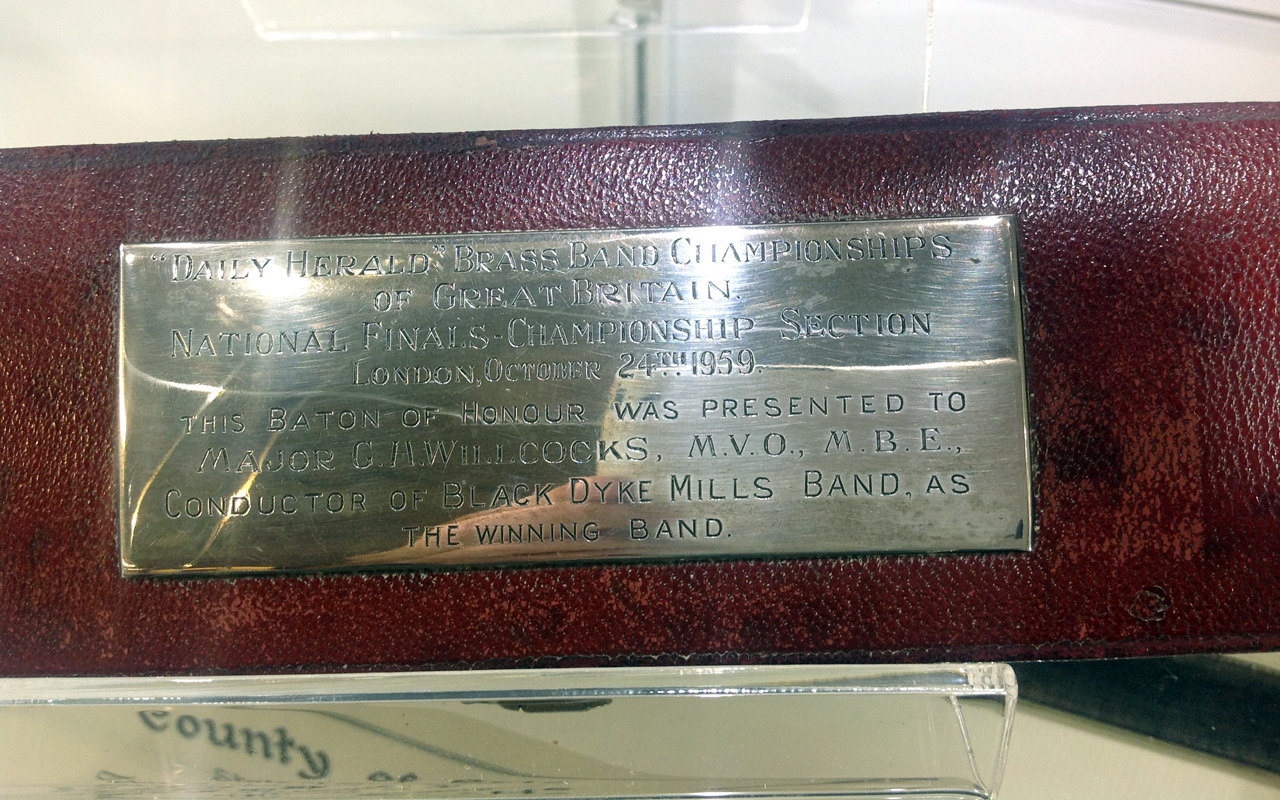 A famous triumph: The Baton of Honour of Major George Willcocks

Wherever you look something catches your eye - from the 'Table of Particulars' which gave the names and occupations of players for registration purposes for the 1860 Sydenham Contests at Crystal Palace, to the display of medals won at the British Open 'September Championship' prior to the Second World War.
Time capsule
And although the room is a time capsule of Pondasher delight (the name given to Black Dyke fans) -even die hard rivals will surely be impressed by how the history has been interpreted, as David Hirst added.
"Our link to the Tolson Museum in Huddersfield will enable us to explore different areas of research and to display artefacts which encompass the development of the brass band movement as an art form - especially with their superb collection of early instruments.
These links will see the donation of original manuscripts to be stored at the West Yorkshire Archive Service, whilst connections with local libraries and schools will also be of great help. The Arts Awards Scheme which we have run with young volunteers is already proving to be a great success."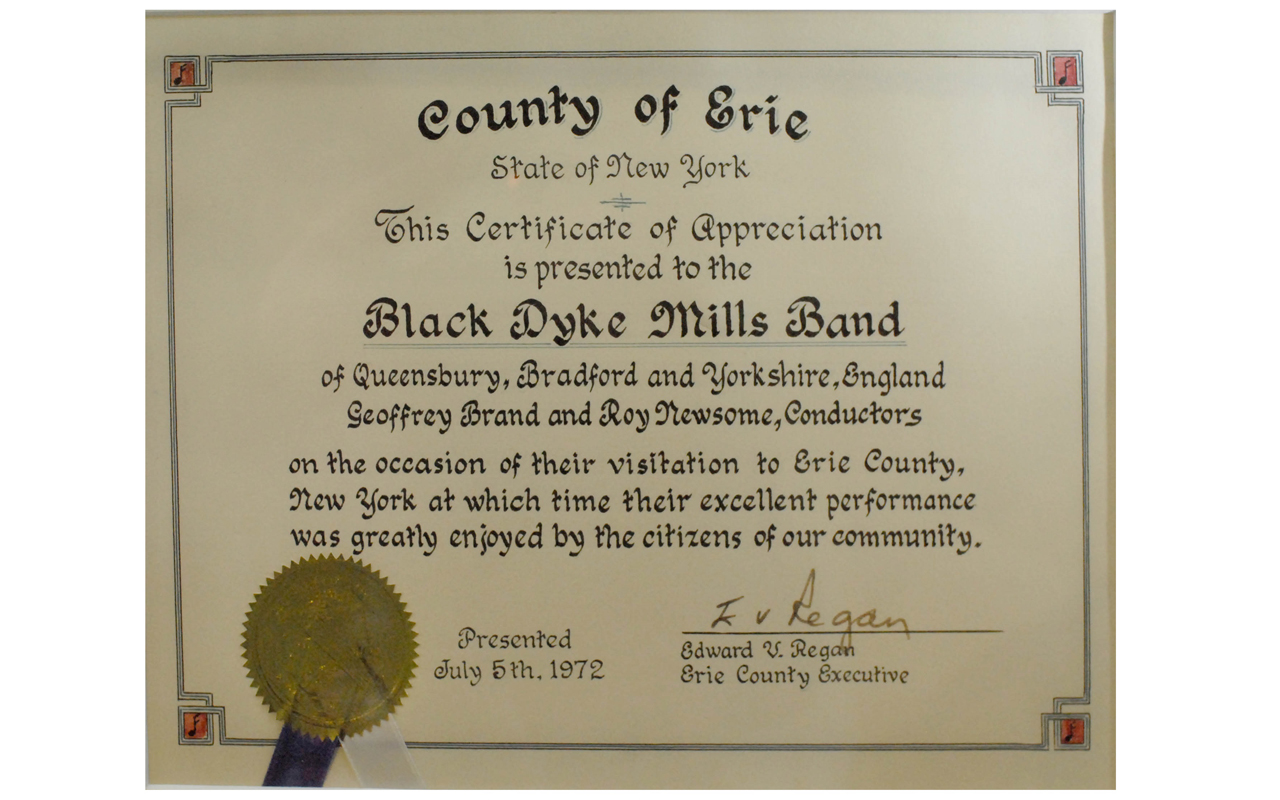 Black Dyke has been enjoyed across the world
David now hopes more former players and supporters will now come forward and donate or loan many of their personal Black Dyke treasures to the band - ensuring that they will be displayed for future generations to enjoy.
"We have only really scratched the surface, but if people come and visit the Black Dyke Heritage Centre for themselves or on-line when we officially open I'm sure they will see what a wonderful opportunity it will give to be part of a fantastic project offering huge benefits to the banding world.
All they have to do is get in touch."
Iwan Fox