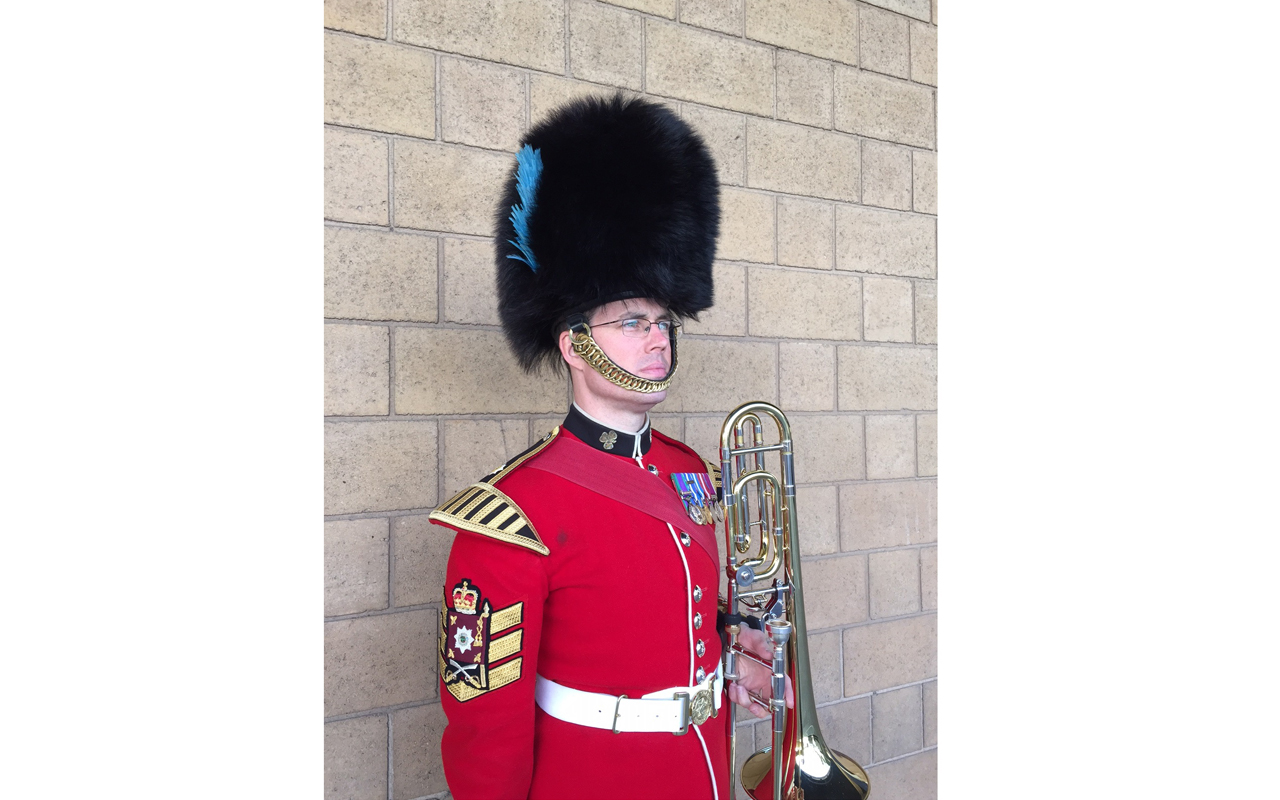 1. Tell us a little about yourself and your musical background?
I grew up in South Wales and began playing the trombone at the age of 6 at the local Salvation Army. I was heavily involved in many local ensembles and taking every opportunity to play solos I went on to become a member of the National Youth Brass Band of Wales.
At 18 I became a musician in the British Army, winning the Frank Wright Prize for the Best Brass Player and the Cousins Memorial Medal for being the 'Best Instrumentalist' of my year during training at the Royal Military School of Music, Kneller Hall.
I'm currently the Principal Trombone of the Irish Guards Band, still a bandsman in the Regent Hall Band of the Salvation Army and in my spare time teach brass and conduct local community bands.
---
2. What made you decide to look into a career as a musician in the Corps of Army Music?
On leaving school my brother joined the Irish Guards Band as a violin player, and he made me aware that a vacancy was coming up on trombone.

I called the Director of Music and arranged for an audition to join after I had completed my A levels a year later.
---
3. Tell us a little about the training levels or the musical standards you had to achieve to get accepted into the Irish Guards?
Two years before applying for the band I took my Grade 8 exam on the trombone. I then took lessons with Brian Raby who was the Principal Trombone of the Welsh National Opera.
On passing my auditions and joining the Irish Guards Band I went on to gain an LRSM in Trombone Performance and a BA (Hons) in Music with Humanities.
---
4. What have been some of the highlights that you have experienced playing in the band in the last couple of years?
The big State Ceremonial Parades like Trooping the Colour and the commemorations at the National Cenotaph are always a privilege to be a part of.

There are also a number of other big events, including playing the opening fanfare and numbers on stage with Robbie Williams at the Diamond Jubilee celebrations outside Buckingham Palace.
I've also greatly enjoyed playing with the Guards Brass Ensemble and the Household Division Number One Band.
---
5. Has your decision to join as a musician lived up to the expectations you had?
22 years after joining up I still love playing my trombone and making music in this way. This can only be a testament to the fulfilment I've received from playing with, and being inspired by such great musicians on a daily basis.
---
6. What opportunities are available to you to improve as a musician and to seek career development?
I'm able to claim money toward taking lessons and for continued professional development from a number of sources.

I'm currently studying for qualifications in Prince 2 Project Management which has been completely funded by the army.
---


7. What types and genres of music to do you play on a day to day basis?
I play symphonic wind band, 10 piece brass ensemble, brass quintet, and fanfare music in work, then brass band and big band in my spare time.
---
8. What is a typical day (if there is one) like for you as a musician?
A common day for me would involve coming to work to clean kit and warm up, followed by performing at Changing the Guard at either Buckingham Palace or Windsor Castle. Then its either rehearsals, MATTs (army training) or paperwork after lunch.
---
9. What does the immediate future hold for you personally and as a member of the band?
I still love what I do, so I hope to continue to serve where I am. As long as they will put up with me of course!
---
10. What three tips would you give a young player to help them develop as a performer?
Practice is the main thing, but under the guidance of a good teacher.
Practice doesn't always make perfect, it makes permanent, so you need to make sure you do the right things to start.
Join as many ensembles as you can and take every opportunity to perform, and always be positive and enjoy your playing: It's why we do it!
To find out more about a career in the Corps of Army Music go to: