2006 National Youth Band of New Zealand CD 'Live at Expressions'
6-Sep-2006
This great bunch of enthusiastic and energetic youngsters have produced a great CD in this one! Alexandra Kerwin walks us through...
---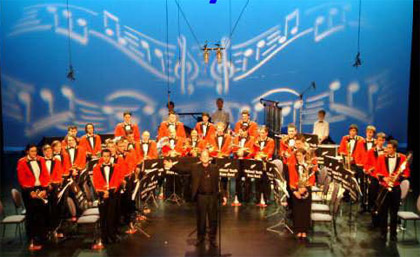 ---
Conducted by Kenneth Young
Soloists: John Lewis and Riki McDonnell
Recorded by Atoll Records Ltd
Producer: Wayne Laird, Engineer: Keith Warren
After working with Ken Young last year with the National Youth Brass Band of New Zealand I was very eager to hear the results of Ken's direction of this years band.
Blenheim Flourishes opens up the CD. This piece has been used as a concert item by many bands over the years, however very few bands are capable of performing it well and in a convincing manner. Thankfully, NYBBNZ do an excellent job on the whole. The difficulty lies mainly with the upper cornets, there are passages which take the solo cornets into very dangerous territory with slurs over high C's and D's. It was a very clean performance indeed.
A thoughtful delivery of Mid All the Traffic came next and was followed by the first solo offering on the disc by John Lewis. John was until recently assistant principal cornet of Brighouse and Rastrick and deputy editor of Bras Band World. Since returning to his native New Zealand, John Lewis took the Invitation Slow Melody title and won Best Instrumentalist at this years National Championships. He performed Slavsiche Fantasie with a real stamp of individualism and style. The band performed this very difficult accompaniment with the highest amount of sensitivity towards the soloist.
Londonderry Air followed in an arrangement by MD Kenneth Young before Ken's original composition, Enchanted Dance Hall whirred into life next. I'd heard a lot about this piece before actually hearing it and I was fascinated by the concept of such a piece and I wasn't disappointed. The title basically sums it up but I think as you listen to the work you use your own imagination to conjure up mental images of these spirit dancers. It was reminiscent in my perception to Stephen King's 'The Shining' where a delusional Jack Torrance joins the ghostly apparitions in a party in the otherwise deserted hotel. There was some exceptional playing from solo trombone Luke Christiansen.
Principal Cornet player Anthony Smith (also an award winner this year capturing the NZ Amateur Cornet Title) was featured in Grieg's Spring. Anthony is a lovely young man with his feet firmly on the floor and his playing was a joy to listen to. He has a very bright future.
John Lewis was again impeccable in his other two solos, My Love is Like a Red, Red Rose and in a cheeky rendition of El Cumbanchero.
Throughout the disc one player really shone out for me, she performed with grace and vigour, which belies her young age. Katie Blair on soprano is a very exciting prospect for New Zealand Banding. I always knew that Katie was a player of note but this recording showed some really class from the young lass from Christchurch. I sincerely hope that she keeps up the soprano because she is an awesome talent. Her class in intonation, sound and balance were evident in Dean Goffin's truly beautiful Meditation – The Light of the World. Her playing for me was very thoughtful and possessed a very traditional sound. Occasionally, in this piece however, the tone in the cornets was a little forced. Jessica's sister also proved her excellent reputation in some very subtle yet assured euphonium playing.
Very precise and rhythmic playing was evident next in the march Invercargill. It sounded like the bass trombone really enjoyed this one!
Another composition of Ken Young's followed. Entitled 'Reverie' features euphonium virtuoso Riki McDonnell. I will never tire of hearing Riki's solos. He tenderly nurtures every note and phrase in his never-ending quest of finding the most beautiful way of conveying the music in a very personal way. Like I have said before in another review when you perform in such a way, it is almost as though you are baring your soul. But, that is when the magic can happen, as it so often does in Riki's performances.
Anthony Richies, Down the Brunner Mine followed with some excellent percussion contributions. This piece is based on the folk song of the same name. Brunner Mine was one of New Zealand's earliest coalmines. It was the scene of New Zealand's worst mining disaster in 1896 when 65 miners lost their lives.
The cornet section was featured next in Goff Richard's arrangement of Hora Staccato. The trombones certainly showed their flair although the tempo did feel slightly ponderous and lost a little of the excitement although the final cry of 'Oi' almost made up for it!
Some very sweet flugel, cornet, euphonium, trombone and soprano playing opened up Sweet Shepherdess. This was a very tender reading again Katie on soprano was simply outstanding. The band's dynamics were wonderfully understated in the top end of the scale. You can tell that Ken Young has a lot of respect for Goff Richards work, he let the music flow yet have expansive qualities without getting maudling.
Another Goff Richards's arrangement closed the recording. Sweet Georgia Brown is another piece that seems to be butchered by a lot of brass bands. This was a classy reading from Mr Young, not the usual brash fodder fed to us by even the most experienced of bands. Jessica Blair again led her section to glory in the semiquaver runs. Trombones sounded like a very balanced section with wonderful sounds emanating from the bass trombone.
It's easy to forget when listening to this CD, that these players are aged only 15-22 and yet they perform with maturity and sensitivity with added dashes of fun. It is obvious that Kenneth Young commands a lot of respect from the youngsters and it is evident why. Mr Young's thoughtful interpretations and fresh compositions are a joy throughout the recording.
The future is bright.
Alexandra Kerwin 2006
With many thanks to Mike Sander and Evan Sayer for enabling this project to go ahead.
What's on this CD?
1. Blenheim Flourishes, Curnow
2. Mid all the Traffic, Ballentine
3. Slavische Fantasy, Hohne arr. Kerwin, soloist: John Lewis
4. Londonderry Air, arr. Young
5. Enchanted Dance Hall, Young
6. Spring, Grieg arr. Ryan, soloist: Anthony Smith
7. Dance Fever, Downie
8. My Love is like a Red Red Rose, arr. Langford, soloist: John Lewis
8. El Cumbanchero, arr. Richards, soloist: John Lewis
10. Meditation — The Light of the World, Goffin
11. March — Invercargill, Lithgow
12. Reverie, Young, soloist: Riki McDonnell
13. Down The Brunner Mine, Ritchie
14. Hora Staccato, arr. Richards
15. Sweet Shepherdess, arr. Richards
16. Sweet Georgia Brown, arr. Richards