RNCM Festival of Brass: Brighouse & Rastrick
31-Jan-2010
Conductor: Howard Evans
Soloist: Zoe Hancock
RNCM, Manchester
Sunday 24th January
---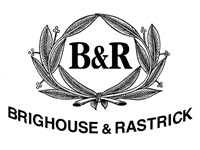 If Brighouse and Rastrick's performance at the 2009 Festival of Brass was somewhat marred by inconsistency of execution and an emotionally bereft performance of 'Journey into Freedom', it was a very different Brighouse that took to the stage at this year's Festival.
Impressive

With guest conductor Howard Evans directing the band in impressively focused and musically astute performances of works drawn almost exclusively from composers of Salvation Army heritage (Leigh Baker's 'On Bosworth Field' was the only truly secular interloper) this was music that was food and drink to the man from Boscombe SA Band who will also lead Leyland into this year's Regional Championships.
Keynote

Emil Soderstrom's march 'Minneapolis IV' had been usefully illustrated in Ronald Holz's keynote talk on the American SA repertoire the previous evening. It got the concert off to a lively start with its clear American accent softening in the trio to a more bluesy, big band inspired style.

Bruce Broughton is as much of a 'Californian Legend' himself as the title of the piece he wrote for the Regional Championships back in 1986.

Why it has been so neglected since then is a mystery, for this is music of real bravura; exciting, dynamic and packed full of blazing harmonies in its vivid portrayal of Garci Rodriguez de Montalvo's 1510 tome of a fictional island called California, "peopled by black women accustomed to live after the fashion of Amazons"; quite a thought!
Full blooded

Brighouse's performance was full blooded and in your face, but that's exactly what the music demands and it was exhilarating to hear Broughton's score brought so vibrantly to life once again.
Zoe Hancock proved to be a silkily smooth and full toned flugel soloist in Bill Himes' attractive and light hearted 'Concertino for Flugel Horn'. With the exclusively male Brighouse behind her it was little wonder that she appeared a touch nervous but performing from memory, her playing confirmed her status as a very promising talent indeed.
Easy mistake

It's easy to forget that Erik Leidzen's 'Sinfonietta' was the first non-British test piece when it was used at the 1955 Open.
If we didn't know better, it would also be very easy to mistake the opening bars for the work of Eric Ball. There was warmth in Brighouse's affectionate performance and although there were one or two isolated occasions when ensemble didn't quite gel, the band once again produced a full, controlled sound whilst injecting vigour into the Scherzo and clarity to the closing fugato.
Impression

Of the two short pieces that shared the second half with James Curnow's 'Ellacombe Chronicles' and Ray Steadman-Allen's 'Lord of the Sea', it was James MacMillan's 'The Gallant Weaver' that made the greatest impression.

Skilfully arranged by Paul Hindmarsh the Burns inspired folksong like melody featured three cornets arched around the rear of the band in a hushed, meltingly atmospheric piece that whilst not representative of MacMillan's grittier work, builds yet further anticipation for the arrival of his Black Dyke commission in a few years time.
With Fanfare trumpet teams position to the front and rear of the hall, Leigh Baker's 'On Bosworth Field', originally commissioned by Desford for Brass in Concert, is eventually to form part of a three movement suite, building from an evocative pre-battle opening to a rousing finale that must have curled the toe-nails of the audience members sitting immediately in front of the rear fanfare team.
With Gilbert Symes providing the narration, the antiphonal effects were impressive although it did all feel a touch relentless come the final bars.
Strong echoes

James Curnow's 'Ellacombe Chronicles' featured strong echoes of 'Trittico' at times in a work that like the Broughton, is bracing in its Americanisms. The hymn tune of the title is expertly developed and transformed during the course of the work's three movements, to conclude in a triumphant paean of praise.
Stephen Wilkinson featured strongly with fine solo cornet work whilst the band responded to Curnow's brilliant scoring with playing of spirit.
Shaping

In Ray Steadman-Allen's 'Lord of the Sea', Howard Evans skilful shaping of the melodic lines was borne of an intimate knowledge of Steadman Allen's music, the gentle lilt of the waves in the first movement being captured with particular panache.
Despite the quality of Brighouse's performance however, this is a work that leaves a nagging sense of unfulfilled promise after the attractive first movement. The lasting impression is of a dated and melodically unmemorable piece of music.

With no encore to follow after a punishing and lengthy programme though, that was how the afternoon ended.

Impressive

Overall this was the most impressive performance we have heard from Brighouse in Manchester for several years, with the band demonstrating a powerful yet firmly controlled and balanced sound, secure soloists without a hint of the prima donna in any of them and a warmly lyrical response where called for.
It all bodes for an interesting evening in Bradford early in March when David King is likely to lead the band's assault on the Yorkshire Area title.
Christopher Thomas