Brighouse & Rastrick
10-Apr-2010
Conductor: Garry Cutt
Guests: Enfield Citadel Band
Huddersfield Town Hall
Saturday March 20th
---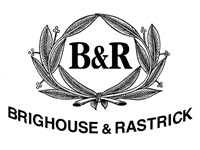 Performing to a full house at Huddersfield Town Hall, Brighouse & Rastrick celebrated their 125th annual massed bands concert by welcoming the premier Salvation Army, Enfield Citadel Band, as guests.

This was the first time B&R have invited a band from outside of the contesting platform to join them, and it was a partnership that did not disappoint.

Mix

Musically directed by guest conductor Garry Cutt, the massed band programme combined a mix of traditional and Salvation Army brass music with a number of orchestral arrangements including Wagner's Introduction to Act III "Lohengrin", a superb reading of Rossini's "Barber of Seville", Rimmer's march "Punchinello", and a beautiful euphonium duet "Deep Inside The Secret Temple" performed by B&R's Steve Walsh and Enfield's Paul Baker.

Lieutenant Colonel Lincoln Parkhouse used heart-felt words to introduce one of the concert highlights; a delicate and technically stunning rendition of Eric Ball's "Resurgam (I Shall Rise Again)", possibly the most famous composer and piece in the history of Salvation Army music.

Well rehearsed

Enfield's Bandmaster, Jonathan Corry then led his well-rehearsed ensemble through a selection of Salvationist music, from William Himes' "Rolling Along" to Peter Graham's ever-popular "Shine as the Light", demonstrating a beautifully warm tone that only a Salvation Army Band can produce and a technical ability that would rival most contesting bands.

After the interval, B&R took to the stage to swagger through the march "Washington Grays" with a pomposity that only a band recently crowned Yorkshire Champions band could.

Capacity

B&R completed their slot with two movements from Boëllmann's "Suite Gothique". Originally written for organ, this piece highlighted the band's bass section with a sound that filled the capacity-filled hall.

The two elite bands finished on stage with Tchaikovsky's infamous "1812 Overture", and Strauss' "Radetzky March" was played for the encore.

Paul Beaumont President of B & R said, "We hope this is not the last time these two bands take to the stage together as they have given a stunning musical performance".