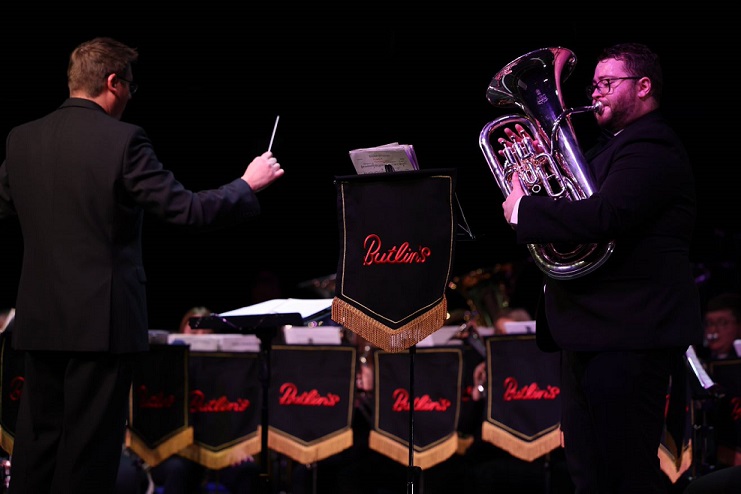 One of the lesser recognised financial boosts that Butlin's has provided through its festival weekend over the years has been the promotion of these pre-contest concert appearances for defending Championship and Youth Section winners.
Flowers has benefitted most – recognition of their unprecedented level of competitive success.
Polished entertainment
This was the ninth occasion that they set out an easy listening, lip saving hour or so of polished entertainment: Nothing too strenuous, with the type of cheesy base on which to sprinkle the genre flavours that wouldn't have been out of place served up at the pizzeria around the corner from the Centre Stage venue.
Paul Holland served it up with a smile and good humour, plenty of audience interaction (social distancing rules liberally interpreted) linked to a well drilled delivery. It was a performance worthy of honorary red coat.
Great night out
'When Thunder Calls' and 'Brassed Off Fantasy' set the tone – upbeat and uplifting, whilst any great night out should aways have some ABBA, plenty of fun ('Killer Tomato' trombones) and an old 1970's John Miles blockbuster to close with added pop-classic Bach inspired virtuosity as an encore.
Matt Rowe with 'On Winter Hill' and Lauren Chinn with 'Tokyo Sunset' were the classiest of soloists – something that they also showed with their contributions on 'Paganini Variations' the following day, whilst it was good to hear the emerging talent Luke Barker given further experience as principal cornet.
Butlin's knows what its punters enjoy and so do Flowers.
Craig Chapman