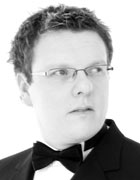 Principal cornet of the renowned Black Dyke Band, Richard Marshall, gave a recital as part of the first season of the Sandbach Concert Series along with some of the local young talent for an evening of brass excellence.

Sponsored by the Arts Council and Sandbach Town Council, the series will bring eight concerts per year to the town for the next three years and hopefully beyond, if this event is anything to go by.

Spotlight

Artistic Director Andy Scott, along with his wife and professional harpist, Lauren Scott, has devised a format for the concerts where the Spotlight given by the professional musician or ensemble will be in conjunction with young musicians from the surrounding communities.
This was the first concert of the series focusing on brass - and what better way to introduce the field than with one of the country's finest!

The cornet icon delighted the audience with his thoughtful and refreshing approach to the evening.
Technique and precision

Introducing his programme with Del Staigers' 'Carnival of Venice', Marshall demonstrated his uncompromising technique and precision.

The virtuosic opening of this classic was the perfect announcement from the soloist, stating his presence after a relaxing interval filled with art and wine.

From here, the audience witnessed something very special in Elgar Howarth's 'Canto'.
The sound of the instrument was turned to gold through the lyrical lines of the music.

This was the sound of the instrument in its purest form.
Enchanting

Continuing with Wilson's arrangement of Dvorak's 'Rusalka's Song to the Moon', Marshall told the enchanting story of the water nymph and the prince through the true voice of the instrument, magically singing to the clear night's light in the sky.

We were brought back to earth with a work from local banding hero Howard Snell, who was famously associated with Sandbach's very own Fodens Band through the 1980's and early 90's.
Marshall flashed his brilliance in Snell's 'Fantasy' and Harold Moss' 'The Nightingale', featured on his latest CD, 'The Cornet Heritage Collection Vol. 1'.

In homage to an old favourite, he revived the music with freshened vigour and artistry.

Best till last

To say Marshall saved the best until last may be a tad unfair to the other musical masterpieces featured in the concert.
However, this was Denis Wright's 'Concerto for Cornet' at its most sublime.
Amongst the more recent cornet concerti and major works, this piece of magic can be easily forgotten.

Stunning playing

To the delight of the spectators, Marshall brought this charming piece back to life with understanding and respect to the echoing yesteryears.

At the end of an exceptionally pleasant evening, Andy Scott thanked the cornet star for the effort and consideration he had obviously put into his programme and added that it was "…stunning playing and presentation from one of the world's best."

Rebekah Caldwell